As my kids have gotten older the things we do during the holiday season have changed. I find myself planning a lot more Christmas Traditions for teens that give them magical memories.
Have you found yourself wondering what sorts of holiday activities to do with your teens? Check out this list of Christmas Traditions for Teens and pick out a few to add to your holiday season!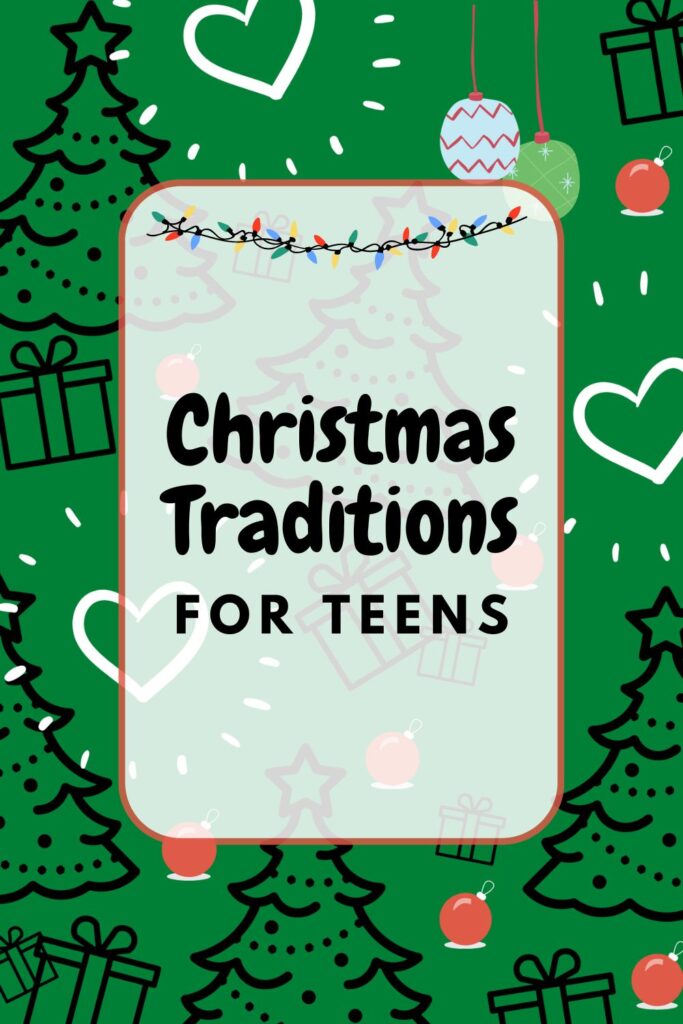 Christmas Traditions for Teens
#1 Christmas Lights Tour
I'm proof that teens and adults still enjoy looking at Christmas lights. This year I set up our first ever Christmas lights tour on a bus for my entire family. If everyone loves it, it may become a yearly tradition and you can make it one too!
If you have a larger vehicle, invite your teen and their friends for a night of looking at Christmas lights. You could even get together with a bunch of parents and pitch in for a bus that drives you around. Don't forget to grab one of my scavenger hunts to bring along:
#2 Gingerbread House Building
Pick up a Gingerbread House Kit, or try out a Pop-Tart Gingerbread House, for some creative holiday fun! You can find all sorts of Gingerbread House Kits on Amazon if you want to go all out. They've got ones with OREOS, Sour Patch Kids, Minions, a chicken coop, a camper, a mansion, and even one that lights up!
#3 Volunteer and Give Back
There are all sorts of ways to volunteer during the holiday season and it s a great Christmas Tradition for teens and families, and well, anyone! Some ideas are helping serve a holiday meal at a shelter, helping with a community holiday event, buy presents for an adopt-a-child through a local program, or spend time at a retirement center and brightening the spirits of the residents.
#4 Baking Day/Cookie Swap
Plan a day of baking and cookie swapping fun with your teen and their friends! Put on some holiday music and spend the day making all sorts of Christmas cookies and candies. When you're all done, separate them into containers so everyone takes home a little bit of everything. You could also do this with just your teen(s) and make plates to deliver to friends and family.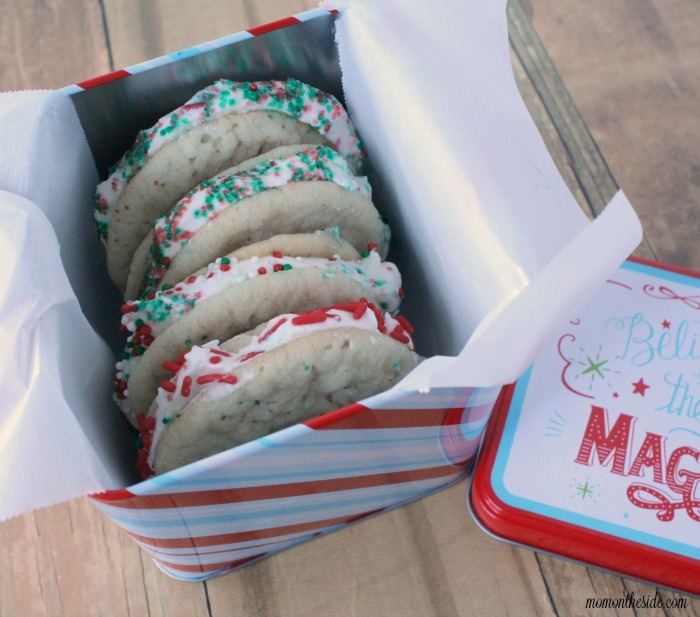 #5 Christmas Themed Movie Night
Pick out a movie or two and plan a Christmas Themed Movie night with food and fun. Here are some popular ones to give you some ideas:
#6 Holiday Game Night
Unleash your competitive sides with a festive holiday family game night! Fill your mugs with hot chocolate and play games like Christmas Trivia, Elf Card Scramble – there are other movie versions as well, or Christmas-opoly. I also have a few free printable Christmas games you can grab: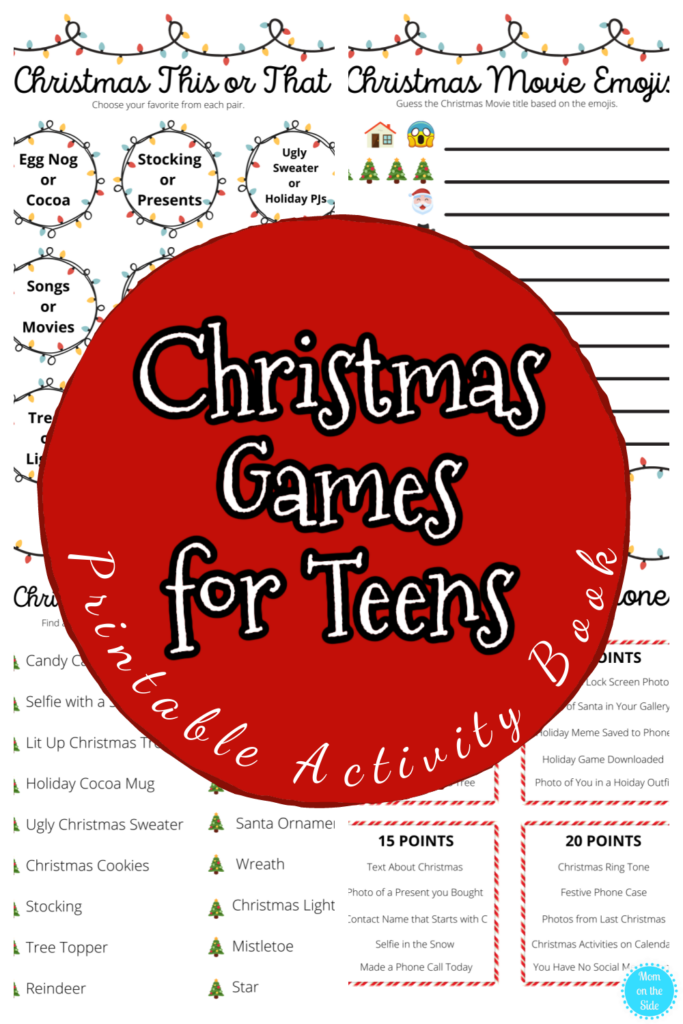 #7 Host a Christmas Party
Have your teen invite their friends over for a Christmas Party. They could do a white elephant gift exchange, watch movies, make Christmas ornaments, and decorate sugar cookies.
#8 Ice Skating or Sledding
Depending on the weather in your area add ice skating or sledding to your list of Christmas traditions for teens. We are fortunate enough to be able to do both, although we haven't had enough snow yet this season to go sledding. There are indoor and outdoor ice skating rinks in the neighboring city, so that is always an option here.
#9 Stocking Scavenger Hunt
Add a little magic to Christmas morning with a Stocking Scavenger Hunt. There are 5 clues you can hide in common places around the house. The final clue directs your teen to their Christmas stocking!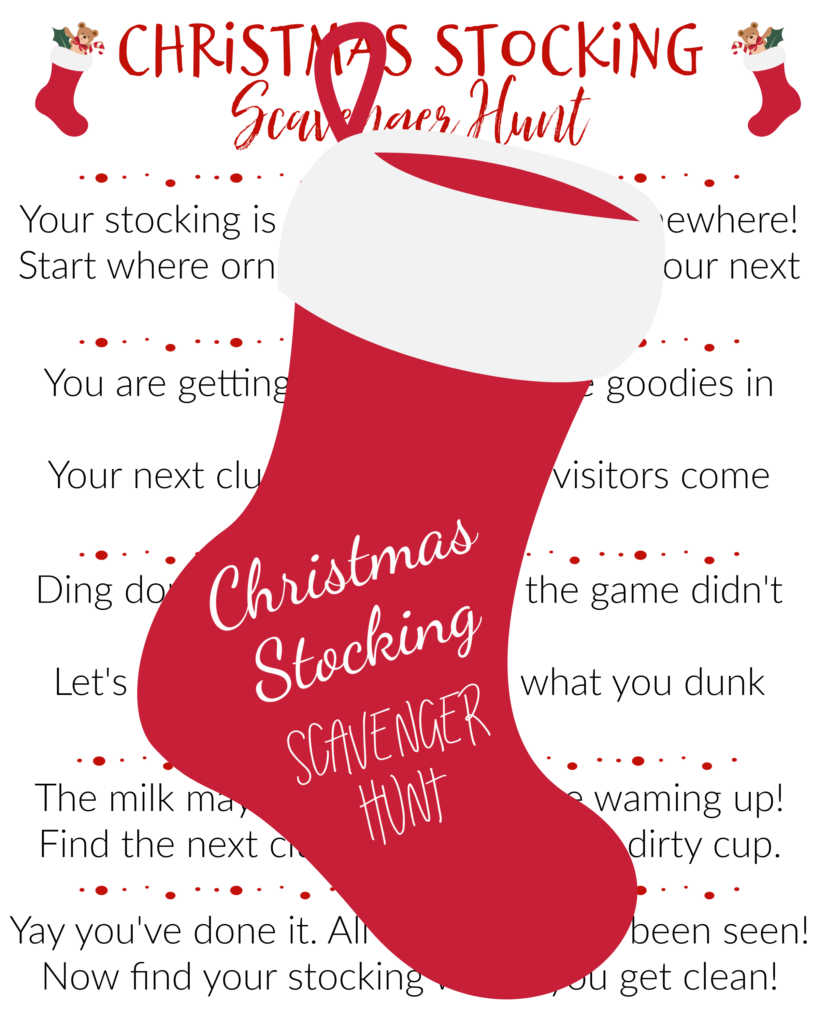 #10 Attend a Christmas Play
Get tickets to a local Christmas play in your area. Maybe it is annual one you can attend year after year or a venue that offers different plays and entertainment each year. This year, the twins, my mom, and I are going to see Winnie the Pooh A Christmas Tail at our local theater. They offer a different holiday themed play each season and I'm making it a new tradition for us!
#11 Elf on the Shelf
Yes, I'm including Elf on the Shelf because it is fun and playful and may help get your teen out of bed in the morning. Use some of these Elf on the Shelf Ideas for Teens to make the magic happen!