I don't know about you but I loved the old school holiday crafts we used to make. No overpriced kit of crap that doesn't stay together or resemble the picture on the package.
You are left with a whiny kid, sticky hands, and random foam pieces in your hair. That's a no thanks from me. I'll stick to construction paper, pipe cleaners, and paint brushes.
If you are saying "SAME!", you're going to love these easy old school Christmas crafts and DIY Christmas ornaments to make with your kids!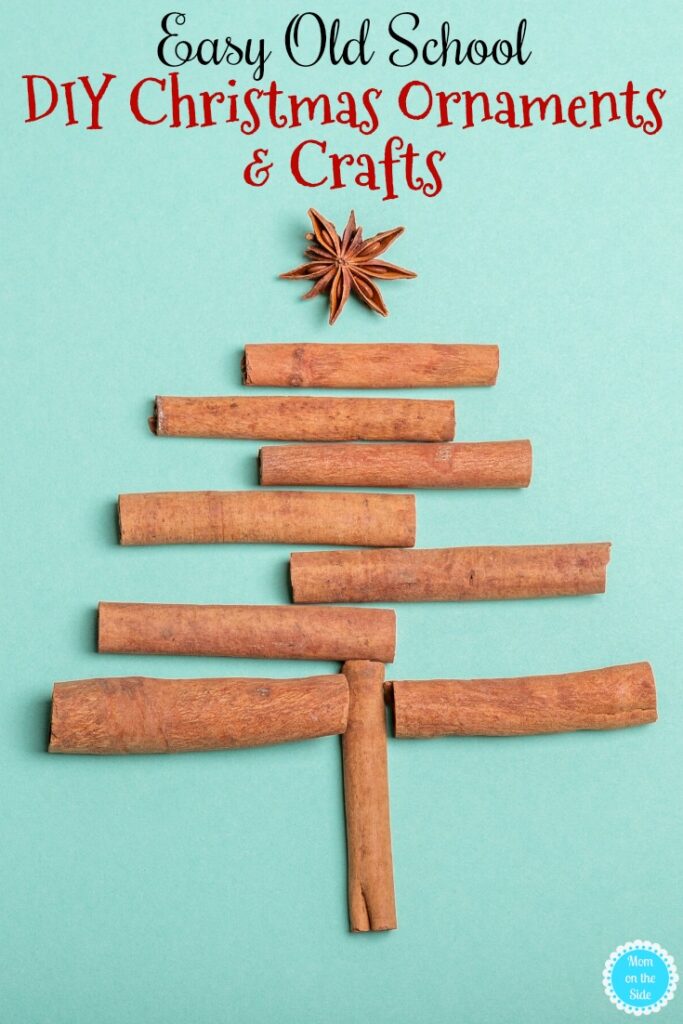 Easy Old School Christmas Ornaments and Crafts
DIY Christmas Ornaments
Pipe Cleaner Candy Canes – simply string red and green beads onto pipe cleaners.
Popsicle Stick Picture Frame Ornaments – you remember, the ones with the four sticks glued in a square an a picture taped to the back!
Pinecone Ornaments – a little glue and glitter really make them sparkle!
Bead Wreath Ornaments – another easy one to make with pipe cleaners!
Old Fashioned Cinnamon Ornaments
Puzzle Piece Reindeer Ornaments
Popsicle Stick Christmas Tree Ornaments
Cinnamon Stick Christmas Tree Ornaments
For tons more DIY Ornament ideas, check out my DIY Christmas Ornaments Pinterest Board! I've been saving lots of new ideas this year, too!
DIY Christmas Crafts for Kids
Paper Snowflakes
Construction Paper Chains for Garland
Strings of Popcorn and Cranberries
For more ornament fun, grab a printable Christmas Ornament Activity Book for the kids! Do you still have some of the Christmas ornaments and crafts you made as a kid?