This post and simple garden party ideas was sponsored by Eat Smart as part of an Influencer Activation for Influence Central and all opinions expressed in my post are my own.
My mom's backyard is a beautiful garden oasis. Flowers blooming, little walkways and benches, and birds flying through snacking on the feeders. It's the perfect place for a garden party!
When I asked if we could have one in her garden recently, she was excited and couldn't believe she hadn't thought to have one before. I got busy planning and I'm sharing my simple garden party ideas today so you can plan a wonderful afternoon too!
Simple Garden Party Ideas
Garden Party Invitations
Because a garden party is outside, the weather is a factor. Keep that in mind when sending out garden party invitations.
Try not to pick a date too far in advance. If you are able to invite guests within 1 week of the event, that will help you plan around the forecast.
If you need an invitation for your party, you can print these adorable garden invites that I created.
–> Printable Garden Invites <–
Garden Party Decorations
One of the best things about a garden party is that the garden is the majority of your decor. Set up a table for food covered in a bright color and hang a little banner from it.
If you have a fence in the garden, hang some bright colored paper fans along it. Other than that, let the flowers and nature take care of the rest.
Garden Party Food
When planning a garden party menu, easy and light are the way to go. Nothing hot and nothing that requires being plugged in. Salads and cupcakes are a great choice for garden party food and require little cleanup.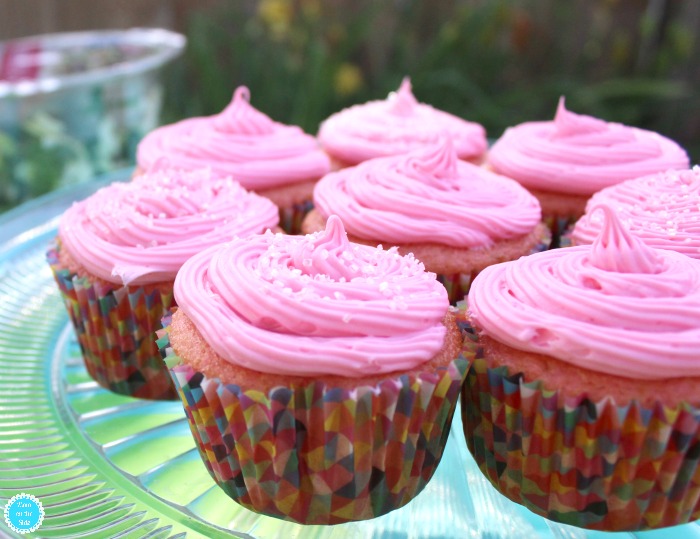 Things like Eat Smart Gourmet Salad Kits and Salad Shake Ups make it even easier!
Eat Smart Gourmet Salad Kits were a big hit at my garden party. These chef-inspired salad kits offer sophisticated blends of six or more superfoods and are perfect if you're looking for innovative, convenient, and healthy eating options for your party.
I love that with Eat Smart salads, everything is ready to be dumped into a bowl and served. I set out three flavors of Eat Smart Gourmet Salad Kits including Sweet Kale, Strawberry Harvest, and Sunflower Kale.
All three currently contain a 100% clean label. That means no artificial colors, flavors, or preservatives. Eat Smart is the first brand within its category to commit to clean ingredients and labeling, with plans for all products to contain a "100% Clean Label" by the end of 2018.
By offering clean label salad kits, Eat Smart is providing consumers with another healthy option when shopping with their personal wellness goals in mind.
If you want to serve even more choices at your garden party, set out Eat Smart Salad Shake Ups. With a unique lockable lid, everything mixes right in the sturdy deep bowl.
That means no extra bowls or plates are needed for these nutrient-packed salads that also contain the Clean Label.
We ended up dipping our forks into all of them because they are so tasty.
Avocado Ranch: Crunchy blend of cabbages and vegetables, crispy toppings, and a creamy avocado ranch dressing.
Tropical Lime: Vegetables and dried fruits blended with a creamy coconut lime chili dressing.
Raspberry Acai: Vegetables and dried fruits with a variety of seeds (hemp, flax, and chia) and a tangy raspberry acai dressing.
Garden Party Punch
No garden party is complete without a garden party punch! If you want a punch that can be served in itself, this Watermelon Punch is it!
All you need is a small seedless watermelon and 1 cup of seltzer. Cut the watermelon in half and remove the watermelon from inside leaving a nice shell.
Place the watermelon and seltzer in a blender and puree. Strain if you need to in order to remove any seeds that may have been in there.
Pour it back into the watermelon haves and serve with a ladle or stick in some straws and enjoy with friends.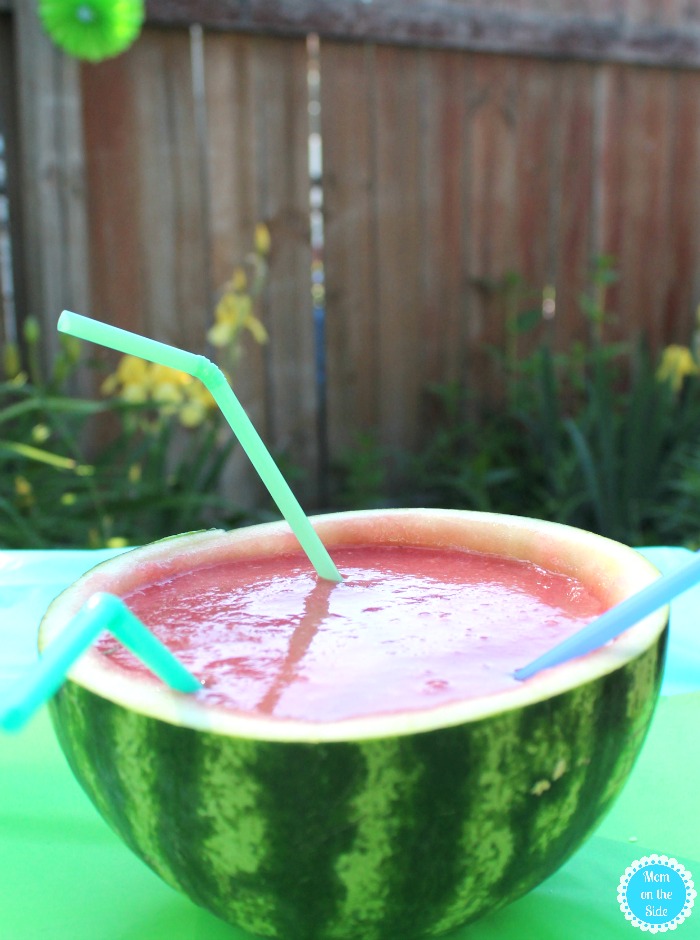 When planning your next garden party, you can feel good about serving Eat Smart Gourmet Salad Kits and Salad Shake Ups. By the end of 2018, all Eat Smart products will feature easy-to-understand labels with recognizable ingredients.
Ingredients that will be free from high fructose corn syrup, artificial preservatives, hydrogenated fats, artificial colors, flavors, and sweeteners. Are you ready to dig your fork into that?!
Visit the Eat Smart Website to sign up for their monthly newsletter to stay up to date on all the happenings and deliciousness. You can subscribe by clicking on "Receive Exclusive Offer" on the bottom right of the website homepage.