FORTNITE Party Ideas
My 12-year-old son is like many other teens and even adults right now – fighting to the finish in FORTNITE Battle Royale. I'm not a big video gamer but I gotta be honest, even I enjoy watching him play. He and his 16-year-old sister are hanging out several nights a week playing and even the twins want in on the action. You can see why I planned a FORTNITE themed birthday party over the weekend!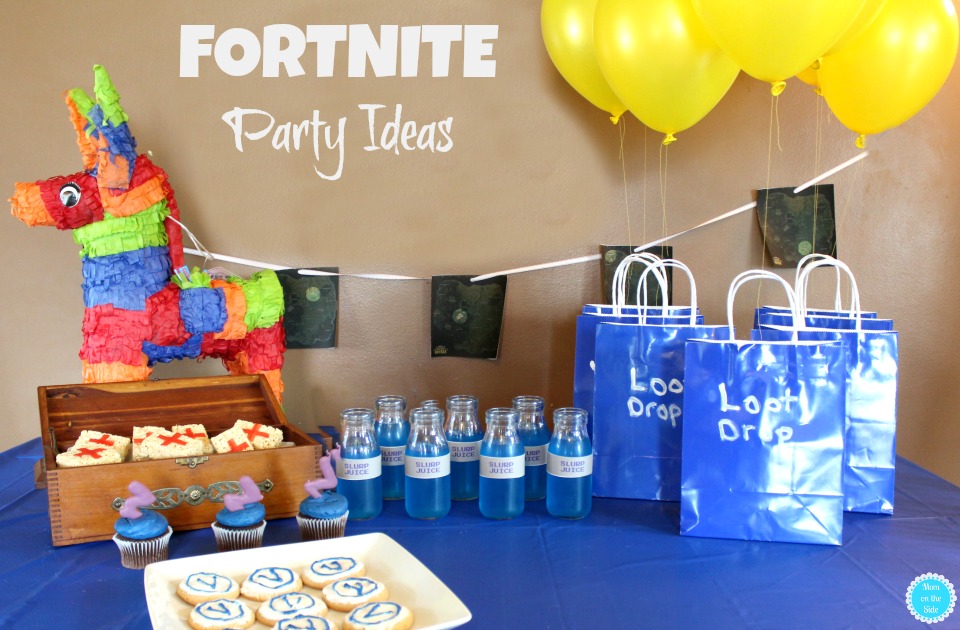 Fun and Easy FORTNITE Party Ideas
I served regular pasta, cake, and ice cream at the party but everything else was FORTNITE themed. I think I did a pretty good job considering there are no FORTNITE party supplies in stores. A little Google searching on Gamepedia (I didn't even know that was a thing!) and I came up with some fun FORTNITE party ideas that are super simple to put together.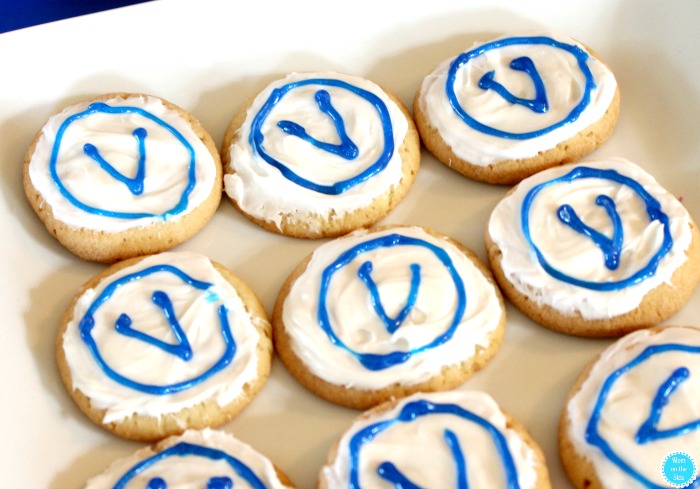 In FORTNITE, the form of currency is V-Bucks. Sugar cookies with white frosting and blue writing gel made the perfect V-Bucks Cookies. They are actually more greyish blue in the game so swirling the blue and white together first would have been a better idea. Hindsight…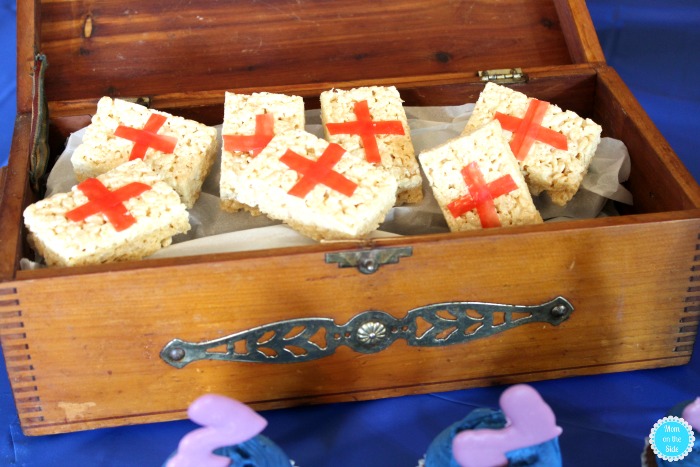 When playing FORTNITE you want to find chests hidden throughout the game. They contain things like guns, ammo, and medical items. My mom had an old wooden chest lying around at home so I borrowed it and filled with Rice Krispies Medic Bandages!
Cut up Fruit Roll-Ups worked great for putting a red cross on each of the Rice Krispies treats. Oh, and if you are wondering about those cupcakes with purple chocolate on top that was me trying to recreate Shards but I sort of failed at that, lol!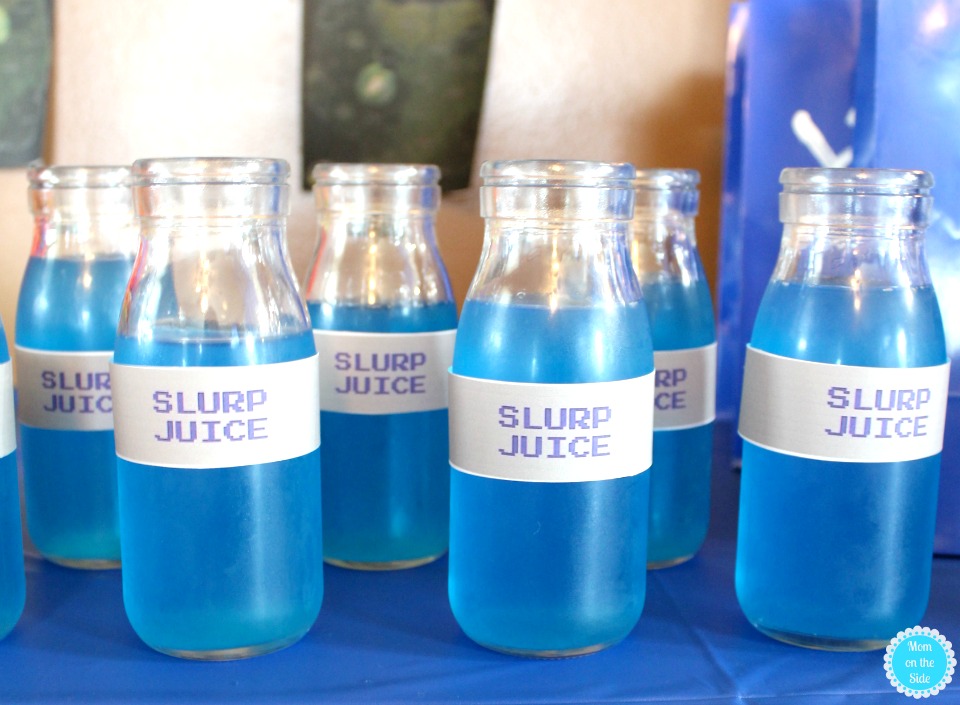 Slurp Juice is one way to heal yourself in FORTNITE. My son is always talking about Slurp Juice and Chug Jugs so I knew one of them had to be part of the FORTNITE party. Blue Gatorade in glass milk bottles with a printable label made for some great Slurp Juice!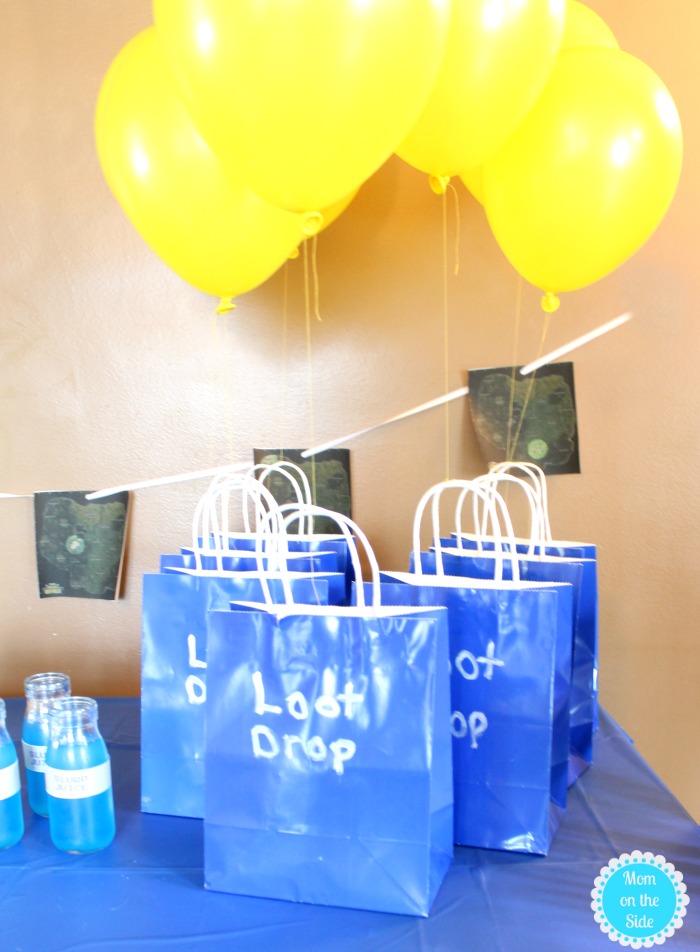 Throughout the game, there are Supply Drops that often have better loot than the chests I mentioned. Loot Drop Goody Bags filled with blue colored candy were a favorite of the kids. I tied on a yellow balloon with helium and I wanted my husband to climb on the roof and drop them down to the kids while they played NERF guns, but ended up raining the day of the party so all the fun was indoors.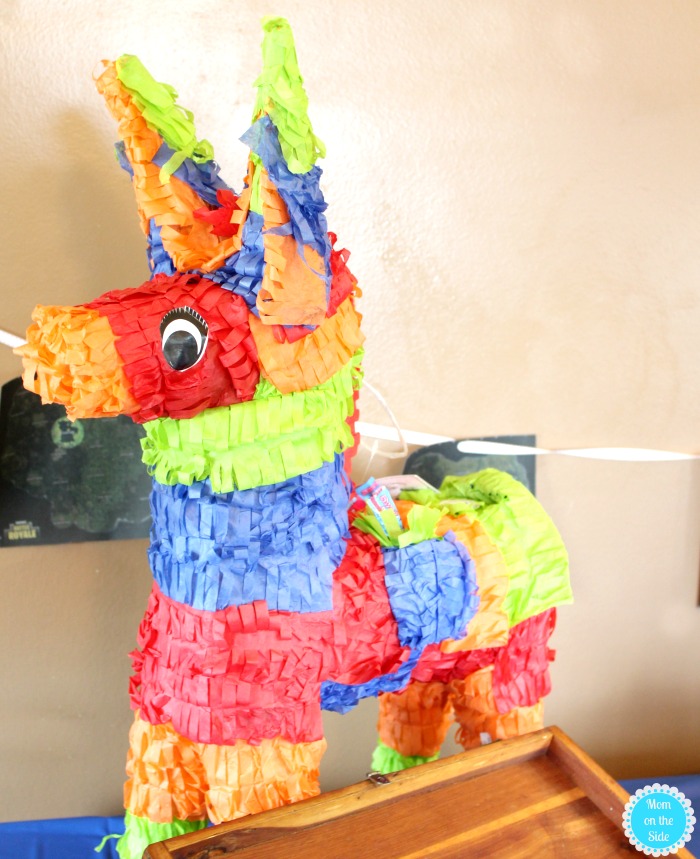 The Loot Drop Goody Bags also worked great for collecting candy from the Llama Pinata. It might be a donkey – my husband and me argued about that. There are Llama Pinatas in FORTNITE that are filled with rewards so of course, we had to have one at the party!
The final part of my FORTNITE party ideas was printing of FORTNITE Battle Royale Maps and hanging them on the wall as a banner. My son quickly pointed out which maps I should have printed because apparent Twisted Towers was a must and I forgot it.
If you plan a FORTNITE party come back and show me what you created!
Save these FORTNITE Party Ideas for later!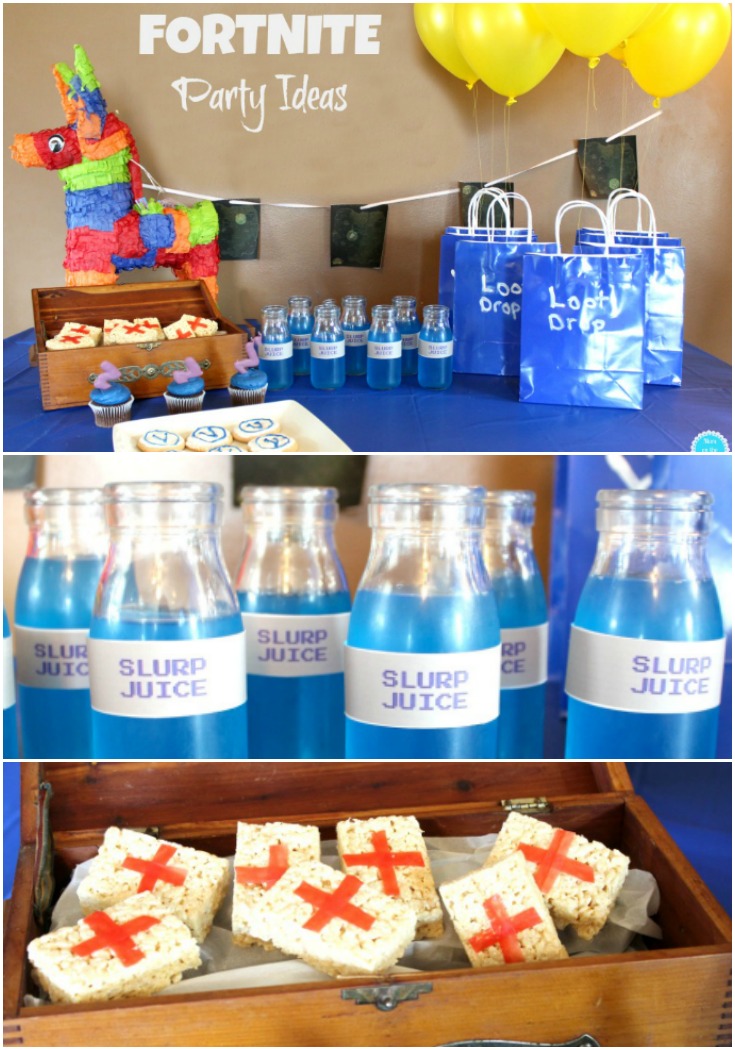 Want more party ideas?