If you ask me, there's never a bad time for hot chocolate. Don't get me wrong, winter is my most favorite time to sip on a mug of hot chocolate.
A close second though is sipping on a glass of frozen hot chocolate during summer! Do you agree? If yes, you're going to want this Ultimate Unicorn Frozen Hot Chocolate in your life!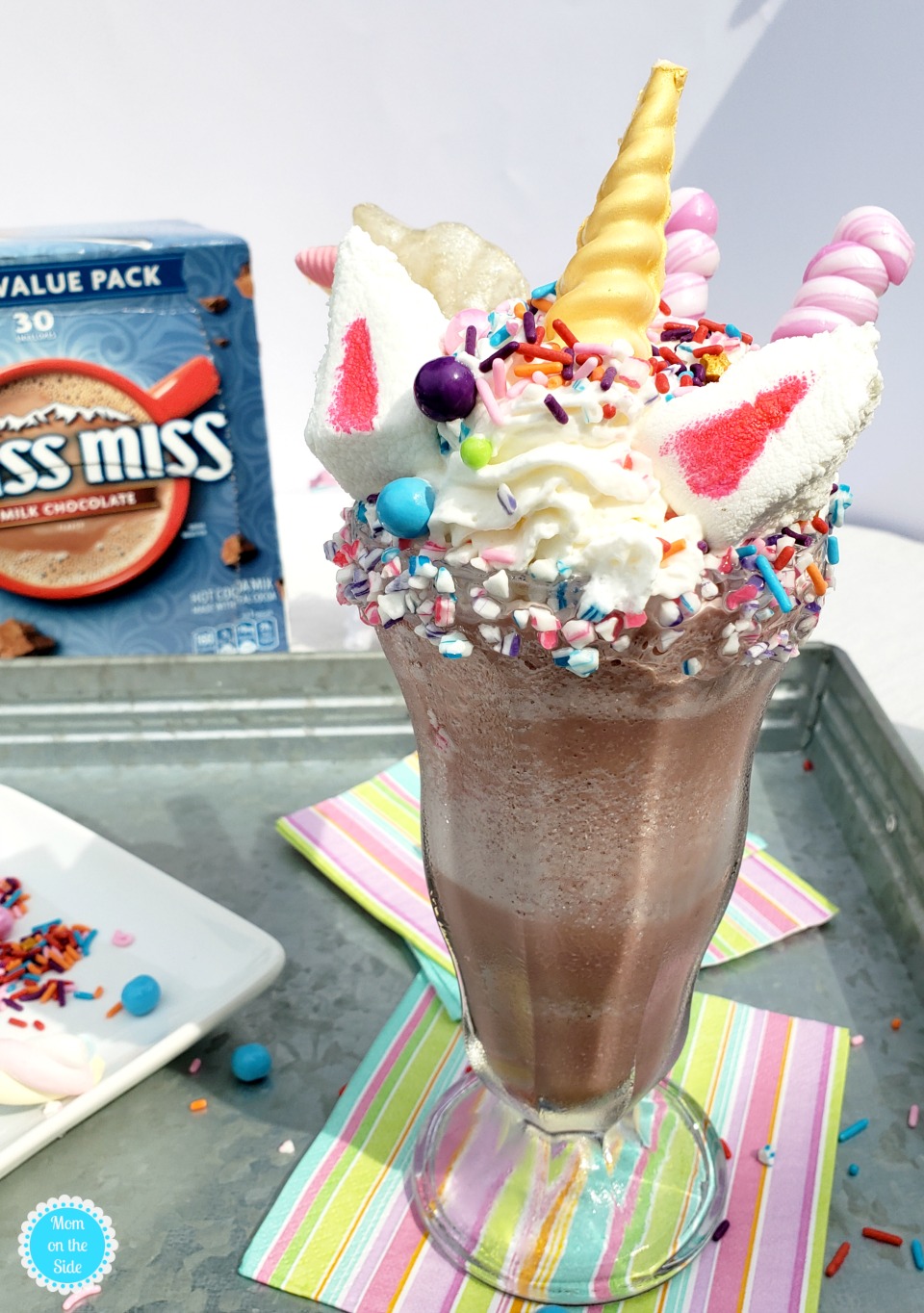 Ultimate Unicorn Frozen Hot Chocolate
Magical, delicious, and easy to make. Ultimate Unicorn Frozen Hot Chocolate with Swiss Miss®, Reddi-wip, and unicorn candy and toppings is a great way to say goodbye to summer!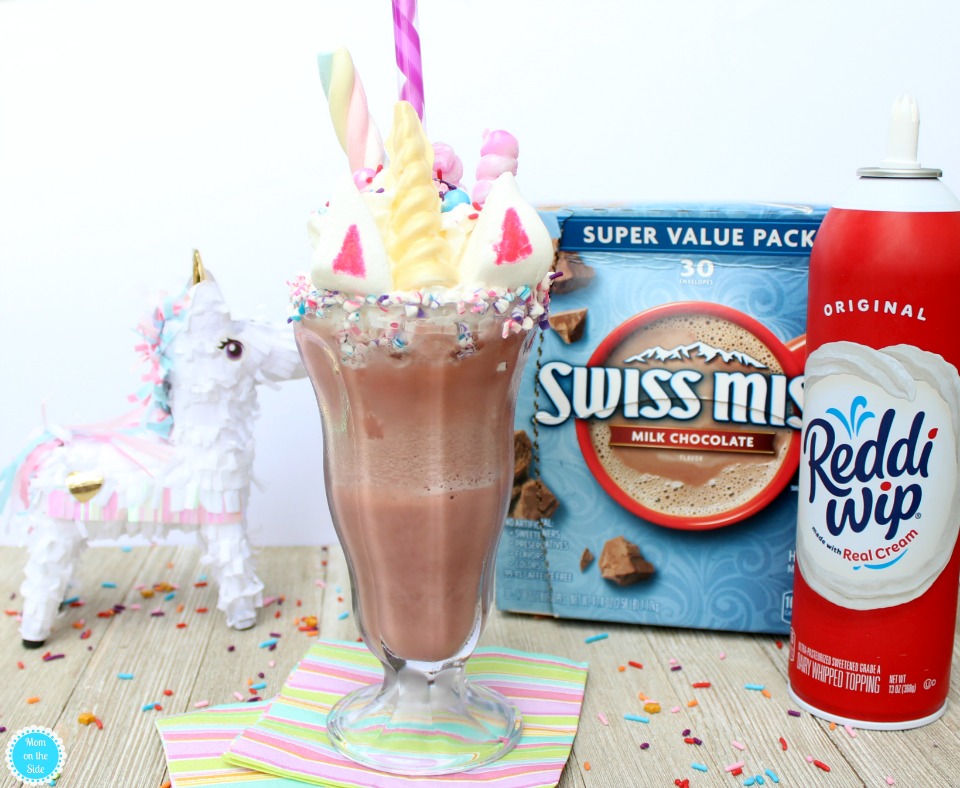 Ingredients for Ultimate Unicorn
Frozen Hot Chocolate
6oz Strawberry Milk
1 Packet Swiss Miss® Milk Chocolate Hot Chocolate – did you know it's made with real milk?! Swiss Miss supports 80+ local dairy farms who supply them with farm-fresh milk every day, and they package all of their products here in the USA!
Reddi-Wip® Original Whipped Topping
2 Cups Ice Cubes
White Melting Chocolate
Unicorn Horn Molds
Edible Gold Glitter Mist
Marshmallows
Edible Pink Writing Marker
Colorful Sprinkles, Suckers, and Candy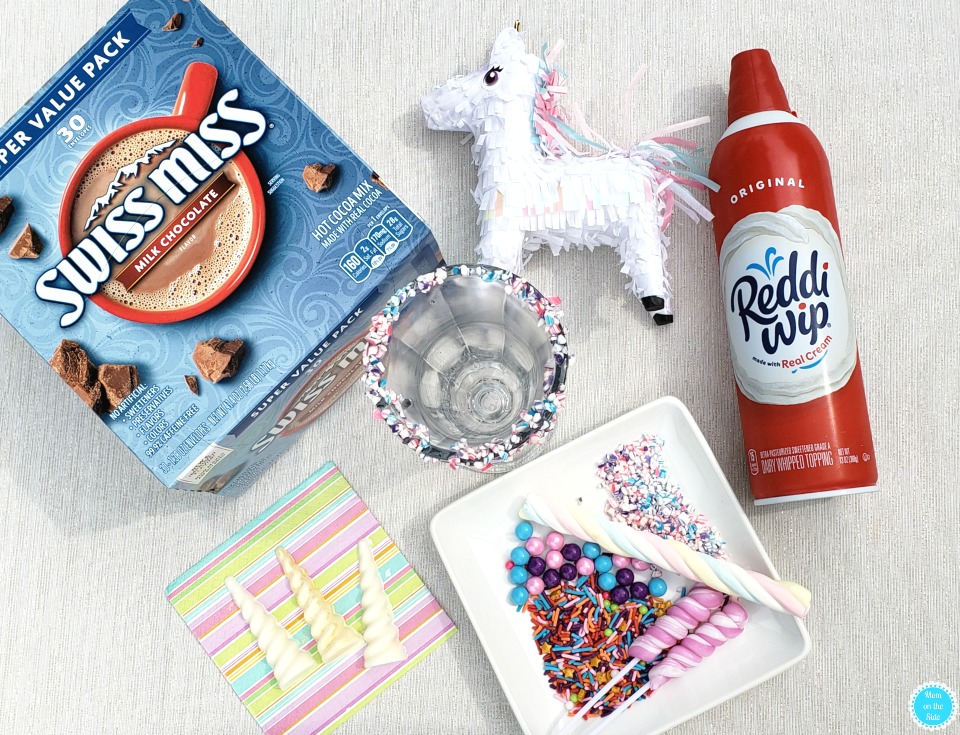 The ingredients listed above are for making one Ultimate Unicorn Frozen Hot Chocolate. Simply multiply the milk and Swiss Miss packets based on how many you want to make. The first thing you'll want to do is make your white chocolate unicorn horns so they can set.
Melt the white chocolate according to the package and fill the molds according to the instructions. Remove excess chocolate and place in the freezer to set quicker.
Once the white chocolate unicorn horns have hardened, pop them out of the mold onto parchment paper. Remove any edges and spray them with Edible Gold Glitter Mist.
If they get blotchy in spots use your finger to smooth it out. Let them dry until you are ready to put them on top of your Ultimate Unicorn Frozen Hot Chocolate.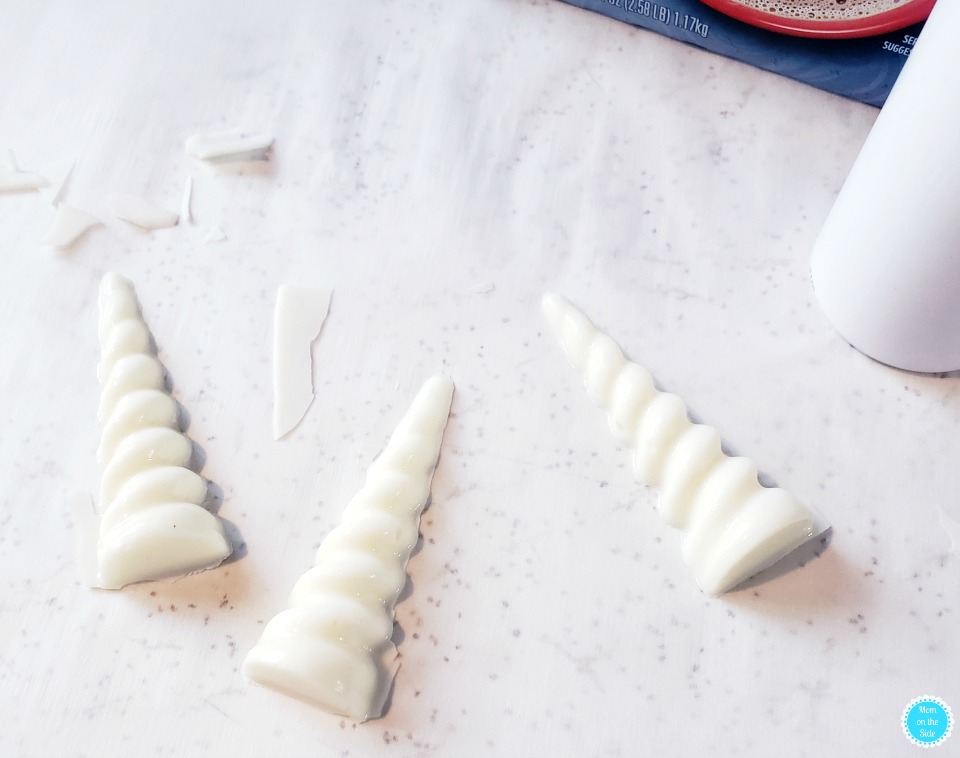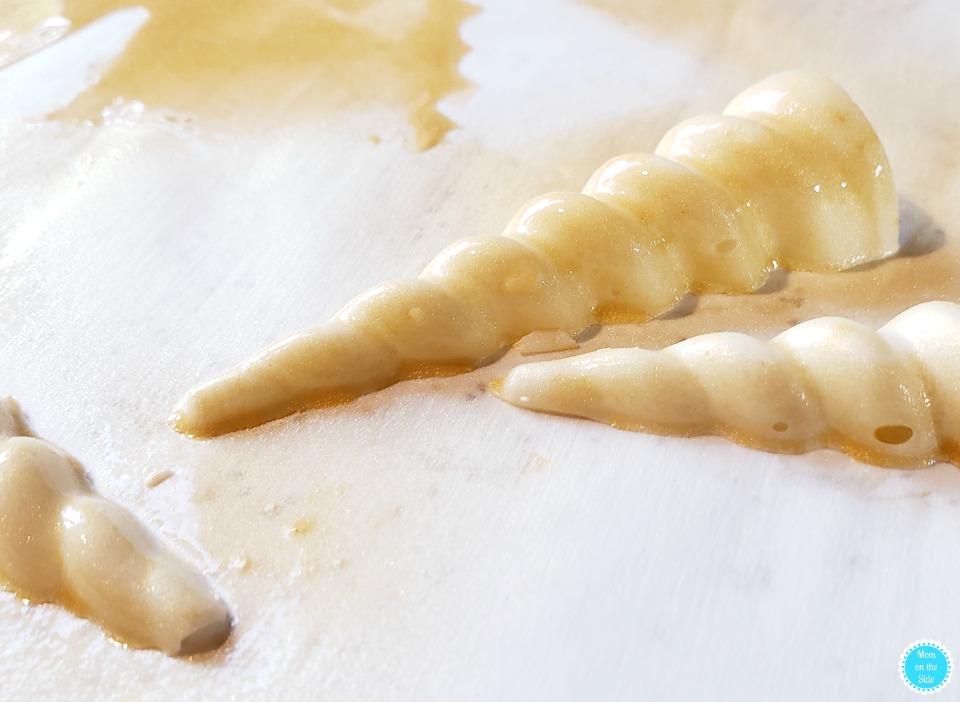 Next, prepare your glass by dipping it in the leftover melted white chocolate and rolling it through crushed candy. I tried corn syrup first and it just didn't hold the candy in place as well as the white chocolate did.
The last thing to do before making frozen hot chocolate is creating the unicorn ears. I cut triangle shapes out of large marshmallows and colored a pink triangle in the center using an edible pink writing marker. They weren't perfect but the kids loved them!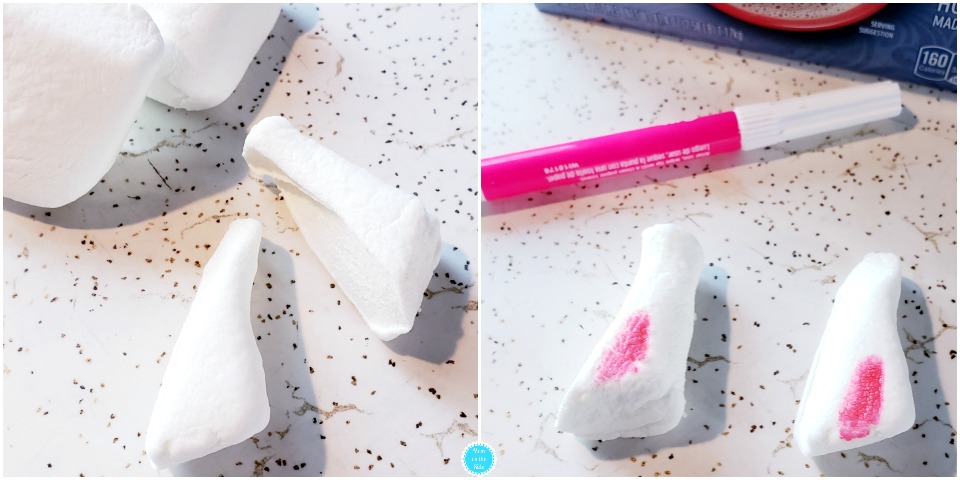 Now it's time for the yumminess! Swiss Miss has been a staple in our house for hot chocolate and makes it really easy to create a delicious frozen treat at home during the summer months.
For more than 50 years, they've been creating their signature Swiss Miss blend in a real dairy in Menomonie, Wisconsin and helping families like ours enjoy deliciousness from our mugs.
Now those mugs are going frozen! To make frozen hot chocolate simply pour a packet of Swiss Miss into your blender along with ice cubes and strawberry milk. Blend until a frozen slushie consistency is reached.
Once the frozen hot chocolate is blended up it's time to pour it in the glass! Top it with a dollop of Reddi-Wip, sprinkle on more candy, stick in suckers, place marshmallow ears on the sides and finish it off with a glittery gold unicorn horn in the center. YUM!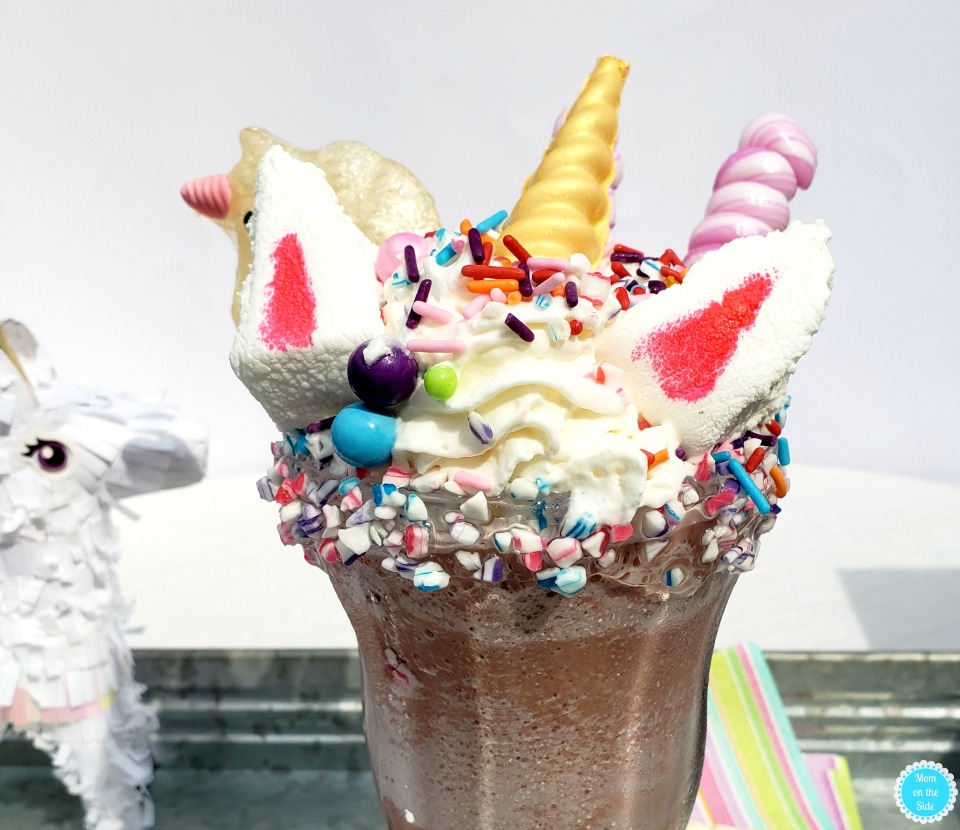 I found the super value packs of Swiss Miss at Walmart, along with Reddi-Wip and candy for toppings. When it comes to toppings, look for things that are multi-colored, pastel, and most importantly, edible.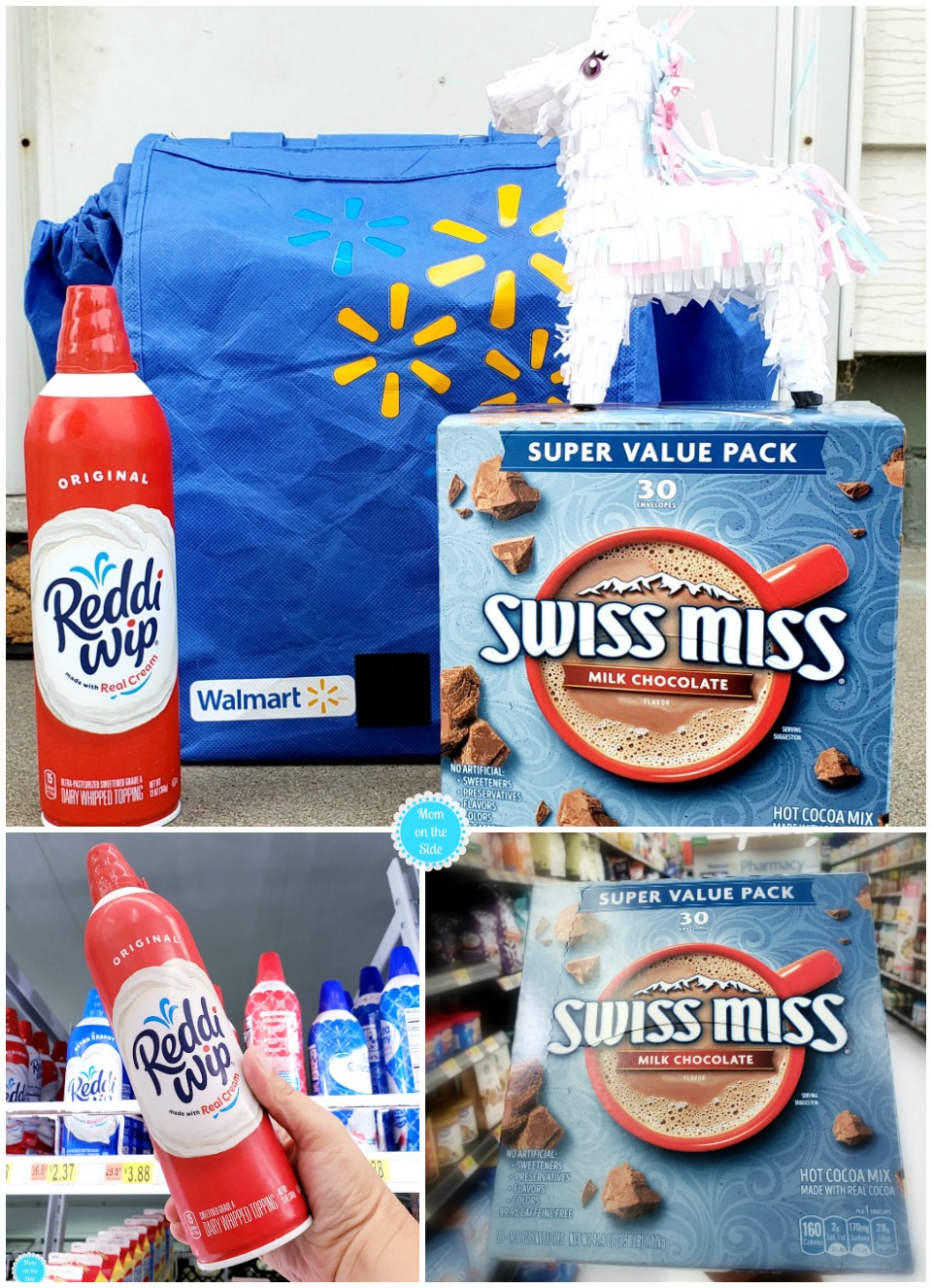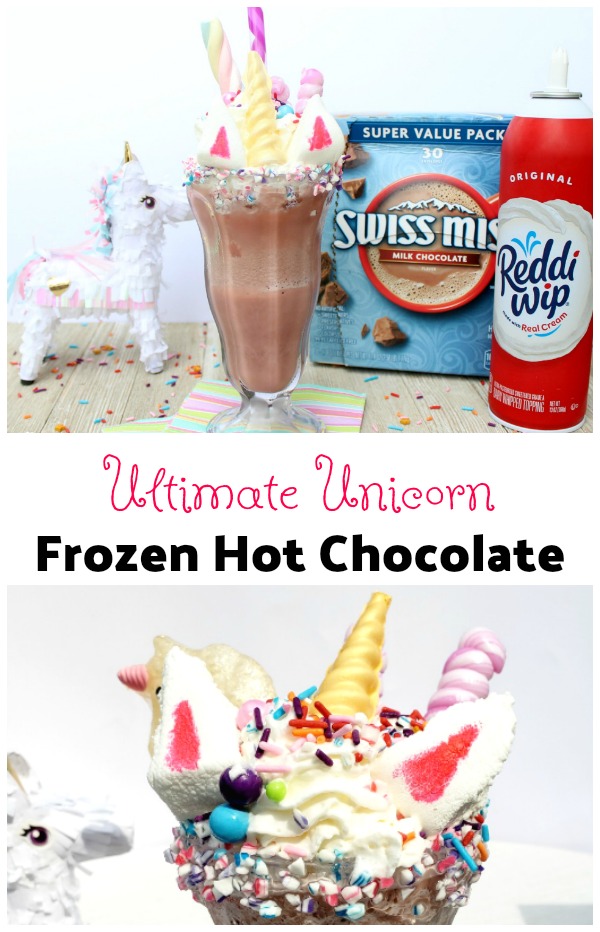 Save this Ultimate Unicorn Frozen Hot Chocolate recipe for later!
Directions for Making Ultimate Unicorn Frozen Hot Chocolate
Step 1: Make White Chocolate Unicorn Horns according to the chocolate package and mold instructions.
Step 2: Make unicorn ears using marshmallows and edible writing markers.
Step 3: Dip rim of glass in melted chocolate and roll in sprinkles.
Step 4: Mix hot chocolate mix, milk, and ice cubes in a blender.
Step 5: Pour into a glass and decorate with whipped topping, unicorn horn, unicorn ears, and candy.