Violent Vampire is a great Halloween Drink for kids and can be turned into a cocktail!
The last month of summer put a damper on Thirsty Thursday for me. Don't get me wrong, I enjoyed a few glasses of Moscato during those weeks, but I've been slacking on sharing new drinks for you to enjoy.
Well, Thirsty Thursday is back in full swing with this Violent Vampire Drink for Halloween! If you are looking for a fun Halloween Kids Drink, this is one to try!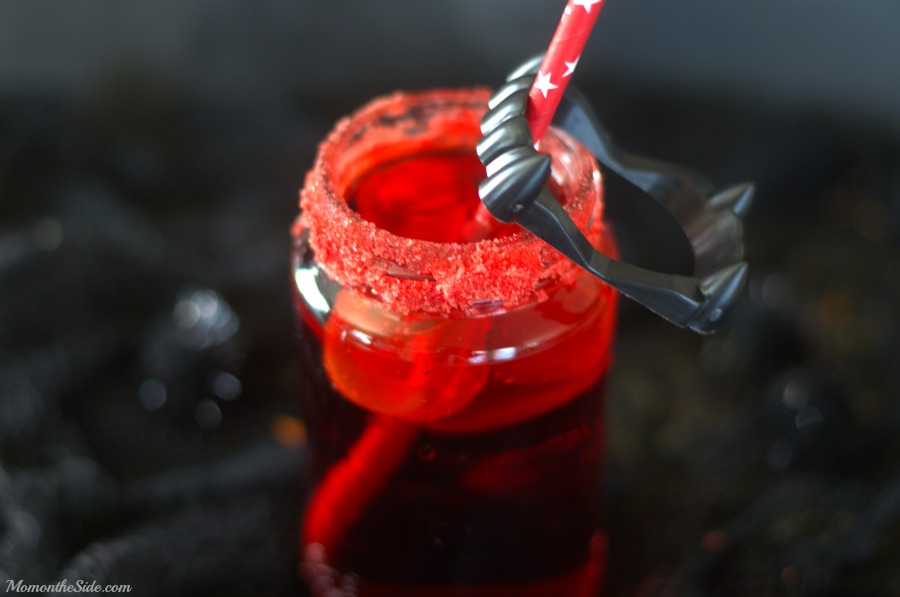 Violent Vampire Halloween Drink
The awesome thing about this drink for Halloween is that both kids and adults can enjoy versions of it! The regular way to make this is for the kids, and for those of you over 21+, you can add in a shot of vodka if you'd like to make it strong.
Ingredients for Violent Vampire
2 Red Kool-Aid Coolers
3 Tablespoons sugar
4 Drops Red Dye
Small Mason Jar
Cute Straw
Vampire Fangs
How to Make Violent Vampire Drinks
Start by adding food coloring and sugar to a small bowl. Stir well then pour the colored sugar on a plate. Next, wet the mason jar rim and roll in sugar. Note, if you would rather avoid food coloring you can use red sanding sugar.
Now, add ice cubes to the mason jar and pour in Kool-Aid. Top off with cute straw and vampire fangs before you sip and enjoy! If you want to turn this into a Halloween Cocktail simply pour in a shot of vodka or other alcohol you like.
PIN Violent Vampire Drink for Halloween to make later!

If you want more drinks and desserts, check out these cocktails and brownie bits!