This shop and After School Activity Jar have been compensated by Collective Bias, Inc. and its advertiser. All opinions are mine alone. #HorizonLunch #CollectiveBias
When you have toddler twins, a child in elementary school, and a high schooler, after school is a busy time. After school is also when a moment of quiet is needed, to go over all the papers that come in the door from school.
Sound like your house? My After School Activity Jar for snack time is just what you need to help everyone unwind.
The After School Activity Jar is filled with all sorts of ideas. Fun Activities the kids can enjoy, that don't involve electronics.
Activities like puzzles, coloring, board games, reading, listening to music, or whatever you and your kids come up with. After school, the kids draw an activity out of the After School Activity Jar, and for 30 minutes during snack time, they enjoy the activity they have chosen.
After School Activity Jar Supplies

How to Make an After School Activity Jar
Take the cut up strips of paper and write down one fun activity on each one. If you need some ideas you can use my printable Activity Jar Ideas that also include blank spaces for you to add in your own.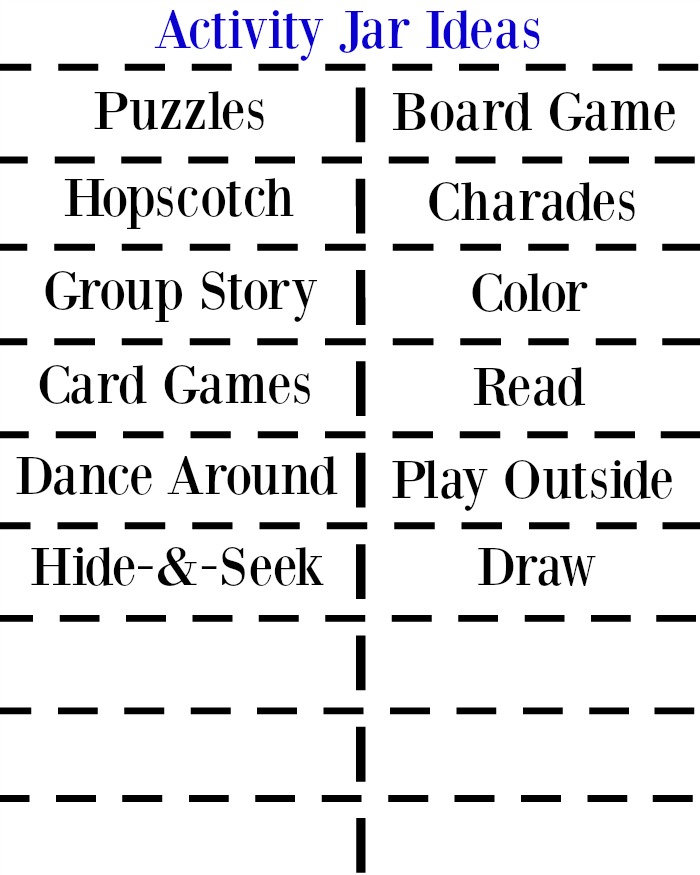 Once you have your activities written down, place them all in the jar and put the lid on.
Stick on the label and write something creative like "Reach in for FUN", or simply write "Activity Jar". You can also decorate your jar with stickers, ribbons, or whatever you have on hand, if you would like.
Keep the After School Activity Jar some where you can easily access it during snack time. Set it by those yummy after school snacks, like Horizon™ Organic Chocolate Protein Plus Milk and Horizon™ Apple Fruit Crunchers! 
I was pregnant with my second child when a friend introduced me to the yummy Horizon Organic milk boxes, in chocolate of course. I may have really liked the fact that it came with a straw.
My kids have since figured out how yummy they are, and now these shelf-stable milk boxes aren't just for me, they are also great lunchbox alternative to juice boxes for my kids.
With the whole family now sharing my likeness for Horizon Organic, I had to put new Horizon Organic Chocolate Protein Plus Milk in my cart when I spotted it at Walmart recently.
Designed for ages 13-18, Horizon Organic Chocolate Protein Plus Milk has 15 grams of protein in each bottle. It's great to have on hand for my active teens, like daughter. Ready to grab while they unwind after a long day of school, tennis, and dance lessons.
Another real simple, delicious snack option in my cupboard is Horizon Apple Fruit Crunchers. Made with organic dried apples, and nothing else, Apple Fruit Crunchers come in convenient pouches that are perfect for lunchboxes and snack time.
Portable too, so the kids can grab a handful and head off to enjoy the activity they drew out of the After School Activity Jar!
Not only does the After School Activity Jar help kids have a little fun after a day of learning in the classroom, it also gives them something fun to do so they don't woof down their snack, and jump on their electronics.
The bonus is that parents have a chance to go over those school papers while the kids are occupied, and with Horizon products for snack time, without having "are my kids eating right?" on your mind.
Enjoy the confidence of knowing that you are offering foods with ingredients you can feel good about, while keeping your kiddo happy with delicious snacks!