Pokemon Go has got to be the fastest growing app by popularity in quite a while! I read last week that the app is beating out Facebook and Snapchat which is highly impressive.
Yes, the servers have been down a lot which is kind of expected with THAT many users, but thankfully Niantic is driven by quality customer service and they have really been working hard to get the game working smoothly for everyone around the world.
Now, I'm going to make it a little more fun by telling you how to hold a Pokemon Go Scavenger Hunt by car!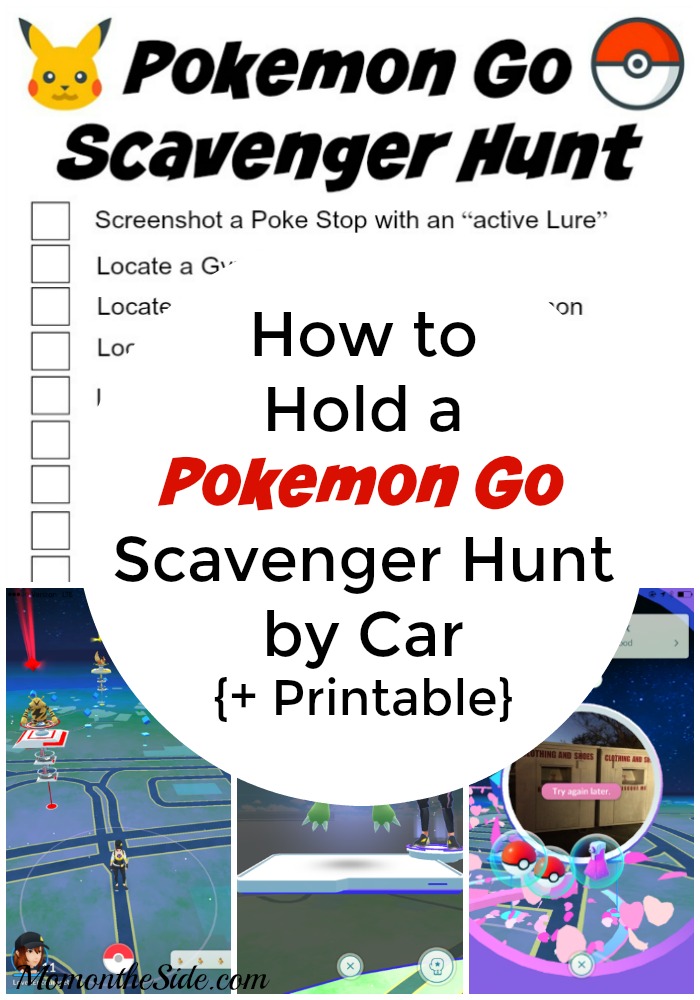 How To Hold A Pokemon Go Scavenger Hunt By Car
Split Into Teams
Split kids/adults attending the scavenger hunt into Teams based on their Pokemon Team choice after they've reached level 5 and chosen which one they wish to support. The three Teams available are Team Mystic (the blue team), Team Valor (the red team), and Team Instinct (the yellow team) and once you choose, you are part of that Team for the rest of the life of your Pokemon Go game.
If an adult or child is not yet at Level 5, then just put them with whichever Team is shorthanded, or in the car of the Team they "intend" to become a part of as soon as they level up. They will most likely reach Level 5 while on this Pokemon Go Scavenger Hunt with everyone.
Pass Out Checklists
Now the fun begins! Have a predetermined route mapped out for each team to take during the Scavenger Hunt.
Make sure there are two copies of the mapped out route – one for the driver and one for the navigator riding in the front passenger seat. As you follow along the map, have students/kids/adults in each car load following along with a second handout that everyone in the group has a copy of my printable "The Pokemon Go Scavenger Hunt By Car"!
Use this checklist to mark off items as your group finds them, but members of each group must take a screenshot with their device in order to prove you they found a particular item.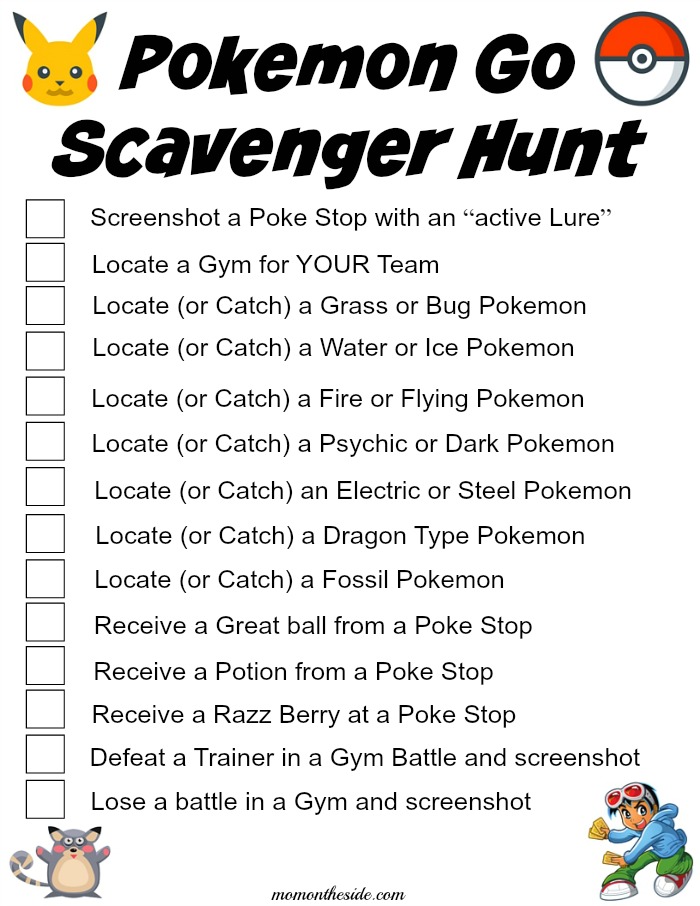 How to Play
You may play the game by either requiring that everyone has to be able to check off all the items in the list for their "car" to win or for their "Team (Mystic, Valor or Instinct) to win. Or, you may choose to require that only one person from each group or carload be able to check off an item from the "group" or "Team" checklist.
The first Team or carload to reach the finish line (back at the home starting point) with all their items checked off the list wins! Due to time constraints, or not wishing to make it feel like a race, you can also put a 1 hour limit or 30 minute limit to the Scavenger Hunt By Car and have all members meet back at the finish line "on time" or receive a penalty deduction.
Now count up how many each Team has "proof" from their photos that they checked off and announce the winners!
Prizes and Fun
You may have refreshments and a selection of prizes for groups that come in 1st, 2nd, and 3rd with candy or something simple as a consolation prize for the other group members who didn't place in the Scavenger Hunt By Car.
Suggested prizes for 1st place include Google Play or iTunes gift cards or Cash to be able to purchase and restock their Pokeballs, buy Incense, Lures, Incubators, and other top items. Another fun option for younger kids or huge Pokemon fans would be providing Pokemon themed gifts or party favors of some sort to the different teams and their winners.
Pokemon Go Scavenger Hunt Ideas
Here is a list of suggested things you can have on your Pokemon Go Scavenger Hunt By Car checklist:
Locate a Poke Stop with an "active Lure" on it. (One with pink petals floating around it) Take a screenshot.
Snap a picture of 3 wild Pokemon near your Trainer character on the map view all at the same time!
Locate a Gym for YOUR Team (Team Mystic, Team Valor, or Team Instinct)
Locate a Gym with a Level 4 or higher and snap a pic of the highest CP Pokemon and their Trainer
Locate (or Catch) a Grass or Bug Pokemon
Locate (or Catch) a Water or Ice Pokemon
Locate (or Catch) a Fire or Flying Pokemon
Locate (or Catch) a Psychic or Dark Pokemon
Locate (or Catch) an Electric or Steel Pokemon
Locate (or Catch) a Dragon Type Pokemon
Locate (or Catch) a Fossil Pokemon
Locate (or Catch) a "specific name of Pokemon" such as Jigglypuff, Pikachu, Snorlax
Receive a Potion from a Poke Stop
Receive a Pokeball from a Poke Stop
Receive a Revive from a Poke Stop
Receive a Great ball from a Poke Stop
Receive an egg at a Poke Stop
Receive a Razz Berry at a Poke Stop
Defeat a Trainer in a Gym Battle and screenshot the "YOU WIN" message
Lose a battle in a Gym and screenshot the "YOU LOSE" message
Earn a medal and screenshot the message showing which Medal you received
Hatch an egg and screenshot the egg hatching on your screen
Get your Trainer in a Gym as a Defender and screenshot the PokeCoins you earned and received by going into the Shop menu and looking at the top right icon that shows the number of Defenders you have in Gyms and PokeCoins earned.
Whether you are young or old, into Pokemon, or just hearing about it for the first time, you've got to admit – it is pretty awesome being able to play this app simply for the fun in snapping the creative pictures!
Grab this Printable Pokemon Go Scavenger Hunt that has some of the ideas above all ready for you, and catch 'em all!
Want more scavenger hunts?