When I travel, the hotel means just as much as the location and adventures. If I'm traveling for work I like a comfortable room I can relax in at the end of the day and get some work done.
When I'm traveling with family we need space and convenience. I'm not picky but I have preferences and Cambria Hotel in Pittsburgh exceeded my expectations!
(I was provided with an all-expenses-paid trip to Pittsburgh.)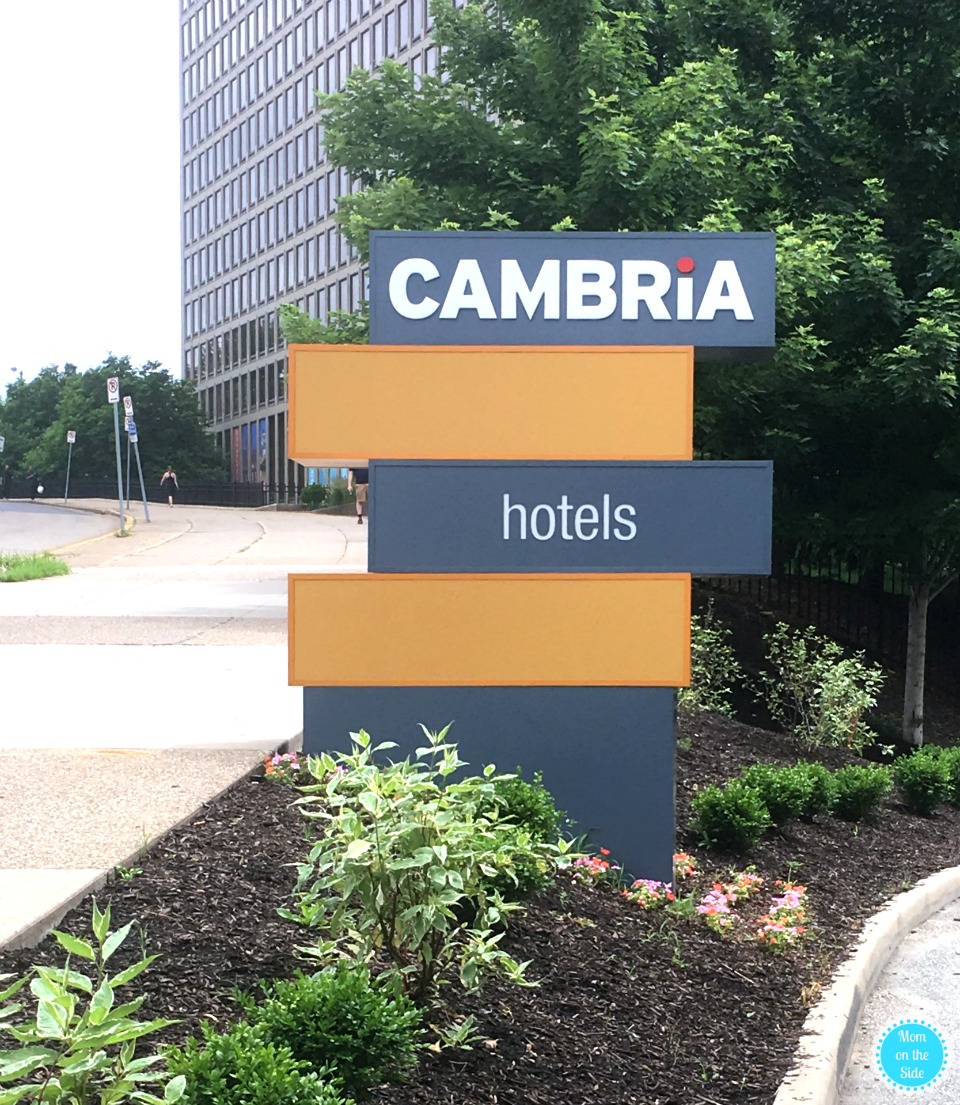 My Favorite Things About
Cambria Hotel in Pittsburgh
When I stayed in Pittsburgh I didn't choose which hotel I stayed at. Our group was booked at the same place which is normal when I travel on a trip like this.
For that reason, I stalked their website and I can happily say that they lived up to their gorgeous pictures and enticing description.
Beautiful Rooms with Plenty of Space
I feel in love with the room as soon as my key unlocked the door. The sitting area and workspace were my favorite part – the peek-a-boo wall splitting the sleeping area from the working area was a close second. I really liked having the sleeper sofa to relax on and the desk to work at and the bed to sleep in.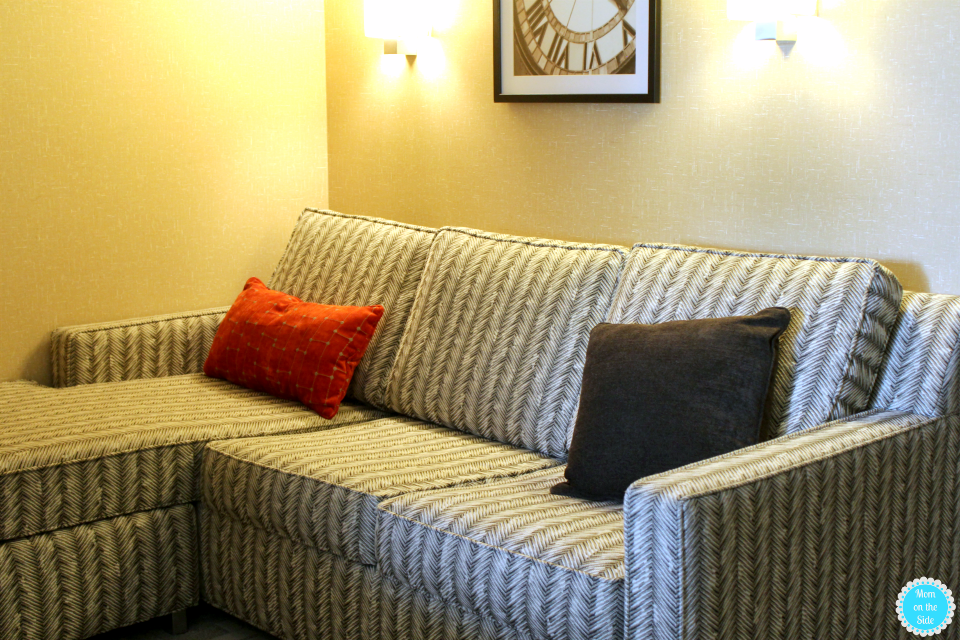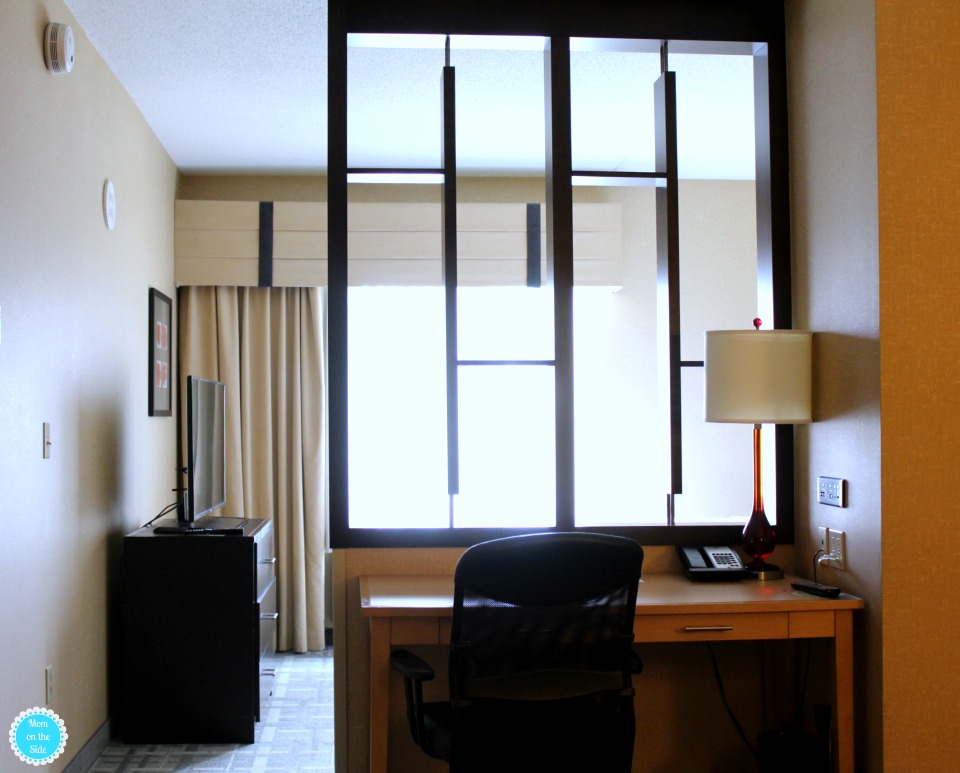 The luxury walk-in shower was awesome, especially because I could enjoy it without being interrupted by children. Somehow I forgot to take a picture of the shower so I'll show you the sink and toilet instead. Oh, the bath amenities are Bath & Body Works products!

Great Night Sleep
I had no trouble getting to sleep but maybe a little trouble wanting to roll out of the comfy bed in the morning. Plenty of fluffy pillows and I didn't even have to touch the temperature.
The Bartender is On Point
The bartender that helped me on the nights I was there was fantastic! Social Circle Bistro and Bar sits on the main floor of Cambria Hotel.
I didn't try any food while there (remember all those Pittsburgh restaurants I told you about?!) but my Jack and Cokes came fast and strong.
Well, the two that I had but still. I appreciate a bartender that is on top of his game and us ladies had fun!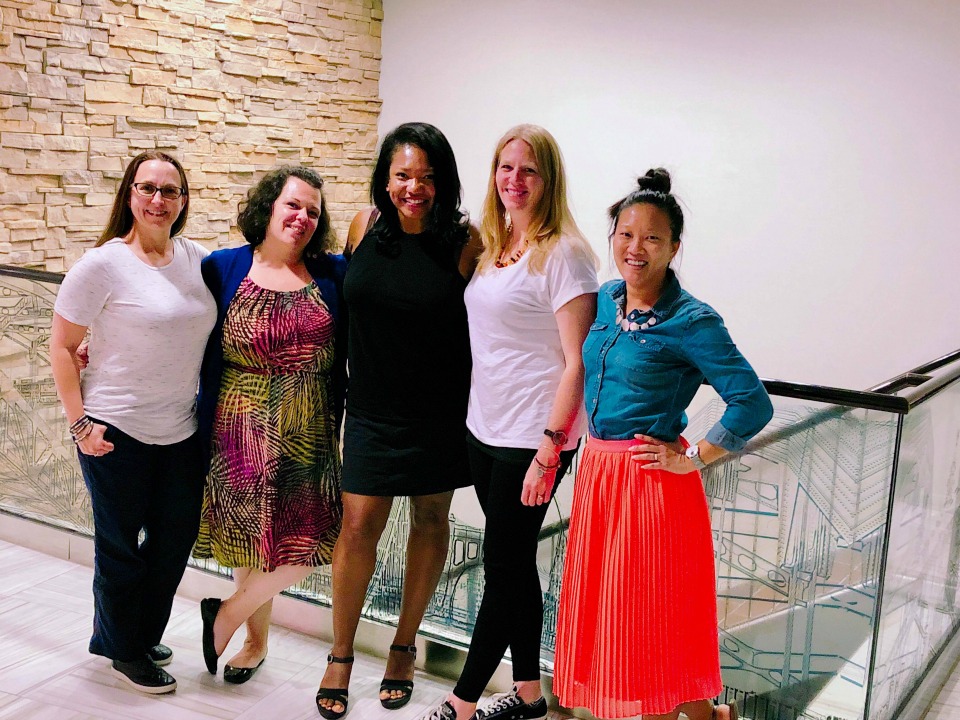 Super Friendly Staff
Every member of the Cambria Hotel staff that I encountered was super friendly. Always making sure my needs were met, even texting me a few hours after I checked in to make sure all was well.
The front desk staff was helpful in directions around Downtown Pittsburgh as well as prompt and efficient at check-in and check-out.
Great Location in Downtown Pittsburgh
Cambria Hotel is the official Pittsburgh Penguins Hotel and it sits right next to PPG Paints Arena where the Penguins play. Within 5 miles of the hotel, you will find dining and entertainment options including the Carnegie Science Center, Kennywood Park, PNC Park, and Primanti Bros.
If you are planning to visit Pittsburgh check out Cambria Hotel in Pittsburgh for your home away from home!