Does working out with kettlebells at home have you feeling intimated and wondering where to begin? Hopefully I can help by sharing how I got started with kettlebell workouts at home!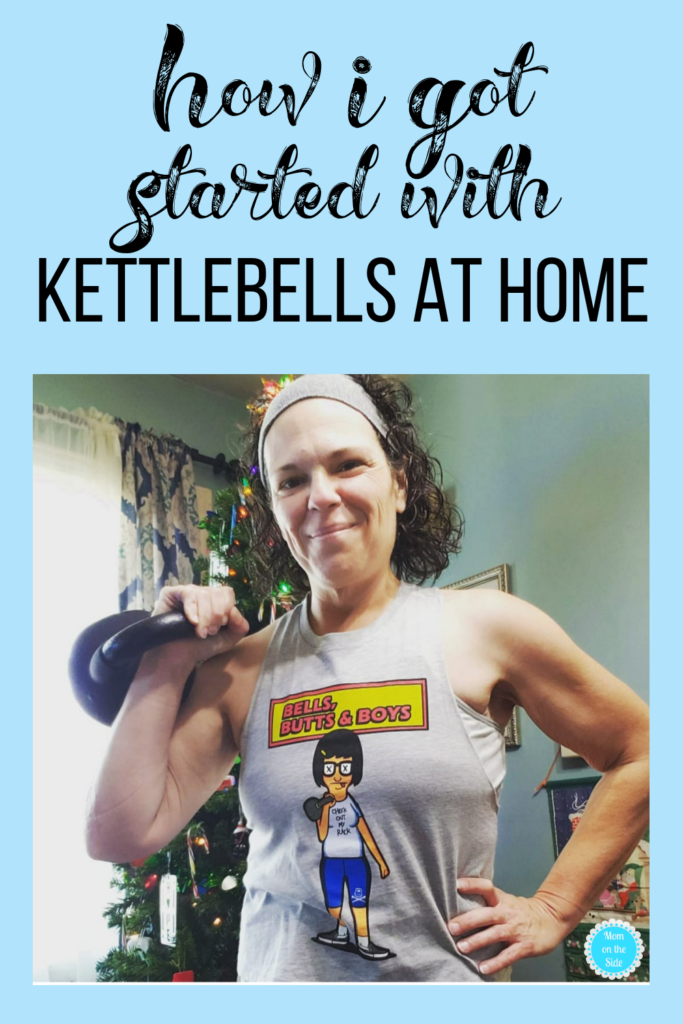 Getting Started with Kettlebells At Home
I got bitten by the bell bug on Instagram when I joined Fit Girls Guide in March of 2021. One of the ladies, who has become a huge inspiration in my fitness journey, was always swinging kettlebells at home.
Instantly kettlebells seemed like a fun challenge to take my fitness routine up a notch. I eagerly fell down the rabbit hole of kettlebells on Amazon and felt overwhelmed. So many styles and weights, and no idea what size kettlebell to start with.
What Size Kettlebell to Start With
Choosing a starting kettlebell weight is the first step to starting with kettlebells at home. Weights are not cheap and the last thing you want to do is invest in something you would immediately need to move up from or not even be able to use.
Do you currently lift weights?
What size weight do you currently use?
Kettlebell weights typically range from 5lbs to 100lbs. Generally they come in 4, 5 or 9lb increments, with commons weights like 10, 15, 20, 25, etc.
I was already using 10lb dumbbells when I purchased my first kettlebell. Ready to move up in weight with those, I opted for a 20lb kettlebell to start with. It ended up being the perfect starting kettlebell weight for me.
Once I knew the kettlebell weight I wanted, I needed to figure out what kettlebell style to use. The best advice I was given was to look at the kettlebell handle. You want a smooth seam on the underside so you don't cut your hands up.
When it comes to kettlebells styles I didn't really have way to try different ones out since I work from home. There are all kinds of shapes, colors, and even handles you can add to dumbbells to turn them into kettlebells.
In the end, for my first kettlebell I went with Bionic Body Soft Body Kettlebell. Mainly because it had a soft body and it eased any fears I had of bruising up my arms and shoulders. Let me tell ya, I ordered one and loved it so much I ordered a second one 2 months later in the same weight so I could do double bell moves!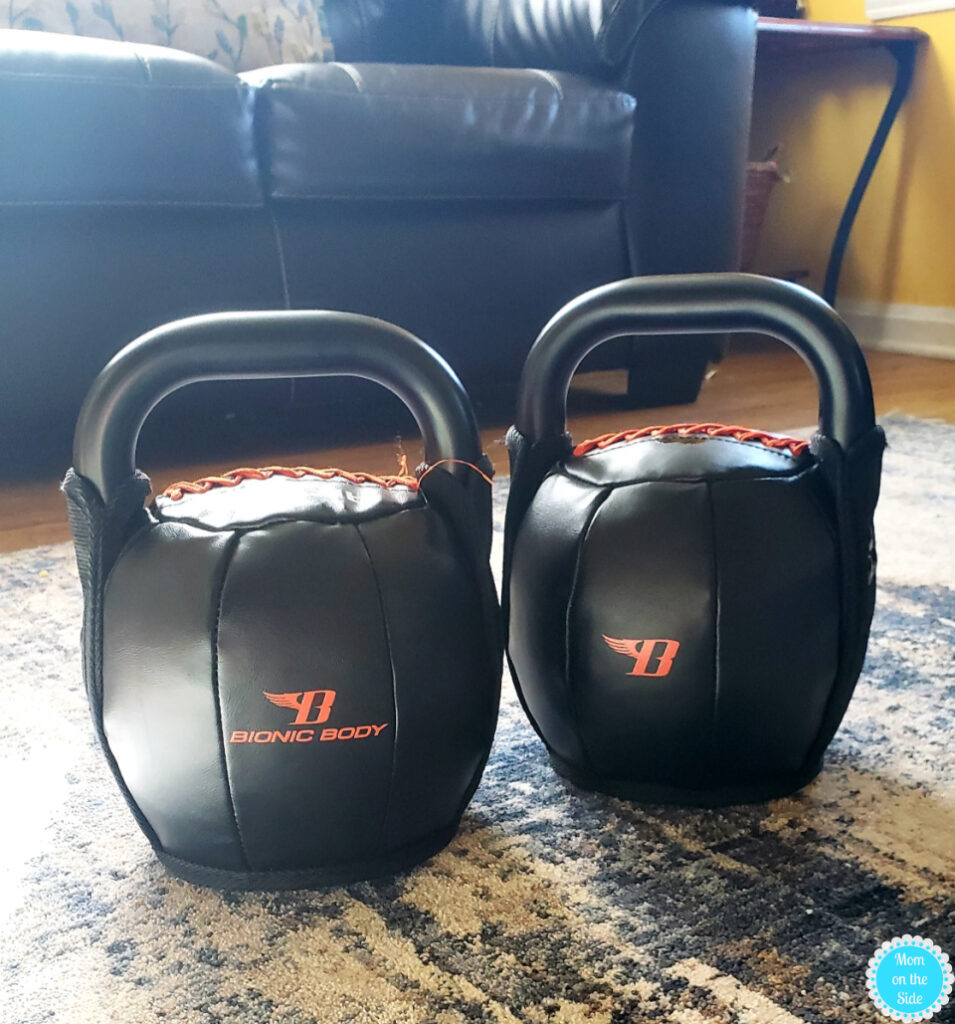 I recently moved up to a 30lb Kettlebell and went with Solid Cast Iron Neoprene Covered Kettlebell. I died laughing when I saw how much smaller it is than my 20lb bells – an example of how different they all are! Keep the in mind, especially for double bells moves as it is easier to swing two smaller size bells between your legs than it is two larger ones!
Another thing you may want to get when starting kettlebells at home is something to protect your hands. There are gloves for kettlebells or you can use chalk. I use both a chalk block and have Simari Workout Gloves. If I'm doing a lot of swings I wear my gloves and if I'm doing a lot of lifting and pressing I chalk up. Personal preference for me and you'll figure out what works best for you as you go along!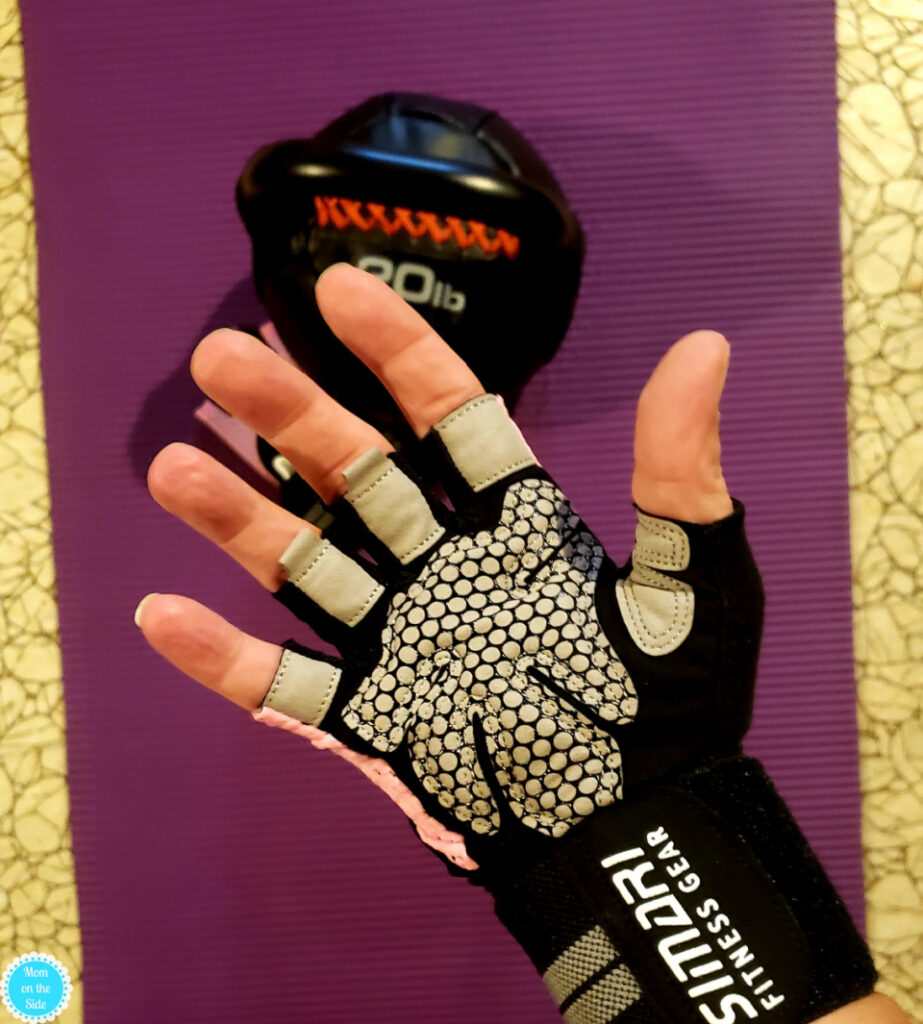 Working Out with Kettlebells at Home
The last part of getting started with kettlebells at home are the workouts! I got familiar with my kettlebell by starting with kettlebell swings. Set a goal for a certain amount of swings each day and jump in! I started with 20 swings and quickly jumped into a #100SwingsADay Challenge. Do what feels comfortable for your fitness!
Two pieces of advice when starting kettlebell workouts at home:
Try each move with only your bodyweight first. No bell. Get familiar with the move and then add the bell to it.
Get the form down first. Quality over quantity as you learn each kettlebell exercise. Recording yourself and watching it back will help you see how you preform each move.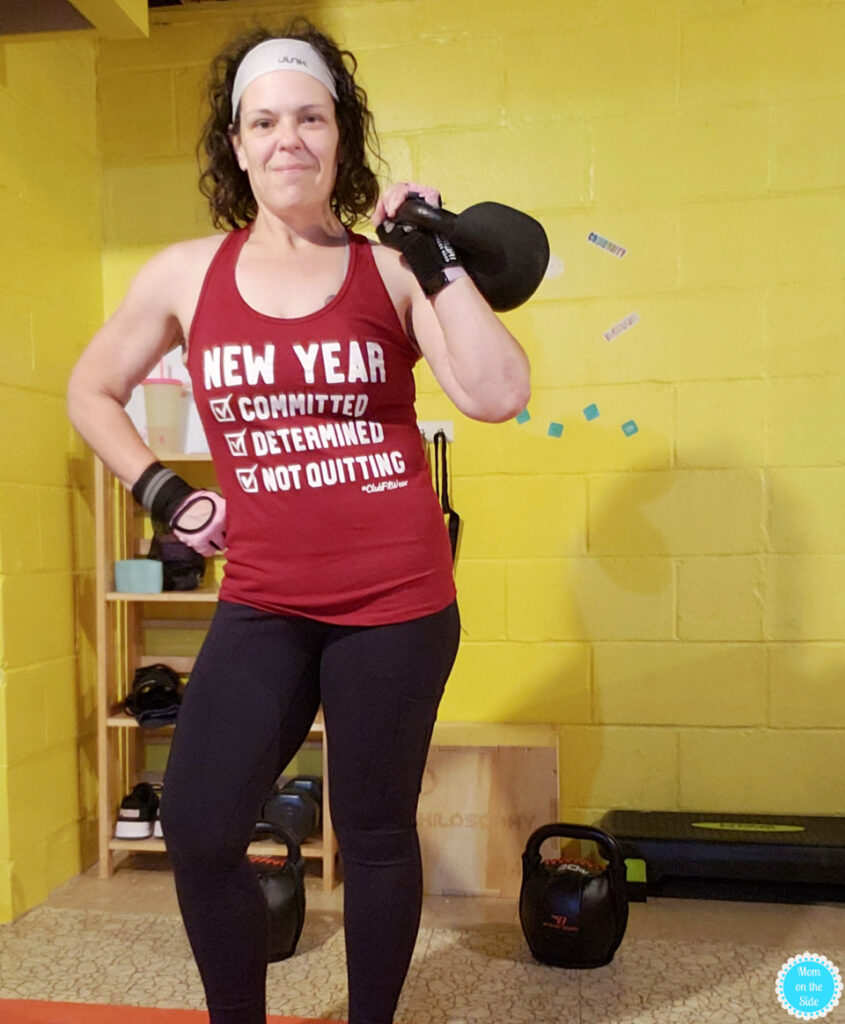 There are all sorts of places to find kettlebell workouts on the internet. The best part, a lot of them are free! My favorite resources for kettlebell workouts from home are:
Kettlebell Programs Instagram Page: They post tons of full kettlebell workouts including video of each exercise! I have tons of them saved to a "Kettlebell Collection" in my account and pull them up when I'm ready to get sweaty! A little tip, I heart them after I complete them to help me keep track of which ones I've completed.
KettlebellsWorkouts.com: Again, tons of workouts you can access for free as well as a kettlebell workout generator tool that gives you a different WOD each time.
Youtube: If you like following workout videos you'll find lots of kettlebell workout videos on Youtube. Some of the channels I have used are Caroline Girvan, Juice & Toya, and Obi Vincent.
Hopefully this makes you a little more comfortable picking up your first kettlebell at home! I really enjoy kettlebell workouts and all the different ways I'm toning and strengthening my body with them.
If you give your first kettlebell a try, come back and let me know what you think!
PS If you are wondering about my awesome workout tanks, they are from Club Fit Wear (get 25% off if you use my referral link!) and KettlebellGains.com!