Corey Stoll is going to wow audiences in his role as Darren Cross aka Yellowjacket in Marvel's Ant-Man. So far there has been a lot of talk about the shrinking ability of Ant-Man, but it wouldn't be a Marvel Film without action. That action comes in a big way! Learn more about Darren Cross as the Yellowjacket in this Exclusive Interview with Corey Stoll: The Villain of Marvel's Ant-Man.
I was provided with the opportunity to Interview Corey Stoll by Disney/Marvel/Disney XD. Any opinions are 100% my own.
To truly understand a villain, you have to know their backstory. What leads them to the choices they make. When Corey Stoll took on the role of Darren Cross, he also became Hank Pym's original protégé.  Hank took Darren under his wing at a young age, and he spent a lot of time at Pym Technologies, learning about the incredible technology of Ant-Man. His vision for the future was a bit different than Hank Pym's though.
He was a young scientist who came up and studied under Hank Pym, but somewhere along the way he had a very different vision of how this technology could be used. Hank always saw Darren Cross as the son he never had, but he had to watch him go to the dark side causing Hank to hold back all of the technology that he could have passed down to him." – Marvel's Ant-Man Director Peyton Reed
Exclusive Interview with Corey Stoll: The Villain of Marvel's Ant-Man
I'm pretty sure Stoll would be just as impressive in the role as Darren Cross, without being into comic books. But, it doesn't hurt that all throughout junior high and high school, he was really into comics. He started with Marvel Comic Books, eventually got into darker stuff, and shared about his favorite super hero character during our interview.
My favorite comic book character bounced around, but I would have to say Spiderman. He was the guy, as a high school student, you could identify with the most. And also the New York-ness. I like Batman and Superman, but they were all in these sort of fictional cities. Spiderman was in New York. As a kid from Queens, and the idea of that fantasy of being able to swing through the buildings I see everyday….that was really cool. – Corey Stoll
Can you imagine being a huge fan of comics as a kid, then getting the call to play the villain in Marvel's Ant-Man? That would be like getting the call to be Barbie's Stylist for me! 😉 Not everyone can say they feel like a kid at work, but that's pretty close to what was said during this Exclusive Interview with Corey Stoll.
It really was so funny because it's all these resources, I don't know how many hundred million dollars this movie was, and in the end, it was the same feeling as when I was 10 years old playing on the playgorund. You just use your imagination and have fun. The camera picks that all up and they feed that into a computer, and thousands of people all over the world type away at their computer and make it look really cool. But my part of that job is just play. – Corey Stoll
I'm going to turn the dial from fun to serious for a moment. There was a "defining moment" in Marven's Ant-Man for me, during a scene between Darren Cross and Hank Pym. I was on the edge of my seat as Darren reached out one last time to Hank, before moving forward with his plans. That scene was an important moment for Corey Stoll and Darren Cross as well.
I was shooting a very quiet scene with Michael Douglas. The one where I show up at his house unannounced. Our most intense scene. There were these two extremes of what Darren's role would be and it was fun. As we went on, there was a lot of Director Peyton Reed trying to calibrate. You want to make sure this character is scary, but I also loved what a loser he was. He's the least cool guy in the world. but he wants to be Tony Stark. He wants to be the coolest guy in the world. So he's puffing himself up with these  Tom Ford Suits and driving Aston Martins. He's puffed himself up but he knows that he's not that guy. That's irony. He's trying to puff himself in the end, to impress this father figure (Hank Pym/Michael Douglas), and it's exactly the opposite of what his father figure wants. I think the script was really smart about giving very real playable motivations. – Corey Stoll
In Marvel's Ant-Man,  the Yellowjacket suit is heavily armored to withstand bullets. The suit also has articulating arms that can shoot plasma rays, and it incorporates sensors and infrared vision. Oh, and the Yellowjacket suit has the shrinking technology built in like the Ant-Man suit. I was sort of shocked to learn that Darren Cross is not actually inside the Yellowjacket suit in the movie, unlike Paul Rudd who is.
We tried two separate trips down to Atlanta, just to try on different versions of the suit, and it just never looked right. I remember the first time I tried it, on everybody was trying to convince themselves it looked cool. 'Yeah yeah, it's gonna be great. Just a little CGI over there and it will look great'. I felt like a Power Ranger. Luckily smarter heads prevailed and they just did it all CGI. I think it looks awesome. I'm so excited about the way it works. I was there, I know I wasn't wearing something, but you look at it and it really looks real. That's pretty amazing. – Corey Stoll
I will let out a little secret before my Review of Marvel's Ant-Man on Friday…..my favorite scene is the mega action scene in the bedroom of Scott Lang's daughter! Of all the scenes in Marvel's Ant-Man, there is one scene that Corey Stoll called his favorite scene in Ant-Man. Want to know what it is?
The big (sort of) climax scene in the future's vault where Darren lures Hank pym and Hope, in order to deliver his big villain monologue. That was several days, maybe 3 days, of shooting that scene. It was an endurance because there were SO many people in the scene. We really felt like we were trapped in that room for a long time, but it was just really fun to have that license to be that sort of big bond villain and go for it. – Corey Stoll
There is something I've been thinking about off and on since our Exclusive Interview with Corey Stoll. Something I hadn't really thought about until Stoll mentioned it. What if Ant-Man's shirking powers were real?
This stuff didn't really end up in the film, but when Darren Cross is first selling the Yellowjacket and this technology, we really brainstormed about what would be the beneficial applications of this technology. You realize this actually could save the world. There's so many things you could do. You could get a shipping container down to the size of Volkswagen bug and shipping costs would be nothing. The carbon emissions would become much smaller. You could maybe shrink smoke as it comes out of a coal powered plant. You could shrink a surgeon down to go and do micro surgery. It really is like this incredible Utopian thing and I think there is that element in Darren. He wants to change the world for the better, it's just that this military application happens to be the most lucrative, and he made the wrong choice. – Corey Stoll
If you read my Exclusive Interview with Michael Douglas, you know he spoke highly of Corey Stoll playing Darren Cross. It was a pretty awesome moment to be in the room when we got to tell Stoll.
Having Michael Douglas be the person playing Darren's father figure, that was very easy to identify with wanting his approval because, as a youngish actor I would like his approval. – Corey Stoll

Well you have it – Audience

That's pretty rewarding. – Corey Stoll
There is an extensive line of Marvel's Ant-Man Products already surfacing, including Ant-Man Action Figures and a Funko POP Glow in the Dark Yellowjacket as well. Are  you wondering if a superhero collects himself, in action figure form?
I will. I hope I can get a discount. I think I will be buying multiple. I have the Ant-man LEGO Set which is really cool. I'm about to have a baby and I learned it's a boy, not that I wouldn't have the girl play with an action figure, but my second thought after 'thank god he's healthy' ,was I'll be able to play my action figures with him! Yes, I will definitely be raising a Marvel fan. I think DC is litle too dark. We'll have to manufacture our own action figure for my wife so she doesn't get left in the dust. – Corey Stoll
One last question before wrapping up this Exclusive Interview with Corey Stoll. Why play a villain and not the hero?
I had a general meeting with executives and Marvel years ago, and that was the first thing I said: 'I want to play a villain.' It's just so much fun and frankly, playing the hero, the contract tends to be longer. While I had a wonderful experience and we'll see, nobody stays dead in the comic books, I would love to reprise this role if that happens. Starring down the barrel and signing a 7 or 9 picture deal is a big commitment though, I don't know if I'm quite ready for that. – Corey Stoll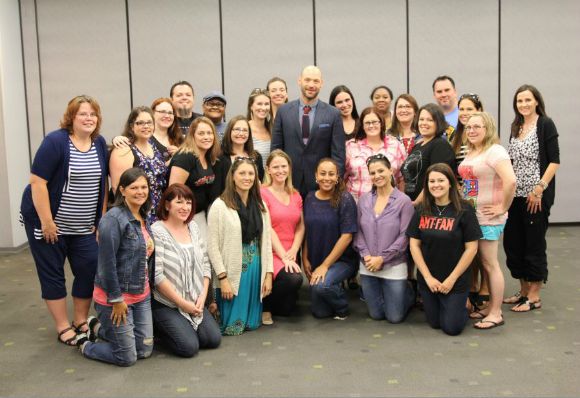 Catch Marvel's Ant-Man in theaters on July 17th! Stay tuned for my Ant-Man Review on Friday and I'll include m husband's thoughts as well after our Date Night on Thursday night!
Need more Marvel's Ant-Man?