Marvel's Ant-Man hits theaters on July 17th and I'm bringing YOU the inside scoop! What's it like to wear the Ant-Man Suit? What does it take to be a kick ass female in the Marvel Cinematic Universe? I've got the answers to those questions, and more, in this Exclusive Interview with Paul Rudd and Evangeline Lilly of Marvel's Ant-Man!
*I was provided with this experience by Disney/Marvel/DisneyXD. Any opinions are 100% my own.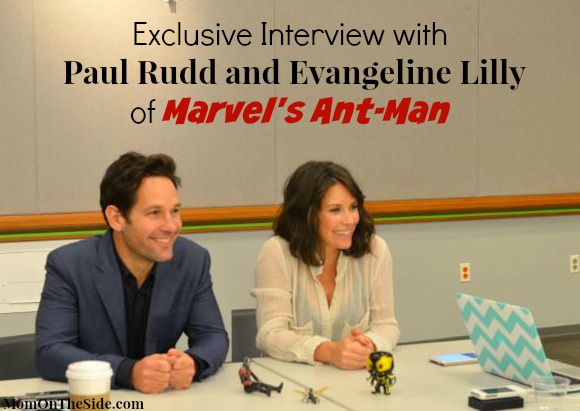 Exclusive Interview with Paul Rudd and Evangeline Lilly
of Marvel's Ant-Man
Marvel's Ant-Man stars Paul Rudd as Scott Lang aka Ant-Man. A master thief recently released from prison, who is trying redeem himself so his daughter can be in his life. Lets Meet Scott Lang from Marvel's Ant-Man in this clip.
The theme of father daughter relationships is a key part of Marvel's Ant-Man. You have Scott Lang and his daughter, Hank Pym and Hope Van Dyne, and a sort of father son thing going on with Hank Pym and Darren Cross. This overall parent and child theme makes Marvel's Ant-Man very relateable and hands-down the most family-friendly Marvel film I've seen.
I knew the action was going to be good. The visuals were going to be crazy good. I also knew there was this relationship that Scott Lang had with his daughter. It's the relationship that Michael Douglas has with his daughter. This whole thing with parents and children was going to be the thrust of the film. That's relateable, empathetic, and something we can hang the whole thing on. That's pretty dramatic. – Paul Rudd

Redemption. Redemption really is a big theme in the film. Redemption in the father daughter relationship is THE powerful theme that anchors the film emotionally. – Evangeline Lilly
Marvel's Ant-man also stars Evangeline Lilly as Hope Van Dyne. The daughter of Hank Pym of Pym Technologies and the inside eyes on Darren Cross's villainous agenda. Lets Meet Hope Van Dyne from Marvel's Ant-Man in this clip.
Hope Van Dyne is my favorite character to watch grow in Marvel's Ant-Man. She has a pretty sweet fight scene with Paul Rudd too! It's not just the action that makes a kick ass female in the Marvel Cinematic Universe though….
What guy doesn't like a girl who can kick ass? They like to see that on screen. What I think is important, is that the woman, first of all, be a woman and not a girl. And that she also have all the dimensions a male character who kicks ass would also have. I think a lot of the time what happens mistakenly in men's very meaningful attempts to make strong women, is they make them strong in the way they relate to….which is brawn. Female strength has many more dimensions than that. A lot of our strength comes from our vulnerability, our compassion, our maternal instincts. I don't think those things should ever be labeled as weaknesses.  I think that's one of the things I always look to put in and fuse these characters with. Those moments where you suddenly realize under that very hard facade, underneath what she's trying to project to the world because she feels she has to survive or she needs to do what she needs to do, is a little girl. She needs love, and wants to give love, in order to receive love. I think that's what we are all doing. That's the human predicament….how do we be unconditionally loved, and not lose sight of that.  – Evangeline Lilly
Paul Rudd and Evangeline Lilly separately did an amazing job at their roles in Marvel's Ant-Man. Together? When two actors mesh well together, it really shows on screen. After cheering them on until the very end during Marvel's Ant-Man, I was pretty excited for our Exclusive Interview with Paul Rudd and Evangeline Lilly and they may be my new favorite superhero duo!
I think that in our lives, we all often know what our greatest pitfall is in our character. We don't know we are doing this, but I believe we are constantly drawing people into our life to help us deal with that 'thing'. Usually those people are the most unpleasant people for us to deal with because they bring to light that thing you wish you could just push under the carpet and not think about, but you know you need to work on. For Hope, Scott coming into her life could not have more poignantly exasperated the issue of  her need for control. To control every little thing right down to her lipstick line and her haircut. From her perspective, he seems so out of control. She drew in that energy because she needed to face it. She needed to deal with it. It's really appropriate that it's Scott Lang that helps her realize what's truly going on in her relationship with her a father because she couldn't see it for herself. – Evangeline Lilly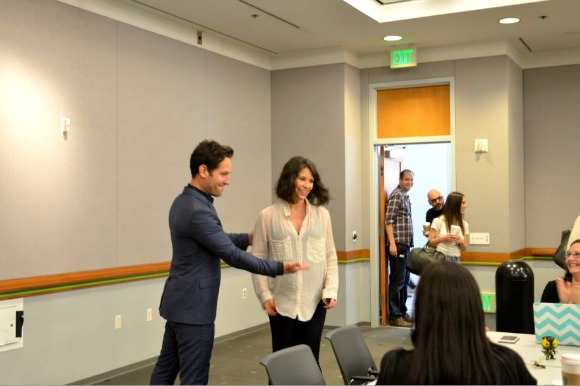 The Ant-Man Suit is what transforms Scott Lang into Ant-Man. In the Ant-Man Suit, he has "the astonishing ability to shrink in scale, but increase in strength."  Not only that, Ant-Man can control ants. I don't know about you, but when I run around the living room with a sheet around my neck, I'm Super Mom. Can you imagine the feeling if we were wearing a for real superhero suit?! It wouldn't be an Exclusive Interview with Paul Rudd about Marvel's Ant-man if we didn't find out!
I remember the first time walking onto the set in the Ant-man Suit. The first time I ever put it on in a fitting, it was thrilling. I felt like I was 10 years old.  Every. Single. Time. I go from the tent, where a small pit crew helped me get into the suit, and walk on set and everyone, the camera crew, everyone, stopped and saw Ant-man for the first….totally exciting. – Paul Rudd
People have been wondering about funny man Paul Rudd entering the Marvel Cinematic Universe. My response? Paul Rudd plays the role of a "parent" superhero fantastically AND it's believable! All Marvel Films have their funny moments, but there is also a lot of action, something we aren't accustom to seeing Rudd do. Let me just say that Paul Rudd brought it and I think the casting was on point!
Paul did not stop improving and cracking jokes the entire time. There was not one scene, no matter how serious, where he didn't make me break character. Do I riff with him? Do I shut up and let him do his thing? I was so out of my element because he's so comfortable in that comedic space. Even Michael Douglas could riff improv. I was the only one on set who couldn't. – Evangeline Lilly

I think you are selling yourself short. – Paul Rudd

Like ant short? – Evangeline Lilly
Marvel's Fan Base is as passionate as they come. Whether it's the comic books, the characters, or the movie, they make their voices heard. Are you wondering what Paul Rudd thinks about being a part of the Marvel Cinematic Universe with so many fans watching his every Marvel move? I've got the answer….
There are certain things, that if you stop and think about them, it can be overwhelming. I don't have control over a lot of stuff, so I focused on doing the part as best I can. Other things are going to happen the way they happen, and hopefully I'll be able to adapt. I do realize how passionate the fan base is for Marvel and these characters, but it's been a whole new experience for me. Thrilling and maybe just a little bit overwhelming. Just a little bit. – Paul Rudd
Marvel's Ant-Man brought some firsts for Paul Rudd and Evangeline Lilly. An obvious one is adding their names to the list of stars in the Marvel Cinematic Universe. A not so obvious one, unless you stay up to date on IMDb, is that they both added Michael Douglas to their list of Co-Stars.
I had a moment when I was doing a very intense emotional scene with Michael Douglas. For the first time since I tacked myself to the project, the penny drop. I had read, knew who was on, and I was like 'great, good cast, things are coming together.' I was thinking with an analytical mind of do I want to do this project or don't I. It wasn't until I was working with him, and witnessing the sort of magic that is the legend of Michael Douglas…what he brings to a film set, how he performs, and what he does to the energy in a room when he performs..that made me suddenly sit up and take notice and go "oh my god I better bring it. I'm working with Michael Douglas and he's a living legend." That was an honor and there was that moment when I connected to that honor. – Evangeline Lilly

I never shook that feeling every single scene. He is acting royalty. – Paul Rudd
Marvel's Ant-Man hits theaters on July 17th and wraps action, comedy, and surprise into one must see Summer movie! My review will be coming on release day and know that I'm oozing with impatience on sharing the my thoughts.
Armed with the astonishing ability to shrink in scale but increase in strength, con-man Scott Lang (Paul Rudd) must embrace his inner-hero and help his mentor, Dr. Hank Pym (Michael Douglas), protect the secret behind his spectacular Ant-Man suit from a new generation of towering threats. Against seemingly insurmountable obstacles, Pym and Lang must plan and pull off a heist that will save the world.
This Exclusive Interview with Paul Rudd and Evangeline Lilly is just the first of several Exclusive Interviews with Marvel's Ant-Man Cast. Coming up on Friday, July 10th is my Exclusive Interview with Michael Douglas and trust me when I say it's really good!
@AntMan on Twitter #AntManEvent
Photo credits: Jana Seitzer / MerlotMommy.com and Marvel