Premiering July 22nd on Disney XD is Gamer's Guide to Pretty Much Everything! This new sitcom captures the "dizzying global spectator sport of professional video gaming" in a fun and family-friendly way. While in LA for the #AntManEvent we got the chance to go On The Set of Gamer's Guide to Pretty Much Everything from Disney XD and meet the cast!
I was provided with this experience by Disney/Marvel/Disney XD. Any opinions are 100% my own.
(Video Game Chair on the set of Gamer's Guide to Pretty Much Everything)
Having a 9 year old son, whose goal is to become YouTube famous for video games, meant that I was pretty gosh darn excited to learn more about Gamer's Guide to Pretty Much Everything. I'll be honest and say I was hoping that meeting the cast and getting the inside scoop on this new show for gamers, would give me an in with my son. He's 9 and I'm a mom, so we have entered the "I'm not cool anymore" stage. When I showed him this pic of me and Cameron Boyce on the set of Gamer's Guide, I went to "kind of not cool anymore" and that I will take that! Anyways…back to the show…..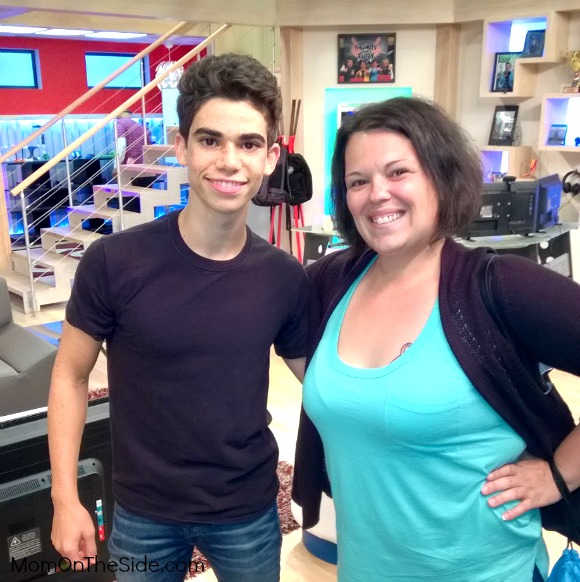 Gamer's Guide to Pretty Much Everything stars Cameron Boyce as Conor, who you probably remember from Disney Channel's Jessie (and you can catch him in the upcoming Disney's Descendants).  Gamer's Guide follows the antics of Conor, a 15-year-old professional video game-playing phenom who has gained notoriety as "KidFury". Well, that fame ends forces Conor into high school for the first time.
I play Conner – he was a professional gamer. He did all these tours, went to Tokyo and London and all these places doing these professional tournaments. In the midst of a tournament, he breaks his thumb, which is kind of what you need to game. So, Conner has to basically be a regular kid now. He was home schooled and other stuff to do his gaming, and his mom tells him 'okay, well you're going to go to regular school.' Conor doesn't really know how to be a regular kid, so he goes and he makes some friends, but he tries to use them at first to get back on the tour where he thinks he belongs. Then eventually he realizes that he kind of likes having these guys around. Instead of going on the solo gaming tour, he chooses to keep these guys around and go on the team tour. – Cameron Boyce
Gamer's Guide to Pretty Much Everything also stars Murray Wyatt Rundus as Wendell, one of Conor's gamer friends. Anyone who can rip his jeans off and through them in (and hit) the audience to sport underpants is a winner in my book! What I saw of Murray proved to be hilarious and I can't wait until the show airs on DisneyXD!
I play Wendell and he's very, very full of himself. He is a very cocky character. He believes everyone around him doesn't know what's really going on, and that he is really the mastermind of everything that's going on. He's very aggressive when he plays video games with the crew and that really describes him. – Murray Wyatt Rundus
(Photo Credit: Disney XD/Ron Tom)
Felix Avitia plays Franklin, another one of Conor's gamer friends on Gamer's Guide to Pretty Much Everything but he's almost the exact opposite of Wendell. Everyone has a guy like Franklin in their circle of friends and he completes the circle on Gamer's Guide perfectly.
I play Franklin and he's very positive, very energetic. He's not the best gamer like these guys who grew up like that, but he really wants to be. He wants to fit in with people and he wants to be a part of the group. He's very smart though, outside of the gaming world. He knows common sense and knows he loves school and, of course, he's got a great sense of fashion. Always wearing ties and shoes and pants and shirts. He's just a good kid and he wants to make everybody as happy as they can be all the time. That's what I love about him. – Felix Avitia
(Photo Credit: Disney XD/Ron Tom)
Iowa Native Sophie Reynolds as Ashley. Can I tell you how awesomely random it was to find out that Sophie is from Iowa?! A conversation leaving the bathroom had me chatting with her parents, and finding out that Sophie was born in Iowa before heading off to Hollywood. They were all so warm and friendly…the Midwest charm is still there and they've raised a fabulous daughter!
I play Ashley and she's the girl  that hangs with the guys. She's not always the smartest with the books, but she's got a really good heart and, she's just a good friend. She's a great gamer, super-smart gamer and that's her strength. – Sophie Reynolds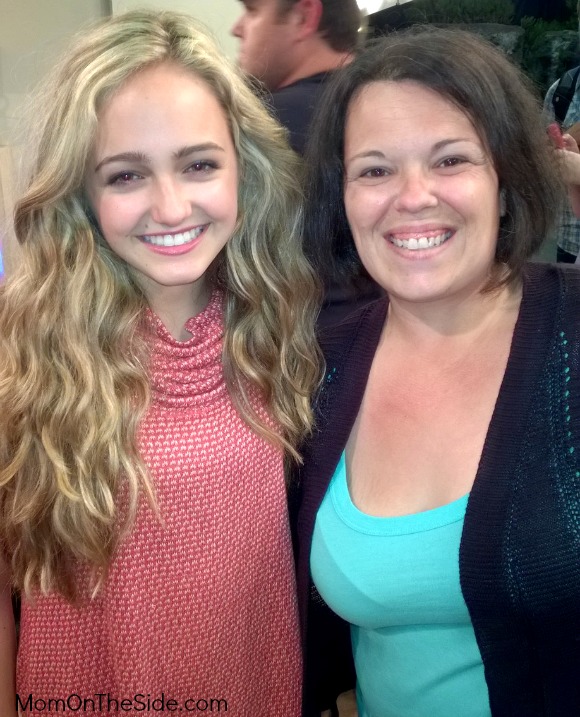 Okay, so Wendell, Franklin, and Ashley are Conor's friends on Gamer's Guide to Pretty Much Everything. They team up to form the first-ever gaming league at their school, and in doing so, they learn that building lasting friendships in the real world is more important than accumulating high scores in the digital one. Wait what? I shocked you with that one didn't I? You'll have to tune in to see how it all works out!
This is storytelling, right?  Story telling is always about the characters, the connections, the interactions, and the comedy. The gaming is a big part of our world, but that's the back drop, right? It's really about the connection between these four characters.
(Photo Credit: Disney XD/Ron Tom)
While on the set of Gamer's Guide to Pretty Much Everything, we got the chance to chat with the cast and learn more about what goes into the show. When it comes to a show about video games, people want to know how accurate the gaming aspect is going to be.
On the staff of writers, we have two very hardcore gamers, who know that world like the back of their hand. Everyone else, we've had to educate ourselves. There are games all over the second floor of this building, and there are big consoles, it's all over the room in the writers' room. So, you know, what we write is…is right in front of us. If we have questions, we go to our hardcore gamers and they supply the answers.
(On the set of Gamer's Guide to Pretty Much Everything)
After chatting with the cast, we got to watch them do a Network Run-Thru for an upcoming Zombie-Filled Halloween Episode! A Network Run-Thru basically has the cast running from set to set as they go through lines and practice the episode. No costumes or special effects are really used during the run-thru. There is a whole process to creating a sitcom and these kids are working five days a week to bring us family-friendly entertainment.
We work 5 days a week, and actually I'll start on Wednesday because that's when we do our table read. It's kind of the beginning of when we shift our focus to a new episode. So we'll do table read on Wednesday. Our table reads are not table reads….we never sit. We're standing and kind of making up blocking as we go. It's really crazy and high energy in there. Then on Thursday we have run-thru. Friday we have Network Run-Thru. We have a weekend, and then Monday and Tuesday, we come in and shoot. I'm still getting used to it. I'm used to Monday to Friday. – Cameron Boyce
(Something really cool I spotted on the set of Gamer's Guide to Pretty Much Everything)
Other than Cameron Boyce, the faces on Gamer's Guide to Pretty Much Everything are fairly new to recurring sitcom roles. I'll be honest, I didn't even notice during the Network Run-Thru that we watched. The cast seemed to mesh well together, they were funny, and things seemed to flow very smoothly during takes.
You know, Cameron has been on TV for a while, but the rest of the cast is amazing. So much respect from the writers because they are so new and fresh and young and not a lot of experience. You give them these scripts and then the next day there'll be asterisks on the side where things always change. And they're on top of their lines. They're on top of who they are and what they're supposed to be doing. I've been doing this 20 years or something and, you know, these guys are as good as it gets. It's really a lot of respect, and we're all really proud to be working and have this family, this team that we have, you know. You come to work and all of what we have is based on respect for each other. It's based on, treating each other with a real decency and appreciation.

That shows up on screen too. You can tell the cohesiveness we have, we share as a group. You can tell in the results really. That's it. – Cameron Boyce
The series premiere of Gamer's Guide to Pretty Much Everything includes a special guest appearance by someone that Minecraft fans may know. Joseph Garrett, known as Stampy Cat, the hugely popular Minecraft-playing YouTube star will pop in on the the premiere episode that airs on July 22nd at 9:30 PM ET!
In the premiere episode, Conor desperately wants to get his pro card back, so he recruits new classmates Franklin, Wendell and Ashley to play the game for him. However, a failed attempt to ditch school early to practice the game lands the foursome in detention with the toughest teacher in the school. The team must find a way to escape detention before the online gaming tournament begins if Conor has any hope of returning to the pro gaming circuit. Stampy Cat makes a cameo in this episode as the announcer for the pro-gaming tournament.