When it comes to Marvel's Ant-Man, it's no secret that this film boasts action AND humor. Until today, the secret weapon in the humor department has been under wraps. This Exclusive Interview with Michael Peña, T.I. and David Dastmalchian of Marvel's Ant-Man, brings you up to size on the comic relief of Ant-Man, The Antourage.
I was provided with this experience by Disney/Marvel/DisneyXD. Any opinions are 100% my own.
Exclusive Interview with Michael Pena, T.I., and David Dastmalchian of Marvel's Ant-Man
First, let me tell you that I've never laughed more during an interview than I did with The Antourage from Marvel's Ant-Man! From the minute they walked in and soaked up their entrance to the minute they left.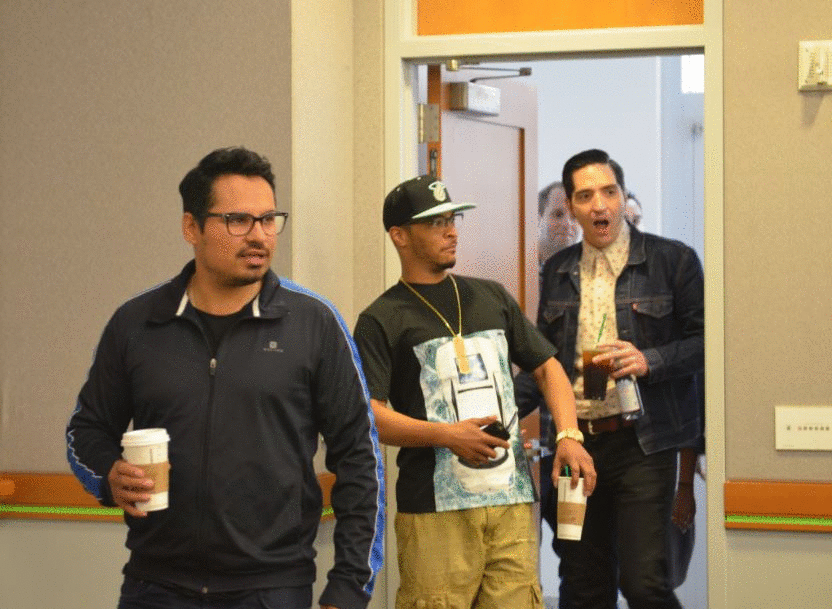 There was even a selfie moment that happened before the Exclusive Interview with Michael Peña, T.I., and David Dastmalchian even got started!
It's not often one gets an Exclusive Interview with Michael Peña (Luis), T.I. (Dave), AND David Dastmalchian (Kurt), who truly are the comic relief in Ant-Man. How did these new Marvel Stars land roles in the Summer Blockbuster, Marvel's Ant-Man?
David Dastmalchian: I auditioned in January 2014. It's so different than anything I've gotten into before. My immediate goal was A) I'm a huge comic geek and I've loved comics my whole life and B) I wanted something my mom could go the cinema and see, and not be terrified because I tend to play some pretty creepy guys. So, I went after it. I created a voice for the character and they liked it. I auditioned, tested, then I got the part and everything started to change. I was like 'oh my gosh and I still going to get the part'. I got the call to go to Atalanta for more tests, so I went out and I'm meeting everybody, and I'm so nervous…..then I realized that the test was hair and makeup! I had the part and I was in!
T.I.: For me, when it was first mentioned that there would be an Ant-Man film, someone mentioned me in association with it all over the blogs, and I had no idea what they were talking about. I had no idea who it was or what it was that mentioned me but, I think over the years, different people fell out and there were starts and stops. Two weeks before shooting I get a call: 'hey are you in atalnta?', 'yeah'. 'can you go do an emergency reading for Ant-Man?', 'okay, I guess'. I go and read, and they give me a bunch of anonymous scenes, and they call me back. Then I have to find a way to rearrange the rest of my schedule to actually take advantage of this great opportunity to do this film.
The Antourage isn't just the catchy name of a group of guys that should have there own comic book. These guys are Scott Lang's (played by Paul Rudd) team, helping to pull of the heist in Marvel's Ant-Man. When Lang is released from prison in the beginning of Marvel's Ant-Man, he reconnects with his old friend and former cellmate, Luis. A loyal friend with dreams of making the heist of a lifetime still alive…but there is more than meets the eye when it comes to Luis.
"We meet Luis at the beginning of the film," says Ant-Man Producer Kevin Feige "He's a lot of fun and provides what you think is some of the best comic relief of the movie. But over the course of the film, by the end, you see him step into this role of heroism. And one of the themes of the movie is when people believe in you, it inspires you to do the right thing. 
"Luis is Scotty's best friend from jail and they both got there in different ways," says Michael Peña. "Luis is a street criminal while Scott is a white-collar criminal. They were cellmates and became buddies because Luis protected Scott in jail and in return he taught Luis about pulling off heists. So when he gets out of prison and realizes that it's not easy for an ex-con to get any kind of job, Scott becomes part of a job that Luis has gotten an inside tip on. So they put a team together that includes Scott as well as two new guys, Dave and Kurt, who are both experts in their own fields." 
Michael Peña has been waiting for a movie to come along that allows him to play a character like Luis. Marvel even added more scenes for Luis' character and that pushed Peña to do his best job. I love when an actor can bring their own ideas to a character, and when you see Luis in Marvel's Ant-Man you are going to say "I know a guy like him!"
I'm imitating this guy, I won't say his name, but he's in my neighborhood. I had the blessing of going to prep school and living in the ghetto. I'd travel an hour in the morning to get to that school and come back, and this dude is like 'how'd it go man? you want a nickle bag' and I'm like 'nah I'm good man. I got to study and stuff' and you know, he's the kind of dude you always see. He got a girl pregnant when he was 13 but he's been a great dad, when he's not in jail. I was waiting for a movie to put that character in there. It's odd, he's the most optimistic criminal that I've ever met in my life, but everybody loves him…but at the same time you're like 'you've got to be kidding'. –  Michael Peña
With a film background filled with dramatic roles, its was a nice to see Michael Peña show of his comedic talent in Marvel's Ant-Man. The scenes between Paul Rudd and Micheal Peña will surprise you in a good way.  When the Director of Marvel's Ant-Man Peyton Reed says things like:  "He is a secret weapon in this movie. He is really funny, and he and Rudd together particularly are great." you know they are a duo not to miss. Even co-star David Dastmalcian had words of praise for Pena.
Peña's being humble. I know he's done comedy work before, but he's so famous for these killer dramatic roles and stuff. the first time we were on set and he started making T.I. and I just bust out, I was like that's not the dude that I was expecting. He's so brilliant in this film and i love it. – David Dastmalchian
There is rarely a scene with The Antourage where you don't laugh. From one-liners to back and forth banter, Michael, T.I. and, David work fANTastically well together. If anyone has been on the fence about these guys,  let me be the first to tell you that they will surprise you in a laugh out loud way!
David Dastmalchian: It was intimidating and scary. I'm big fans of these guys and everybody in the film. The first time we are sitting in the van San Franscico, they just started to just go and riff. They made me feel really welcomed immediately, which was a great thing, and you feel more creatively free to do that. But there were some jokes – obviously not all of them can't make it into the film…but these guys….
The Antourage are not only offering up the laughs during Marvel's Ant-Man. They are also giving people someone to relate too. Yes, they are all criminals in their own ways, but it's not there past that defines them, it's their skill.
David Dastmalchian: Not everybody has super powers, right?  But these guys, we were good at something. What are you going to do with the thing you are good at? Are you going to do something good in your life, or are you going to do what our past was for our characters? I love that, and I think that's what makes these films great for audiences and families. You are sitting there watching it and go I can see myself. That's us. We are the audience in a sense. The three of us.
Can I just say that I hope the Ant-Man Blu-ray and DVD have some sweet bonus features? If I can put in a request for Ant-Man outtakes that would be awesome….or a sequel to Ant-Man would be even sweeter!
T.I.: Remember the first night we were in the van in San Fransico the scene when Scott was breaking into Hank Pym's house for the firs time – the stuff that didn't make it on screen, that's the gold.

Michael Pena – That would be another kind of movie.
Catch Marvel's Ant-Man in theaters on July 17th and reserves  your tickets through Fandango.com right now and you could win Star-Lord's original helmet from Marvel's 'Guardians of the Galaxy!
PS: Stay tuned for my Exclusive Interview with Corey Stoll, who plays Darren Cross in Marvel's Ant-Man, coming up on July 16th!
Need more Marvel's Ant-Man?
@AntMan on Twitter #AntManEvent
Photo credit: Jana Seitzer /MerlotMommy.com and Marvel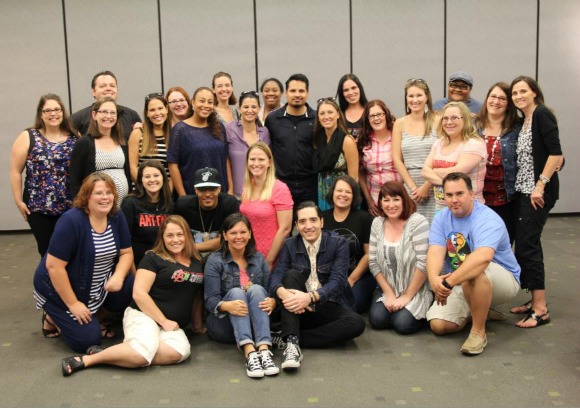 Outtakes from the Exclusive Interview with Michael Peña, T.I., and David Dastmalchian
Marvel, T.I. and Giving Back
(One of the things I love about Marvel, is how much they give back. Especially when it comes to putting smiles on kids faces. T.I. is also a big believer in philanthropy and giving back to his under-served communities, as well as Boys & Girls Club. I wondered if that was a draw for TI to join the Marvel Universe.)
I think that's just a positive coincidence. I never considered the philanthropic synergy that could have been created from this. I never really thought about it that way, of course if there is anything we can do together ot help the people underserved areas of society  that is always a consideration. – T.I.
The Comedy of Marvel's Ant-Man
It's funny too because we are with Paul, one of the funniest people on the planet. yet all the great comedy in the film, I mean there's tons of great comedy from everybody, but we are the comedic relief. – David Dastmalchian

Every time Pena would make a joke, every time they'd make mention of 'yo, it's just like when we were in the cell' and we were like 'ooooh really?' – T.I.

You get close bro, and then you don't talk about cells. First rule about prison, you don't talk about prison. Unless you want to talk about prison. – Michael Pena
The Look of Kurt played by David Dastmalchian
Yvette Stone did Kurt's hair and look done every day for 30-45 minutes. The tattoos were done by makeup artist Greg Funk. It's cool to think, when your an actor and the physical world is created for you. Wardrobe nailed exactly what I thought about Kurt. The hair :muah: it was a dream and I would come out of hair and makeup and put on my wardrobe and walk out of my trailer, look in the mirror, and be like 'this is good'. – David Dastmalchian