Why does an actor who wasn't into comics, take on a key role Marvel's Ant-Man? Not only does he take on the role but he does an fANTastic job at it! The role is Hank Pym and the actor is Michael Douglas, now an official member of the Marvel Cinematic Universe. I've got the inside scoop on Ant-Man for YOU in this Exclusive Interview with Michael Douglas of Marvel's Ant-Man
*I was provided with this Ant-Man Interview with Michael Douglas by Disney/Marvel/Disney XD. Any opinions are 100% my own
Exclusive Interview with Michael Douglas of Marvel's Ant-Man
Michael Douglas plays the role of Hank Pym in Marvel's Ant-Man. First introduced by Marvel Comics back in 1962, Hank Pym is the original Ant-Man. He's also the founder of Pym Technologies, and the one how discovered the Pym Particle that allowed him to alter his size and posses super human strength.
Present-Day Ant-Man puts Hank Pym in his 70's. Lets be honest, how many superheroes do we see sporting superhero suits at 70? It was time to find a replacement for Hank Pym, hence the recruitment of Scott Lang. If it wasn't for that fact, I'm guessing (maybe hoping considering this was my Ant-man Interview with Michael Douglas Question) we would be watching Michael Douglas in a superhero suit.
Whose to say I wasn't in a few of those suits? Hard to tell with those helmets down…. This is the Marvel history of staying so true to the time frame of all of these pictures. Yes Pym was leading in the late 60's and 70's. Now at this age, and if you get small that many times it's exhausting, so we had to  find somebody of a new generation to carry that on. I was happy for the role of Hank Pym, and a limited amount of action in an action film is fine by me. – Michael Douglas
Numbers aside, both character and real life, Michael Douglas looked phenomenal during our Exclusive Ant-Man Interview. He was so warm, friendly, and quite funny. It was almost like talking to a friend around the campfire, so much so that Douglas opened up about the wildest experience he's ever had.
How often do you get to do a movie where you see yourself 30 years younger? It was wild. I remember the day they put those little dots all over my head. I was doing dubbing for a couple of lines and this once scene, half the scene was with special effects where they made me younger, and the other half I still had the dots on my face. It's hard to explain…it's the wildest experience I ever had. – Michael Douglas
Playing a founding member of The Avengers, and playing the role well, one may think Douglas knows his stuff when it comes to comics. That answer may surprise you though, and it's an answer we had to get during the Ant-Man Exclusive Interview with Michael Douglas..
Historically I'm not a comic book guy and I wasn't as a kid. When Marvel sent me the Ant-Man script, they also sent me a lovely leather bound book with about two years of the Ant-man Comics. Before I read the script, I opened that up and familiarized myself with the different characters and a little of the back story. – Michael Douglas 
So why does an actor who wasn't into comics take on a key role Marvel's Ant-Man? The Marvel Fan Base, being as passionate as they are, may now be wondering why Michael Douglas took on the role of Hank Pym and in doing so, took on his first role in an action film.
One of the exciting things for me about doing Marvel's Ant-Man is that I've never done a special effects movie before. My entire career has been contemporary story lines. No effects and no green screen, so I was fascinated by that. Something different basically and two of my best buddies are Jack Nicholson and Danny Devito. Each of them had a great time as the Joker and the Penguin and I remember them talking about it. – Michael Douglas
It's rare to find a cast and production crew without a weak link, but that's just what Michael Douglas had to say about Marvel's Ant-Man. Maybe that's why I hated to take a bathroom break during the film…I did though to check on a pregnant friend…or else no way would I have left my seat. There were no lulls and there wasn't one character whose scenes I felt like I could miss.
I produce a lot ad even when I'm just getting hired in a movie like this as an actor, I look at the whole picture. I certainly saw Kevin Feige, and the great production team that they had. Saw the job they had been working on with the screenplay and I was really happy with Peyton Reed as a director. Those are all elements you want to love going in. Strong producing background, script and director. There were no weak spots here and everybody is solid. I felt really optimistic about this whole project right from the get go because I did not see a weak link anywhere. – Michael Douglas
Some of the most intense scenes in Marvel's Ant-Man involve Darren Cross and Hank Pym. Corey Stoll plays the role of Darren Cross and oh my oh my does he do a dang good job at playing a villain! If you don't walk away from Marvel's Ant-Man with a love/hate relationship going on for Stoll, well, I'm not sure we can still be friends. (PS: Stay tuned for my Exclusive Interview with Corey Stoll coming up on July 16th!)
The biggeset surprise was Corey Stoll. Corey was a great great villain. In the scenes I had with him he brought much more strength and dynamo then I ever had anticipated. He had this whole subplot of me being his father figure and reaching out for my acceptance, which is Haunting. He played this and it had a real depth to it. – Michael Douglas
Villains aside, I know you are all eager to know what Douglas thought about working with Paul Rudd! Guess what? We found out!
Paul is a lovely guy. He's very unassuming. Obviously he'd done some rewriting on the script and was very helpful. Sometimes I'd get frustrated when I'd have a 5 minute long monologue explaining everything, and of course he'd have a one-line punch line at the end, and get a good laugh. – Michael Douglas
Would you expect anything less from funny man Paul Rudd? He's not all fun and jokes though. He knows how to be serious and puts his all into his roles, including the role of Marvel's Ant-Man.
Paul was working out and staying in shape, then putting in the whole day. My heart went out to him. He was fabulous and happy to see this work. Interesting casting again on Marvel's part. Every film is sort of interesting. Paul now looks to me like Robert Downey Jr. did before the first Iron Man, also an excellent actor. I'm sure this is going to be great for Paul. – Michael Douglas
I seriously can not say enough great things about Marvel's Ant-Man. Well, I can but my lips are sealed until my Marvel's Ant-Man Review on July 17th! Until then, know that Michael Douglas is "drinking the 'Marvel' kool-aid" and loving every minute of his Marvel Cinematic Universe debut and I am too!
We were filming in Atlanta at a new studio and just as we got out of there, the new Captain America was coming in. The same Ant-Man crew members went on to Captain America. There is a familiarity that brings a comfort factor and a relaxation that you know based on 12 out of 12 of these guys got a hell of track record. These guys really know what they are doing. That, combined with the talent you are seeing around you, makes you feel secure. I'm happy to be part of the Marvel Cinematic Universe. – Michael Douglas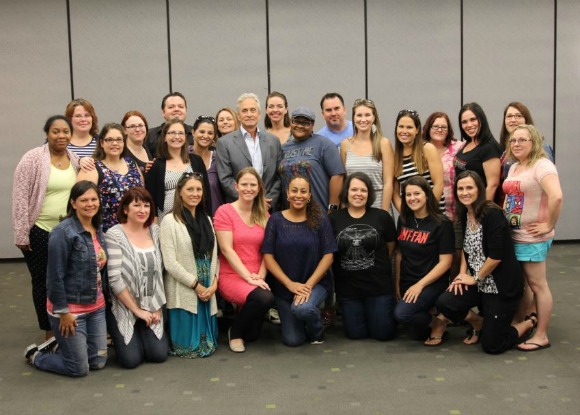 Armed with the astonishing ability to shrink in scale but increase in strength, con-man Scott Lang (Paul Rudd) must embrace his inner-hero and help his mentor, Dr. Hank Pym (Michael Douglas), protect the secret behind his spectacular Ant-Man suit from a new generation of towering threats. Against seemingly insurmountable obstacles, Pym and Lang must plan and pull off a heist that will save the world.
Marvel's Ant-Man hit theaters on July 17th, 2015 and my upcoming Exclusive Marvel's Ant-Man Interview with The Antourage (Michael Pena, David Dastmalchian, and T.I) is coming up on July 13th!
Photo Credits: Louise Bishop / MomStart.com and Marvel