I've got a fun Daily Fitness Challenge for Kids! This ABC Workout for Kids incorporates each letter of the alphabet into a different workout.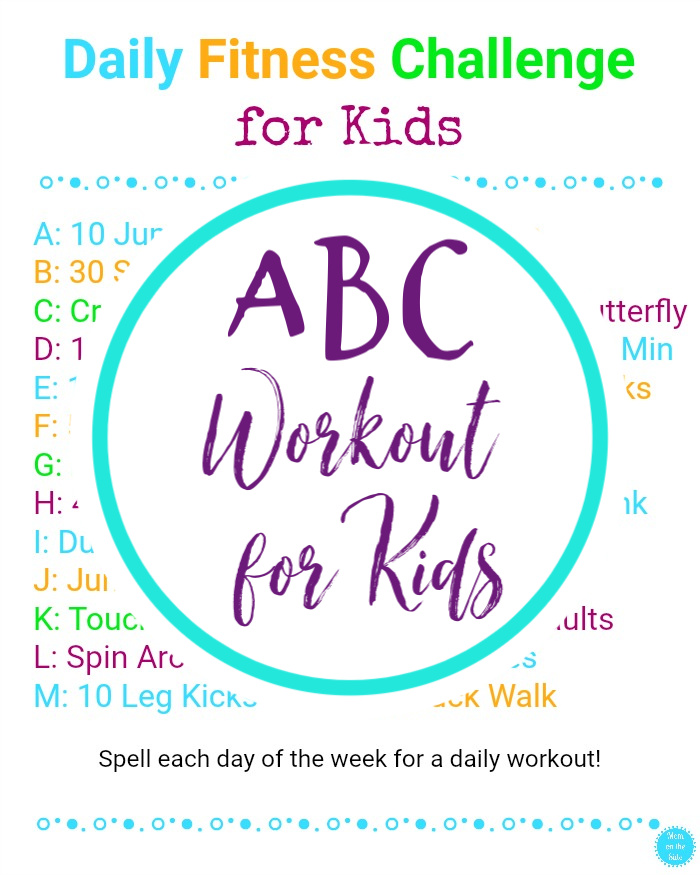 Kids can start their own daily fitness challenge by spelling out each day of the week. Check out other fun ways to use this ABC workout for kids
Animal Names
Colors
Names of People
School Sight Words
Alphabetically Doing 4 or 5 Daily
How fun is that?! Grab the printable below and get more self-care ideas for kids to keep to encourage them. If you don't have a printer, take a screenshot of the workout below.
–> PRINT HERE <–
A: 10 Jumping Jacks
B: 30 Second Plank
C: Crab Walk
D: 10 Push Ups
E: 10 Sit Ups
F: 5 Cartwheels
G: Headstand
H: 4 Somersaults
I: Duck Walk
J: Jump in the Air 5 Times
K: Touch Toes 6 Times
L: Spin Around 3 Times
M: 10 Leg Kicks
N: 4 Lunges
O: 3 Burpees
P: 10 Second Butterfly
Q: Run in Place for 1 Minute
R: 7 Jumping Jacks
S: 4 Leg Kicks
T: 5 Sit Ups
U: 15 Second Plank
V: 3 Cartwheels
W: Crab Walk
X: 2 Somersaults
Y: 5 Lunges
Z: Duck Walk
For the younger kids, you could change things easier for them. Instead of headstands have them hop on 1 leg. Switch cartwheels to mountain climbers.
I hope you have as much fun with this fitness challenge for kids as my family does. Moms, if you want a workout for you grab Your Name Workout and start sweating!