I've made it through one of the Toddler Years with Twins and I'm still sane! Sort of. My twins turn three this month and we are entering the final year of the toddler stage.
After that they become preschoolers, and as much as I'm ready for a few hours to work at home alone in the morning, I'm so not ready to talk about that just yet. For now, I will talk about Toddler Years with Twins and the Good, Bad, and Destructive that it entails.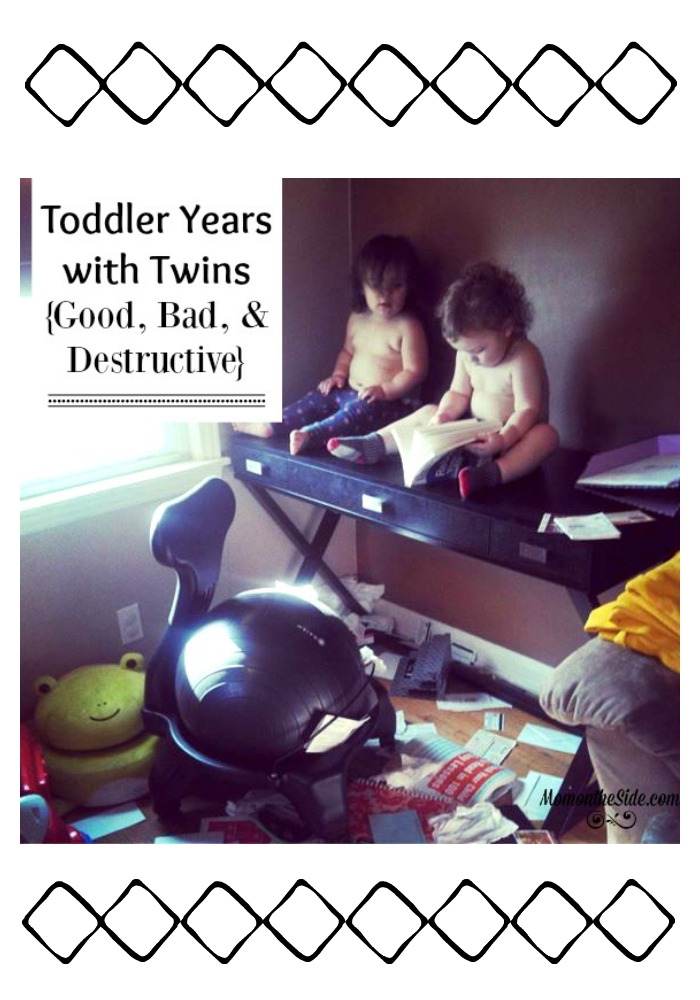 Toddler Years with Twins:
Good, Bad, and Destructive
I learned rather quickly that EVERYTHING is breakable. and it seems to happen at a faster rate with twins. Yep, we are kicking it off with destructive!
Pretty much everything you own can be destroyed, well, except for the Kids Kindle Fire because of the case. All things should be made of that material, especially windows, sentimental figurines and ornaments, furniture, dishware, safety gates and safety latches.
Yep, they've broken through or figured out how to open, pretty much every safety device known to man. My twins even help each other break things by pulling on each other to get more strength. Which leads me into…
Toddler twins learn the secret of TAG TEAMING early, and I talked about this in my What No One Tells You About Twins post last year, but it's still a big thing with them so I'm mentioning it again.
And, it's not always for good reasons. I'm pretty sure 90% of the tag teaming involves some level of sneakiness or begging. Stand strong moms of twins! They are adorable, especially when seeing double, but that sweetness can be SO concealing.
EVERYTHING is a ladder and if it isn't, toddlers will make it into one and twins will use each other. Never underestimate the helpfulness of twins, especially when it comes to helping each other get into mischief.
Even at the age of two, my twins were using each other to push, climb, and lift themselves onto areas they weren't allowed or to get into drawers that were off limits.
My twins are a pair of the biggest COPYCATS I've ever encountered. Peer pressuring copycats at that. He mimics her naughty behaviors like blowing raspberries when she doesn't get her way. If she doesn't like a food, he all the sudden doesn't like it either.
He is okay with Daddy leaving for work until she starts to show concern. We have a trend going at the moment, and I knew the minute they were born that she had the more strong-willed and stubborn personality of the two.
Potty training twins is on another level than with a singleton. Not only do you have two that you are more than likely potty training at once, but if they are like my boy girl twins then you are potty training two genders at once.
Kids learn differently too, so what potty training techniques work with one may not work with the other. He was potty trained about 2 months before her but has now resorted back to only pooping in a diaper.
She moved right onto using the big potty whereas he still uses the small training potty. Remind yourself during potty training with twins that it's okay if they aren't on the same pace, and adjust your tactics for one or the other if it doesn't seem to be working.
(I also have more Tips on Potty Training Twins to help you out!)
My twins seem to love the blame game! They are always pointing fingers at the other if something gets broken or a mess is made. It doesn't just stay with the twins though, they even blame the dog.
Telling the truth is something we are working on right now and hopefully, it's nipped in the bud before they start preschool. (Fingers crossed that's next Fall!)
As vocabulary is forming, toddler twins have some of the BEST conversations! I eavesdrop on stories they tell during play time about scary monsters and three little pigs.
She comforts her baby dolls with phrases she hears me say throughout the day, like "Are you okay?" and "You're my princess." They rush to the door when daddy gets home jumping up and down and rambling on in one-word notes about their day. I'm telling ya when your toddler twins start talking, you are going to feel your heart swell SO many times.
When you have toddler twins, you have two little humans wanting to do everything mommy and daddy do. Cooking, cleaning (kinda), grocery shopping, laundry, you name it, they want to help.
I love that they are little helpers but let's be honest, it's not always that helpful. I figured out what tasks they could actually do and I include them in those.
In the kitchen, the twins help with all cake mixes, scrambled eggs, and pretty much anything that needs to be stirred. They also help plate up their meals.
When cleaning, the twins get to help with windows, they have a little broom set to help clean up their toy area, and they get to help find their clothes in the clean laundry basket. Not only are they super happy to be helping, but I'm also teaching them how to do their chores for later!
Some of the other things that have happened over the last year with my toddler twins include:
Their likes and dislikes have been shaping, individually. The twins are starting to show favorites when it comes to toys, movies, books, characters, and even activities. This makes for more separate play time and the ability for me to play with them more individually as well.
They watch and remember everything we do. From turning on the oven (which we've had to remove and hide the knob) to knowing how to surf through Netflix, to plugging in charging cords. The good thing is they are also paying more attention to where their toys go after playtime, where trash goes when they are done, and where dirty dishes go after eating.
They are showing initiative with self-care. Over the past few months, they've been asking to do things before they are told. Washing their hands, brushing their teeth, taking a bath, and a lot of the time Oliver lets us know when he's ready for bed, which is right around the bedtime we've been setting!
I've begun including them into the grocery list discussion because they've started asking for their own foods. Usually, they want more bananas, apples, fruit snacks, orange juice, popcorn, and chipies.
Their personalities have really started showing this past year. How they talk and their actions amaze me on a daily basis because I can start to see the little person inside of that toddler mind.
They like each other a whole lot more than they did a year ago! They are getting along more, probably because they've mastered tag teaming, and seem to be in tune with each other's needs. I can't wait to watch them grow even more over the next year!
Have you made it through Toddler Years with Twins?
I'd love to hear your stories!