Learn why the Ingenuity Deluxe Playard with Dream Centre is twin approved in our home!
Finding the best multi-functioning products for a twins nursery is important to me as a mom of twins. We don't have a lot of space so we love finding things that combine what we are looking for into one. Like the InGenuity Deluxe Washable Playard with Dream Centre!

InGenuity Deluxe Playard with Dream Centre
Not only is it a playard, but the InGenuity Deluxe Playard also has a changing pad, bassinet style dream centre, and accessory holder. Can you imagine if we had to have each one of those separate times two? We would need a new addition on the house just to make room for everything.
Even sweeter, this is a washable playard! This is the only playard that I have found that can go into the washing machine. As we all know, babies can messy, so this is an awesome feature!
When you need to clean up messes from dirty diapers, illnesses, food spills, or anything else, clean-up is easy. Simply remove the top rail cover, playard floor, side walls, changing table cover & mattress. Toss them in the washing machine. Seriously. Easy peasy and takes under a minute to remove.
This is also a great feature if you are looking for a playard you can take outside. Easily wash away any germs or allergens that may have been picked up while outdoors.
I love that the changing pad flips over the side for storage. I can easily access the playard without having to remove it all the time!
The material of the changing pad wipes clean easily for when we encounter those messy diaper changes. Which happens A LOT with twins. The cover removes to be tossed in the washing machine for deep cleaning.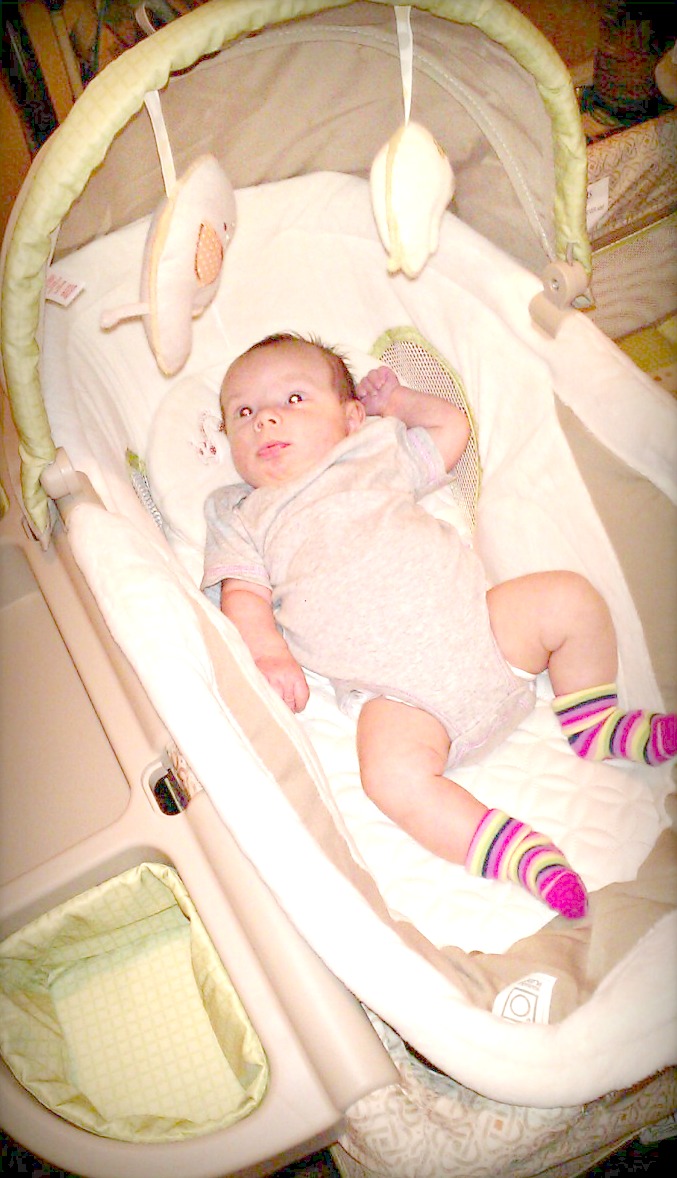 The accessory tray on the InGenuity Deluxe Playard is super handy for all sorts of things. Storing diapers, wipes, binkies, small toys, or whatever else you want. You can put the tray on either end of the playard. I chose the end with the bassinet so I could still flip the changing pad over when not in use.
Soothing Sounds Station on InGenuity Deluxe Playard
The Dream Centre is the perfect place for baby to relax and even snooze. The padding is so comfy even I wanted to climb in it when I was putting it together.
Another feature I really like is the Soothing Sounds Station. There are two levels of volume and it plays five cute lullaby melodies or 3 nature sounds.
I found the InGenuity Washable Playard Deluxe with Dream Centre really easy to set up as well. I didn't even have to ask my husband for help or get out any tools other than a screwdriver to add batteries. Two thumbs up for this space saver and easy to use product!
Check out the video below to see the InGenuity Deluxe Playard in action, and my twins.