Are you planning a nursery room for twins? We recently went through our twins nursery, which we now call a bedroom since they recently turned two. (sniffles)
As we got rid of things we no longer used, it got me thinking about some things I'm pretty sure I couldn't have gotten through the first year with twins (as easily) without.
There are many things I am glad I had and am keeping in the room. However, there are 8 Must Haves for a Nursery Room for Twins that are my favorites by far.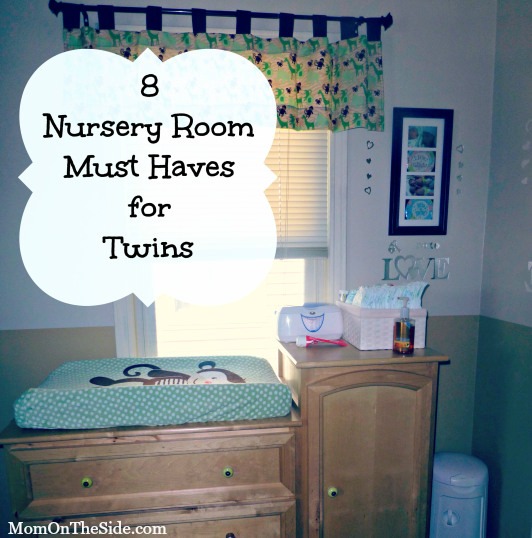 8 Must Haves for a Nursery Room for Twins
#1 Diaper Pail for Twin Nursery
I didn't need a diaper pail with my first two children. But I also had them one at a time. With two babies that's double the diapers. Double the poopy diapers. Double the stink.
Trust me on this, your nose and painted nursery room walls will thank you. We go through a bag about every three days, and they are fairly affordable.
Warning, my twins have learned how to open it and place objects inside the bag. That would probably happen with any diaper pail at this point and thankfully, potty training twins is on the agenda for this year!
#2 Crib for Twins
Yes, this is an obvious must have for a nursery room for twins. I mention it because you can go with one crib or two cribs for twins in the beginning.
We went with one at first and used a Crib Divider. Honestly, they never slept in the crib at the same time so we didn't need the divider much either.
When the twins turned one, we bought a second crib. In the end it didn't matter because we ended up co-sleeping with twins for the most part. Basically, I have two fancy wooden squares with cute blankets.
#3 Diaper Changing Table
Another thing I didn't have with my first two children, but am glad I had with the twins, is a diaper changing table. My knees and back would hate me after getting up and down off the floor for a zillion diaper changes a day.
Plus, once the twins were mobile, diaper changes on the floor open up the door for the one to come up and slap the other in the face. PS: You can turn your dresser top into a changing table by simply purchasing a Changing Pad.
#4 Baby Monitor
A baby monitor was a must for us, and we preferred one with video. If we could be everywhere at once, or always have the twins in the same room, this wouldn't be on the list.
But that isn't possible, so for us, a monitor was a must. One of our favorites was the Summer Infant Sleek and Secure Multiview Handheld Color Video Monitor.
It has video and two cameras so I could place one in the twins nursery, and one in the living room.
#5 Rocking Chair
Only one of my twins is a rocker. Knowing both of our older children were, I figured at least one of the twins would be. We kept the rocking chair in the nursery because our rocker was the one that slept in the crib more often.
#6 Infant Swing
I highly recommend buying one swing to start with. If both babies love swinging, great! They may swing enough that you need a second one later on.
Chances are you can get by with one swing for twins and save some space. There's always a bouncy seat, crib, your lap, and tummy time for the non-swinger.
If you invest in a swing, the Fisher Price Cradle n' Swings are fantastic. Lots of great functions and a very soothing swing.
#7 Cloud B Light
Cloud B Lights quickly became our favorite night-light. We have a ladybug, turtle, and UFO at the moment.
They are all amazingly soothing, have soft colors, and many have sounds. Having the soft body parts on some of them make them great for having in bed.
#8 Twin Z Pillow
The Twin Z Pillow was a life saver for twins for so many reasons. When one of us would be alone with the twins as infants, this pillow made it easier to do feedings, play times, diaper changes, and pretty much anything. I'm so glad I found out about this pillow before the twins were too big to use it!
What are your must haves for a nursery room for twins?
Save these Nursery Room Must Haves for Twins for when you start to plan a nursery for twins!