This post and Halloween Peanut Butter Balls Recipe was sponsored by Crisco® Coconut Oil as part of an Influencer Activation for Influence Central and all opinions expressed in my post are my own.
Fall begins this month and that means I'm allowed to get out my Halloween decorations! It dawned on me recently that this is the first year in almost 5 years that I'm able to surprise the kids by decorating while they are at school.
Not only that, I can bake desserts and the twins aren't here to eat them all before everyone else gets home! I celebrated these realizations by decorating the house and making Halloween Peanut Butter Balls!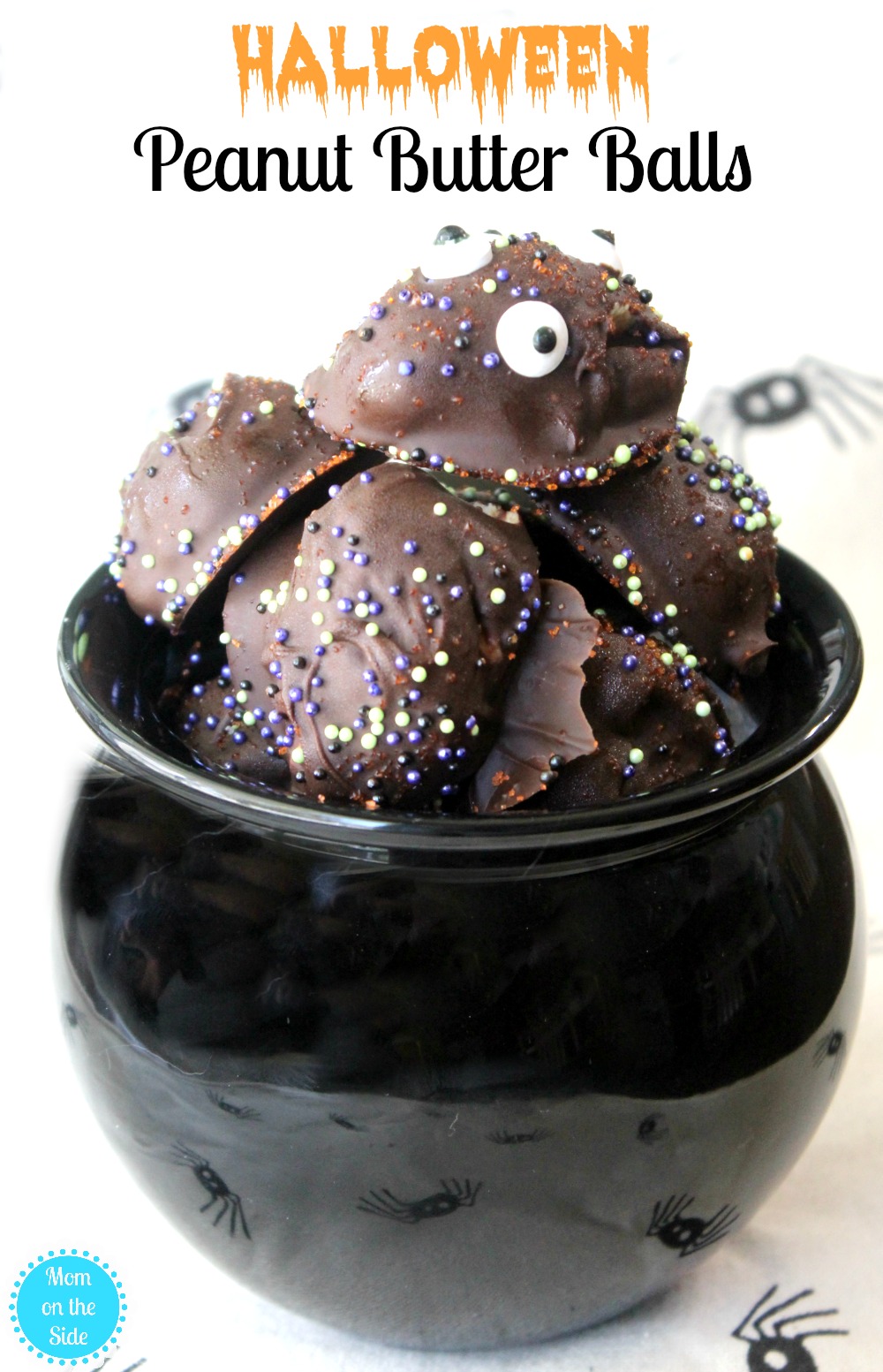 HALLOWEEN PEANUT BUTTER BALLS
Fun desserts are one of my favorite ways to celebrate holidays. Special after school snacks and platters filled for parties.
Holiday Peanut Butter Balls are one of my favorites and the most popular dessert here on Mom on the Side. With ghouls and goblins hitting the streets soon, I made them with a Halloween twist both in decorations and the recipe.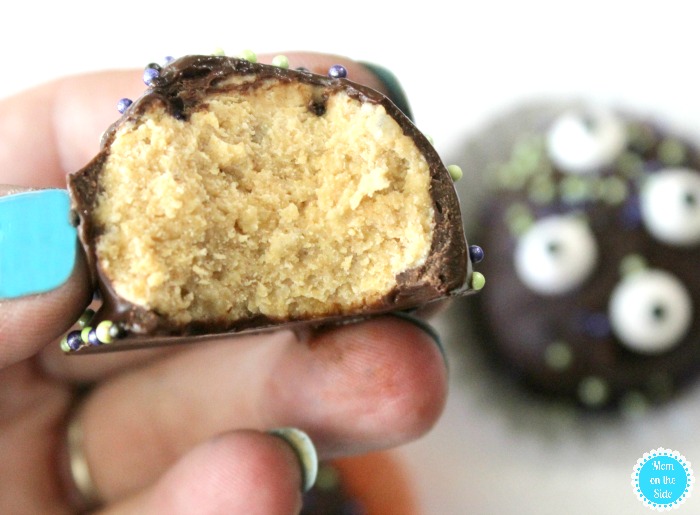 How to Make Peanut Butter Balls for Halloween
(This recipe yields 3 dozen peanut butter balls.)
2 cups creamy peanut butter
3/4 cup Crisco® Unrefined Organic Coconut Oil – a great organic substitute for butter, margarine, or other oils
3 1/2 cups powdered sugar
3 cups Rice Krispies cereal
12 oz bag semi sweet chocolate chips
Halloween Sprinkles and other Halloween Baking Decorations
Mini Baking Cups – Orange, Black, or Halloween Themed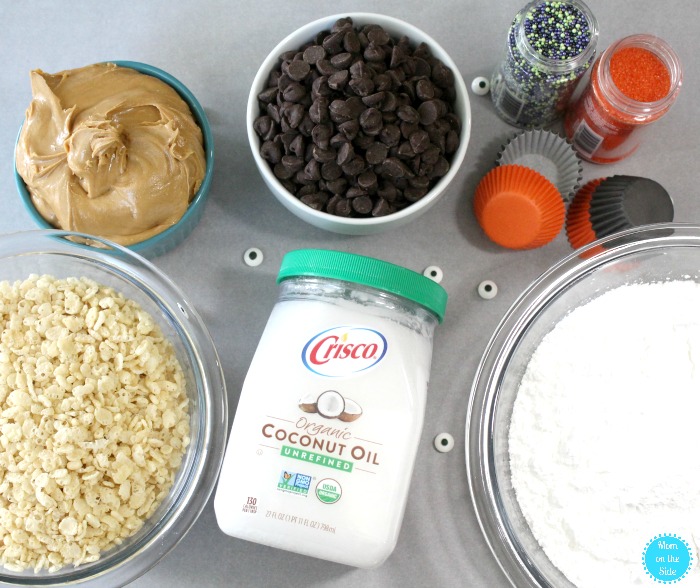 First, pour powdered sugar into a large mixing bowl. Next, ground up the cereal in the food processor, and add it to the powdered sugar. Mix together and set aside.
Now mix together the peanut butter and Crisco Unrefined Organic Coconut Oil. With unrefined coconut oil, it retains the distinct coconut flavor and odor, unlike Crisco Refined Coconut Oil which has no flavor or aroma.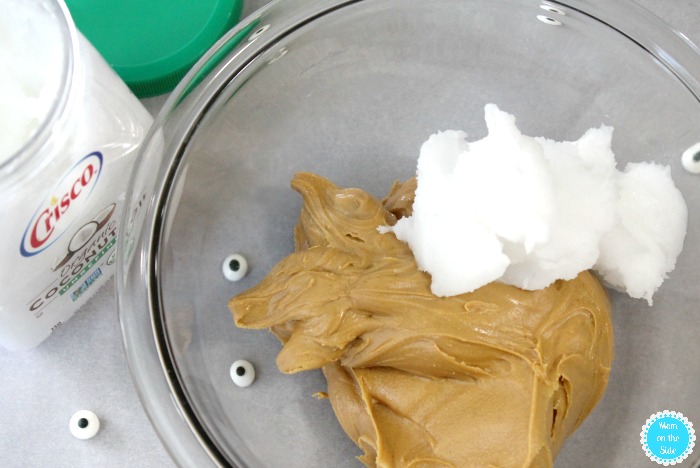 Add the powdered sugar mixture to the peanut butter and coconut oil mixture. Stir well to blend together completely.
Cover and chill the mixture for 15 minutes to make it easier to handle. Remove it from the refrigerator after chilling and roll into 2 inch balls. Place them on a baking sheet lined with wax or parchment paper.
When you are done rolling the peanut butter balls, it's time to get the chocolate coating ready. In a double boiler or microwave, melt the chocolate chips.
Once melted, stir until smooth. Dip the peanut butter balls one at a time into the melted chocolate. You can dip them right in the double broiler pan or transfer the melted chocolate into a small bowl for dipping.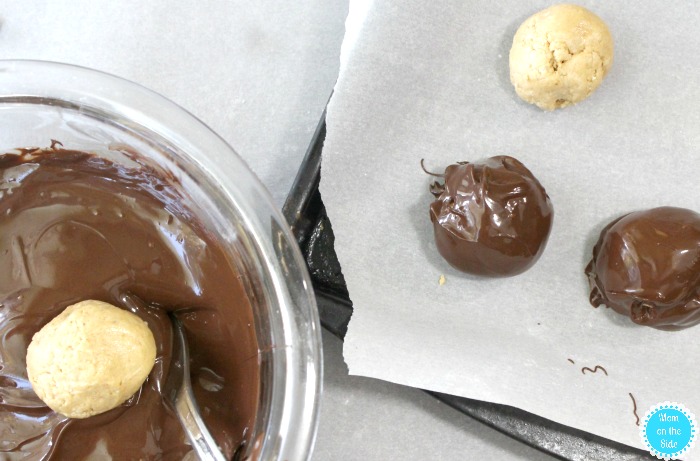 Place the chocolate coated peanut butter balls on the lined baking sheet. Now it's time to turn them into Halloween Peanut Butter Balls!
Sprinkle each ball with Halloween sprinkles before the chocolate hardens. I also used candy eyes on some of them.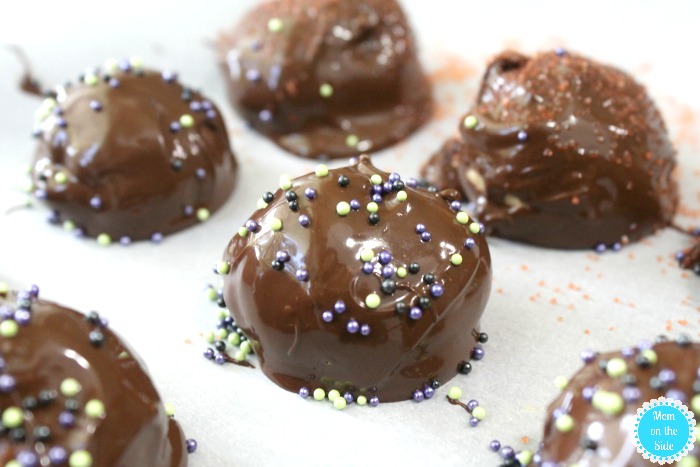 Once they are decorated place them in mini baking cups for serving, or fill a cauldron candy dish!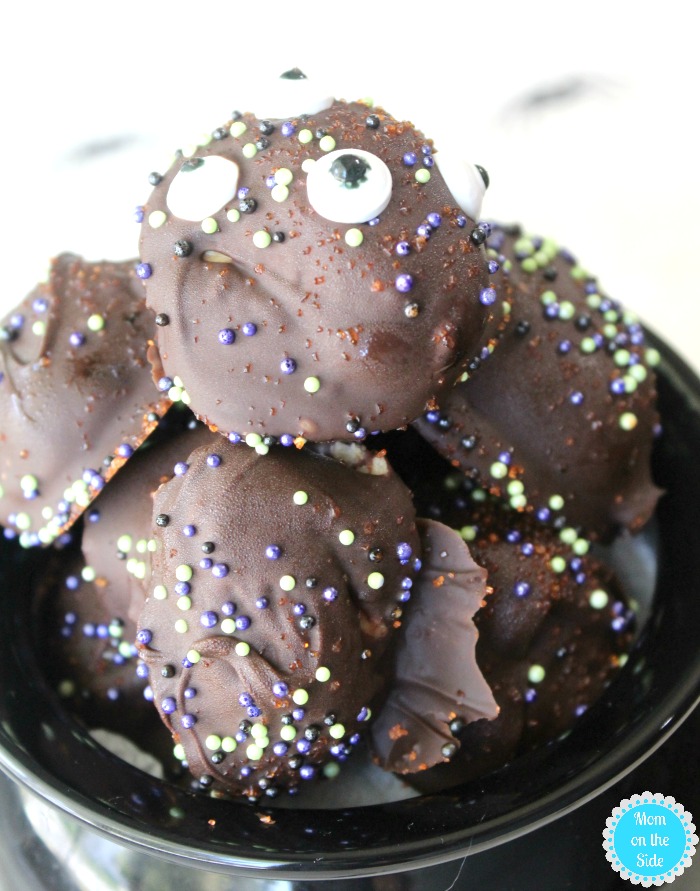 You can store these Halloween Peanut Butter Balls in an airtight container for up to 4 weeks. They are great to have on hand for school lunches, Halloween parties, and just for snacking on.
Give this easy Halloween dessert a try using coconut oil and let me know what you think!
Save these Halloween Peanut Butter Balls Recipe to make in October!