Finding Dory was a huge hit with families and since my husband took the kids, I'm impatiently waiting for Finding Dory on Blu-ray by sipping on this Finding Dory Fruit Punch!
When an amazing Disney Pixar film hits theaters, you know lots of themed Disney birthday parties are on the horizon. Keep this Finding Dory Fruit Punch Recipe in your back pocket for any Finding Dory party ideas you need when you find yourself planning!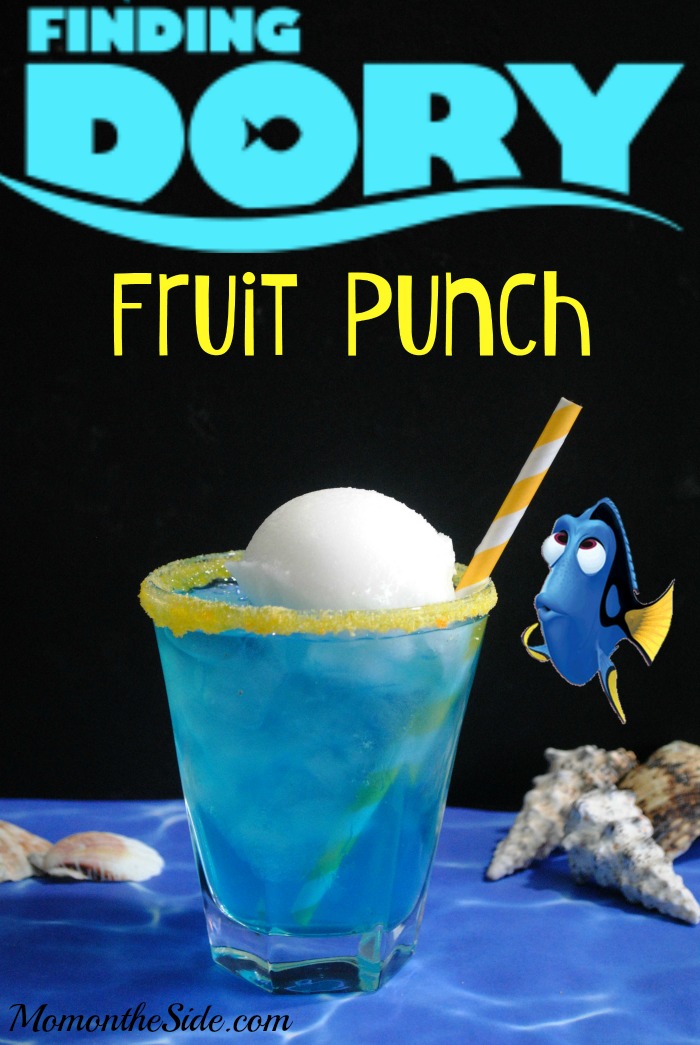 Finding Dory Fruit Punch Recipe
Ingredients
2oz Mango Nectar
4oz Blue Powerade
1oz Sprite
1 Scoop Lemon Sorbet
Ice
8oz glass
Yellow sanding sugar
Simple syrup
Decorative Straw
How to Make Finding Dory Fruit Punch
Start by using 2 appetizer plates for decorating the rim of the glasses. On one of the plates pour 1 tbsp of simple syrup. On the other one add the yellow sanding sugar.
Dip the rim of the glasses in the simple syrup and then in the yellow sanding sugar and set to the side. Next, fill each glass with ice and pour in Mango Nectar, Glacier Breeze, and Sprite into your glass then lightly stir
Finally, top the Finding Dory Fruit Punch with a single scoop of lemon sorbet. Stick in a matching decorative straw before you sip and enjoy!