The Easter Bunny is coming down the Bunny Trail! Add to the holiday fun with these Easter Basket Scavenger Hunt Clues!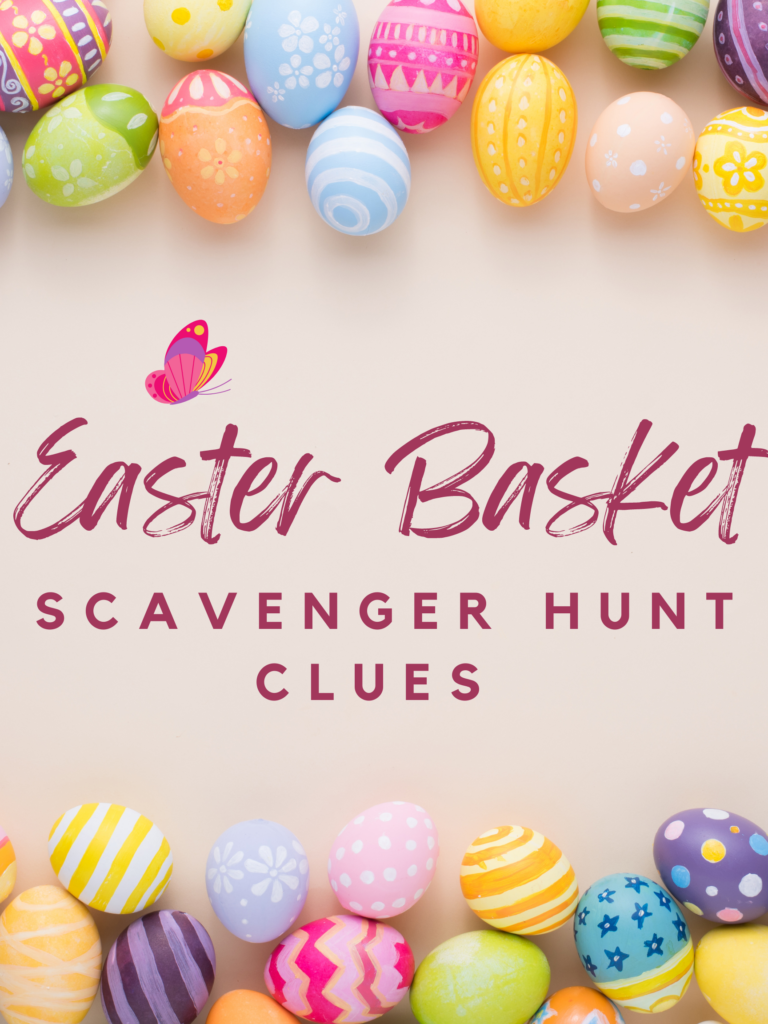 Easter Basket Scavenger Hunt Clues
Usually the Easter Bunny leaves baskets on the dining room table or the couch. The kids wake up, squeal with delight and dig into their Easter Basket.
As kids get older, parents start looking for little ways to keep the magic of the holidays alive. Scavenger hunts are one of those little ways and can be easy to set up with pre-made scavenger hunt clues!
Guess what? I've got those pre-made clues for you to set up a Scavenger Hunt for Easter Baskets! There is one set of 6 Easter scavenger hunt clues you can print and hide. If you have more than one kid you can hide all the Easter Baskets together or use my other Printable Easter Scavenger Hunt and split them up.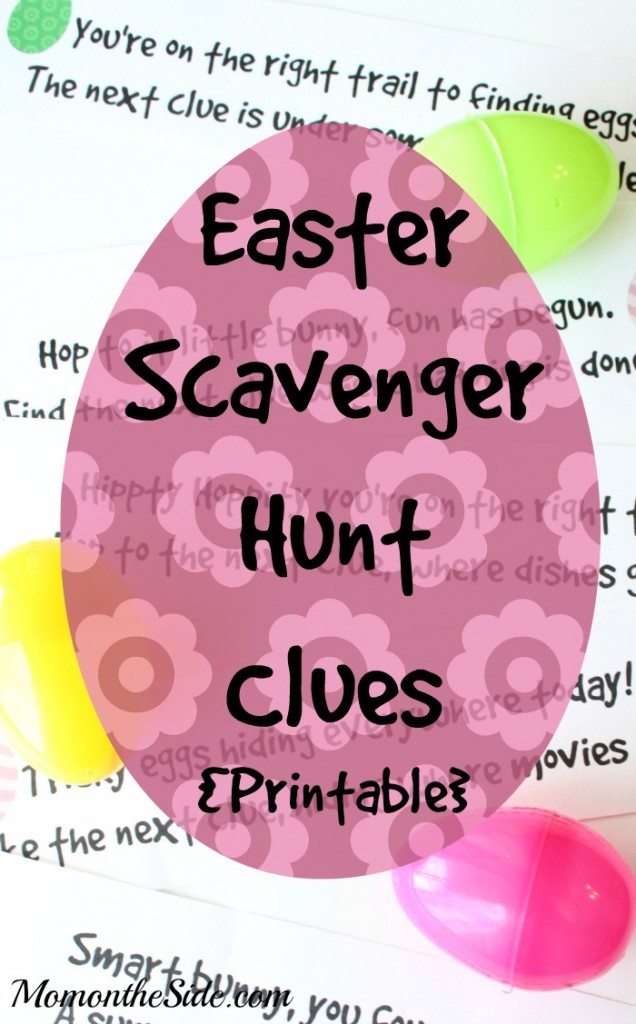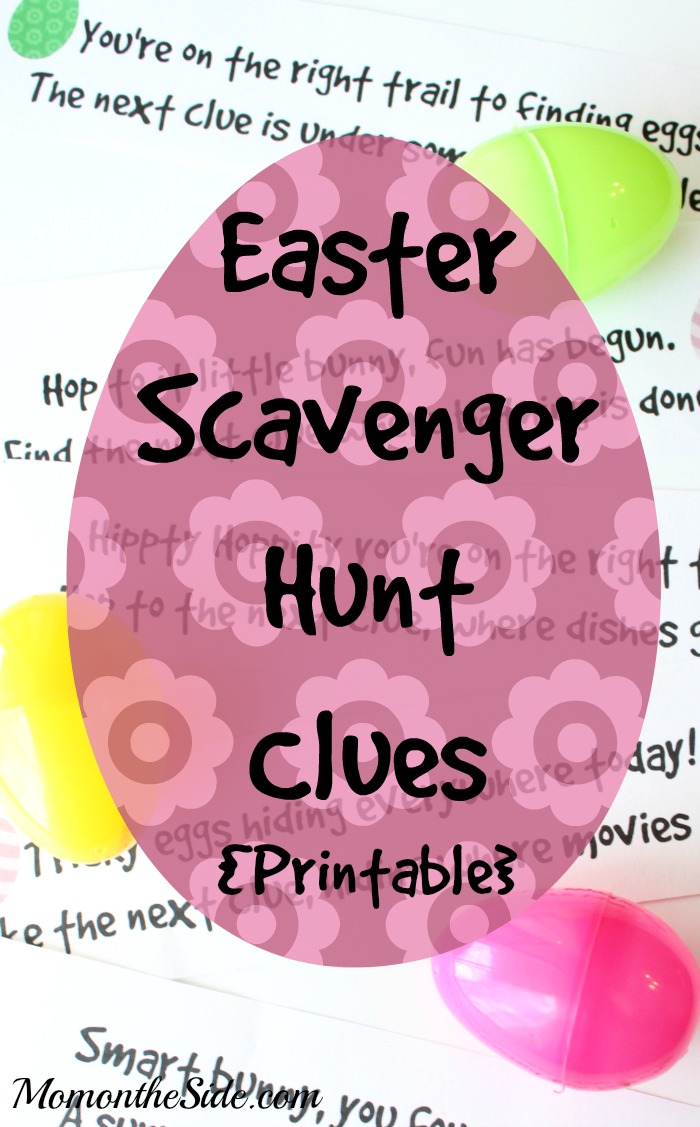 Clues for Easter Basket Scavenger Hunt
Below is a list of the Easter Basket Scavenger Hunt Clues, as well as the places to hide each clue. You can print them all at the end of this post or write them down on strips of paper if you are out of ink.
Start by hiding the Easter Basket in a closet. Shut the door so they don't catch a glimpse before the end of the hunt. Give your child the first clue and let the Easter Scavenger Hunt begin!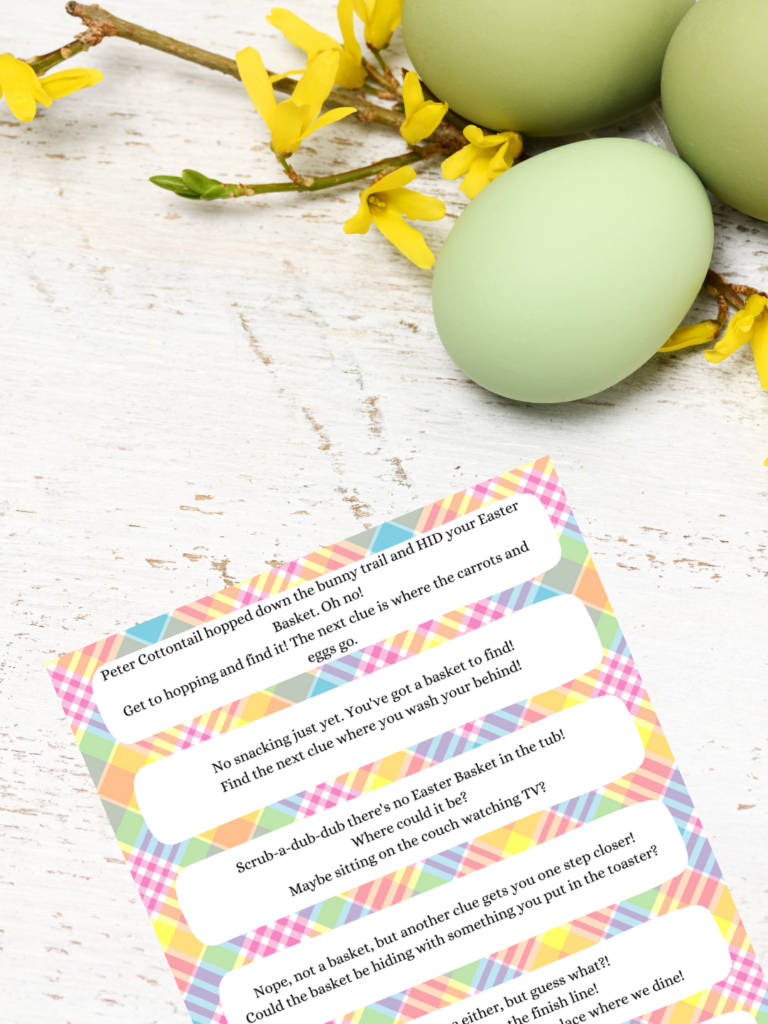 Clue 1
Peter Cottontail hopped down the bunny trail and HID your basket! Oh no!
Get to hopping and find it! The next clue is where the carrots and eggs go.
Clue 2 (Hide this clue in the refrigerator)
No snacking just yet. You've got an Easter Basket to find!
Find the next clue where you wash your behind!
Clue 3 (Hide this clue in the bathtub or shower)
Scrub-a-dub-dub there's no Easter Basket in this tub. Where could it be?
Maybe sitting on the couch watching TV?
Clue 4 (Hide under a couch cushion)
Nope, not a basket but another clue gets you one step closer!
Could the basket be hiding by something you put in the toaster?
Clue 5 (Hide by the bread, Poptarts, frozen waffles, etc)
No basket here either, but guess what? You are almost to the finish line!
Look around for the next clue at the place where we dine!
Clue 6 (Hide under the dining room/kitchen table.)
This is it! You found the last clue but wait…there's more!
Find your Easter Basket behind a closed door!
–> PRINT SCAVENGER HUNT HERE <–
Grab another fun Easter Scavenger Hunt that has kids looking for common Easter items!