Does your child's school have the store bought class treats rule? Ours does. Anything brought in for birthdays or holidays has to be in the original packaging.
We can however, turn those individually packaged treats into something fun! These clever store bought Christmas class treats are great ideas if this classroom rule applies to you.
Clever Store Bought
Christmas Class Treats
That Are Easy to Make!
Reindeer Christmas Class Treats
Reindeer Suckers: Tissue Ghost Suckers were one of my favorite to make and receive in grade school on Halloween. These Reindeer Suckers are a fun Christmas twist on that treat!
Reindeer Candy Canes: Do you remember getting these in grade school? I got at least one a year but I don't think any of my kids have ever gotten one. That's about to change this year!
Little Debbie Christmas Characters: How adorable are these Little Debbie treats dressed up as a gingerbread girl, reindeer, and elf? The kids would have making these, too!
Other Reindeer ideas:
Snowman Christmas Class Treats
Snowman Donuts: Little sleeves of donuts turned into snowman. Super cute and super easy to put together!
Snowman Juice Boxes: A little white paper and some markers you can quickly decorate those juice boxes for class treats!
String Cheese Snowmen: Grab these printable string cheese decorations to turn string cheese into snowmen and other Christmas characters.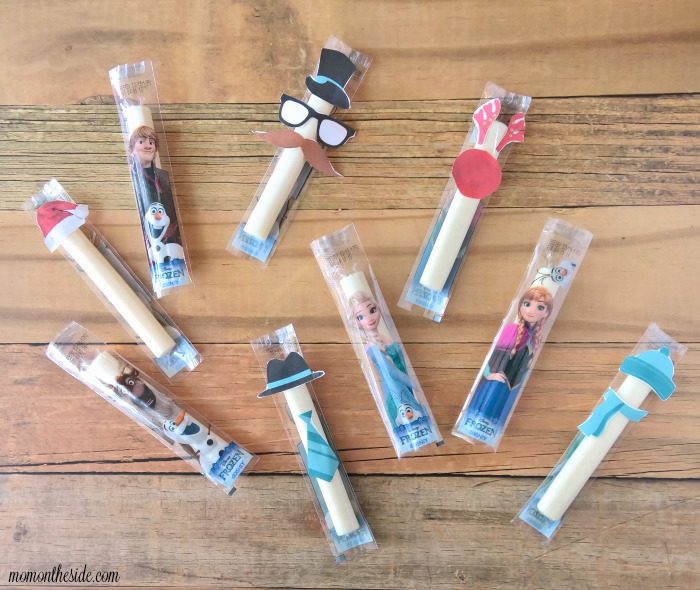 Other Snowman ideas:
Santa Christmas Class Treats
Santa Fruit Cups: Red fruit cups with a simple black line and gold square quickly become Santa!
Santa and His Sled: Juice Boxes, candy canes, and chocolates make up this clever Christmas class treat!
Santa Candy Bars: Construction comes in handy for a lot of store bought Christmas class treats, including these Santa Candy Bars!
Other Santa ideas:
What clever store bought Christmas class treats have you made over the years?