As Blogging Branson Ambassador I was invited to experience An Old Time Christmas at Silver Dollar City in 2018.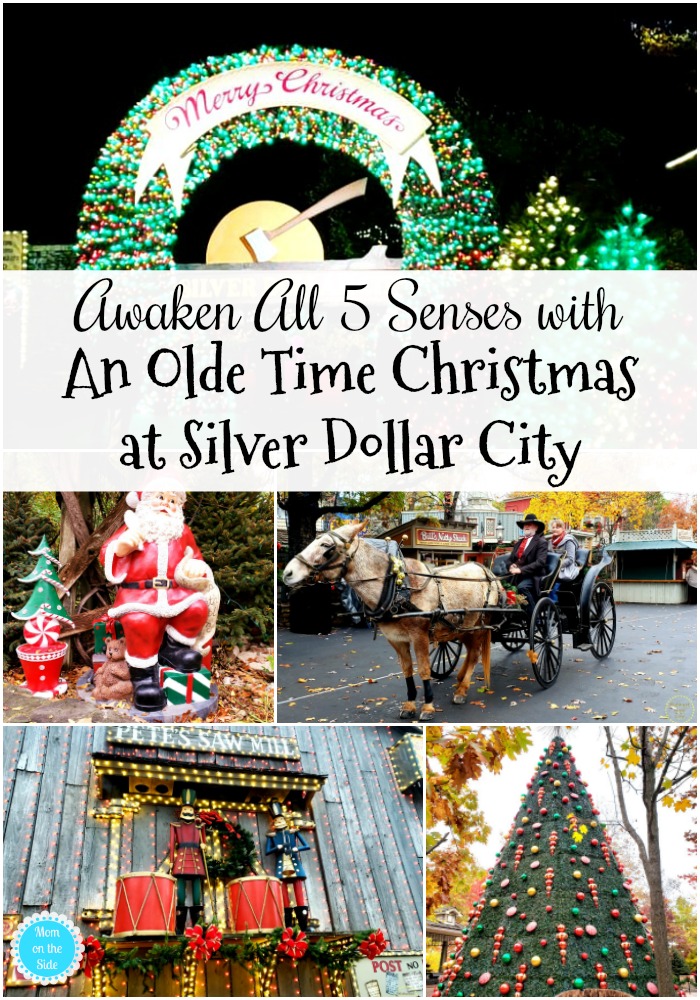 If I could live somewhere for the entire holiday season it would be Silver Dollar City. Pretty sure in my past life I was a pioneer and ever since 4th grade when my aunt made me a pioneer dress for pioneer day I fell in love with that time period.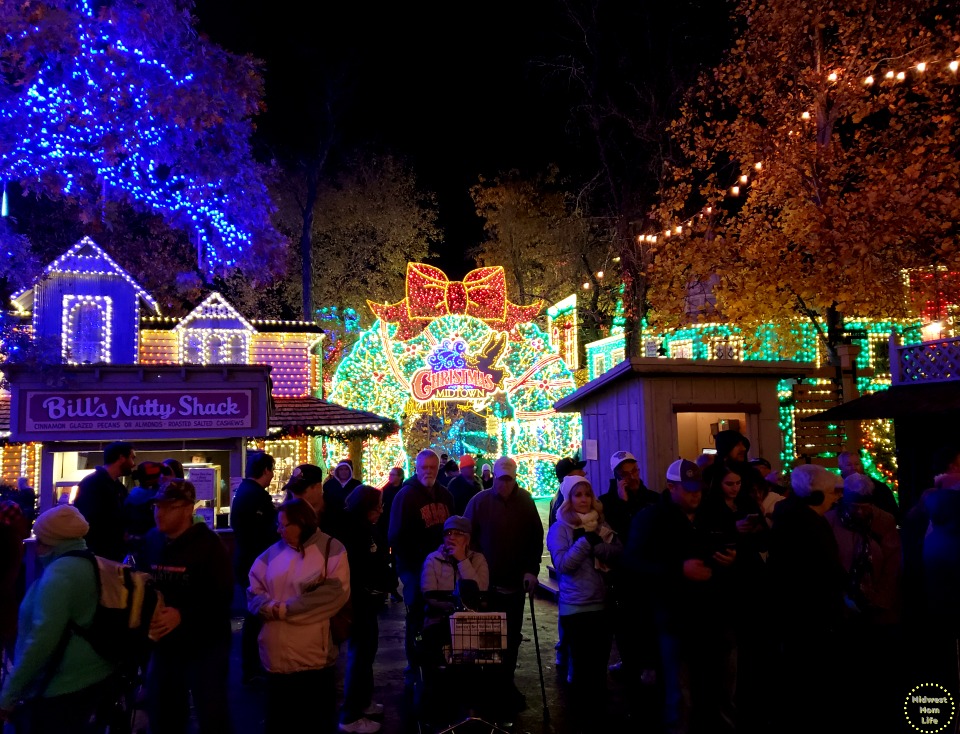 Something about it just feels right. Feels like home, just like I felt when I stepped inside An Old Time Christmas at Silver Dollar City.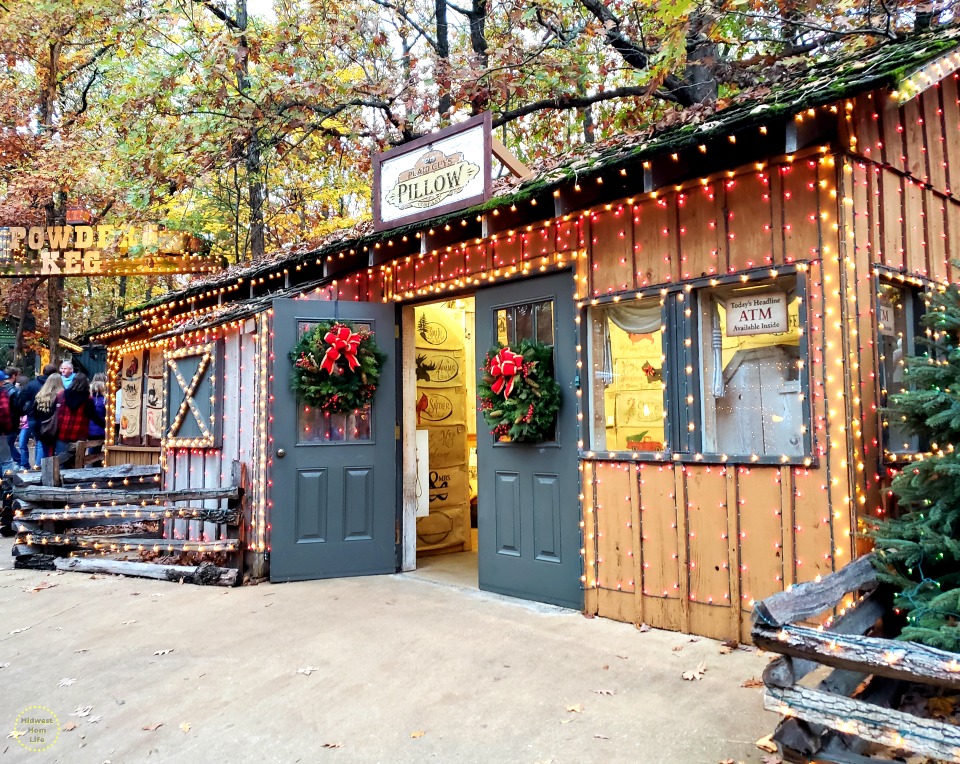 Awaken All Five Senses with
An Old Time Christmas at Silver Dollar City
Oh Christmas lights
Light up the street
Light up the fireworks in me
May all your troubles soon be gone
Those Christmas lights keep shining on
-Coldplay
Stepping inside An Old Time Christmas at Silver Dollar City immediately awakens all five senses, starting with your eyes. The sight of 6.5 million lights begins before you even walk through the gate.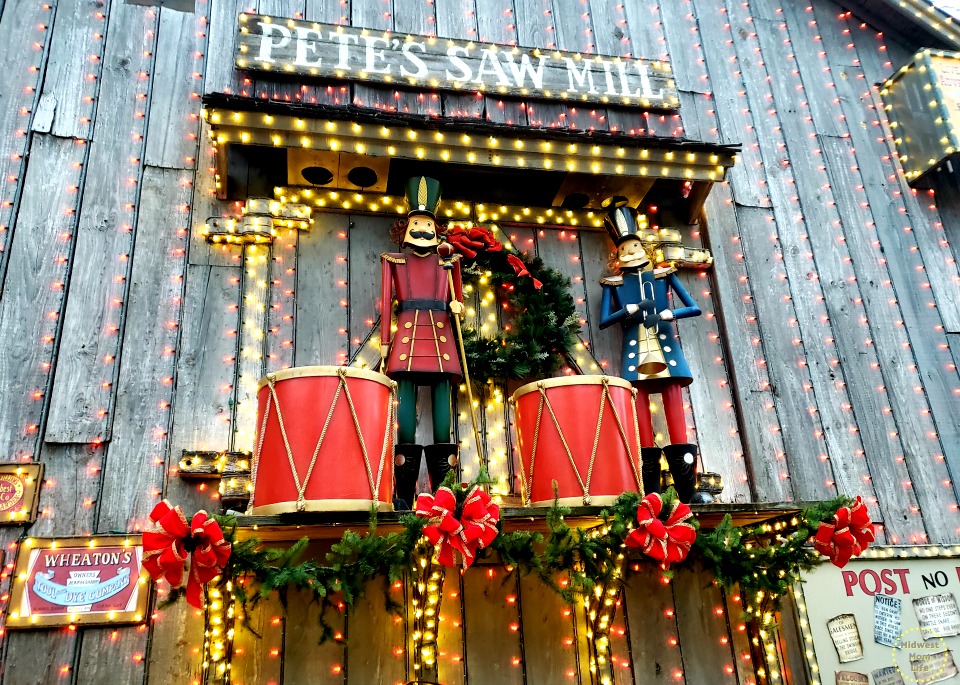 A big beautiful lighted wreath surrounds the Silver Dollar City Sign making it a great stop for holiday family photos!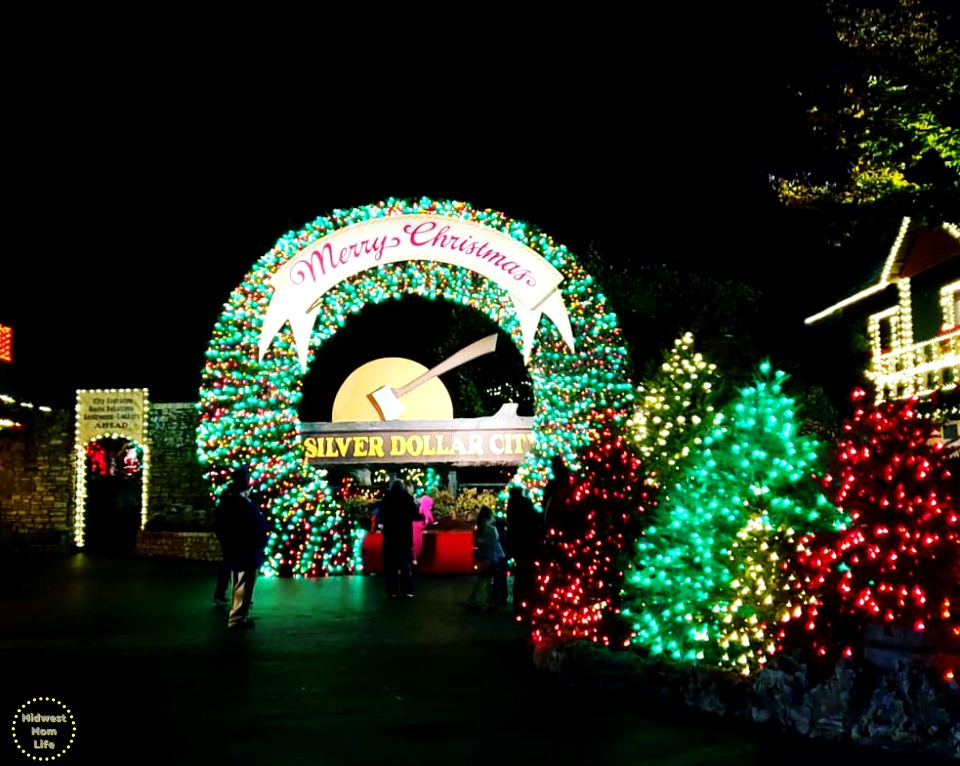 There are lights, lights, and more lights as far as the eye can see at Silver Dollar City. I was truly in awe. My grandparents worked at Silver Dollar City and would tell me how beautiful it was. I shouldn't have waited this long to experience it.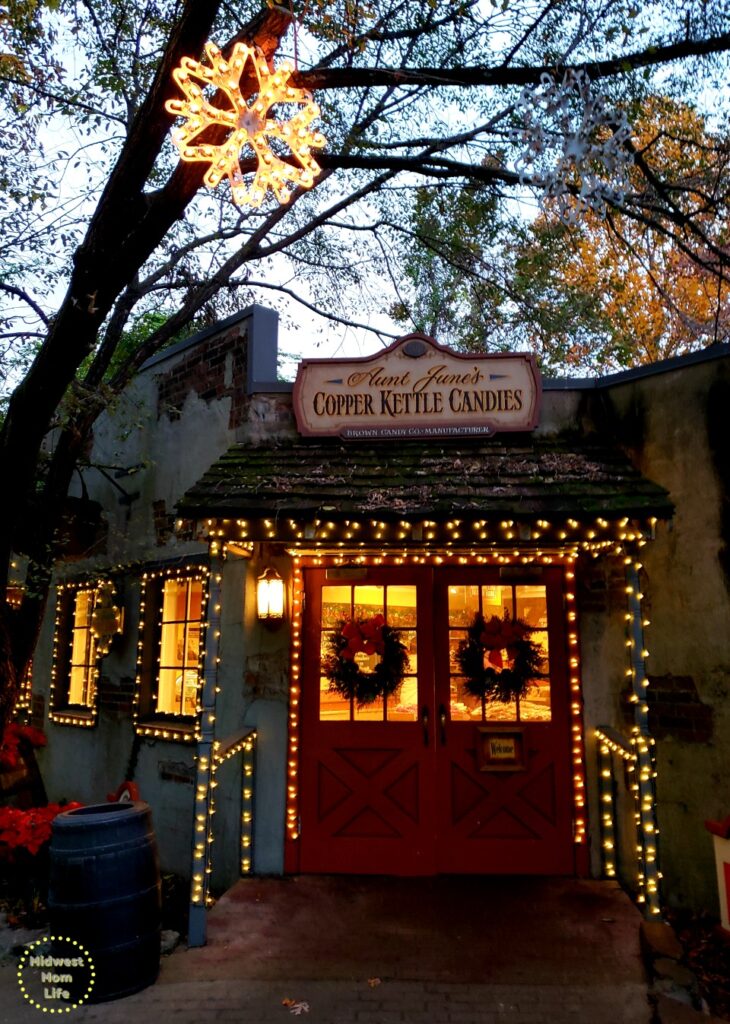 Among the 6.5 million lights throughout Silver Dollar City include the Christmas in Midtown Light Spectacular and 30 miles of new lights illuminating the walkways. Plus, the load station area for the new Time Traveler roller coaster!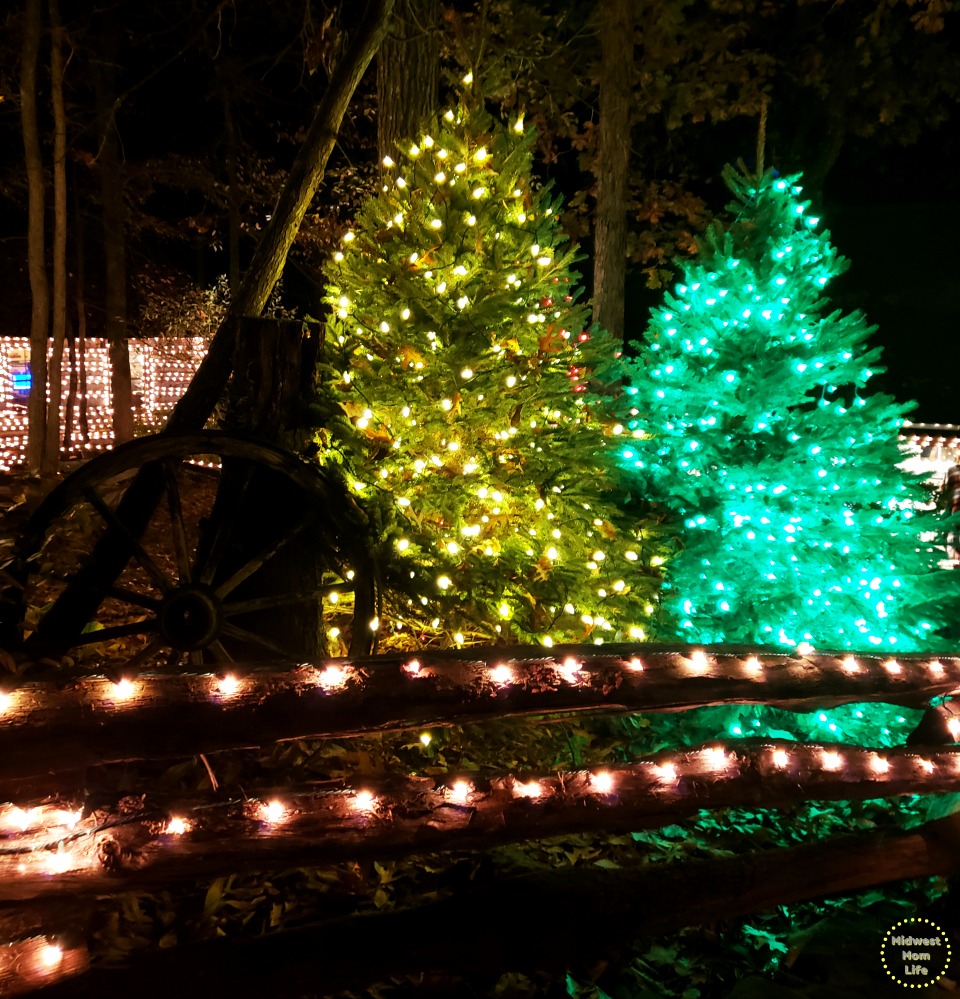 A favorite of the light experience sits on the square. A 5-story special effects Christmas tree, and trust me when I tell you this thing is massive!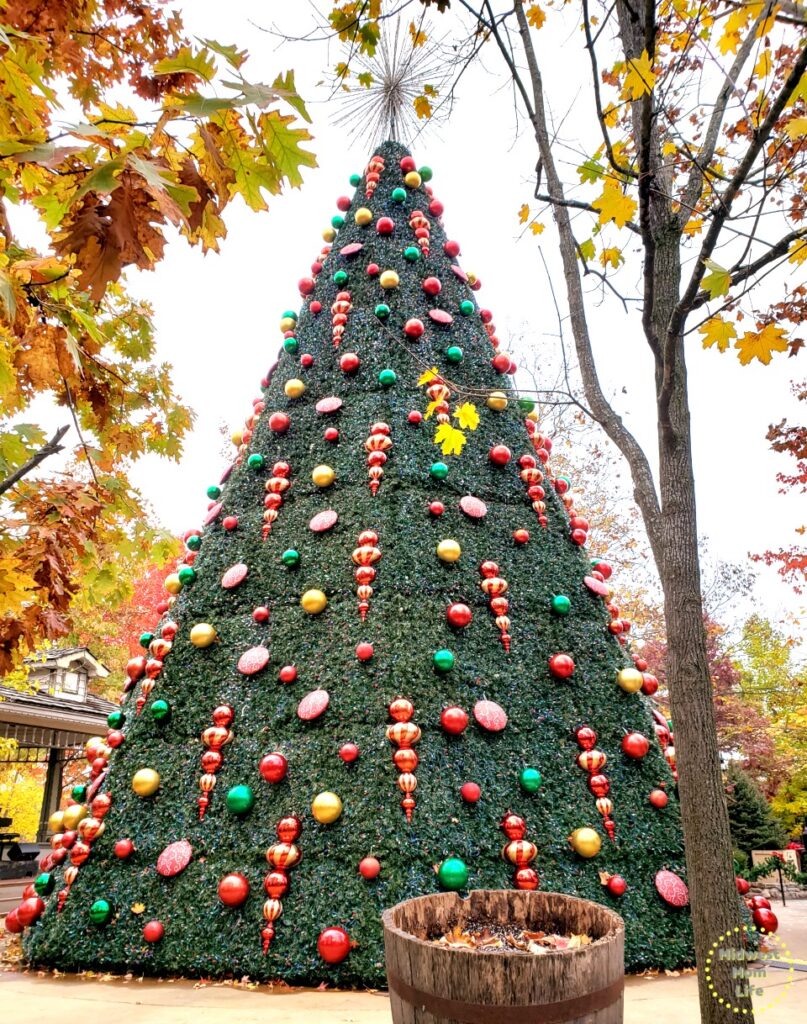 With over 850 ornaments and over 350,000 energy saving lights circling the tree it's a sight to see when it blazes to the movements of Christmas songs with up to 100 light changes per second!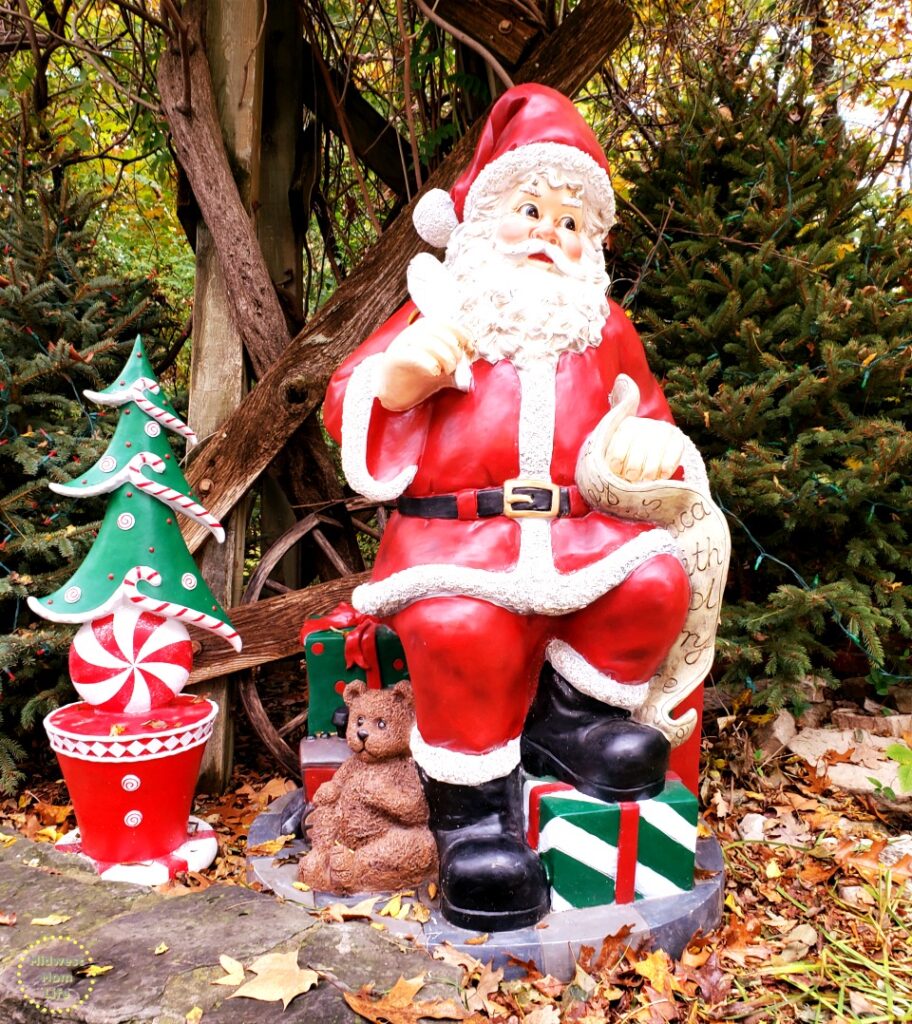 There's more than just twinkling lights for the eyes to enjoy. You'll find just over 1000 decorated Christmas trees including 700 cut trees throughout the theme park.
You'll find 600 wreaths, over 3 miles of garland, and 15000+ yards of ribbon. Seriously. The decorations are a sight to see!
The smells of Christmas are the smells of childhood
― Richard Paul Evans
Barely through the entrance, the smells of An Old Time Christmas at Silver Dollar City take over in a delicious way. Eva & Delilah's Bakery should always be the first stop for homemade cinnamon rolls and pecan rolls.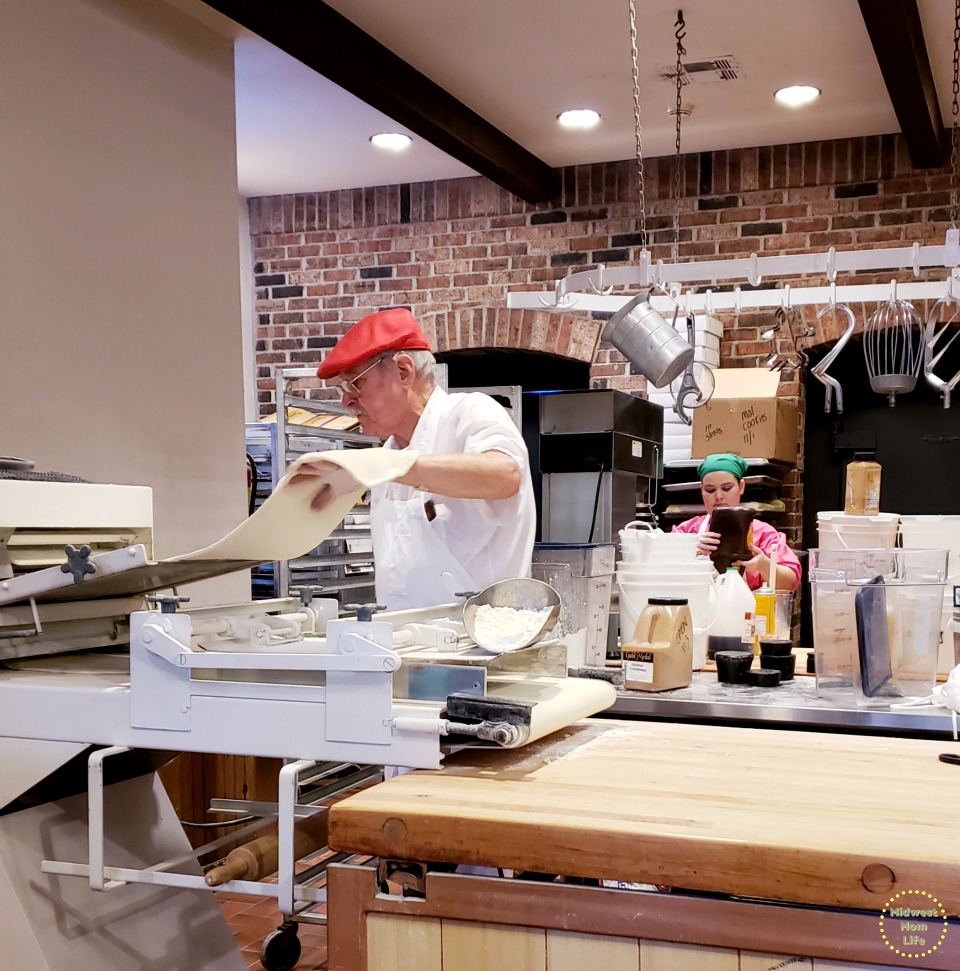 I'm drooling just thinking about them. Lots of love and handmade hard work goes into these goodies. They fly off the shelves as fast as they can make them.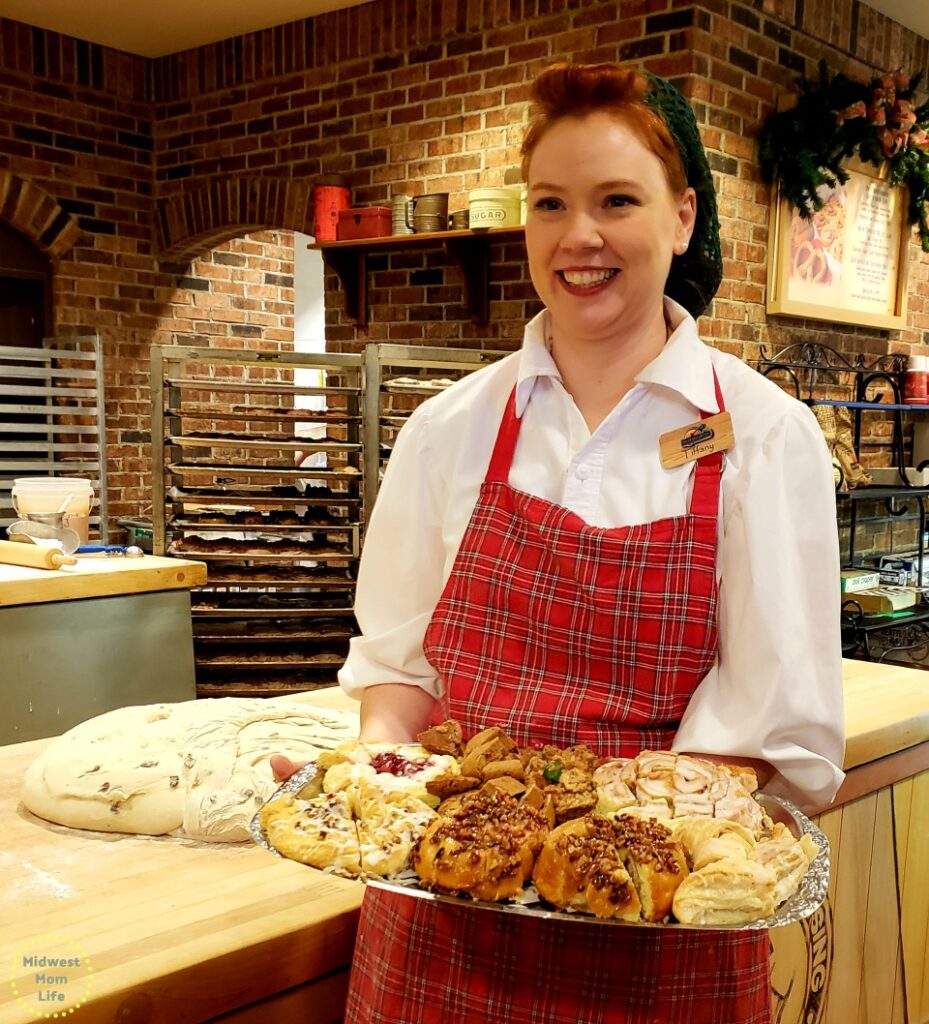 More sweet smells awaken the senses as you pass the taffy shop, get whiffs of peanut brittle being made fresh, and I can't forget about the Wassail. Something I'd never had before and could barely pronounce but is now a drink I need in my life ever winter!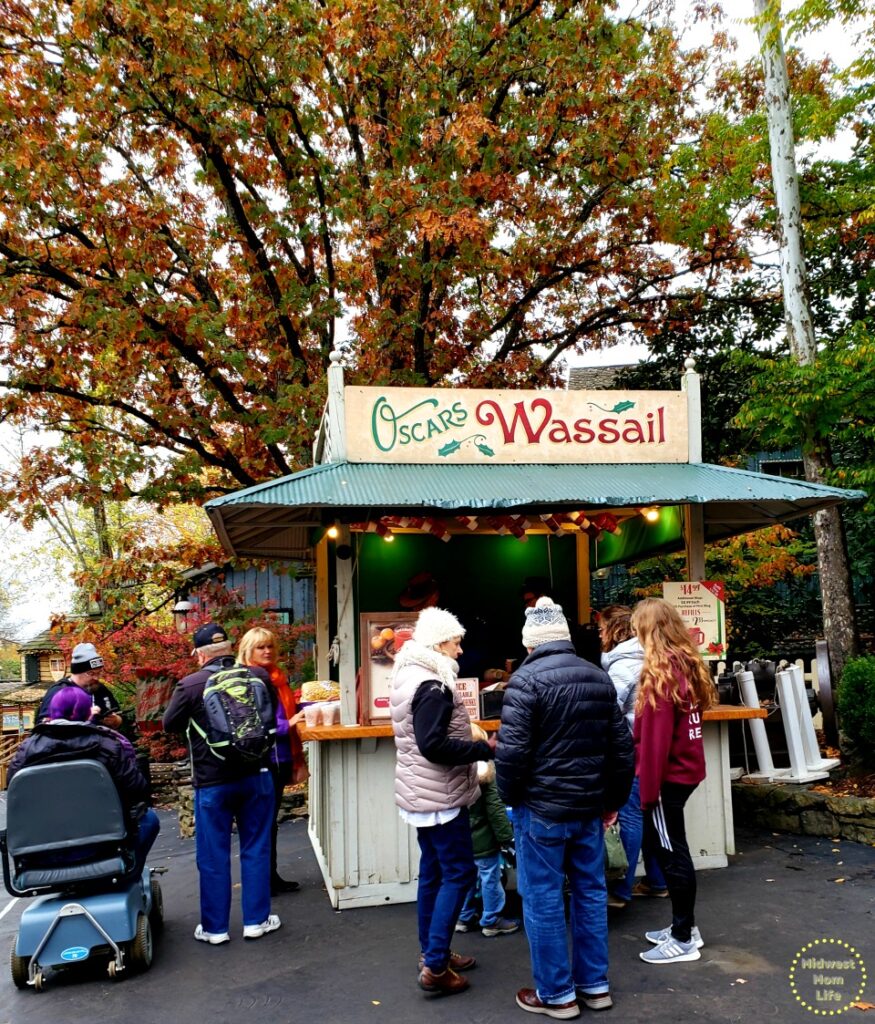 Wassail is a beverage of hot mulled cider, drunk traditionally as an integral part of wassailing, a Medieval Christmastide English drinking ritual intended to ensure a good cider apple harvest the following year.
-Wikipedia
The smells bring us right to the tastes of An Old Time Christmas at Silver Dollar City! If you're like me, smelling and tasting happen simultaneously especially when indoor buffets full of family favorites and prime rib, fresh-made fruitcakes, ginger cookies are involved!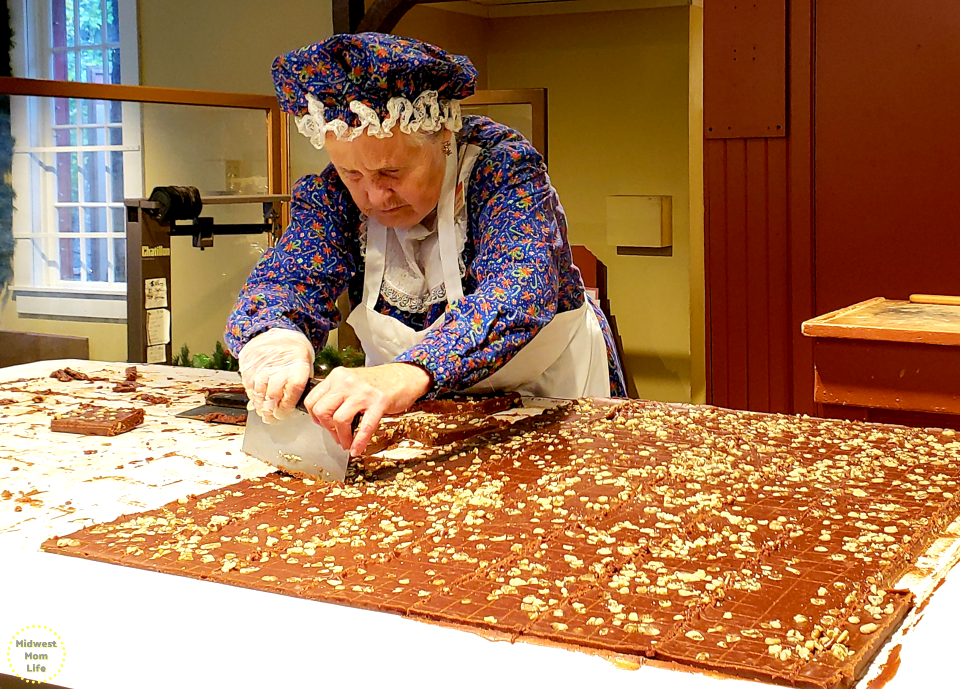 There is nothing in the world so irresistibly contagious as laughter and good humor.
― Charles Dickens
The sounds of An Old Time Christmas are all around you from the moment you arrive. I absolutely loved the Carolers strolling the park. Dressed just like you'd imagine carolers in the olden days and their voices so perfectly in harmony.
Silver Dollar City's An Old Time Christmas also features two original musical productions. Grab a seat for A Dickens' Christmas Carol and It's a Wonderful Life. We saw A Dickens' Christmas Carol while there and it was a great adaptation of the classic novel.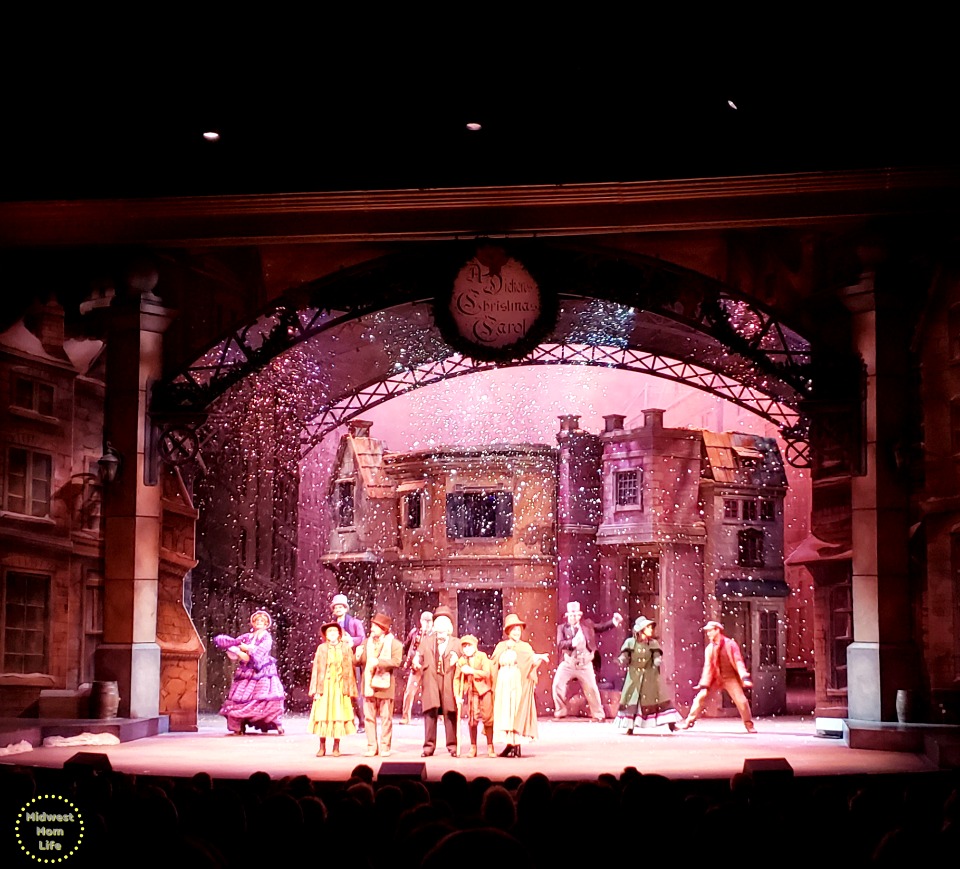 Revolving sets, flying spirits, pyrotechnic special effects, a live band, people inside a snowglobe, and snow falling from the ceiling. It was simply magical.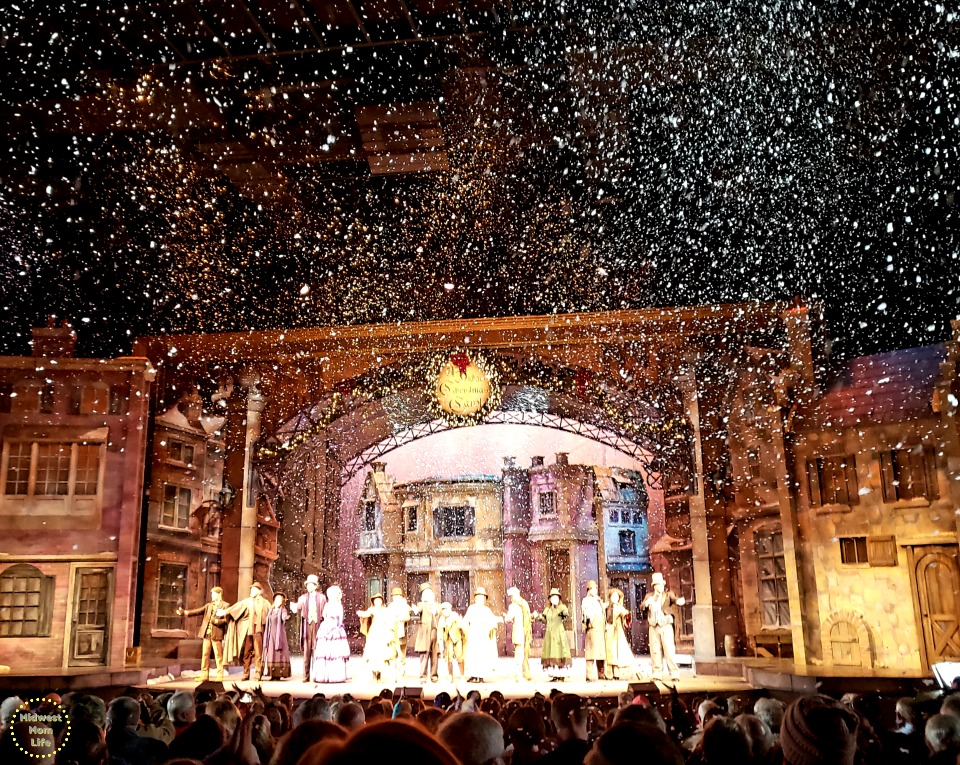 Other holiday shows and activities include:
Joy on Town Square: New for 2019 is an 8-story state-of-the-art Christmas tree on Main Street.
Tinker Junior's Toy Shop: Fun and Interactive Show with a 12-Foot Talking Christmas Tree
Frontier Fa-La-La Follies: Comedy Show
Living Nativity: Retelling of the story of the reason for Christmas in a dramatic musical account by the angel Gabriel
Holiday Hearthside Harmonies: The Homestead Pickers
Santa Claus Lane: Kids can visit with Santa in his workshop
Rudolph's Christmas Town: Kids can visit with Rudolph the Red-Nosed Reindeer, Clarice and Bumble the Abominable Snow Monster, in addition to playing games and decorating cookies
Holiday Cooking: Learn how to make things like Holiday Potatoes, Orange Cinnamon Rolls, Muffin Breakfast, and Chocolate Pecan Pie at the Culinary & Craft School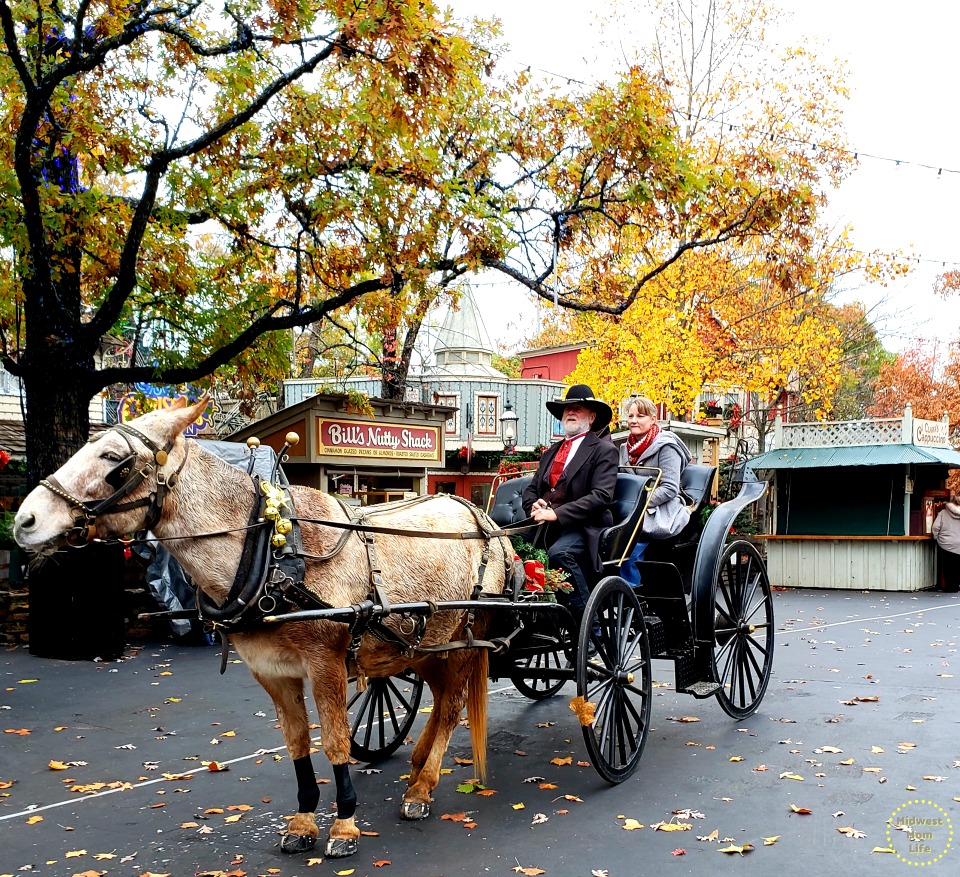 Another sight not to miss is Rudolph's Holly Jolly Christmas Light Parade! Park goers line the streets of the city as the parade makes its way through twice each evening.
Rudolph is the Grand Marshall of course, and he's by a pretty spectacular sight. Nine musical lighted floats, 45 colorful costumed characters, including Bumble the Abominable Snow Monster, 14-foot moose characters, 12-foot tall elves, 10-foot candy canes, penguins, elves, and even marching wooden soldiers. Whew!
It's beginning to look a lot like Christmas
Soon the bells will start
And the thing that will make them ring is the carol that you sing
Right within your heart
-Meredith Willson
Your sense of touch is awakened in several ways at An Old Time Christmas at Silver Dollar, beyond touching all the amazing rides like the world's tallest fastest spinning coaster, Time Traveler.
Time Traveler will touch you deep in your belly in places you didn't know existed but in an awesome way. From what I've heard because no way am I riding something that takes you every which way and back. I'm too old for all that.
No, the touching I'm talking about happens inside all of the little shops at Silver Dollar City. Handmade goods of all kinds fill the little stores from the woodwork to iron to Christmas ornaments. All of which you can watch being made right in front you.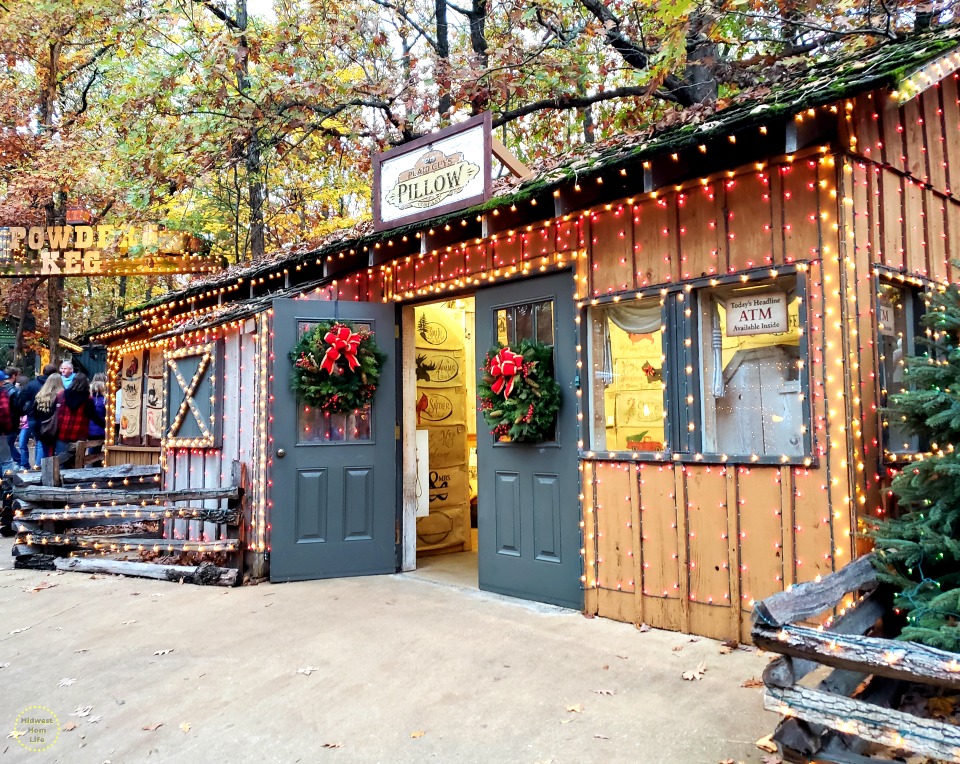 I picked up personalized Christmas ornaments for my kids while I was at Silver Dollar City. The first thing my oldest pointed out was how beautiful her name looked. A name that you can't often find on things so I appreciate the lovely woman in the shop who takes her time to carefully write on each item.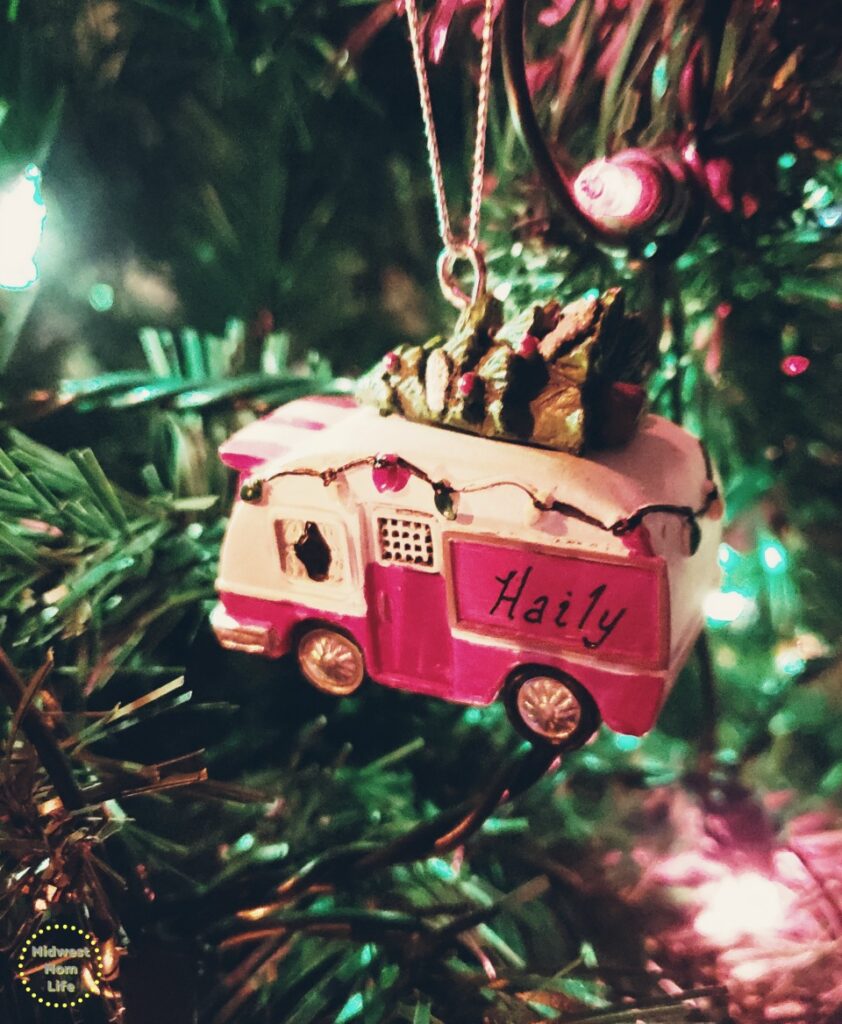 The final touch happens when you're leaving Silver Dollar City. When you realize how much the entire experience of An Old Time Christmas has touched your heart.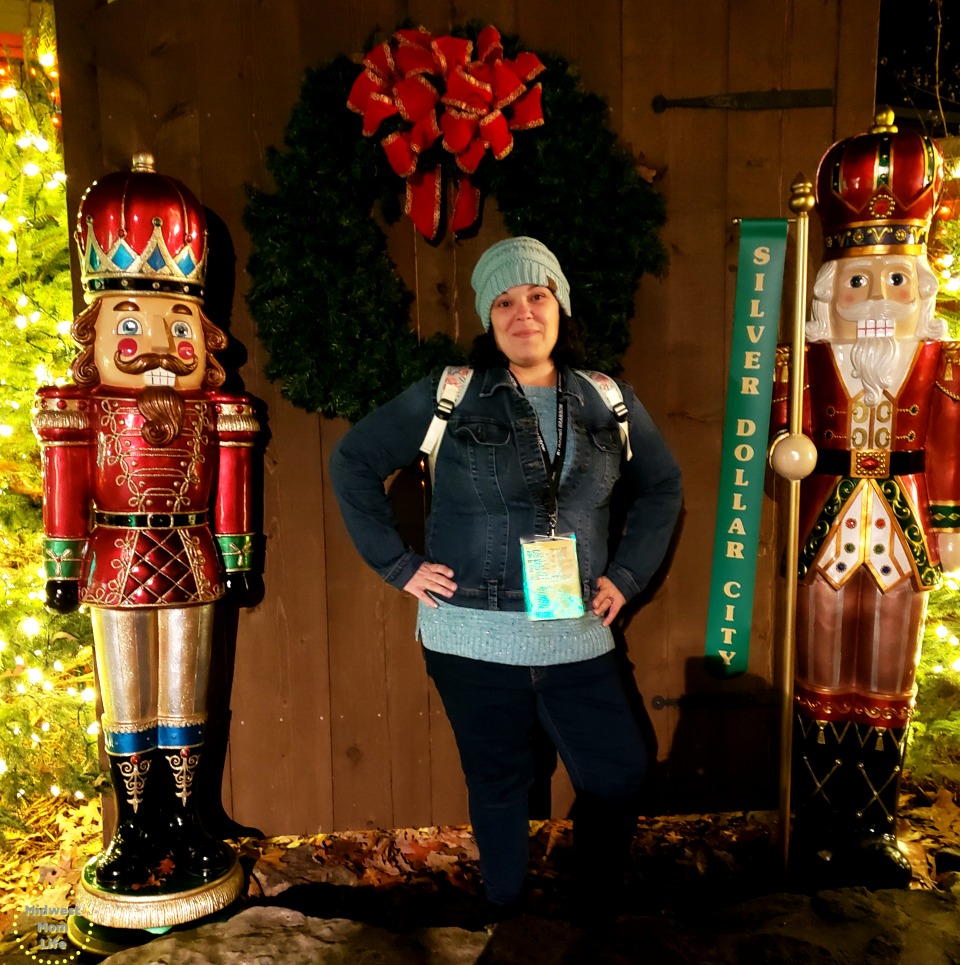 When I left I found myself beyond ready for the holiday season, something I wasn't ready for when I arrived in Branson.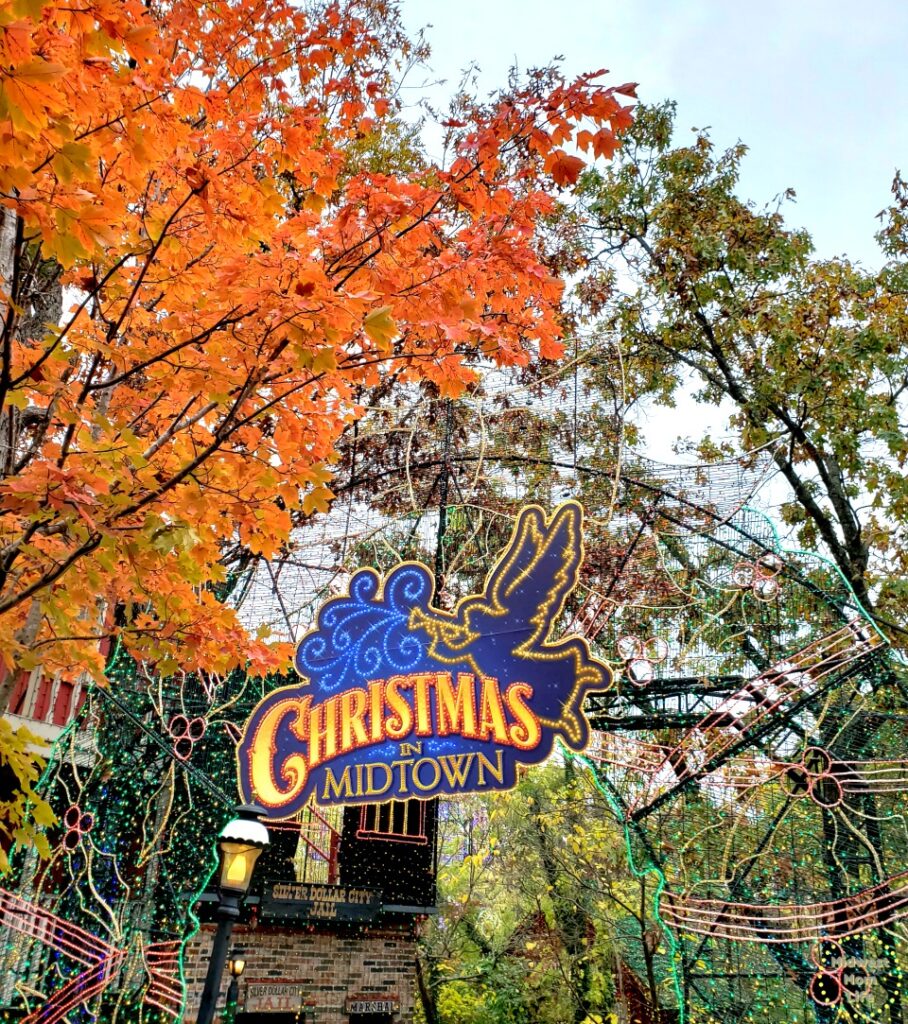 Ready for cozy nights of hot cocoa and old holiday films, and Christmas lights blinking in the corner of the living room. Oh, what a wonderful time of year it is!
Through December 30th you can experience An Old Time Christmas at Silver Dollar City and they will also be open (with the lights still on!) for New Year's Eve and New Year's Day!
Learn More: Silver Dollar City Website