This post was sponsored by Amazon as part of an Ambassador Activation for Influence Central and all opinions expressed in my post are my own.
9 Ridiculously Fun Holiday
Things To Do With
Amazon Echo Dot Kids Edition
Echo and Alexa are the chocolate and peanut butter of the smart devices world. Each great alone but together they offer amazingly delicious convenience, controllability, and helpfulness.
A combination even I didn't know I wanted until I experienced for myself. Yep, our family grew by two this month when we welcomed Amazon Echo Dot Kids Edition and Echo Show into our home!
I can't wait to share all the awesome ways we'll be using these devices but in honor of the season, I'm starting with 9 ridiculously fun holiday things to do with Amazon Echo Dot Kids Edition that you can still put to use this month!
#1 Ask Alexa to Read Christmas Stories
Reading holiday stories is a tradition for my family. Every year I pull out our stack of holiday books and place them on the living room side table.
I read one each night and it's become something we all look forward too. This year we've added a twist to our tradition and ask Alexa to read Christmas stories some nights.
I start hot chocolate in the slow cooker an hour before story time, then we gather around the dining room table sipping cocoa, munching on Christmas cookies, and listening to stories via FreeTime on Alexa.
Ask her to read a Christmas Carol or winter story to your family and see what she comes up with!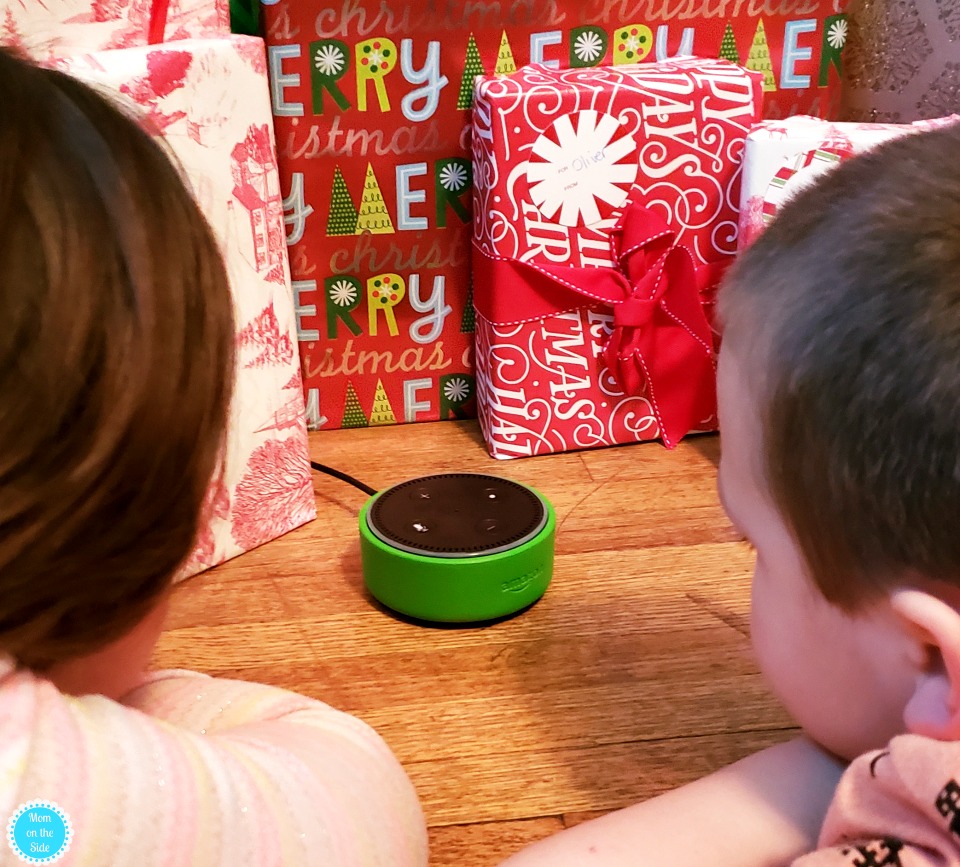 #2 Ask Alexa to Play Christmas Songs
I don't know about you but it's been all Christmas music all the time on my radios. In the car, in the kitchen, on my TV, and on our Amazon Echo Kids Edition.
How can you not when it's as easy as saying "Alexa, play Christmas songs" and she pulls them right up. I can even tell her to play a specific one, something the twins found out pretty quickly and use a lot to make Alexa play Rudolph the Red-Nosed Reindeer a dozen times a day!
#3 Ask Alexa Holiday Questions
If your kids are like my kids they ask Alexa everrrrrrything. What's the biggest dinosaur, who's the best football player, and even what her favorite outfit is.
There are tons of holiday questions to ask Alexa that kids will find entertaining. Below are several ideas and I've also created a printable list for you at the end of this post.
Alexa, can reindeer fly?
Alexa, where does Santa live?
Alexa, what is your favorite holiday cookie?
Alexa, what is your favorite Christmas carol?
Alexa, do you like candy canes?
Alexa, what did you ask Santa for?

#4 Ask Alexa to Track Santa
Have fun with Santa and Alexa this holiday season is all sorts of ways! Alexa can help you count down the days to Christmas and even help you find Santa!
Tracking Santa is something my kids love doing on Christmas Eve and it often helps me get them into bed at a decent hour by telling them how close he is getting. If you need extra help getting the kids to bed on Christmas Eve simply say "Alexa, where is Santa?" and she'll tell you his current location!
#5 Ask Alexa to Help Send a Letter to Santa
Another way you can have fun with Santa and Alexa is with Alexa Skill Blueprints! Using "Santa's Letter" blueprint kids can write a letter and wish list to Santa.
You can even check in each day to track the letter's progress to the North Pole. The best part, kids will hear a weekly response from Santa himself!
Learn more about this awesome feature by saying "Alexa, help me send a letter to Santa" or at Blueprints.Amazon.com where you can also create and share a "Hallmark Holiday Greeting card" with family and friends that you can customize with images and holiday messages!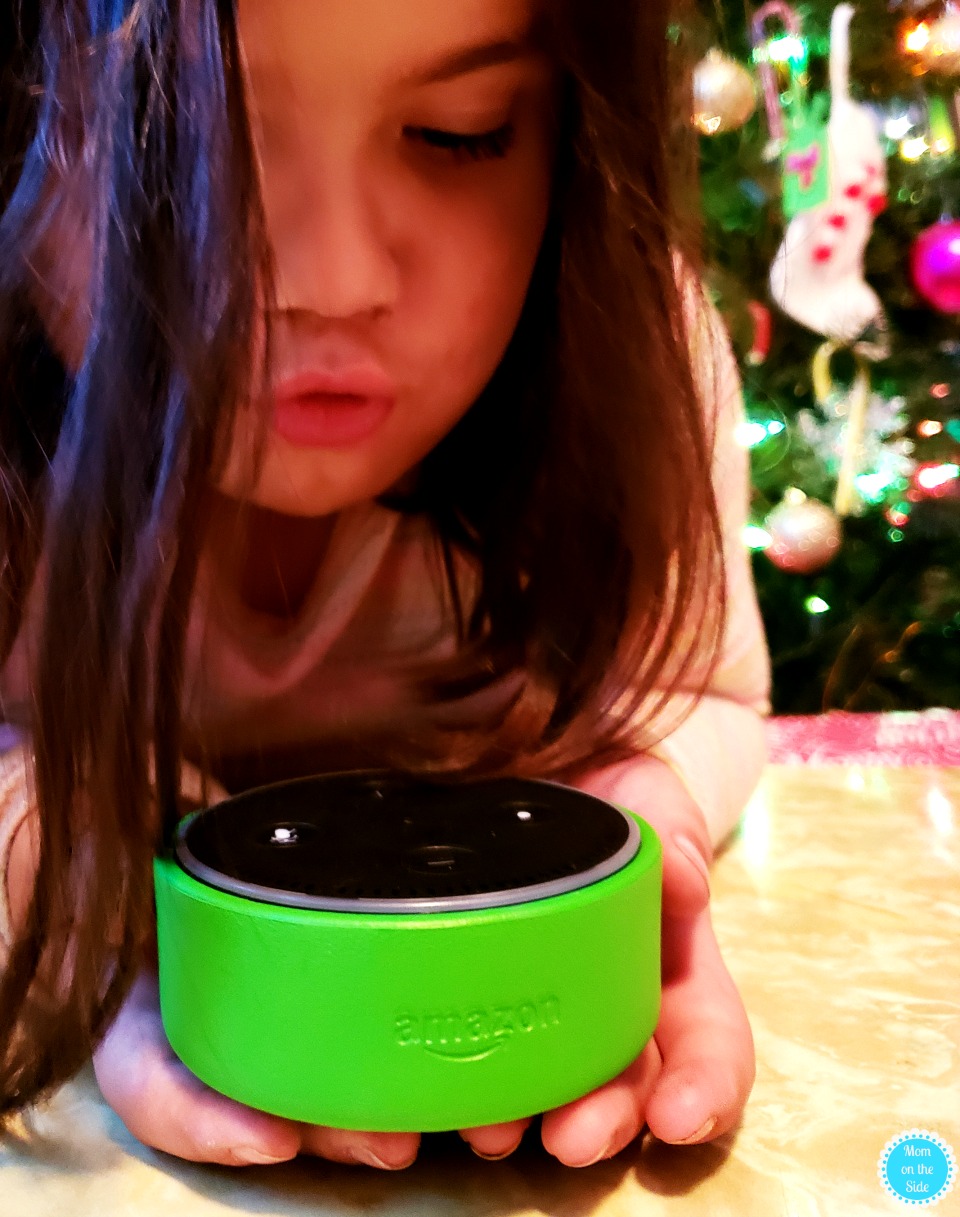 #6 Alexa Skills for Christmas
Speaking of Alexa Skills, there are quite a few fun Alexa Skills for Christmas that you can enable. Check out my favorites below and ask Alexa to enable them for you to use this holiday season:
Christmas Sounds – Say "Alexa, play Christmas Sounds" to enjoy hooting owls, carolers, and more!
Christmas Countdown – Say" Alexa, Santa Countdown" to find out how many days until Christmas!
Christmas Kindness – Say "Alexa, open Christmas Kindness" to get a daily random act of kindness!
Christmas Jokes – Say "Alexa, play Christmas Jokes" for over 1,000 holiday-themed laughs!
#7 Ask Alexa for Holiday Recipes
Our annual holiday baking day was last weekend and man is my belly full. I always look forward to making a mess in the kitchen with my mom and sister while the kids make a mess decorating sugar cookies at the table.
If cooking and baking together as a family is part of your holiday traditions too, there are some fun ways Alexa can help out! Not only can Alexa help you find holiday recipes to bake but she can also add items to your shopping list, set timers so cookies don't burn, answer ingredients questions, and more!
#8 Learn About Christmas with Alexa
My twins are millions of random questions in a day and Christmas time is no different. "Why are candy canes red and white? When was the first Christmas? Why do we hang stockings?"…and the list goes on.
Not gonna lie, I love that they can ask Alexa all their questions and she instantly gives them an answer they understand. Sometimes it leads to more questions but she answers those too. If only she would say when I ask her to wrap my presents or finish my shopping lol!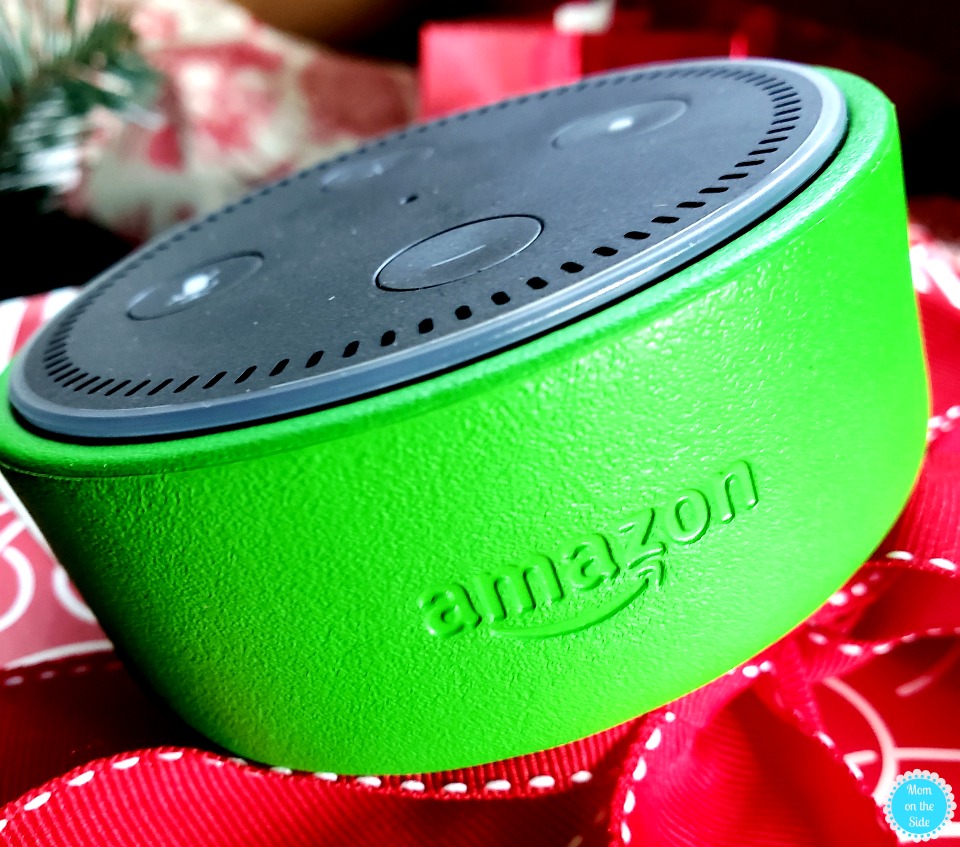 #9 New Holiday-Themed Content on Echo Dot Kids Edition
As we count down the final days until Christmas, take advantage of the brand new holiday-themed content on Echo Dot Kids Edition and FreeTime on Alexa! You'll find kid-friendly Q&As, Disney Sing-Alongs, Character Calls from elves, Jack Frost, and Santa, and more.
We are just starting to get familiar with our new Amazon Echo Dot Kids Edition and I have a feeling we're going to get A LOT of use out of her! Having two five-year-olds I'm familiar with Amazon Kids Devices and have been thrilled with their quality and how well they hold up to the daily use of two destructive preschoolers.
The Echo Dot Kids Edition is built from the ground up for kids and offers kid-friendly, kid-centric Alexa experience families like mine have been asking for.
First, it includes parental controls similar to what we already experience on our tablets. With easy to use controls in the FreeTime Parent Dashboard we can set daily time limits, review activity, and even pause Alexa on the device.
Second, each Echo Dot Kids Edition comes with an entire year of FreeTime Unlimited, a kid-friendly case, and our 2-year worry-free guarantee! I can not tell you how much I LOVE Amazon's kid-friendly cases.
They are the reason our Kids Fire Tablets have lasted over two years now and been tossed during many tantrums and even stepped on when someone forgot it under a blanket on the floor.
Another thing I really like is having FreeTime Unlimited on Alexa. That gives you access to over 300 Audible kids' books, kid-friendly, ad-free radio stations and playlists, character alarms, and premium Alexa skills.
Like I mentioned before, a free year of FreeTime Unlimited is included with Echo Dot Kids Edition and it's only $2.99 a month for other Echo devices. But, if you already subscribe to FreeTime Unlimited on another Fire tablet or Android device you own then you can enjoy FreeTime Unlimited on Alexa content at no additional cost. Score!
I'll be sharing more fun ideas in the new year as we start using our Amazon Echo Kids Edition more and more. Also, let me know if there are any Alexa Skills your kids love that I need to check out and grab this printable list of Holiday Questions to Ask Alexa for kids!