This shop has been compensated by Collective Bias, Inc. and its advertiser. All opinions are mine alone. #RoadTripOil #CollectiveBias
Farmland and cows. That's what most people think when I tell them I'm from Iowa. Yes, we have lots of those and they make interstate driving prettier than you'd think. While we have no shortage on sweet corn, Iowa has a lot more to offer and should be on your road trip list.  Iowa is a fantastic Midwest state with lots of adventures to offer, and historic places to visit. I put together the Ultimate Iowa Road Trip Destination Guide with lots of ideas on where to visit.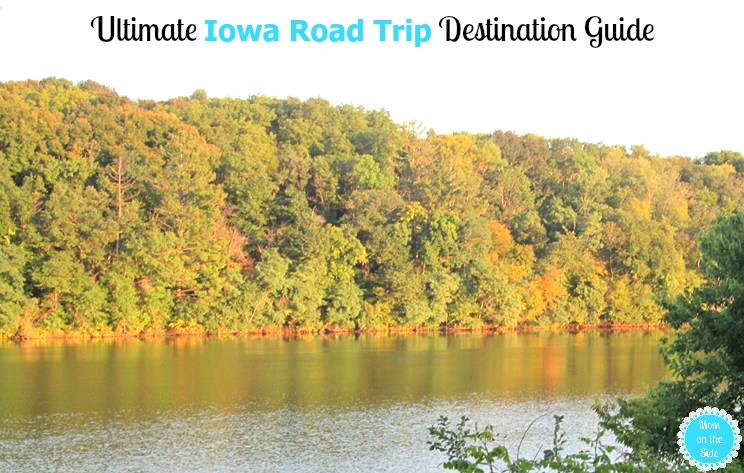 I love having lots of neat places to go in my home state, especially during the summer. Most of the time my husband is too busy at work over the summer, for use to plan a BIG vacation. Pair that with only having one car until two weeks ago, and that meant local road trips were our summer adventures. We're planning a trip to some trips to a few places on this Iowa road trip guide in the coming weeks and I'm so excited! I've mapped out route, gathered road trip snacks, and let the experts make life easier by getting the oil changed with Pennzoil® High Mileage Vehicle® at Walmart's Automotive Care Center so we're ready to hit the road.
We bought our van used a few months ago and I couldn't be happier with it. Well, maybe if it had a few less miles but it still drives like a champ! Having over 75,000 miles on it, switching to Pennzoil® High Mileage Vehicle® l was a smart move for us and it's working great! Now that the oil change is out of the way, we're ready to hit up some spots on this Ultimate Iowa Road Trip Destination Guide!
Ultimate Iowa Road Trip Destination Guide
Historic Places in Iowa
John Wayne's Birth Place in Winterset, Iowa is where Wayne was born as Marion Robert Morrison back in 1907. We took a trip there when I was a kid, because my dad is a big John Wayne fan. They weren't open for tours while we were there, but it was still neat to see.
Johnny Carson's Birth Place located in Corning, Iowa. Touring this home is on my to-do list soon!
Buddy Holly Crash Site in Clear Lake, Iowa is the spot where the plane crashed that killed Buddy holly, Ritchie Valens, and J.P. "The Big Bopper" Richardson. Standing in a farmer's field, you'll find unique memorials to this tragic accident that occurred on February 3rd, 1959. A day some say is "The Day the Music Died" thanks to "American Pie" by Don McClean.
Squirrel Cage Jail in Council Bluffs, Iowa – this is my hometown and I can tell you the jail is quite an experience. When I was a kid they turned it into a haunted house at Halloween! It is a cylinder three-story jail that houses 10 pie-shaped cells on every level. The jail would spin with mechanical gears so the guard could stay put and watch all the prisoners.
Amana Colonies in Amana, Iowa allows you to experience seven villages across 26,000 acres.
American Gothic House in Eldon, Iowa was immortalized in Grant Wood's famous "American Gothic" painting. Definitely a place to stop and take a picture in front of if you are driving through Iowa!
Bridges of Madison County in Winterset, Iowa are the largest group of bridges in one area in the western half of the Mississippi Valley. Six of the nineteen bridges remain and I have been to one, which is beautiful to look at!
Field of Dreams Movie Site in Dyersville, Iowa allows you to play catch and run the bases where Kevin Costner did during filming.
National Balloon Museum in Indianola, Iowa is where you will find memorabilia and artifacts from hot-air and gas ballooning dating back to 1783.
Herbert Hoover National Historic Site in West Branch, Iowa where the 31st President of the United States was born.
Historic General Dodge House in Council Bluffs, Iowa  was built in 1869 by General Grenville M. Dodge. This is another one in my hometown and I've visited often. The elementary schools take field trips every year and it's open to the public for tours and events.
Laura Ingalls Wilder Home in Burr Oak, Iowa is the Masters Hotel, which the Wilder Family managed when they moved to town. It is now a museum that is open to the public.
Sergeant Floyd Monument in Sioux City, Iowa that honors Charles Floyd, the only member of the Lewis and Clark Expedition to die during the expedition.
Julian Dubuque Monument in Dubuque, Iowa that honors the first European settler in Iowa.
Abbie Garder Cabin in Spirit Lake, Iowa is where the last attack by Native Americans on settlers in Iowa took place.
Glenn Miller Birth Place in Clarinda, Iowa is where the famous musician was born.
Mamie Eisenhower Birthplace in Boone, Iowa is where the First Lady was born and it has since been restored and opened as a museum.
Blood Run Site in Granite, Iowa is a archaeological site that runs from Iowa to South Dakota.
Davis Oriole Earthlodge Site in Glenwood, Iowa is a preserved Plains Indian Lodge archaeological site.
The Farm House in Ames, Iowa sits on the Iowa State University campus and was once home to teach Seagram A. Knapp and US Secretary of Agriculture James Wilson.
Fort Des Moines Provisional Army Officer Training School in Des Moines, Iowa was a training site for black officers during World War I.
George M. Verity Towboat in Keokuk, Iowa is one of only three surviving steam-powered towboats in the US.  One of the other three, Sergeant Floyd Towboat, can be found in Sioux City, Iowa.
Villisca Ax Murder House in Villisca, Iowa is where one of the most notable and unsolved murders took place back in 1912. My daughter and I toured the Villisca Ax Murder House back in 2011 and it definitely gave me the chills.

Unique Places to Visit in Iowa
Matchsitck Marvels in Gladbrook, Iowa where Patrick Acton builds large models out of wooden matchsticks.
John and Mary Pappajohn Sculpture Park in Des Moines, Iowa that features 28 pieces by 22 artists covering 4 acres.
Loess Hills National Scenic Byway, begins just north of Sioux City, Iowa and runs  a 220-mile route to St. Joseph, Missouri. It comes right through my hometown as it links prairies, parks, forests and overlooks.
Spook Cave in McGregor, Iowa offers a guided tour of this "haunted cave" that stays at 47 degrees all year, and is a canvas for nature's work.
Beulah Falls in Clayton County, Iowa is home to a 20-foot cascade will have you reveling in it's beauty, Bonus – it's located near Spook Cave in McGregor, if you want to visit two spots in one day!
Columbus Junction Swinging Bridge in Columbus Junction, Iowa is also known as Lovers Leap Bridge. More than 100 years old, this bridge spans 262ft and takes a brave person to cross it.
Boone & Scenic Valley Railroad and Museum in Boone, Iowa is where you can ride vintage railroad cars that cross a 156-foot high trestle, and more!
Crystal Lake Cave in Dubuque, Iowa is home to pristine stalagmites, helictites and rare anthodites in one cave. Pack a lunch and enjoy a picnic at the outdoor pavilion at the cave.
National Mississippi River Museum and Aquarium in Dubuque, Iowa is a great place to learn about the history of the river, as well as see artifacts, exhibits, and animals.
James T. Kirk's Future Birth Place in Riverside, Iowa. This future birth places is located in a private courtyard behind a small house, and draws Star Trek fans from all over.
Site of Jesse James' first train robbery in the west is found in Adair, Iowa.
American Gothic Barn is found in Adair, Iowa. This barn-sized rendition of Grant Wood's famous painting is a popular spot for photos in Iowa.
Bily Clocks Museum in Spillville, Iowa is home to elaborate hand-carved wooden clocks made my two brothers.
National Farm Toy Museum in Dyersville, Iowa is also the farm toy capital of the world. Inside the museum you will find toy tractors dating back to the late 1800's.
Cedar Rock State Park in Independence, Iowa is where you can tour the home designed by Frank Lloyd Wright. In nearby Mason City, Iowa you can stay at the Historic Park Inn also designed by Wright.
Living History Farms in Urbandale, Iowa is a 500-acre open-air museum that educates visitors on Iowa's agricultural history.
Freedom Rock Tour is traveling through 99 counties in Iowa where you can stop and see 50+ ton boulder in different stops. The Freedom Rock is repainted every year with a different "Thank You" to our Veterans to honor their service to our country.
World Records to Visit in Iowa
World's Largest Truck Stop in Walcott, Iowa includes a barber shop, chiropractor, and a huge museum with antique trucks.
World's Largest Known Collection of Crystals and Gems in One Location: Grotto of Redemption in West Bend, Iowa.
World's Shortest, Steepest Railroad: Fenelon Place Elevator in Dubuque, Iowa.
Snake Alley in Burlington Iowa – said to rival Lombardo Street in San Francisco.
Traer Salt and Pepper Shaker Gallery in Traer, Iowa that is said to be the second largest salt and pepper shaker collection in the world.
World's Largest Concrete Gnome is located at Reiman Gardens in Ames, Iowa The gnome weighs 3,500 pounds and is 15ft tall!
World's Largest Frying Pan can be found in Brandon, Iowa. The frying pan weighs half a ton and can hold 44 dozen eggs.
World's Largest Strawberry is found in Strawberry Point,  Iowa. This strawberry weighs 1,430 pounds and stands 15 ft high, 12 ft wide.
World's Largest Popcorn Ball calls Sac City, Iowa home and weighs 3,100 pounds.
Worlds Largest Bull, named Albert the Bull, is found in Audubon, Iowa. Albert weighs in at 45 tons and stands 30 ft tall!
World's Largest Cheeto is enshrined in a case, sitting on a velvet cushion, in Algona, Iowa. Visit in December and you'll see this Cheeto wearing a Santa Claus hat!
Home of the World's Smallest Couple in Council Bluffs, Iowa which is in my hometown so I snapped a picture for you!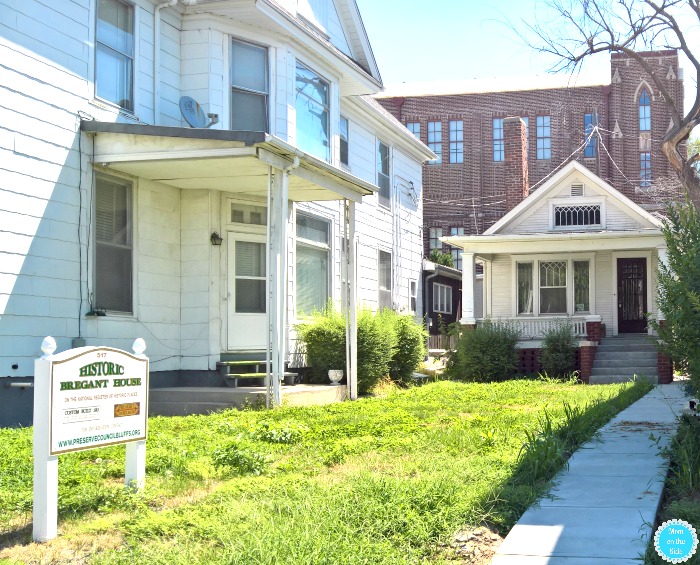 Family Adventures for an Iowa Road Trip
 Kings Pointe Resort in Storm Lake, Iowa is on our must visit list. Friends have told us how fun Kings Pointe is, with an indoor/outdoor water park, beach area, light house, putt-putt, and more.
Adventureland Amusement Park in Altoona, Iowa is a must for families in Iowa. Both an amusement park and water park in one, and somewhere I have been almost every summer of my life!
Arnold's Park in Okoboji is another on my must visit list. A place where families return often because there is so much to do with an amusement park, beach, tons of water activities, and lots more.
Blank Park Zoo in Des Moines, Iowa is a place where families can visit animals like a red panda, giraffe, rhinoceros, tiger,  lion, and more. I haven't been to this zoo because we are just 10 minutes from Omaha's Henry Doorly Zoo, but one I want to visit soon because panda!
Lost Island Water Park in Waterloo, Iowa is a great way to cool down on a hot day! Water slides, water rides, pools, splash pad areas, and more. When you are done getting wet you can test your speed on the go-carts or play a round of mini golf.
Honey Creek Resort in Moravia, Iowa is situated on the beautiful Rathbun Lake. I stayed in a cabin there last year and had SO much fun! There is a beach, lake access, kayaking, paddle-boarding, hiking, indoor water park and lots more.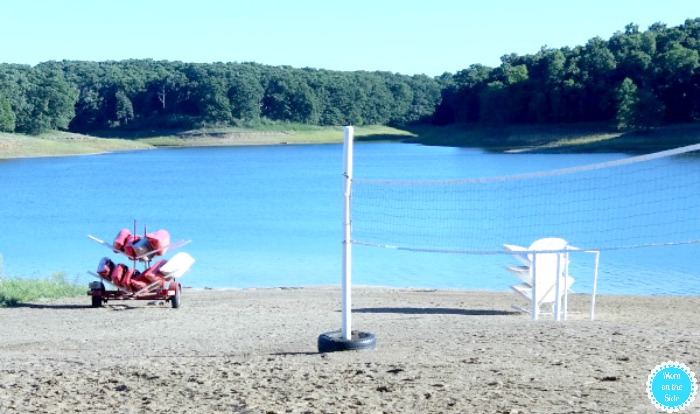 Great Iowa Day Trips
Boone, Iowa where you can visit the Boone & Scenic Valley Railroad and Museum and ride vintage railroad cars that cross a 156-foot high trestle, and more!
Clear Lake, Iowa is one of the top sailing lakes in the Midwest. Spend the day at Clear Lake City Beach and  Clear Lake State Park. You can also play at the Clear Lake Aquatic Center with outdoor pool with waterslides.
Maquoketa Caves State Park in Maquoketa, Iowa is where you can explore cave features, hike, camp, and more.
Pikes Peak State Park in McGregor, Iowa is a park with gorgeous views where you can picnic, camp, hike, and more!
Effigy Mounds National Park in Harpers Ferry, Iowa is where you will find over 190 prehistoric Indian mounds.
Ledges State Park in Madrid offers steep trails going over the sandstone cliffs along Pease Creek. There's a campground my parents love, as well as  places to picnic, hike, and wade in the water.
Pella, Iowa is full of Dutch history. The town was founded by Holland refugees 1847. The tallest working windmill in the US is found in Pella. You can tour more than 20 historical building at Pella Historical Village and Vermeer Windmill. Their Tulip Time Festival in May is also a must, as well as many other Dutch inspired events.
Waterloo, Iowa is great for families who love museums! Sullivan Brothers Iowa Veterans Museum, Bluedorn Science Imaginarium, and the Rensselaer Russell House Museum that was built in 1861.
Decorah, Iowa is a charming little town filled with Scandinavian heritage. Visit the downtown shops and places  full of history, like the Vesterheim Norwegian-American Museum with more than 24,000 artifacts and 16 historical buildings. They also hold the Nordic Fest every summer with a parade, dancing, tours, and more.
Council Bluffs, Iowa is not only my hometown but offers lots of fun as well! Right along the Missouri River edge, you can walk the Pedestrian Bridge that connects Iowa and Nebraska, walk beautiful trails, see the Black Angel, sit in the giant Adirondack chairs at Narrows Park, and visit a few other places on this list.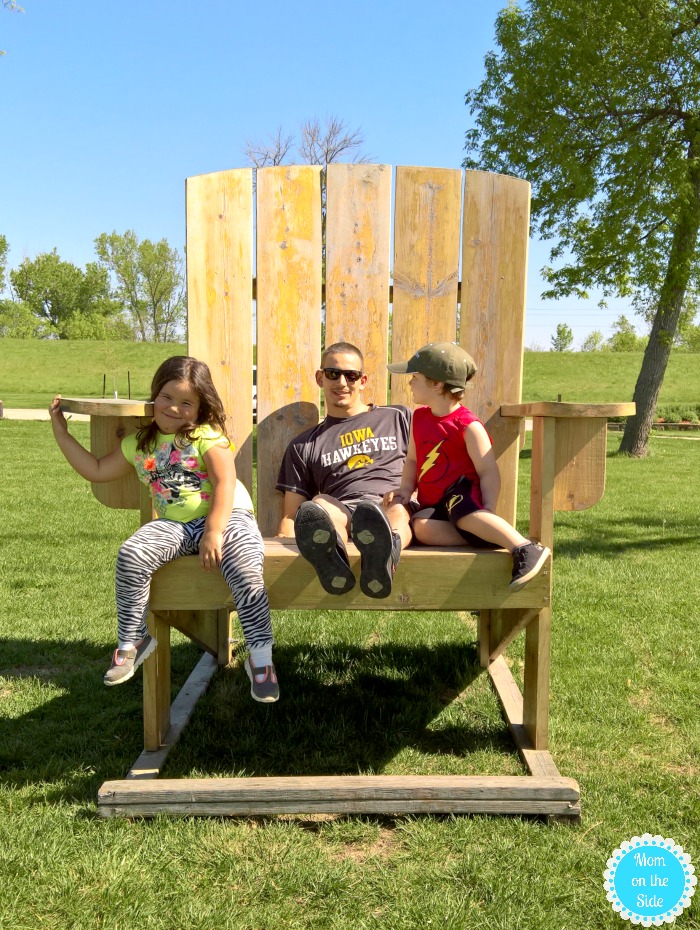 What places on this Ultimate Iowa Road Trip Guide are now on your list to visit? I don't know about you, but I kinda want to visit ALL of the World Record places in Iowa. Lots of neat ones. No matter where the Iowa roads take you, start your summer road trip with success by saving money and time with an oil change at Walmart's ACC while you shop for your trip!
If you have a new or late model vehicle with over 75,000 miles, try Pennzoil® High Mileage Vehicle® motor oil! It helps clean out the sludge lesser oils leave behind, while helping to reduce leaks and oil consumption in worn or higher mileage engines. With a mission of keeping engines running clean and going strong, High mileage is on Rollback at Walmart right now, where you can save $4.00 and get it for $35.88!
What Iowa Road Trip Destinations will you be visiting?
Pennzoil Facebook Page | Pennzoil on YouTube
Pin this Ultimate Iowa Road Trip Destination to help plan your travels!