Having a clean and organized house keeps me sane. I'm not a perfectionist by any means. But, when the house is messy my insides feel messy so I try to stick with my weekly cleaning schedule.
This post on My Weekly Cleaning Schedule is sponsored by 2000 Flushes® Automatic Toilet Bowl Cleaner. Any opinions are 100% my own.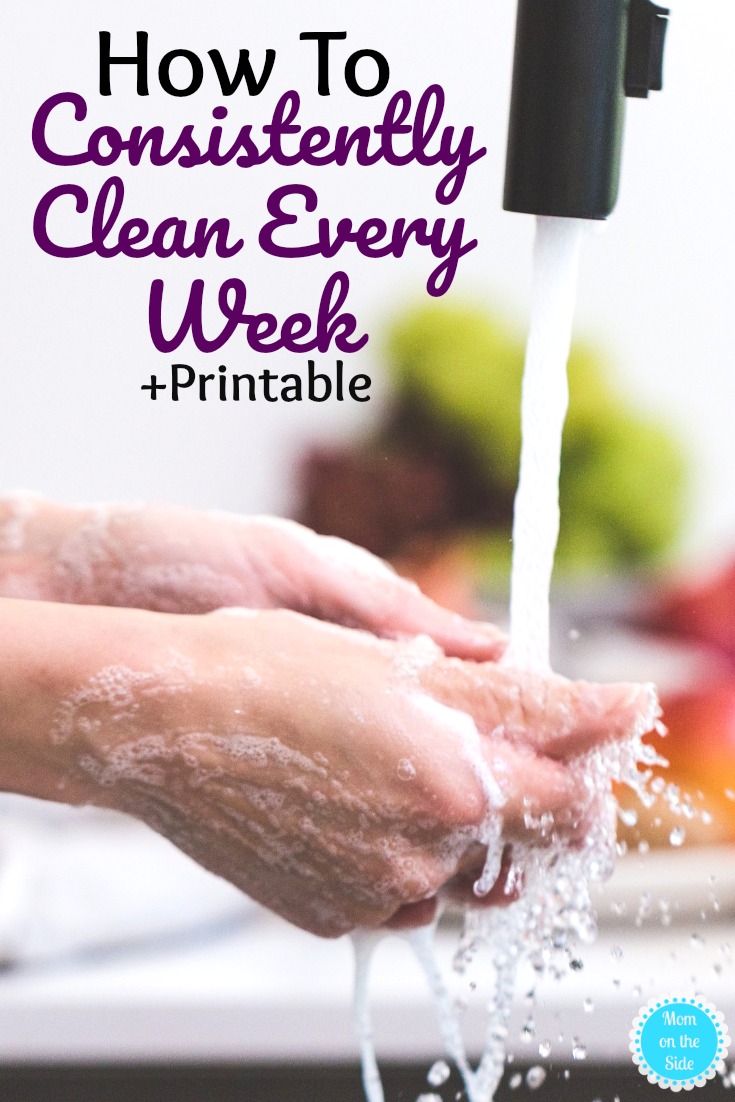 Keeping a weekly cleaning schedule really helps me stay on top of things and I thought I would share that with you today. Just in case you too can't focus or think when there is disorganization around.
My mom always cleaned on Saturday mornings and for a while that worked best for me. Once I started working from home, the way we do things changed a bit.
Now it's easier for me tackle certain chores on specific days. This leaves weekends open for family fun! Here's a breakdown of my weekly cleaning schedule and a free printable for you!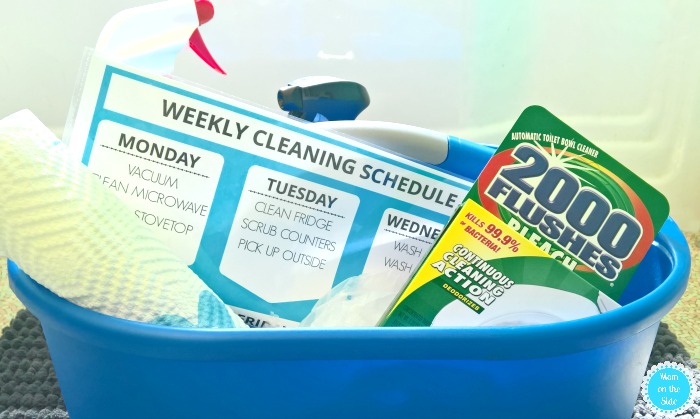 My Weekly Cleaning Schedule
Monday: Vacuum | Clean Microwave | Scrub Stovetop
After a busy weekend of meals and family fun, the microwave and stove usually needs some attention. Giving them a good scrub down on Monday has them ready for all the cooking during the week. We don't have carpet, but I vacuum rugs on Monday to suck up all the weekend dirt.
Tuesday: Clean Fridge | Scrub Counters | Pick Up Outside
Trash pick-up is Wednesday so I always clean out the fridge the night before. Leftovers get eaten or tossed and as the trash gets filled, the grocery list gets made.
When I'm done tearing apart the fridge, I scrub the counters down. Then, weather permitting, I head outside and clean up the yard and sweep the porch.
Wednesday: Wash Sheets | Wash Towels | Wash Walls
With four kids, walls get filthy! Wiping them down weekly is a must for me right now, along with doors and door knobs.
Most of the time I can wash sheets every other week, but over the summer it's weekly because of the amount of outdoor playing they do.
How they track leaves and rocks into bed is beyond me! Towels are also a weekly thing because of the amount of swimming we do, on top of all the baths being taken.
Thursday: Clean Shower | Clean Toilet | Clean Tub
We have two half baths that both gets used frequently. One has a tub, the other has a shower, and they both have toilets.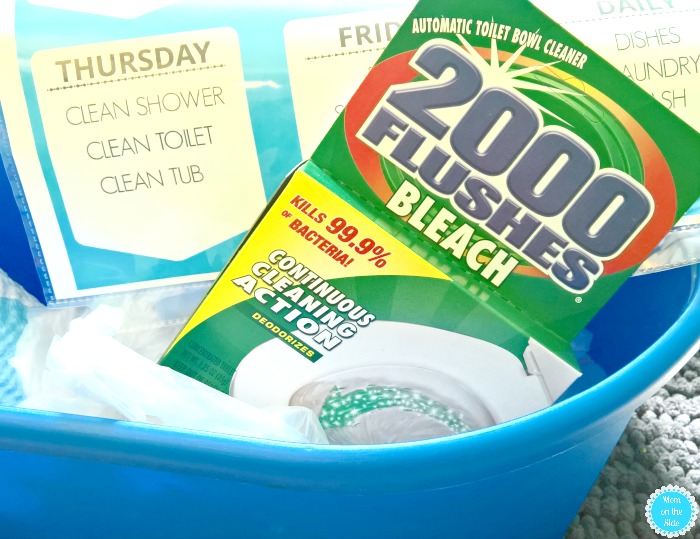 Friday: Dust | Sweep/Mop | Wash Windows
Doing the dusting, sweeping, mopping, and windows on Friday leaves me with a nice clean house for the weekend! I will admit that one of the chores on my oldest daughter's list is sweeping, so she gives it a once over every day which helps.
Daily: Dishes | Laundry | Trash
While most chores have their specific days, with a family of six at least one load of dishes and laundry get done each day. Trash may not need to be taken out, but all the waste baskets get checked daily as well.
I created a blank free printable of my cleaning schedule, if something like this would help you better manage household chores. Doing all these little things each week, make it easier when it comes to tackling Spring Cleaning too!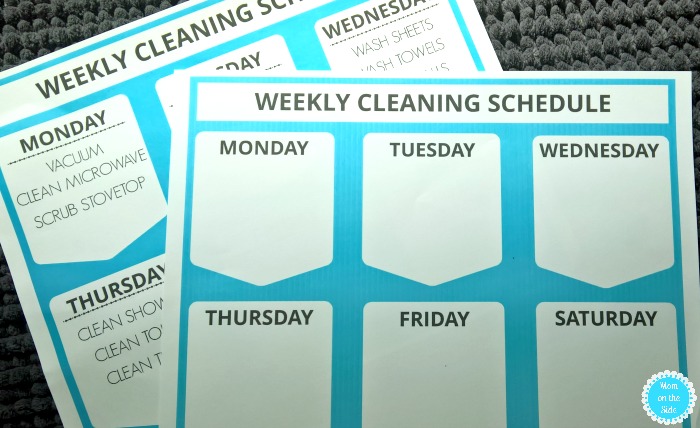 Free Printable Weekly Cleaning Schedule Below
Do you have a weekly cleaning schedule or tackle it all on on day every week? If not, save this one and start a routine!