Watch Macy's Thanksgiving Day Parade with an extra touch of fun!
Is watching the parade a tradition in your house? I'll be honest, I think I enjoy it more than my kids most years.
As a child, I remember laying on the living room floor watch float after float go by. Waiting for The Rockettes to dance and Santa to arrive.
I'm hoping I can get my kids into it more this year with a Thanksgiving Day Parade Scavenger Hunt!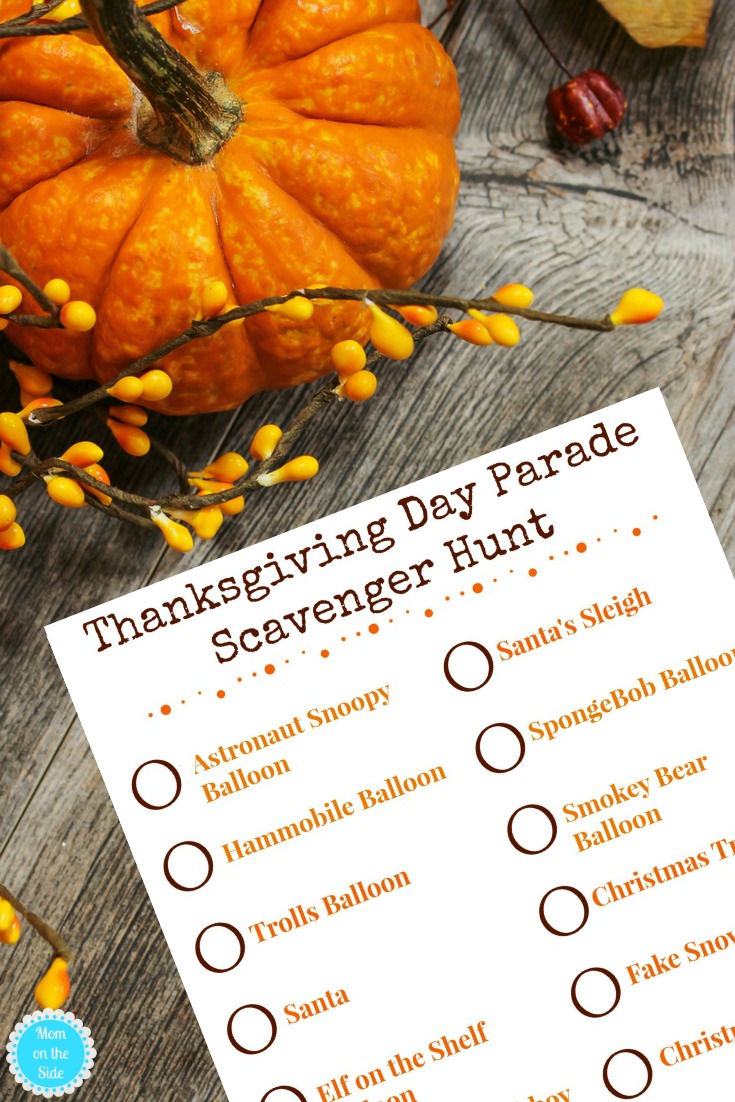 Thanksgiving Day Parade Scavenger Hunt
This printable Thanksgiving Day Parade Scavenger hunt will have you searching for character balloons and parade favorites while you watch. Some are new balloons this year and others are returning favorites.
Speaking of new and returning, the 2019 Macy's Thanksgiving Day Parade features the following and more:
New Balloons: SpongeBob Squarepants, Astronaut Snoopy, Green Eggs & Ham, Yayoi Kusama, and Smokey Bear
Returning Favorite Balloons:  Paw Patrol's Chase, Diary of a Wimpy Kid, Olaf, Pikachu, The Grinch, Ronald McDonald, and many more.
Balloonicles: Mouse King, Nutcracker, Aflac Duck, and others.
New Floats: Blue's Clues, Home Sweet Home, Rexy in the City, The Brick Changer, and Toy House
Returning Floats: TMNT, Sesame Street, Christmas Cheer is Near, Central Park, Macy's Singing Christmas Tree, Shimmer and Shine, Snoopy's Doghouse, Santa's Sleigh, and many many more!
Performances: Black Eyed Peas, Billy Porter, Chicago, Chris Young, Ciara, Idina Menzel, Natasha Bedingfield, That Girl Lay Lay, TLC, and many others.
You can check out the entire line up HERE and then get ready to fill those mugs with hot cocoa and get comfy for a fun float hunt on Thanksgiving morning!
–> PRINT HERE <–
Click the image below for another fun Thanksgiving Scavenger Hunt I created!