Earlier this week I was in LA and part of that adventure included the Global Star Wars Press Event! I knew we were going to interview several members of the Star Wars: The Force Awakens cast, as well as the producer and director, but I didn't realize all the amazing fun that was in store, like meeting Droids in real life! Come along for a photo ride of the Star Wars Press Event to get you even more excited for Star Wars: The Force Awakens hitting theaters on December 18th!
(Thanks to Disney/LucasFilm/Marvel/ABC for inviting me on this all expense paid trip. As always, any opinions are 100% my own.)
Meeting Droids In Real Life: Star Wars Press Event Day
First I have to tell you that the location of the Star Wars Press Event was undisclosed. We walked on foot, were not allowed to check-in on social media and went through a metal detector to get into the event. Serious stuff I'm telling ya, and this day in age…I'm thankful for the extra security. Once I chose the Dark Side and was approved for entrance, I stood in awe of the awesomeness I was about to experience.
One of my favorite things about the whole day, besides all the interviews I will be sharing soon, was meeting droids in real life! A photo opp with R2D2, C3PO, and BB-8 was not to be missed. The child-like feeling that filled me when I saw them move about, and welcome me for the photo, was the perfect start to the Star Wars filled day.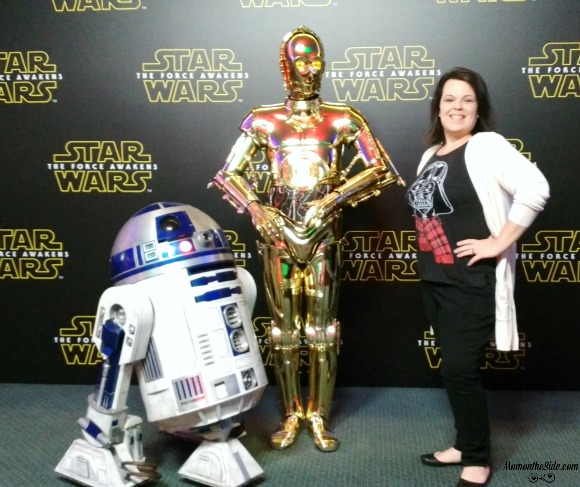 Being the gamers that we are, I had to stop by the Disney Infinity booth and check out the Star Wars Infinity Characters and game. Everyone got to take home their very own Kylo Ren (you can order one here), which my son quickly claimed while I was unpacking my suitcase.
One of my favorite booths at the Star Wars Press Event was Bad Robot Productions T-Shirt making. You see, J.J. Abrams (director and producer of Star Wars: The Force Awakens) owns Bad Robot Productions so it was perfect that they were on hand to make semi-custom tees for us! We got to pick out t-shirt color, size, and logos. I opted not to get hands on and print my own, but it turned out fantastic either way!
Okay, Google Cardboard is pretty flippin' awesome and I'm glad I got to experience it (and take one home!) during the Star Wars Press Event. Have you heard about this?! My son says it's like a viewmaster but way better, and he's totally right. Using your Android or IOS phone, you can immerse yourself in the world of Star Wars! There are currently four different scenes open and more will open as we get closer to December 18th when Star Wars: The Force Awakens hits theaters!
Whenever I see a green screen, I know fun is about to happen. When given the chance to run in fear from an oncoming Millennium Falcon in hopes that BB-8 will save you, well, you don't pass that up. You also don't pass up the chance to get a green screen shot with friends like Wheel N Deal Mama either. 😉
Once I got through all the interactive booths at the Star Wars Press Event, I scoped out the costumes on display. In this first set we have Princess Leia, Han Solo, Kylo Ren, and First Order Flamtrooper Costumes.
In this set we have Rey, Finn, and Poe Costumes.
Filling several cases, and created by various artist, were artistic Darth Vader heads. I found myself drawn to them and took as many pictures as I could. Can't you picture one of these as your dining room table centerpiece? I know I can!
Speaking of art, Art Awakens was launched by LucasFilm, HP, and Gallery 1988 back in November and featured Star Wars artwork by top professionals and emerging contemporary artists. There were a few pieces on display during the Star Wars Press Event that are still available to purchase at ebay.com/ArtAwakens right. You guys seriously have to check them out! They are amazing, start at $30, and the money goes to charity!
We also stopped into the Global Star Wars Press Interviews before heading to our own #StarWarsEvent interviews for the day! I can't even begin to tell you how hilarious Mindy Kailing was as the moderator. Not only her, but Carrie Fisher who had everyone rolling with laughter pretty much the entire time. The panel we listened to included Carrie Fisher ("Leia"), JJ Abrams (Director/Producer), Daisy Ridley ("Rey"), Adam Driver ("Kylo Ren"), Lupita Nyong'o ("Maz Kanata"), and Lawrence Kasdan (Screenplay By). Check some of the video from the Star Wars Press Day Interviews below.
No Star Wars Press Event day is complete with out stopping by Star Wars Season of the Force at Disneyland with 24 awesome bloggers and the best Publicist ever!! There are so many great Star Wars rides and experiences at both Disney Parks in California and Florida, and here are just a few:
Star Wars Launch Bay at Disneyland offers themed food, special character encounters, games, a theater, and more.
Path of the Jedi at Disneyland is an awesome look at the stories from the Star Wars saga, including a piece from the upcoming Star Wars: The Force Awakens as you "watch an abridged, cinematic reel celebrating the Star Wars saga (episodes I-VII) in a theater setting. The movie connects iconic scenes from the movies in fun new ways, following the journey of Luke Skywalker." Trust me Star Wars fans, you don't want to miss this!
Hyper Space Mountain at Disneyland thrusts you "into the darkness for an action-packed battle between Rebel X-wings and Imperial TIE fighters". I sat this one out but those that rode it had a blast!
Well folks, that's a wrap on what an amazing time it was meeting Droids in real life at the Star Wars Press Event and playing around at Disneyland! Stay tuned for my exclusive Harrison Ford Interview coming up on Friday and catch Star Wars: The Force Awakens in theaters starting December 18th!