I remember filling May Day Baskets growing up. Running around the neighborhood, dropping them off at neighbors and friends houses.
We'd even fill boxes with our little cups and drive around to friends and family outside of the neighborhood. Do your kids deliver baskets for May Day?
We love delivering May Day Baskets as sneakily as we can! If you do too and need new ideas, check out these Simple May Day Baskets below!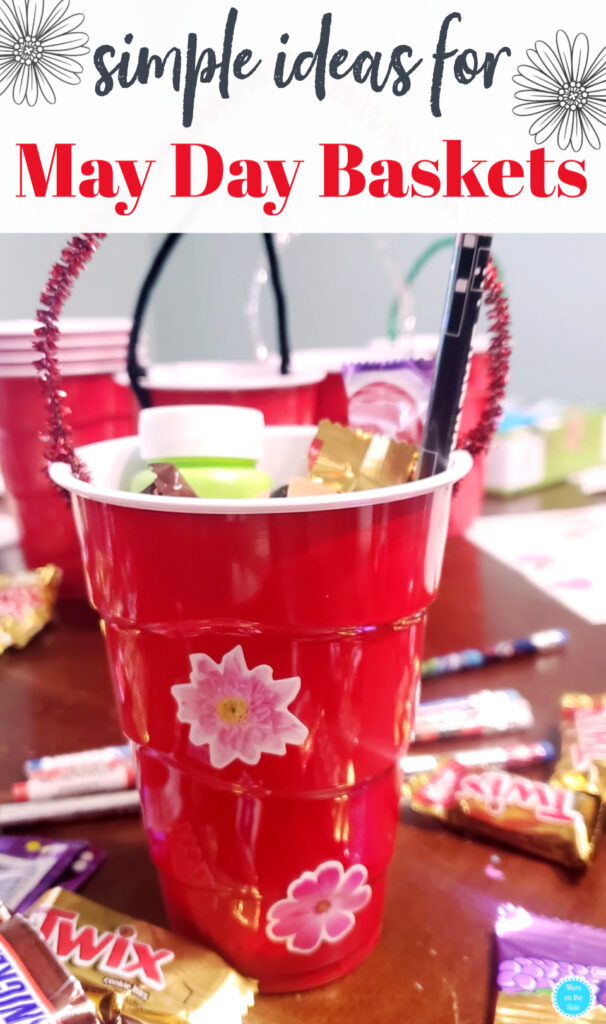 Simple May Day Baskets to Make
Plastic Cups
Fill plastic cups with things like popcorn, candy, and small toys like erasers, bouncy balls, and stickers. Plastic Cups with Lids make them easier to transport and quickly deliver without spilling. You can also punch holes in the rim of the cup and use pipe cleaner to make a little handle.
Paper Sacks
Decorate the outside of lunch size paper sacks with crayons and stickers. Then fill them with your May Day Basket fillers, fold over the top and you are good to go!
Tin Cans
If you've been saving empty tin cans, May Day Baskets are a great way to use them up! Remove the label and give it a wash. After it is dry, wrap paper around them, tape it down, and get to decorating and filling!
Sand Pails
If you are making May Day Baskets for kids, sand pails make great baskets! Fill it with sidewalk chalk, bubbles, and candy for an afternoon of fun!
Flowers
Not only are flowers great May Day Basket Fillers they can also be the basket themselves! Deliver mini flowers pots or 4-packs to bring smiles all summer long.
S'mores Kits
If you are delivering May Day Baskets to a small number of people, S'mores Kits are a fun ideas! Fill a sack or basket with items for s'mores including different chocolates bars, graham crackers, and marshmallows! (Keep in mind this only works for families with firepits at home.)
Adults Only May Day Basket
Spreading the May Day Basket love to your adult friends? Fill a decorated bag or basket with alcohol shooters, red Solo cups, deck of cards or ping pong balls, or other fun items for a night of letting loose!
Isolation May Day Basket for Kids
If you are delivering May Day Baskets this year and want things that are safe, stick with wrapped food items and simple outdoor items. Think licorice sticks, suckers, mini candy bars, bubbles, sidewalk chalk, window markers,
Isolation May Day Basket for Adults
Have some adult friend who could use a pick me up right now? Deliver an Isolation May Day Basket for Adults with items you know they will love. Not sure what to put in it? Include a gift card for takeout at a local restaurant, puzzle, candle, and some candy.
Ideas for May Day Basket Fillers
Popcorn
Suckers
Individually Wrapped Candy
Gum
Clementines
Licorice
Flowers/Flower Seeds
Bouncy Balls
Stress Balls
Things from the Party Goody Bag Aisle – they come in quantities which is super helpul!
Pencils
Erasers
Crayons
Stickers
Bubbles
Chalk
Are you delivering May Day Baskets this year?