Being on the set of Agent Carter always makes me feel bad a$$. Last year I got the chance to go behind the scenes on the Season 1 Set of Agent Carter as you may remember. This year things are in "Hollywood" so they set changed and it's pretty epic! Come along as I take you On The Set of Agent Carter Season 2 and give you a look at Peggy Carter's Wardrobe!
(Thanks to Disney/ABC/Marvel/LucasFilm for this opportunity.)
On The Set of Agent Carter Season 2
Every great super hero or special agent has a great cover job. In Marvel's Agent Carter Season 1, Peggy worked as a phone operator. In Agent Carter Season 2 she works at a theatrical agency. The Auerbach Theatrical Agency to be specific. They are in Hollywood after all so this makes complete sense. We got the chance to walk through and take the "special passageway" to the West Coast Strategic Scientific Reserve!
With the relocation to Los Angeles brings a new S.S.R. office as well! The set of Agent Carter Season 2 did seem a bit more colorful and somehow more airy than the season 1 set. The artwork and attention detail really made you forget you were on the set of a television show and not inside a real S.S.R office.
The West Coast Strategic Scientific Reserve was just how you would imagine it. Office desks a mess with work on current cases. You could almost feel the hustle and bustle of the agents the normally fill the room around you.
I was impressed once again with the attention to detail, down to the pens and paper that are used on set, and everything is tied into the late 40's era.
Last time I was on the Set of Marvel's Agent Carter for Season 1, I snagged a photo at Agent Carter's Desk with the gorgeous New York skyline behind me. 😉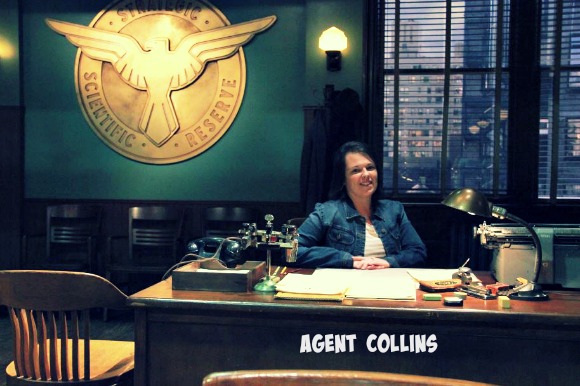 For Agent Carter Season 2, I unlocked another achievement by snapping a photo at Agent Sousa's desk! Pretty soon my desk will be full of pics of me at desks on Agent Carter Sets, and I'm totally okay with that! 😀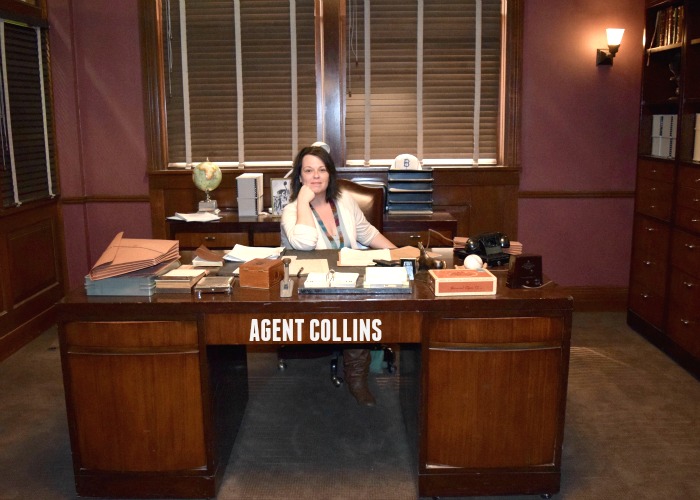 Now, I can honestly tell you that the only time I have been behind bars is on the set of Agent Carter Season 2. Not to bad of a record if  I do say so myself.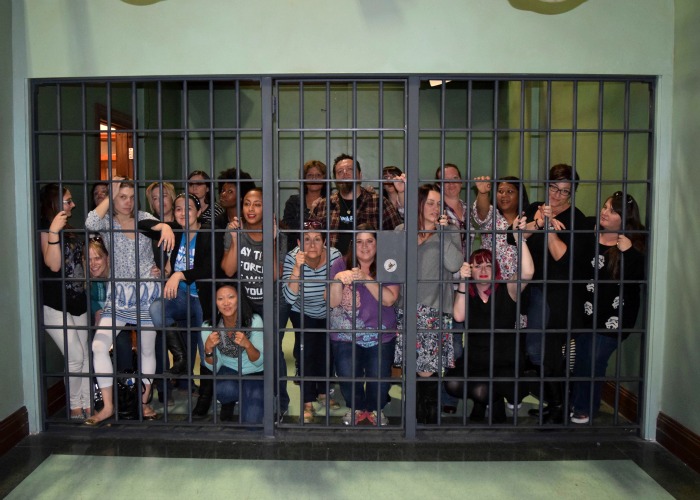 After are visit on the set of Agent Carter we headed to wardrobe. Are you in love with Agent Peggy Carter's fashion as much as I am?! This was the second time I've had the pleasure of meeting with from Marvel's Agent Carter Costume Designer Gigi Melton, and her work was even more impressive than before. Not sure how that is possible but she put together some fantastic pieces for Peggy Carter to wear this season.
We also took a look at some of Agent Sousa's wardrobe as well. Such a dapper gentleman he is and I'm always looking forward to seeing him on the TV screen.
The Fashion of Marvel's Agent Carter
The costumes on Marvel's Agent Carter are a mixture of rentals, handmade, and vintage pieces that have been redone and/or rebuilt. (We checked out a pair of vintage pants that still had the 40's dated inside!)
Local vintage shops, fabric stores, etsy, and ebay, were helpful in finding costumes from the era.
Based on the script, Gigi would guess how many of each costume needed to be made. Fight scenes require more than non-fight scenes because of costume damage. (Seeing clothes with built-in bullet holes is quite interesting!)
There is a "Hero" for each costume and that is the one that stays clean for the first time on camera.
Gigi receives the script on Day 1 and has to have costumes ready by Day 8.
After checking out Peggy Carter's Wardrobe, we got the unbelievable chance to take a picture in Agent Carter's Hat! Seriously. Okay, so I added some fun comic touches to the picture but how can you not! I also ordered Peggy Carter's Hat for myself, Well the Stetson Aviator is a reissue of the classic hat that you can now own. 😀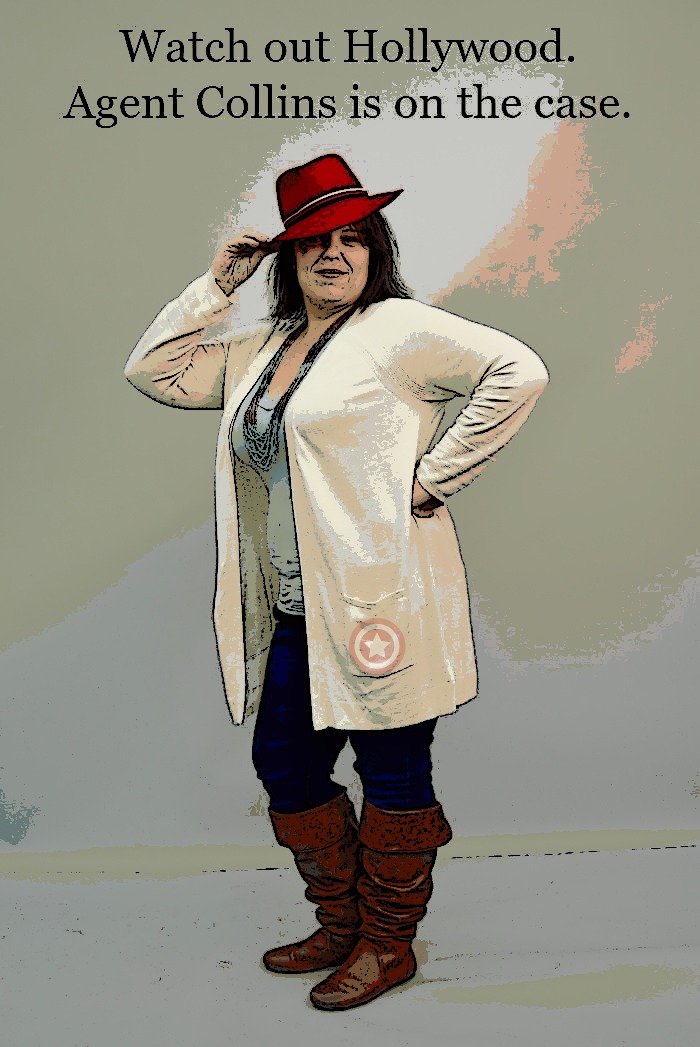 Before leaving the Agent Carter Wardrobe Department, a few bloggers took advantage of a bathroom break. I'm glad they did or we may not have notice this epic bathroom sign!
Catch Marvel's Agent Carter on ABC tonight (January 26th) at 9 PM ET!
Tonight's episode, Better Angels, follows Peggy's search for the truth about Zero Matter that puts her on a collision course with her superiors as Howard Stark barnstorms in.
@AgentCarterTV on Twitter #AgentCarter