*I attended this event on behalf of Disney/ABC/Marvel and all expenses were covered. Any opinions are 100% my own. All Photos are credit of Marvel. 
You know what happens when you're informed that you and 24 other bloggers are the first press to get an Exclusive Tour of the Marvel's Agent Carter Set? You contain your excitement, put on your Secret Agent face, and marvel in your surroundings as you step back in time to 1946!
(Wondering who Agent Carter is? Check out my Inside Look at Agent Carter to learn more!)
Marvel's Agent Carter Set is by far one of the neatest Television Show sets I have been on. Down to the pencils, each piece of the set sent me back in time, especially when I spotted the card catalog!
The set of Marvel's Agent Carter is based on photos of the real offices from the era. What you see through the windows even looks like New York City in the late 40's. It was fun to stop and look at the items on the desks at the Strategic Scientific Reserve and I tried to get a glimpse at the latest case, but had no luck.
I gotta say that my butt sitting where Agent Peggy Carter's butt sits was pretty sweet! I was afraid to touch or break anything, but I still soaked up the awesomeness of the moment.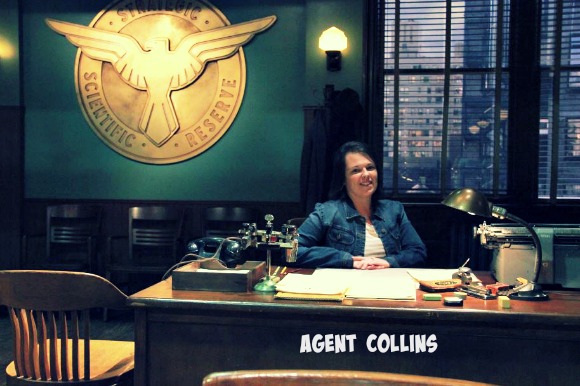 Did you notice the diner in the season premiere of Marvel's Agent Carter?  The Automat was loaded with pies and other yumminess ready to go. As soon as I stepped inside I wanted to slide into a booth and order $0.20 meatloaf!
Eating at the diner wasn't on the agenda, but we did snap a fun group photo.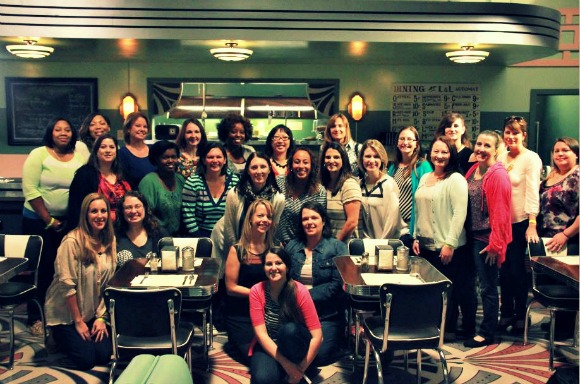 Are you in love with Agent Peggy Carter's fashion as much as I am?! Meeting with Marvel's Agent Carter Costume Designer Gigi Melton told us how much thought and research went into what Agent Carter and the rest of the characters wear.
Los Angeles native and Emmy award-winning costume designer Gigi developed her keen eye and sense of style at an early age. She attended the Fashion Institute of Design and Merchandising in Los Angeles, where she received her degree in design. The elaborate costumes featured in period films influenced her significantly, and inspired her to pursue a career in costume design.

Her work spans the entertainment industry; from feature films to television including series such as the upcoming ABC series "Marvel's Agent Carter", TNT's "Mob City," CBS' "Numbers," NBC's "My Name Is Earl," WB's "Jack & Bobby," CBS' "The Handler," and the NBC series "Providence," for which she won an Emmy for costume design.
The Fashion of Marvel's Agent Carter
The costumes on Marvel's Agent Carter are a mixture of rentals, handmade, and vintage pieces that have been redone and/or rebuilt. (We checked out a pair of vintage pants that still had the 40's dated inside!)
Local vintage shops, fabric stores, etsy, and ebay, were helpful in finding costumes from the era.
Based on the script, Gigi would guess how many of each costume needed to be made. Fight scenes require more than non-fight scenes because of costume damage. (Seeing clothes with built-in bullet holes is quite interesting!)
There is a "Hero" for each costume and that is the one that stays clean for the first time on camera.
Gigi receives the script on Day 1 and has to have costumes ready by Day 8.
Seeing Agent Carter's costumes in person was quite impressive. I had no idea how much I loved the style of the 40's and I seriously need to find me a red hat! Even more exciting than my new-found love for 40's fashion, was who we met at the end of the Exclusive Tour of Marvel's Agent Carter Set. Agent Peggy Carter herself! We got the chance to ask Hayley Atwell a few questions and get the inside scoop on what it's like to play a strong female character in the Marvel Universe.
Hayley Atwell On Fight Scenes: She trained in theater which included unarmed combat and stage fighting so that was in her background. Marvel's Agent Carter has a fantastic stunt coordinator and his wife is Atwell's stunt double. So far it hadn't been to grueling, but on day one she kicked one of the stunt guys in the balls, and has punched an actor in the chest on accident.
Hayley Atwell On Agent Peggy Carter's Fashion: Atwell has learned to appreciate the details of clothes, especially those that are tailored for you. She's loving the shirts with the buttons between the legs so they stay in place. She loves them so much that she wants all her clothes like that. I'm thinking she is on to something! 😉 Atwell did leave us with some fabulous fashion advice…..
"When clothing doesn't fit quite right, you are left feeling with a lack of confidence. When you have well-fitting clothes that flatter you, it gives you such a lift.  Wear the clothes, don't let the clothes wear you."  – Hayley Atwell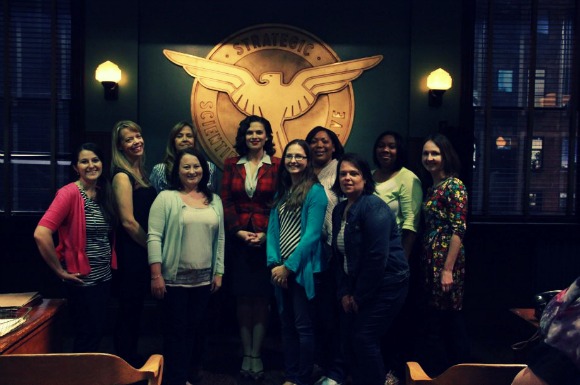 Hayley Atwell on Playing Agent Peggy Carter: Atwell likes playing a woman in Hollywood that's not the bitch, and not the sex symbol girlfriend. Peggy Carter is complicated, capable, intelligent, living a double life and juggling many things. Yet stays strong at the same time. Hayley loves, and I agree, that we can all relate to Peggy Carter as women, whether we have a family or more than one child.
Catch Marvel's Agent Carter on ABC at 9 PM ET as tonight's episode puts Agent Carter in deadly jeopardy, thanks to secrets from Jarvis' past.
"Time & Tide" – As Agent Carter closes in on Howard Stark's stolen technology, Peggy's secret mission could unravel when the SSR arrests Jarvis and a secret is revealed, on "Marvel's Agent Carter."
@AgentCarterTV on Twitter #AgentCarter
All Photos are Credit of Marvel