This shop has been compensated by Collective Bias, Inc. and its advertiser. All opinions are mine alone. #BeHealthyForEveryPartofLife #CollectiveBias
I am beyond blessed that Mom on the Side has provided me with some amazing travel experiences. San Francisco, San Diego, New York, Orlando, and Hollywood are a few of the places I've been over the last two years.
I've had amazing experiences, made unforgettable memories, and met some of the best people I know. While the places and agendas of my travels changes, my Purse Essentials for Travel don't!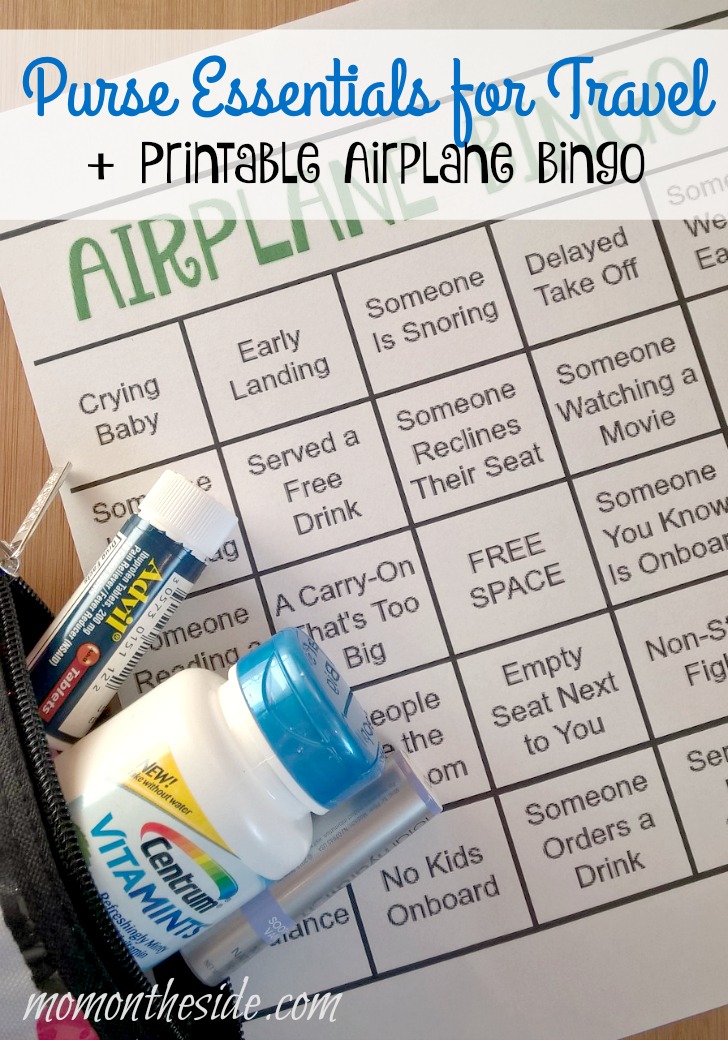 An upcoming trip next week to Brooklyn has me packing my bag, and getting my purse essentials for travel ready to keep me healthy. My sinuses have been angry the past two days and the last thing anyone wants when they travel is to be sick. No. Fun.
As your calendar fills with business trips during the Fall and Winter months, make sure you have these Purse Essentials for Travel ready to go to keep you on top of your game.
Purse Essentials for Travel
+ Printable Airplane Bingo
Headaches, muscle aches from those fantastic airplane seats, or pains from the common cold can all put a damper on a travel. Pack an Advil Tablet Vial in your purse!
Nothing's stronger, longer lasting or better on your tough aches and pains than Advil, and nothing works on more pains than Advil (among OTC pain relievers). I usually pop two before take off to stay ahead of anything. Am I the only one that fears getting the worst headache ever, mid-flight?
Raise your hand if you get dry or chapped lips when you travel, like me. ChapStick is a must!
For my upcoming trip to Brooklyn I'm packing ChapStick Total Hydration because it instantly smooths and moisturizes. Thanks to the advanced nourishing formula with argan oil and avocado butter and rosehip oils, I won't have to worry about my lips while traveling! When my lips feel good, I feel good and confident. You?
This isn't just one of my purse essentials for travel, Centrum VitaMints are an everyday essential for me. New Centrum VitaMints are adult multivitamins with a refreshingly minty taste you can take/enjoy any time of day with or without food or water.
That right there is why I love traveling with them. Well that and no chalky taste, just cool mint flavor!
To wrap up the list of purse essentials for travel is my Printable Airplane Bingo Game! This is my newest purse essential and boy is it a fun one! If you find yourself on an airplane soon, this will provide you with some entertainment for sure.
Grab the Printable Airplane Bingo Game, and pick up ChapStick, Advil Tablet Vial, and Centrum VitaMints at Walmart so your purse essentials for travel are set!
What are your purse essentials for travel?