(This post was compensated by Best Buy. Any opinions are 100% my own. This post may contain affiliate links.)
Anyone else love to play Halloween Pranks on friends and family? It's fun to spook the pants off of people when it's all in fun, especially when the Halloween Prank is clever.
Thanks to technology, Halloween Pranks have gone to a whole new level. DIY Human Heads in Jars level and that's what Best Buy is showing us how do, and more, with these Epic Halloween Prank Ideas!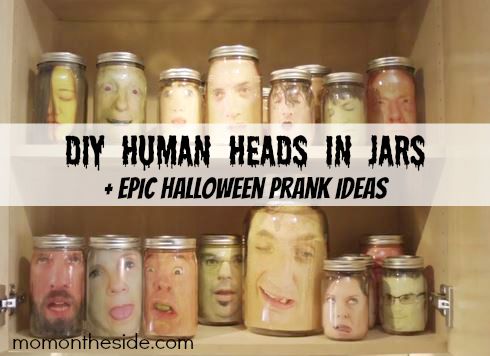 DIY Human Heads in Jars
+ Epic Halloween Prank Ideas
What is a Haunted House without a Preserved Head in Jar? It's just a haunted house. These DIY Human Heads in Jars are freakishly easy to make and sure to provoke screams from your guests.
I love hiding stuff around the house to scare my guest in general so this is right up my alley! All you need are a digital camera, color printer, some basic photo editing knowledge, and a jar.  Check out the video below to see how these DIY Human Heads in Jars are made!
For more Epic Halloween Prank Ideas, check out the Best Buy Halloween Prank How-Tos Page for other frightening ideas like:
Snap-A-Fright: If you love sending your guests home with a memento, Snap-a-Fright is the Halloween Prank for you! Show your friends and family how ridiculous they look the moment you terrify them. How? With your wireless home security camera and a printer!
Skitter & Scare: Are robots and apps your thing? The Skitter & Scare Halloween Prank is all you! Using Sphero and Ollie app-controlled robots you can bring inanimate objects to life.
Want to make a bowl of popcorn move across the table or have the head spin and cackle on a creepy mannequin you picked up at a garage sale? This is your prank!
Haunted House Mirror: Mirror, Mirror, on the wall…who is the scariest of them all? Using a mounted TV, picture frame, and some two-way mirror film, you've got yourself a Haunted House Mirror that will prank the pants off your friends. If your acting is good, your reflection should have them running for the front yard.
Wicked Washroom: This Halloween Prank puts the scare where people least expect it…in the bathroom! With WeMo outlet switches and light switches, you control them from anywhere with a smartphone or tablet.
That means you can make hair clippers and a hair dryer seem to turn on by themselves. Make the lights turn off and on. Blast spooky music when your guests are washing their hands. Whatever your pranking pleasure.
Thanks to these Halloween Prank ideas from Best Buy, you can use your technology to make Halloween a bit more spooky and fun!
What Halloween Pranks will you be planning this year?