It was star-studded and luscious green this past Monday, for Pete's Dragon Premiere in Hollywood. My 5th movie premiere on behalf of Disney, and just as magical as the first! A big thank you to Disney for this all-expenses paid press trip and interview experiences that I will be sharing in the coming weeks.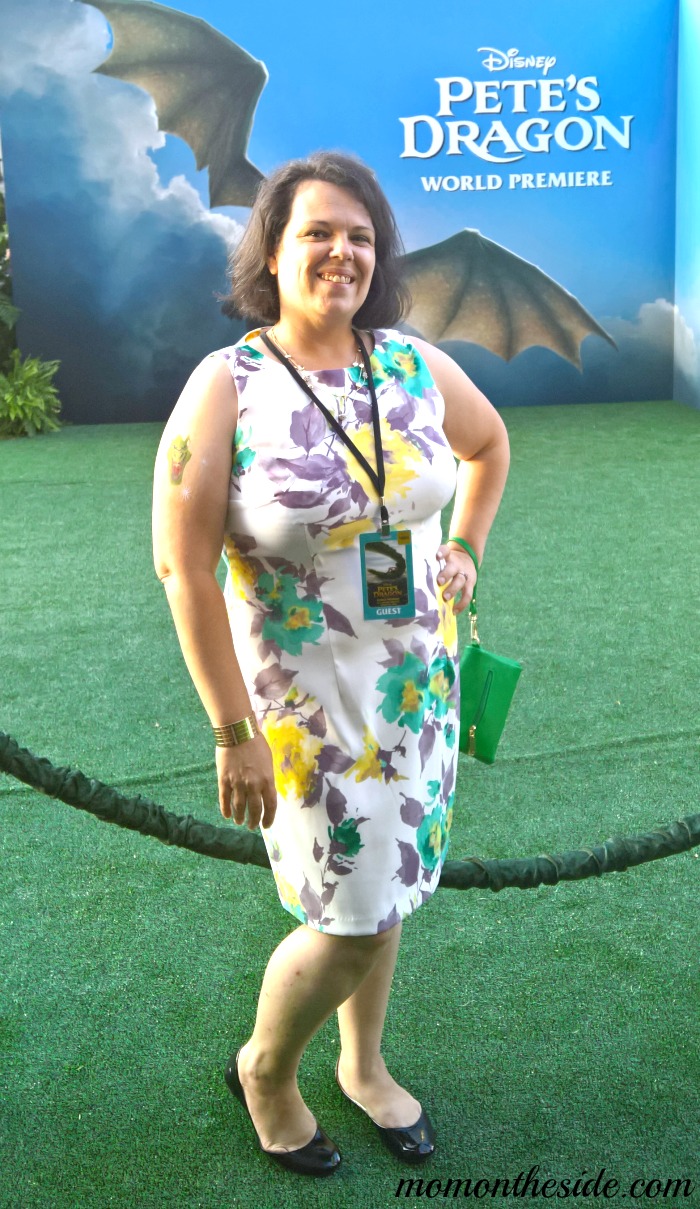 Fancied up and fabulous in a dress I felt really good in, we kicked off the evening with a pre-party at historic Hollywood Roosevelt Hotel, that was full of fun, food, and celebs.
Pre-party or post-party, there is always one thing in common, everything from the activities, to food, to decor is themed for the movie being premiered. This time around it was all about dragons of course, and Disney hit it on the tail. We snacked on Dragon's Breath (Rice Krispie treats in dry ice so you breathed "fire" out of your mouth while eating) and New Zealand Jazz Mini Apple Pies for dessert.
We made friendship bracelets, got dragon tattoos, and colored like kids!
We even took a ride on the star of the party, Pete's Dragon, Elliot!
While Pete and Elliot were the stars of the party, there were plenty of celebrity sightings during Pete's Dragon Premiere Pre-Party. No words can explain the feeling of eating bites of macaroni-n-cheese one second, and chatting with Patton Oswalt about his daughter's love for cheese the next. I may or may not have declared cheese an actual food group, and agreed with his daughter on how delicious a plateful of cheese it. 😉
Ran into @pattonoswalt at the #PetesDragonEvent and wow, what a nice guy! pic.twitter.com/z56rOHf9Yz

— Lisa Collins (@amomontheside) August 9, 2016
Being able to walk up to Lou Diamond Phillips alone at this table, and say "Mr. Lou Diamond Philips, can I just tell you what a big fan I am of your work!" and seeing a huge grin spread upon his face, is not something you get to do every day.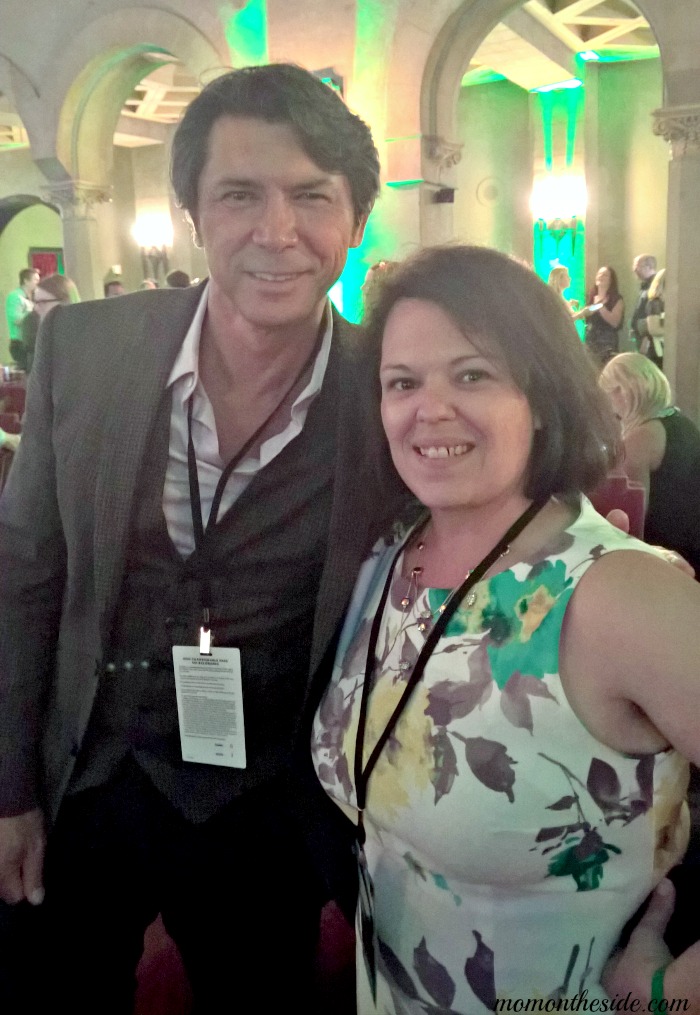 But, when it's time to leave the party, you can't go without saying "Bye, Bye, Bye" to Joey Fatone!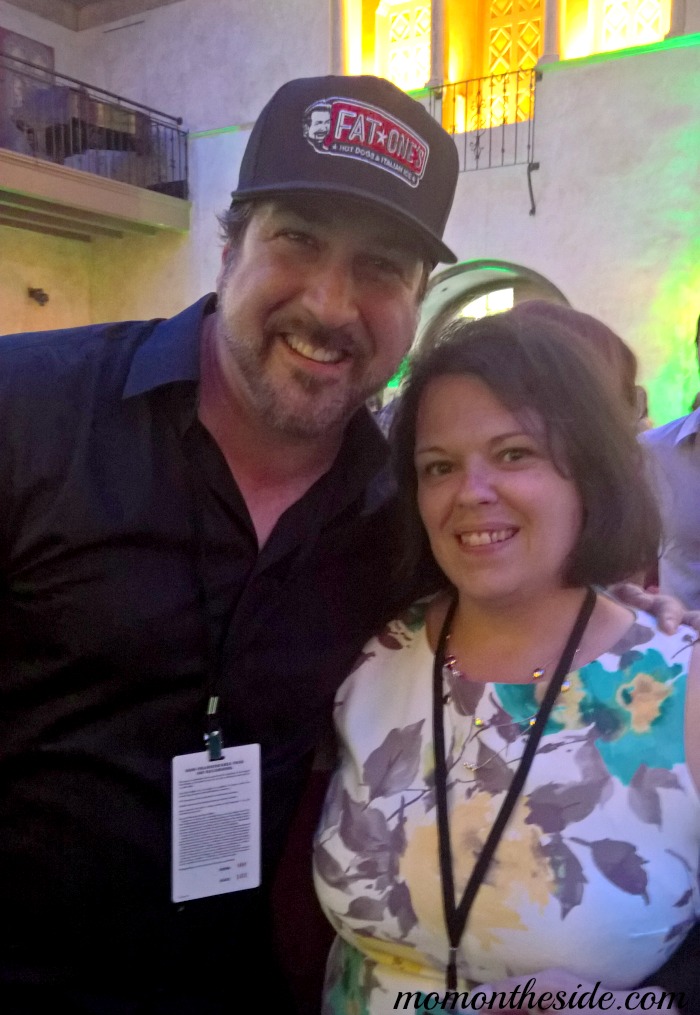 Once the pre-party winds down, there's nothing left to do but hit the green carpet for the premiere of Pete's Dragon at El Capitan Theater!
One person I was so excited to spot on the green carpet was Auli'i Cravalho! If that name doesn't sound familiar, you may have missed my post about the next Disney Princess, Moana! We got the amazing chance to interview her AND her mother the next day, and I can't wait to share it will you all in a  few months!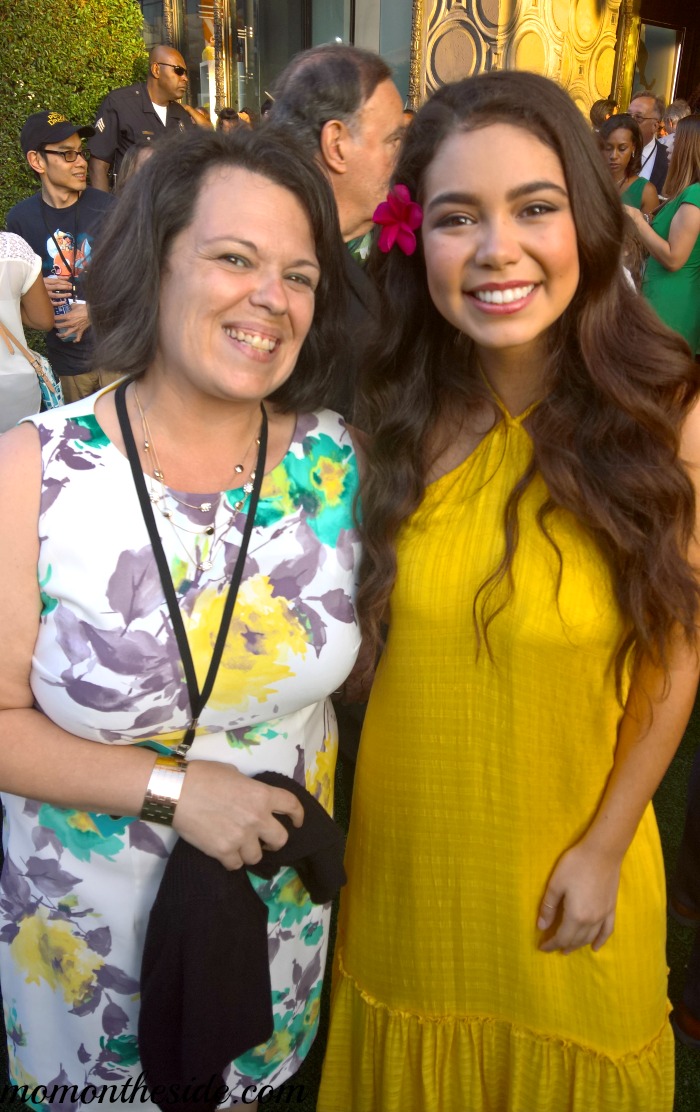 Fast paced, jam-packed, and amazing is the best way to describe what walking the carpet at El Capitan for a movie premiere feels like. Take a little look…..
Four of the most popular people on the green carpet were the cast of Pete's Dragon, minus Robert Redford whom I didn't spot the entire evening. Bryce Dallas Howard who plays Grace, and Wes Bentley who plays Jack did hit the carpet and looked fabulous!
As well as Oakes Fegley who plays Pete and Oona Laurence who plays Natalie, and you may also recognize her as the girl who played Mila Kunis's daughter in Bad Moms. 😉 These two kids are adorable and I can't wait to share the interviews with all four of these talented actors and actresses in the coming days.
After a stroll down the carpet and a few quick pictures, it's always nice to be  greeted by the sparkly and bright marquee above El Capitan. The Pete's Dragon Premiere was no different, but the next day……
….that same marquee greeted all 25 of us, when we come for our tour. 😀
There is a special magic all of it's own, inside El Capitan, that truly takes the movie watching experience to another level. An organ raises from the stage with a organist's making beautiful music filling the theater, and sometimes movie themed light shows (like the one in the video below) boosts the excitement before the first scene even plays.
El Capitan has quite the history, and helped anchor Hollywood as a movie town. It was converted from a playhouse into a theater in 1941, and the first movie played on the screen was Citizen Kane. Fast forward to 1989, when the Walt Disney Company joined forces with Pacific Theaters to renovate El Capitan. It reopened it's doors in 1991 for the premiere of  The Rocketeer, which Disney recently announced it is remaking with an all girl cast! You can see the history of El Capitan, as well as special events, on the balcony level of the theater, thanks to pictures among pictures hanging in the El Captian Wall of Fame Presented by Kodak!
During out tour the next day, we were able to stand on stage WITH the organ. This amazing piece of music machinery is a 4/37 Wurlitzer with four keyboards and 37 ranks of pipes! Some say they can feel the vibrations across the street when the organ is playing. The organ inside El Capitan is the last of five "Fox Specials" that were built in the 1920's. Trust me when I tell you it's a beautiful sight.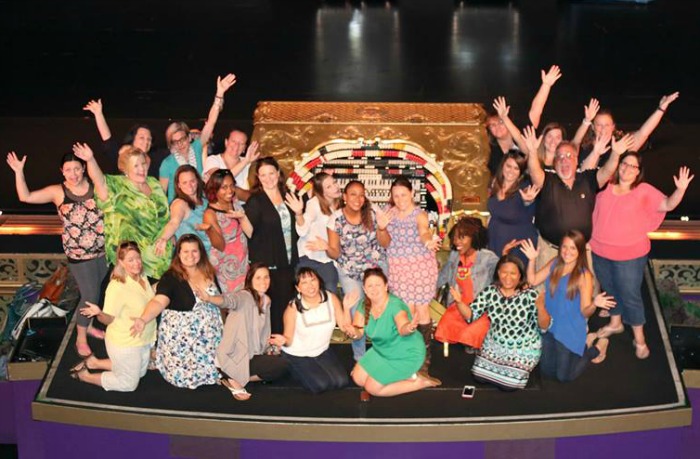 As we settled into our second row seats for Pete's Dragon Premiere, the same feeling washed over me that does each time I'm at El Capitan. You see, something about the magic inside that theater makes you feel like a kid again, and you see each movie through the wonderment and awe of a child's eyes.
Catch Pete's Dragon in theaters on Friday, August 12th and stay tuned for my Pete's Dragon Review coming tomorrow!
Pete's Dragon Website | Pete's Dragon Facebook Page
@DisneyPetes on Twitter | Pete's Dragon on Instagram