Valentine's Day is a few days away and I'm in the mood to spoil my loves with delicious food! These No-Bake Mini Peanut Butter Cheesecakes that I whipped up for the football game last weekend are perfect. They come together in just minutes, chill for four hours, and get gobbled up the blink of an eye.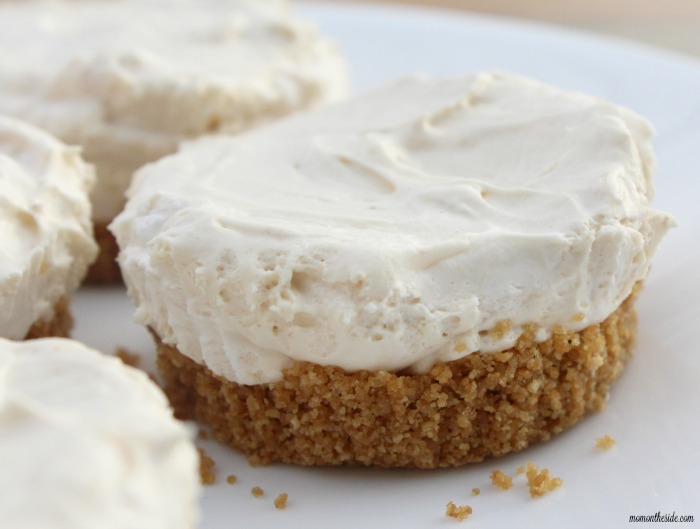 No-Bake Mini Peanut Butter Cheesecakes
Ingredients
1 80z Package of Cream Cheese
1 Tub of Whipped Topping – thawed
1 Sleeve of Graham Crackers – broken up
1/4 Cup Sugar
1/2 Light Brown Sugar
1/2 Teaspoon Vanilla
1/4 Cup Bitter – melted
1 Teaspoon Lemon Juice
1/4 Cup Peanut Butter
First, fill a muffin tin with cupcake liners and give them a little spray with cooking spray. Set aside and get started on the crust. I made the crust and topping for these No-Bake Mini Peanut Butter Cheesecakes using the Nutri Ninja Nutri Bowl Duo. It made things SO quick and easy!
First I tossed in all the ingredients for the crust; graham crackers, brown sugar, and butter. Mixing both the crust and the cheesecake takes just seconds with the Auto-iQ Boost No Fusion Mix function on the Nutri Ninja Nutri Bowl DUO.
This function allows you to customize and control the texture and consistency of recipes Once the cheesecake crust is mixed, press it into the cupcake liners.
Next, mix together the cheesecake ingredients; cream cheese, sugar, lemon juice, peanut butter, and vanilla. Once they are well blended, transfer to a large bowl and fold in the whipped topping until combined.
Now, spoon the cheesecake mix into each cupcake liner, smoothing it out evenly over the crust. Don't be shy, there is plenty of mix to fill each one generously.
Let these mini cheesecake chill in the fridge, in the muffin tin, for at least four hours before eating. I cut little hearts out of red melting chocolate to place on top for Valentine's Day. Trust me, they are delicious without it.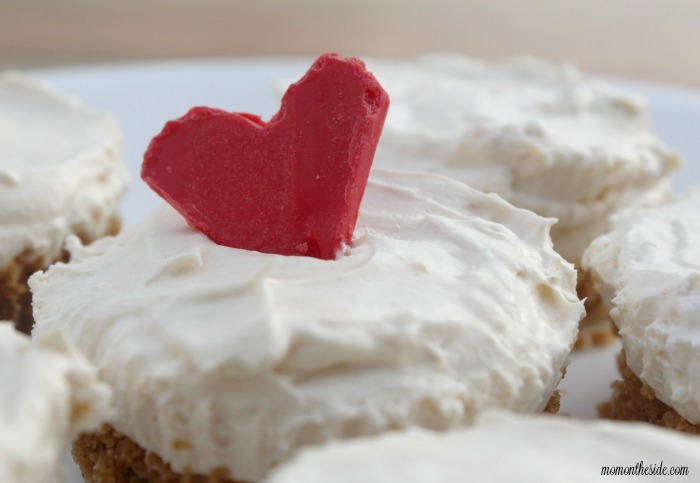 If you want to whip up appetizers and treats in no time, Nutri Ninja Nutri Bowl DUO helps you do that! With the touch of a button, you can create a blend of food containing nutrients from fruits, vegetables, and other foods, turning them into flavorful meals, snacks, and desserts. I was seriously impressed and am looking forward to lots of more fusion in my future.
The Nutri Ninja Nutri Bowl DUO Includes:
1200-Watt Motor gives users a powerful and versatile appliance with a small footprint.
Auto-iQ Technology: features intelligent blending and food-processing programs with a built-in digital timer.
Nutri Bowl: with Nutrient Fusion* meal-making capabilities such as making up to a pound of ground meat or dough.
Nutri Ninja Cups: 24 oz. and 32 oz. cups with Spout Lids for nutrient-rich drinks on the go.
Precision Prep Blades and a dough blade attachment: for use with the Nutri Bowl.
30-recipe Inspiration Guide or a 75-recipe Cookbook
Learn More –> NinjaKitchen.com