This shop and Monkey Themed Baby Shower for twins have been compensated by Collective Bias, Inc. and its advertiser. All opinions are mine alone. #SuperAbsorbent #CollectiveBias
Almost four years into raising twins and I'm still alive! I'm telling ya, some days are questionable with toddler twins running around, but I wouldn't trade these moments for anything.
As much as time feels like it is standing still, it is also flying forward. They are months away from starting preschool, but I feel like it was yesterday my friends were throwing me a twin baby shower.
Thinking about it makes me want to throw another one so I can make cute diaper decorations and yummy food, and I did just that with this Monkey Themed Baby Shower for Twins!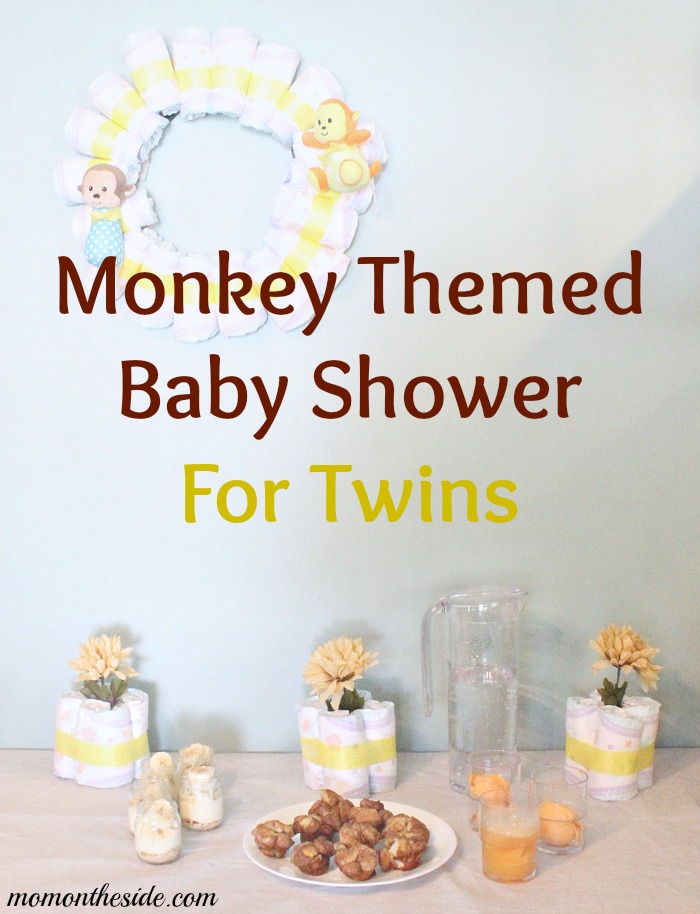 Monkey Themed Baby Shower
for Twins
I thought monkeys would be the perfect theme for a baby shower for twins because, the daily grind with twins is pretty much "Monkey See, Monkey Do. Monkey One, Monkey Two" all day long.
This baby shower can be used for girl/girl twins, boy/boy twins, or girl/boy simply by choosing gender colors when making the monkey decorations.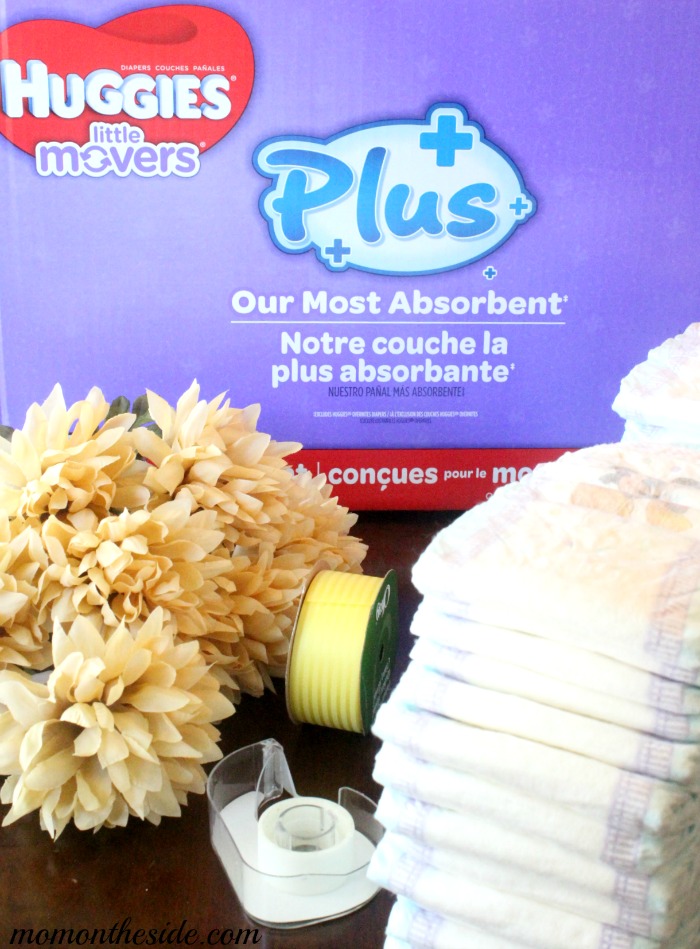 We're going to jump right into those decorations, and I made two monkey themed shower decor items out of diapers! Gotta love when the decor can double as a gift for mom-to-be too.
First, I made Mini Diaper Table Vases for fake flowers. Easy to make and a quick way to add some pizzazz to your table.
Directions for Diaper Vase
Roll 4 diapers and tape or rubberband them.
Place ribbon around the outside of the four diapers to hold them together, and tape the ribbon to seal.
Stick a fake flower down into the middle of the four diapers.
If you want something bigger, you could add more than one flower to make a whole bouquet for a centerpiece!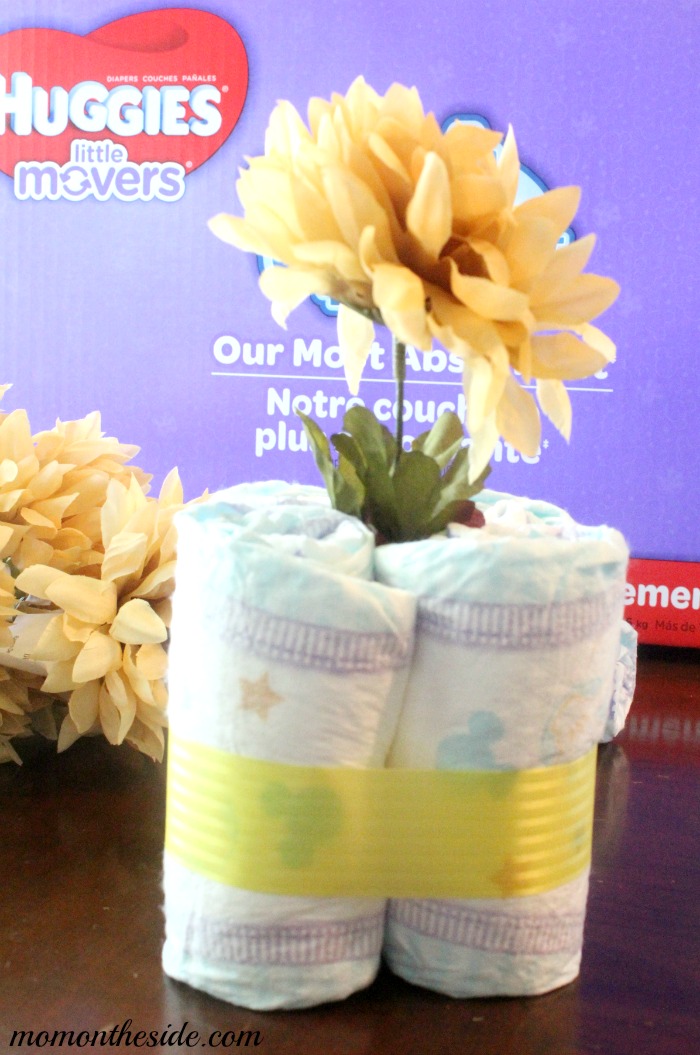 The other monkey themed decoration I made is a Diaper Wreath. Yes, I used a lot of diapers and knowing I was going to, I stocked up.
See, all sorts of great deals to stock up so you can make epic adorable diaper wreaths too. Or just have enough on hand to make it through a month of diapering twins.
Directions for Diaper Wreath
Roll 18 diapers and tape or rubberband them.
Cut 18 pieces of ribbon long enough to go around the rolled diapers.
Tape the ribbon around each diaper.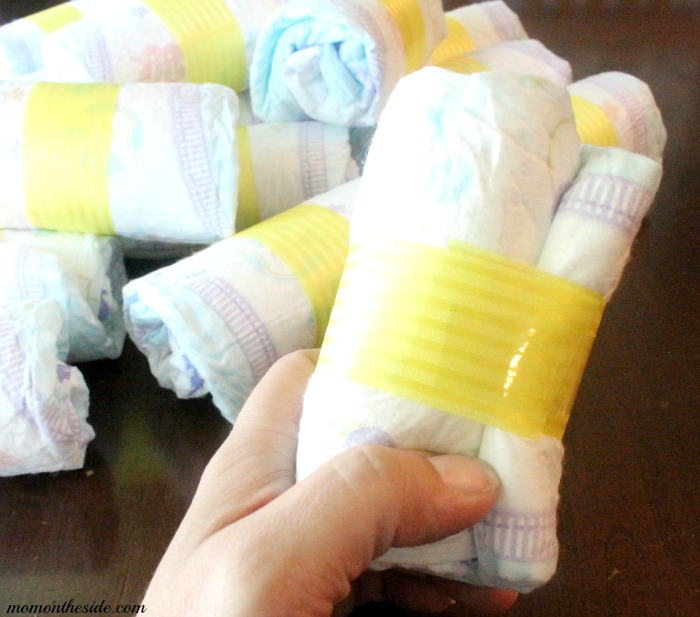 Cut a cardboard circle roughly 13 inches wide, with an 11-inch circle cut out of the middle. Leaving you with a 2 inch wide O shape.
Super glue or hot glue each diaper onto the cardboard circle, to form the shape of the wreath. Place the taped side down so it's smooth and uniform across the front.
Tie on toys to match your theme.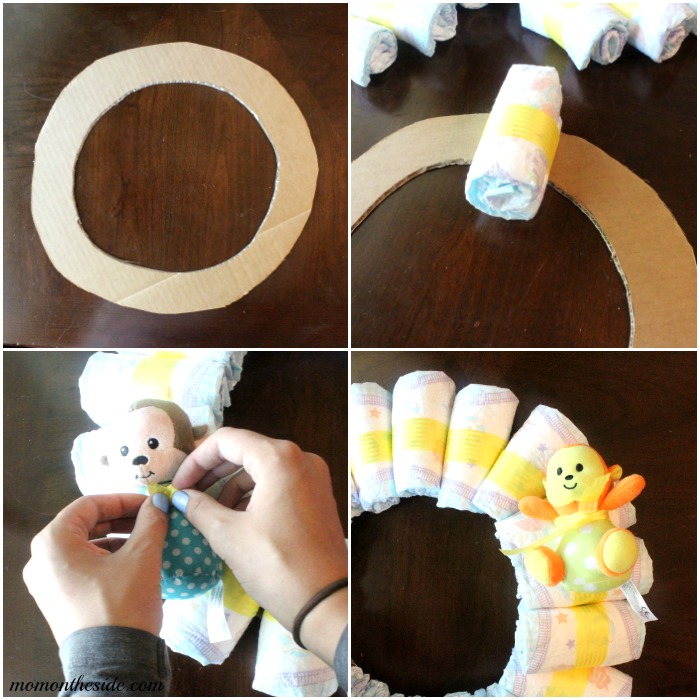 You can hang your Diaper Wreath on the door, to greet guests as they arrive, or hang it on the wall in the room where the party is being held. The best part is, the Huggies Little Movers Plus Diapers are all still usable after the party is over, so mom goes home with a nice supply to start off with.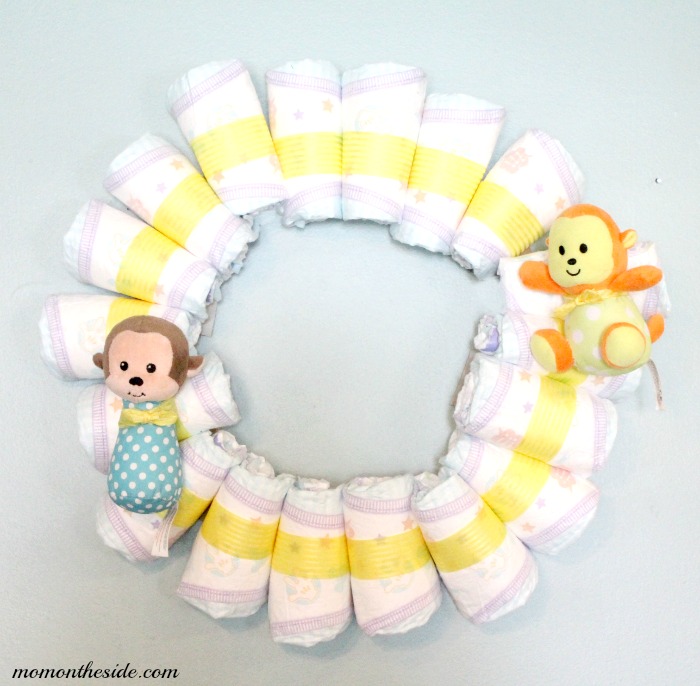 Themed food is something I love making, especially when it's easy and crowd approved. When it comes to a monkey themed baby shower for twins, you have to have bananas on the menu! These Banana Cream Pies in baby food jars are adorably delicious and easy to make.
Ingredients for Banana Cream Pies in Baby Food Jars (Makes 20)
8 Bananas
1/2 Box of Wafer Cookies
10 Vanilla Pudding Cups
20 Baby Food Jars
Directions for Banana Cream Pies in Baby Food Jars
Clean, dry, and remove the label from baby food jar.
Crush wafer cookies and slice bananas.
Add 2 spoonfuls of crushed wafer cookies in the bottom of the jar, enough for a good crust-like layer.
Place 1/2 of a vanilla pudding cup on top of the crushed cookies.
Top with 4-5 slices of bananas and sprinkle with crushed cookies.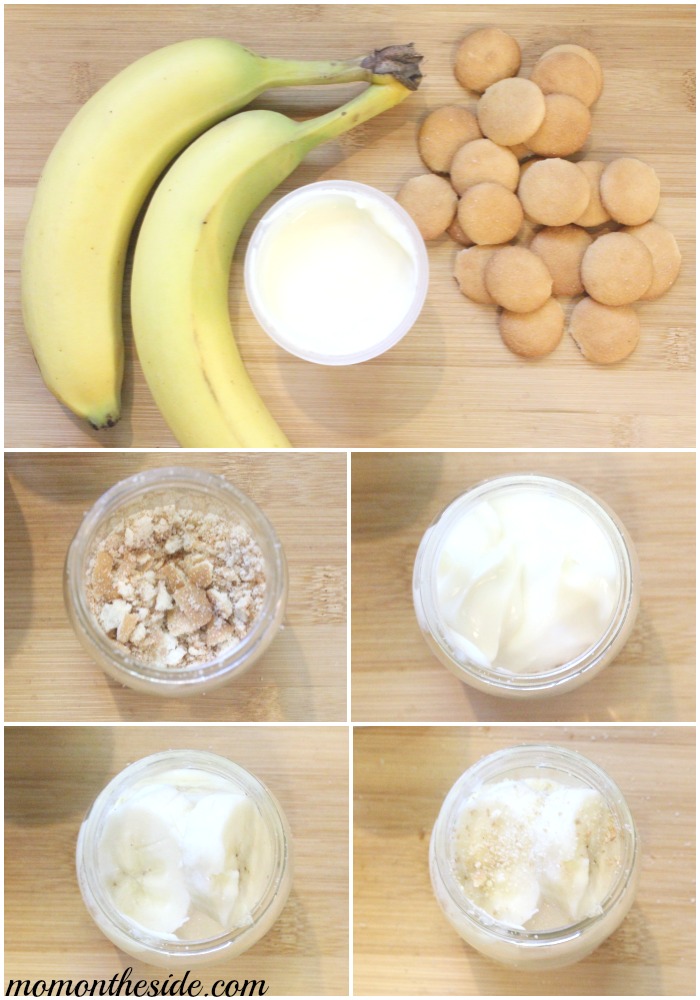 Mini Monkey Bread Muffins are another great item to serve at a monkey themed party! Can you tell I'm all about mini foods that don't require a lot of utensils?
Ingredients for Mini Monkey Bread Muffins (Makes 24)
1 Can of Refrigerated Flakey Biscuits
1/2 Cup Sugar
2 Teaspoons Cinnamon
1/2 Cup Butter – melted
1/2 Brown Sugar – packed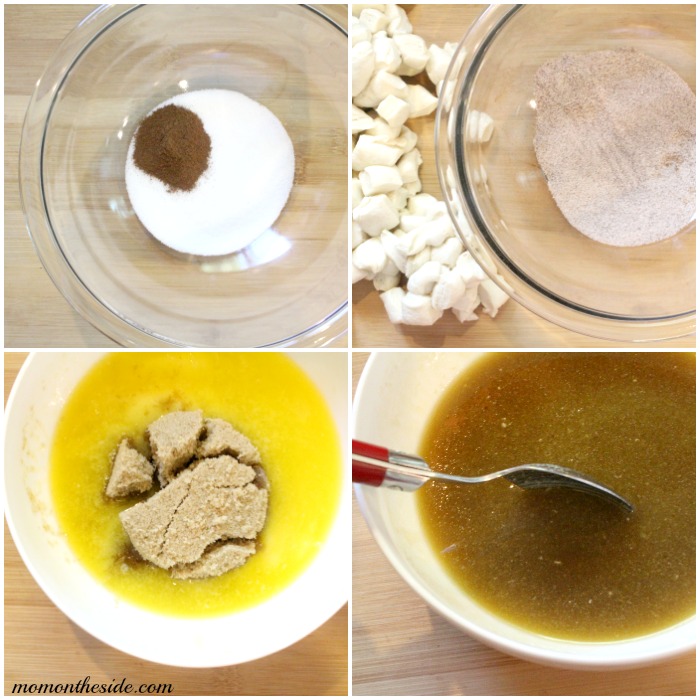 Directions for Mini Monkey Bread Muffins
Preheat oven to 350
Mix together sugar and cinnamon.
Mix together melted butter and brown sugar.
Cut each biscuit into 12 pieces.
Toss biscuit pieces in the sugar/cinnamon mixture until they are covered. You can do this in a plastic bag or a bowl, but I think a plastic bag makes it easier to get all the pieces coated well.
Pour a spoonful of the butter/brown sugar mixture into each muffin tin hole.
Place 5-6 biscuit pieces into each muffin tin hole.
Bake for 10-13 minutes, until golden brown.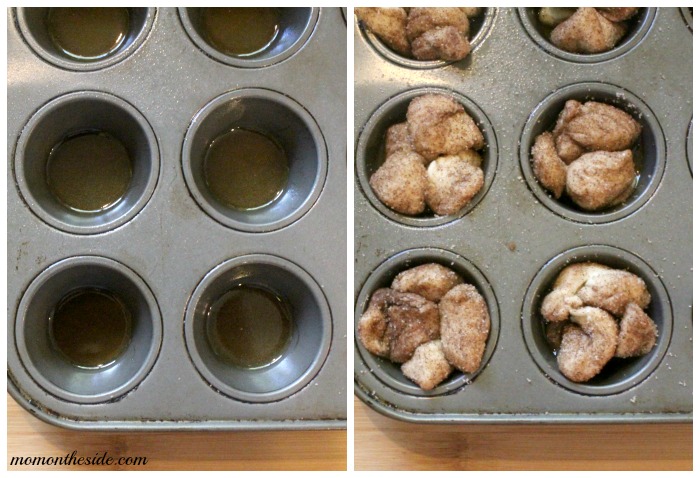 Because monkeys love bananas, I also set out a candy dish of Banana Runts. Small and delicious, just like little babies. Well, babies are delicious in a newborn smell way – not to actually eat.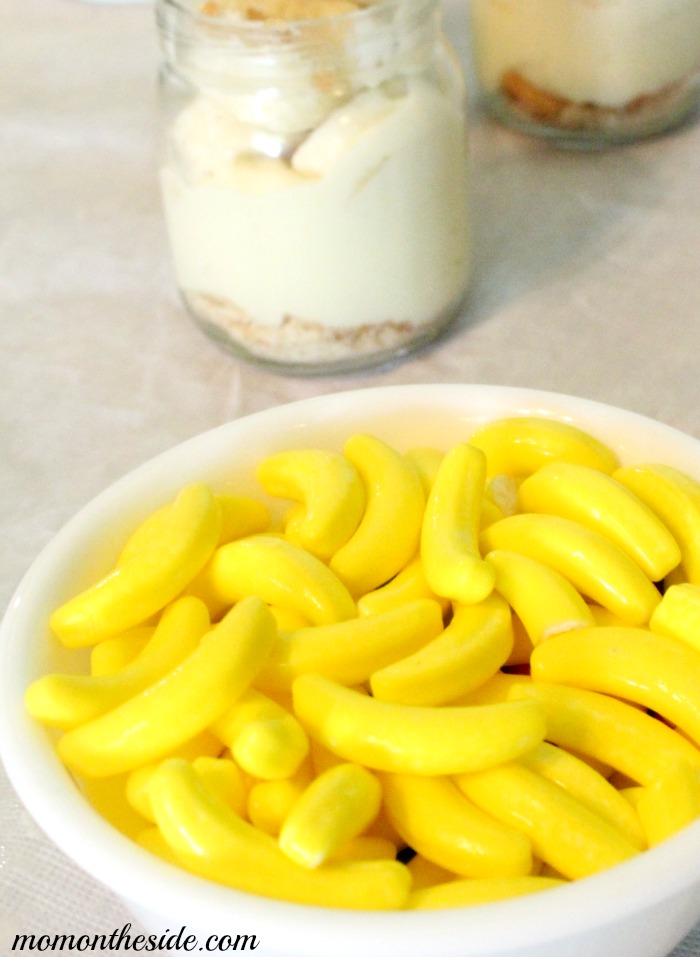 To wash down all that yumminess is a Pitcher of Monkey Punch! Ever since I was a little girl, I have loved sherbet punches.
All you need for Monkey Punch is orange sherbet and lemon-lime soda. Have soda ready in a pitcher and sherbet ready to go in cups, so guests can pour their own punch as they fill their plates. Or, you can have both mixed together in a punch bowl with a ladle.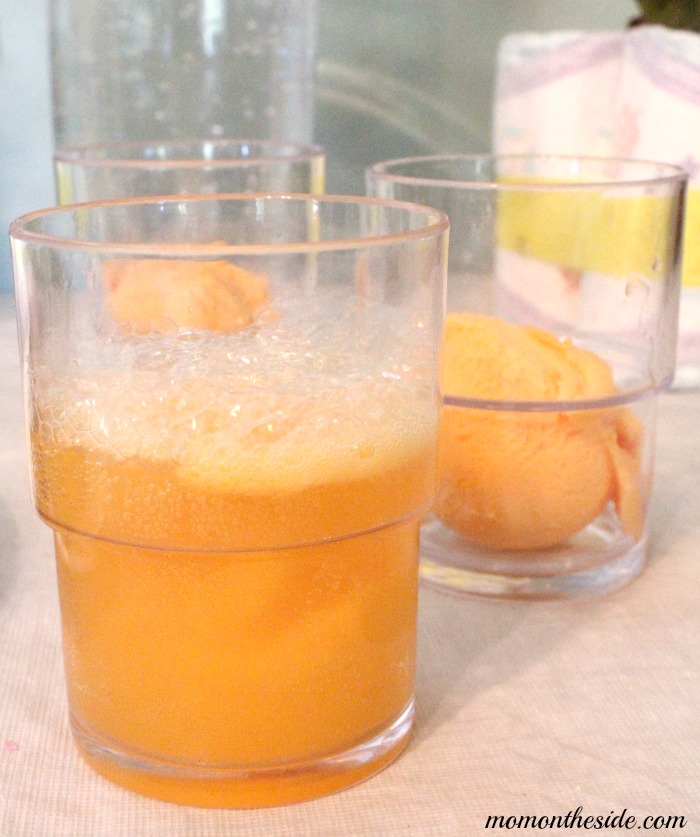 You can't have a baby shower for twins without baby shower games for twins, and I have two that are super fun! First up is a Printable Multiples Word Scramble with words normally associated with twins. Print off copies for your guests and take a peek at the answers below so you can declare a winner.
Printable Multiples Word Scramble Baby Shower Game
(Answers: Double Strollers, Identical, Matching Outfits, Double Trouble, Fraternal, Secret Language, Special Bond)
Another fun shower game is Famous Twin Pairs! Based on hints, party guests have to figure out which famous twin pair it is. I kept them fun and easy because man is there a lot of famous twins I have never even heard of.
Printable Famous Twins Baby Shower Game
(Answers: Mary-Kate & Ashley Olsen, Tiki & Ronde Barber, Tia & Tamara Mowry, Cameron & Tyler Winklevoss, Liv & Maddie)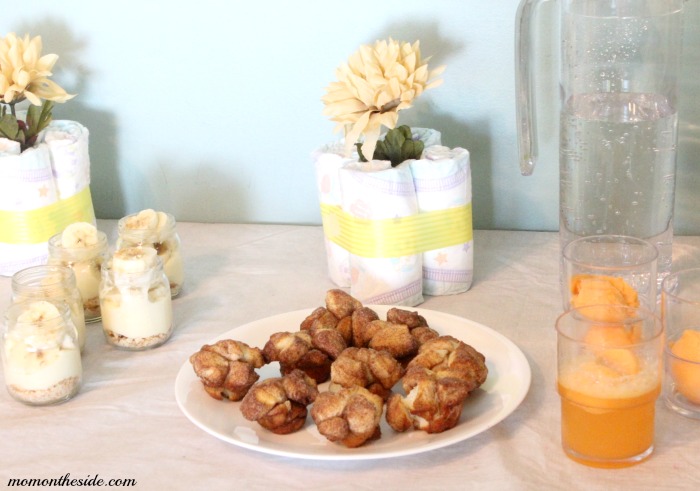 As a mom of twins, I know how active those little monkeys can be. They are always on the go and keep you on your toes. A little tip from one twin mom to another…keep plenty of diapers on hand and not just in the house. Store some in the car, in your purse, and even at grandma's house. You can never have too many diapers with twins.