Are looking for something different to entertain the kids while staying home? Grab these printable Indoor Scavenger Hunts for Kids!
There are four different scavenger hunts for at home the kids can do. Check out each one below along with the clues in case you do not have a printer.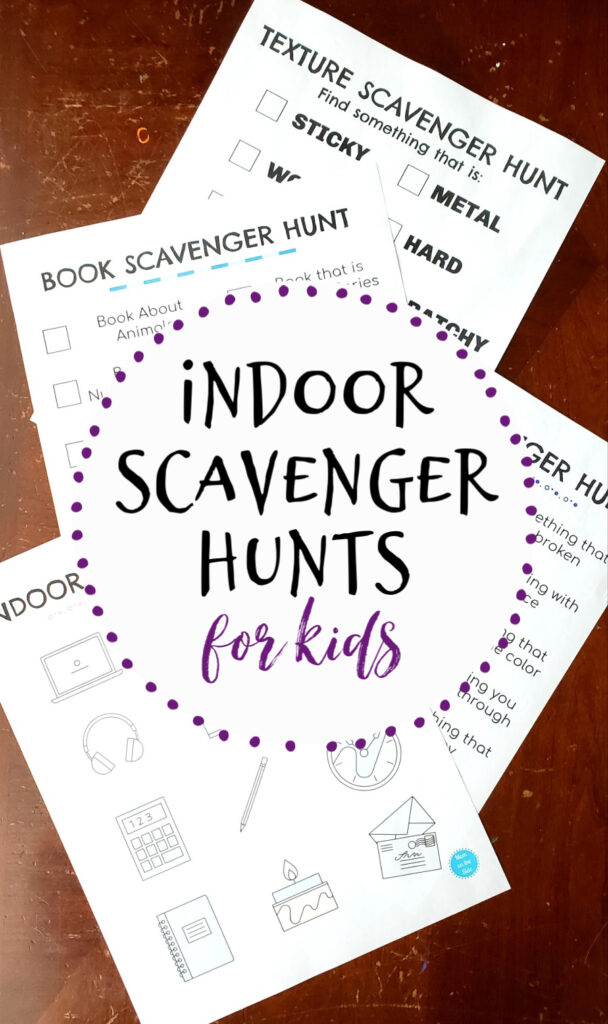 Printable Indoor Scavenger Hunts for Kids
Book Scavenger Hunt for Kids
A book scavenger hunt will have kids digging through their bookshelf for all sorts of stories. These books are also great for creating a reading list as well!
Book Scavenger Hunt Clues
Book About Animals
Book that is Part of a Series
Book with a Number in the Title
Book with a Hard Cover
Book About a Holiday
Book with a Red Cover
Book with Kids on the Cover
Book About a Famous Person
Book with Chapters
Book with a Poem
Book with "The" in the Title
Book About the Earth
Book You've Read More Than Once
Book with Pictures Inside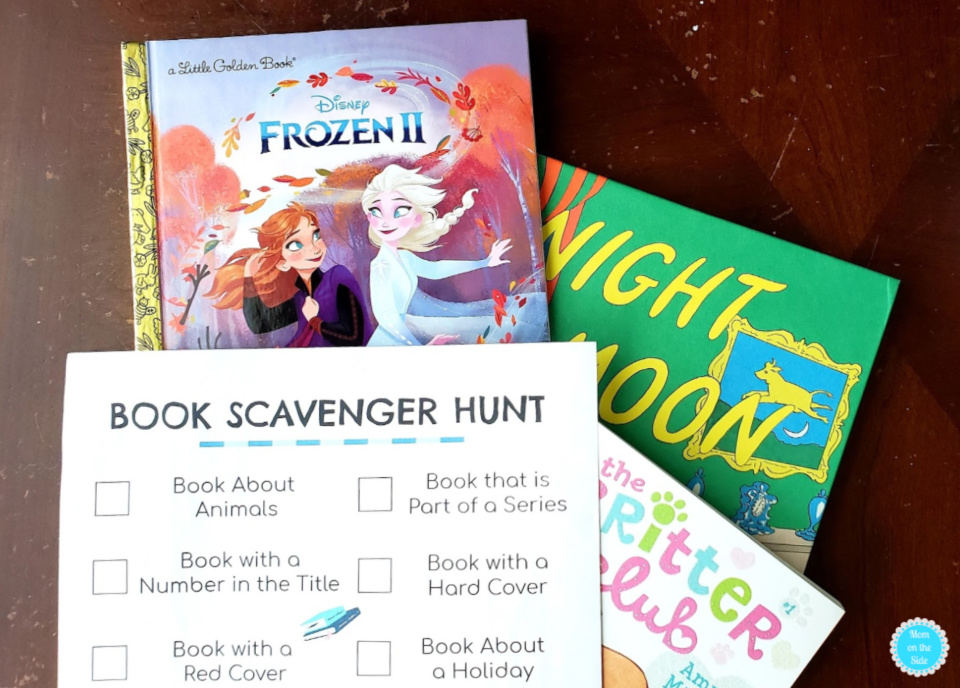 Texture Scavenger Hunt for Kids
A texture scavenger hunt is a fun yet tricky one. A variety of textures to look for around the house is also a great sensory activity!
Texture Scavenger Hunt Clues
Sticky
Metal
Wooden
Hard
Spongy
Scratchy
Soft
Pointy
Fuzzy
Glass
Squishy
Slimy
Smooth
Bumpy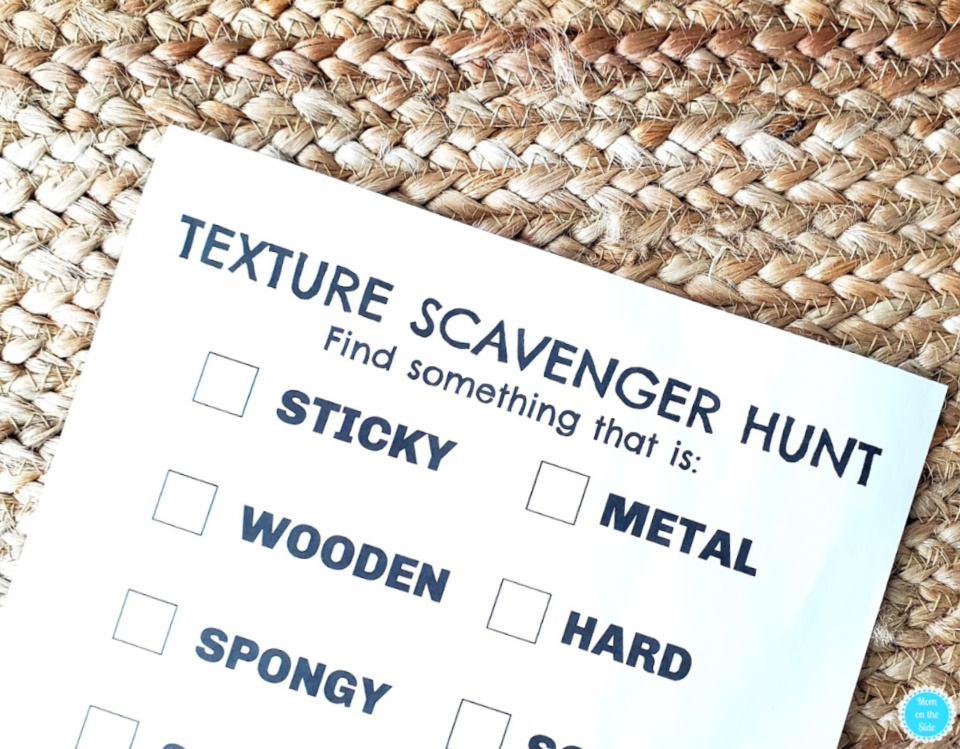 Alphabet Scavenger Hunt for Kids
Send the kids on an alphabet scavenger hunt around the house! They can work on their letters as they search for items around the house that start with each letter of the alphabet!
Indoor Scavenger Hunts for Kids
There are two different Indoor Scavenger Hunts depending on your child's age. There is one scavenger hunt with picture clues for young kids. The other has word clues for the older kids.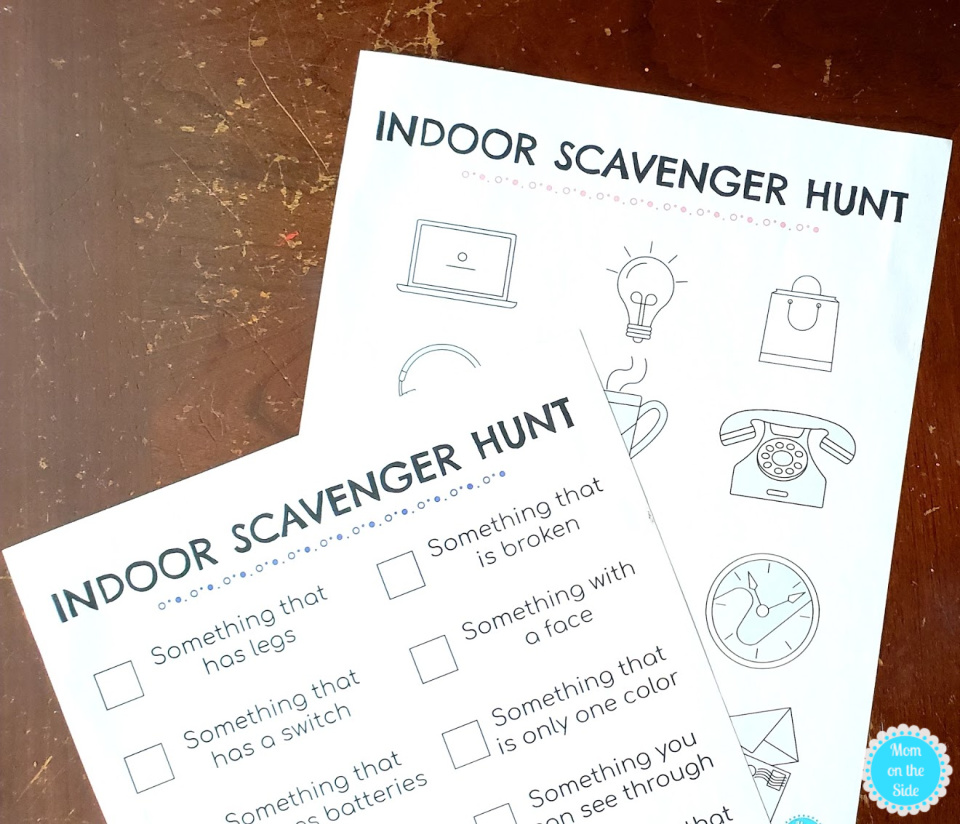 Indoor Scavenger Hunt Picture Clues
Computer
Light Bulb
Tote Bag
Headphones
Coffee Cup
Telephone
Calculator
Pencil
Clock
Notebook
Candle
Mail/Envelope
Indoor Scavenger Hunt Word Clues
Something that has Legs
Something that is Broken
Something that has a Switch
Something with a Face
Something that Requires Batteries
Something that is Only One Color
Things that Come in a Pair
Something You Can See Through
Something that is Stretchy
Something that is Shiny
Something You Can Only Use Once
Something with Words On It
Something that Makes Noise
Something that Smells
Click the link below to print any or all of these Indoor Scavenger Hunts for Kids!
–> PRINT HERE <–