This shop and DIY Backyard Ice Cream Sundae Bar Ideas has been compensated by Collective Bias, Inc. and its advertiser. All opinions are mine alone. #TopYourSummer #SoHoppinGood #CollectiveBias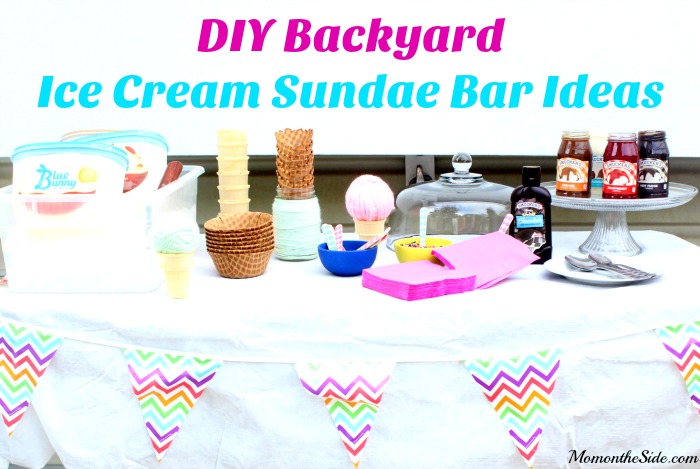 We are so ready for Summer and Backyard Movie Nights! What about you?
"Sundae" Matinees are something we look forward to every week. An evening with back to back movies for the kids and adults.
It doesn't get much better than that. Well, it does when you add in a Backyard Ice Cream Sundae Bar!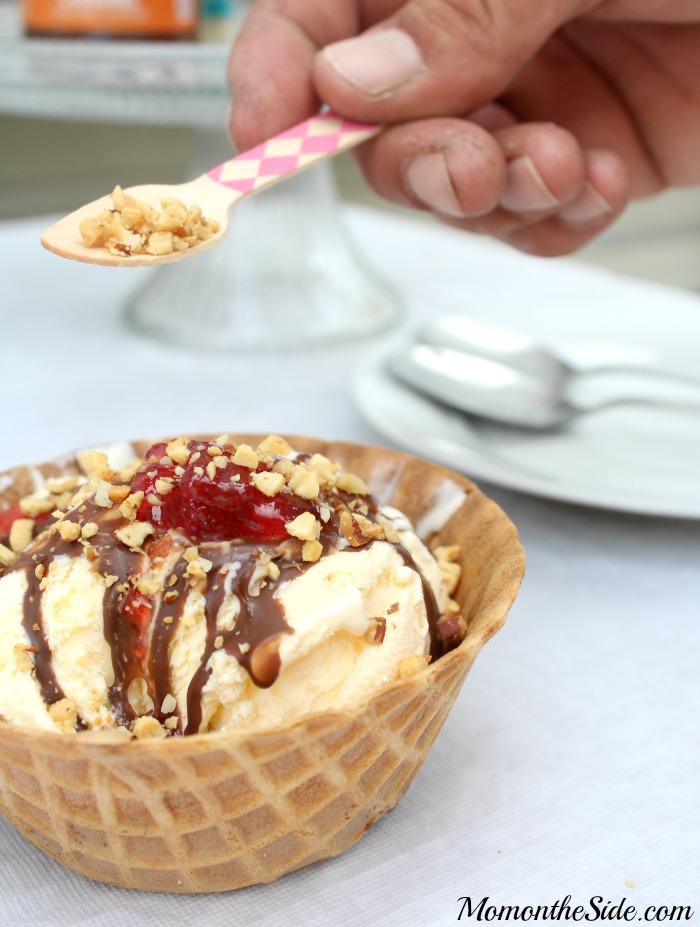 Last year, my husband got crafty and made a DIY Backyard Movie Screen. It's simple, works awesome, and makes for fun outdoor entertainment, like "Sundae" Matinees.  
We let the kids watch a flick first, then we all enjoy ice cream sundaes. Finally, the kids run off and play while the adults watch a film.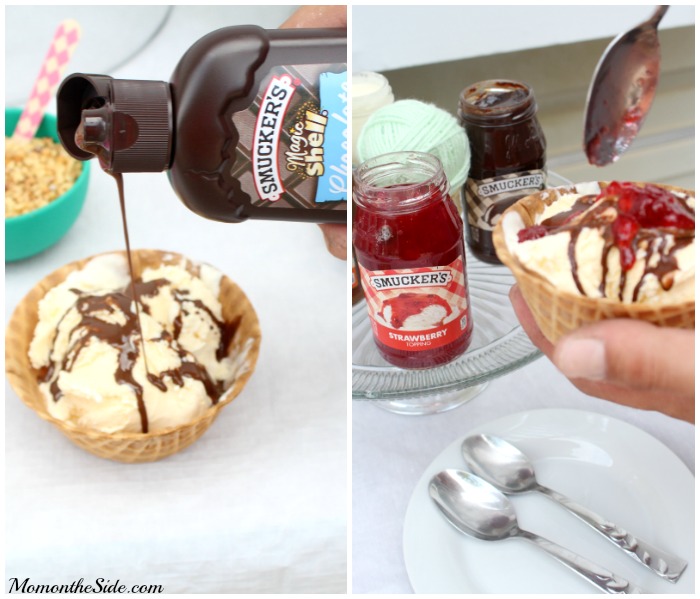 To make things easy on myself, I set up an Ice Cream Sundae Bar with everything we need. First things first, the ice cream!
I picked up several flavors of Blue Bunny® Ice Cream and put them in a tote filled with ice. When I want to have food on the table without it melting or getting warm, totes and ice work perfectly.
I admittedly have a weakness for ice cream. Creamy, delicious scoops in cones or in bowls always bring a smile to my face and belly.
My husband is a chocolate or Blue Bunny® Homemade Vanilla kind of guy, nothing inside the ice cream but on top is okay. Me on the other hand, I'm a Blue Bunny® Bunny Tracks® kind of girl.
The other important part of a Movie Night Sundae Bar are the toppings because Blue Bunny® ice cream and toppings are Better Together! Another tip, place your ice cream toppings in a domed cake dish so you can have them handy, for people and not bugs.
The Smucker's Ice Cream Toppings jars fit nicely inside and I left a plate on the table for the spoons. Easy peasy.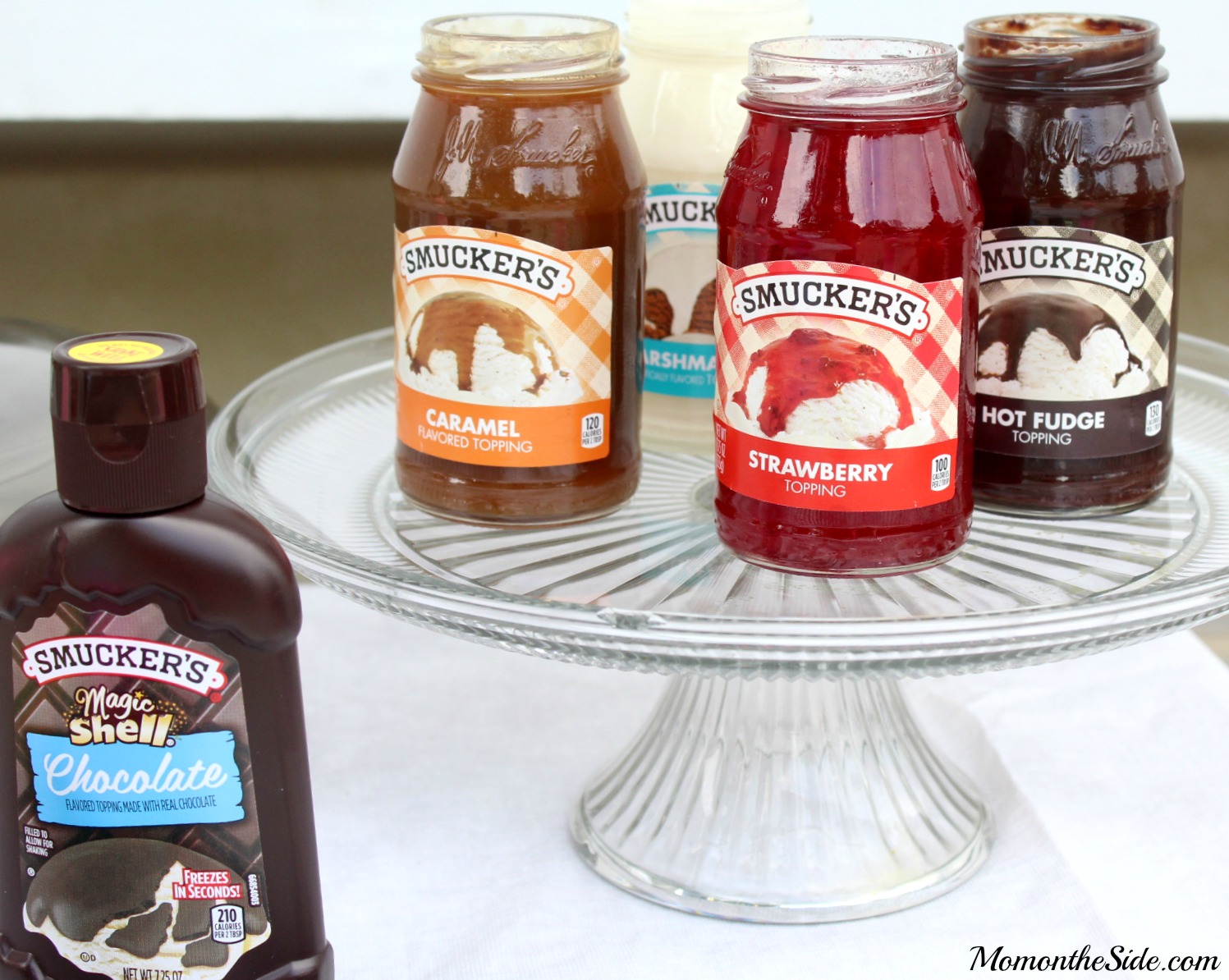 During intermission when everyone lines up for deliciousness again. The twins had a lot of fun telling dad what ice cream sundae they wanted.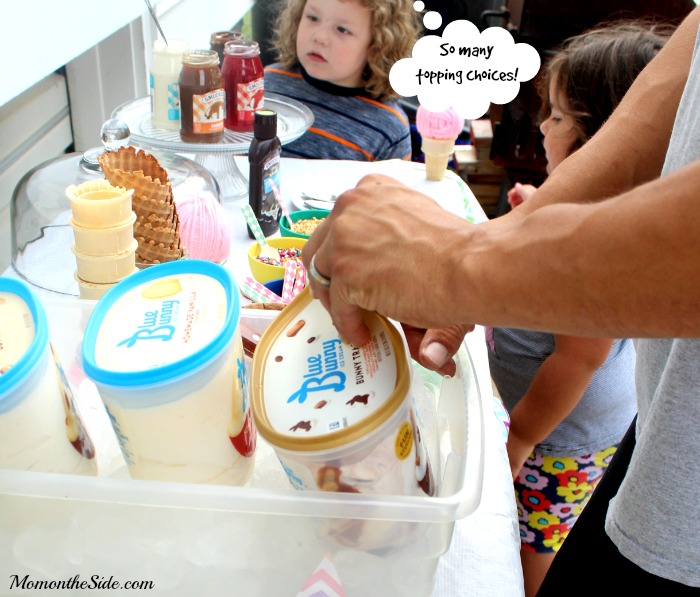 Although I'm pretty sure eating said ice cream was way more fun than choosing toppings for them. At least one of my kids who can't eat anything without getting it All. Over. Her. Face. Do you have one of those kids too?
The big kids of course went for Smucker's Magic Shell Chocolate Flavored Topping because it's "sooooo cool mom!" according to my 10 year old. Yes, yes it is, no matter what age you are.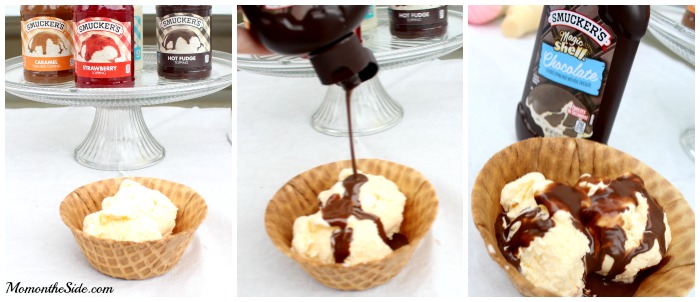 I even made some fun DIY Ice Cream Party Decorations that I can set out every time we have an ice cream sundae bar. I made a few Yarn Cones with real ice cream cones topped with a colorful ball of yarn.
A little secret? Tape the cone down to the table so it stays put.
Supplies
Small/Medium Styrofoam Balls
Yarn
Glue
Ice Cream Cones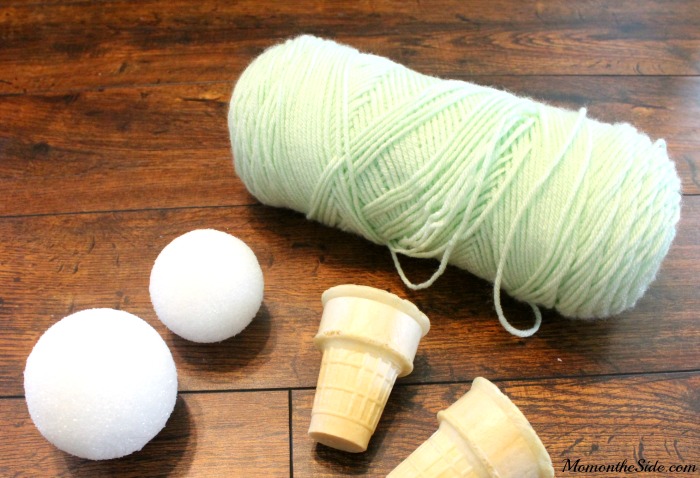 Wrap the yarn around the Styrofoam ball until it's completely covered. Tuck in the end of the yarn and glue the yarn ball onto the cone.
I made mine in two different pastel colors for "strawberry ice cream" and "mint ice cream" but you could go with other colors as well.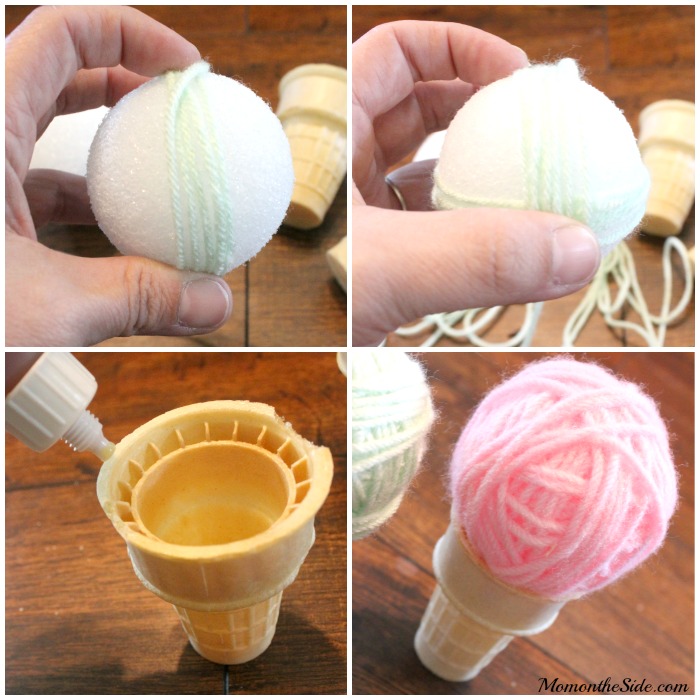 I also hung Waffle Cones from our tree. Yes, they could also work as flower bouquets other outdoor parties.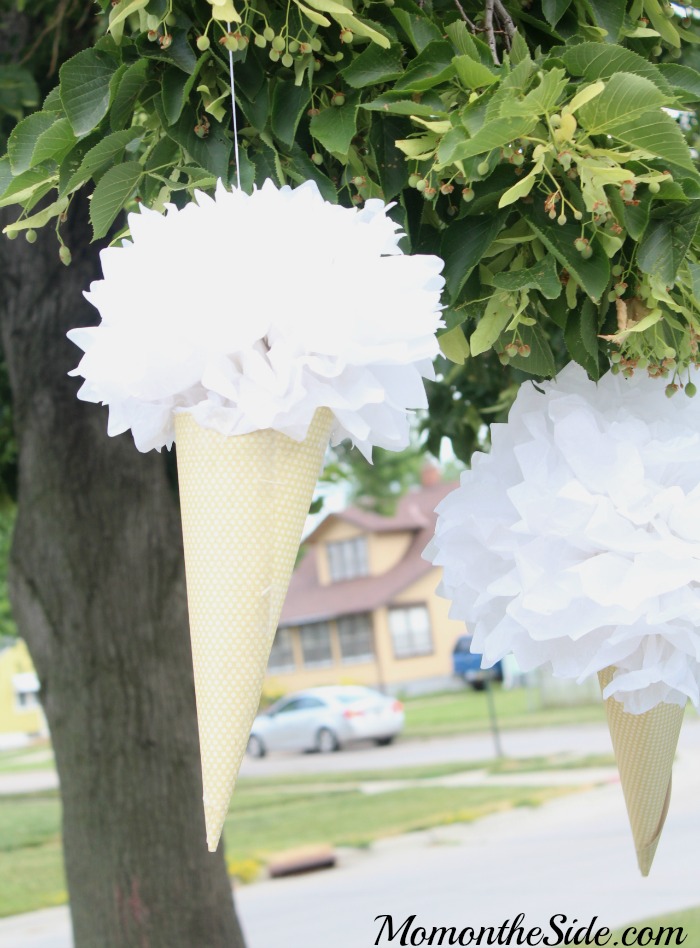 Supplies
Card Stock
Tissue Flowers
Tape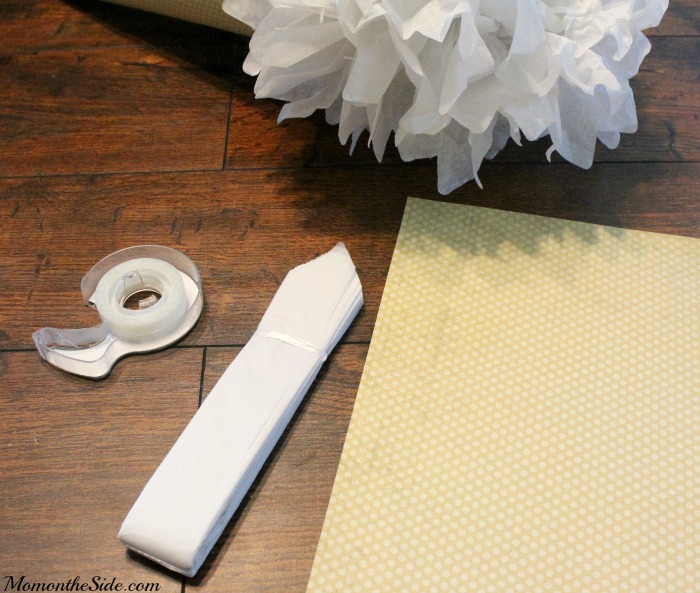 Roll the Card Stock into a cone shape, tuck in the top corner, and tape side to secure. I picked up some that is light tan colored and somewhat resembled a waffle cone look.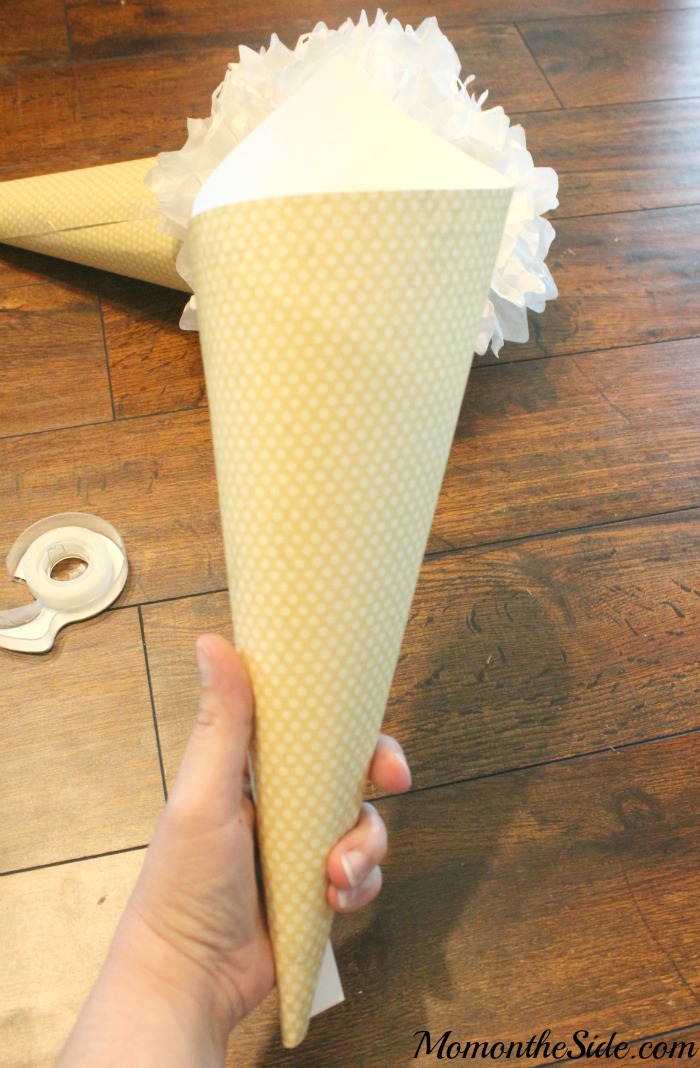 Make tissue flowers according to directions and attach to the cone with tape. I opted for white, but you could also do light green for mint ice cream, brown for chocolate ice cream, etc. Once complete, hang the cones from your tree during backyard movie night.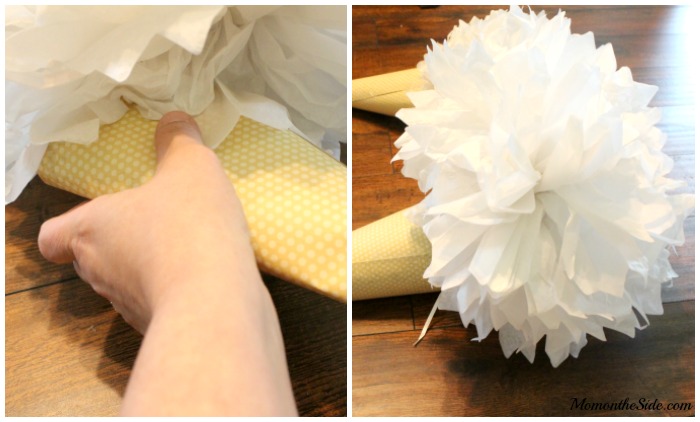 A few other things I added to my Ice Cream Sundae Bar are bowls of sprinkles, nuts, and spoons that were sized perfectly for taste testing and eating, and wrapping and gluing leftover yarn onto mason jars to hold Keebler ice cream cones.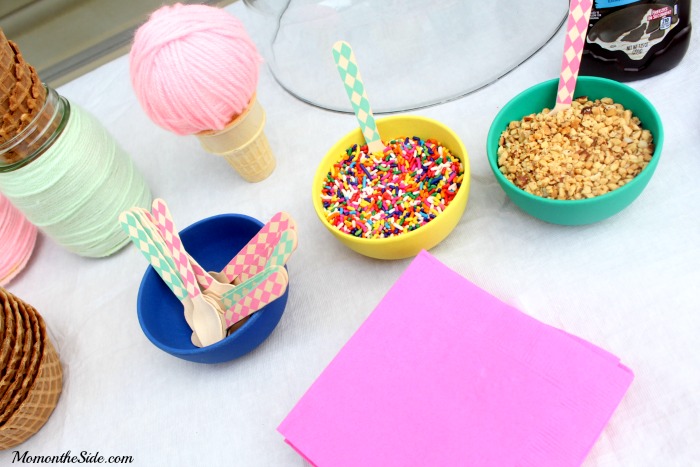 Aside from picking up Blue Bunny Ice Cream and Smucker's Toppings at Walmart, setting up this Ice Cream Sundae Bar took less than an hour. It was easy and made something we were already doing together, a lot more fun.
Family, Movies, Ice Cream, and Toppings are Better Together!
What flavors would be on your Ice Cream Sundae Bar?