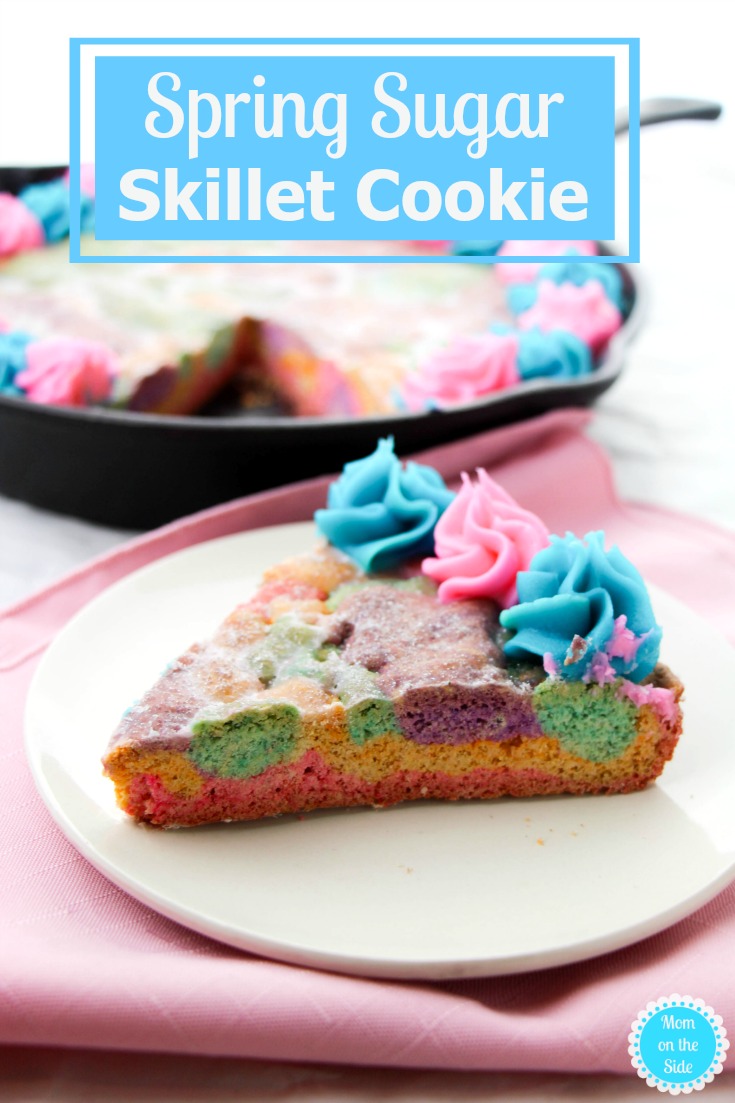 It's the last Monday in January and I don't know about you but spring is on my mind! Warmer weather, thunderstorms, and blooming flowers.
Aaaah, I can smell it now. Something else that smells delicious is this deliciously easy Spring Sugar Skillet Cookie! Isn't she pretty?!
Deliciously Easy Spring Sugar Skillet Cookie
Not only is the skillet cookie perfect for spring but it's a great way to get the kids involved in a technology-free activity. We are going homemade sugar cookie with this so aside from a skillet, here are the ingredients you'll need.
Spring Sugar Skillet Cookie Ingredients
1 1/2 cup all-purpose flour
1 teaspoon baking powder
1/2 teaspoon baking soda
1 1/2 teaspoon cornstarch
1/2 cup butter, softened
1 cup white sugar
1 egg
1 egg yolk
1 Tablespoon vanilla
Orange, pink, purple and blue food dye
Silver Sprinkles
Glaze for Spring Sugar Skillet Cookie
1/2 cup icing sugar
2 Tablespoons milk
1/2 teaspoon vanilla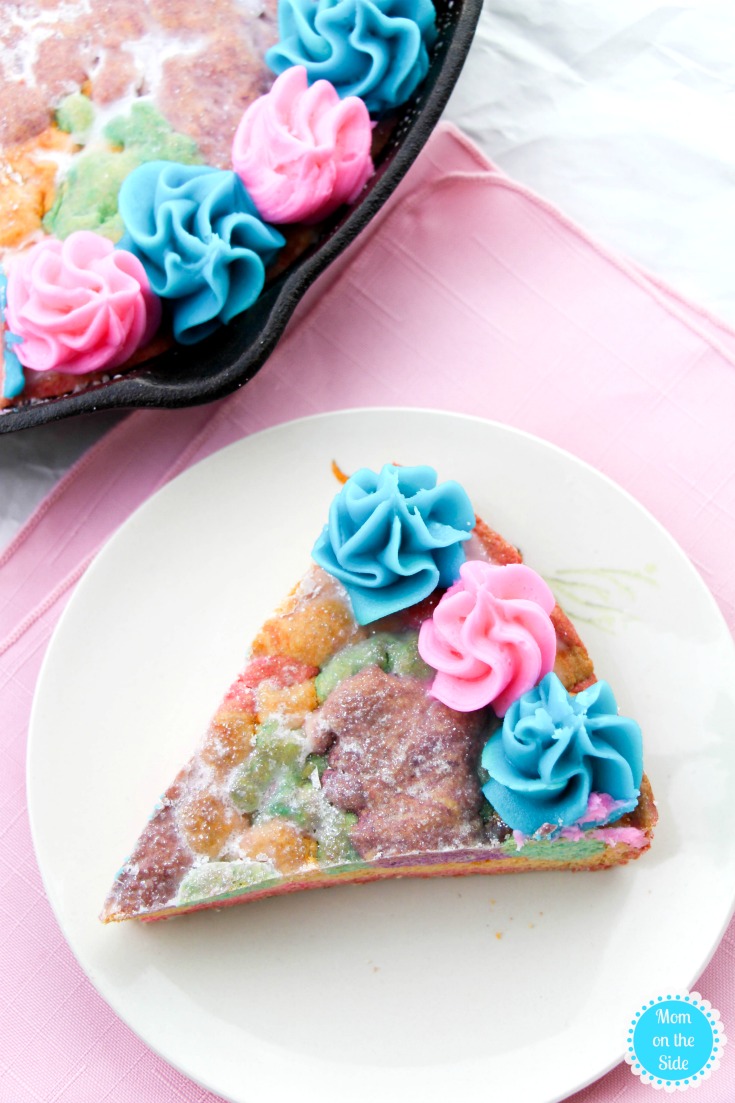 Spring Sugar Skillet Cookie Frosting
1/2 cup butter, softened
2 cups icing sugar
1 teaspoon vanilla extract
1-2 Tablespoon milk
Blue and pink food dye
How to Make Sugar Skillet Cookies for Spring
Start by preheating the oven to 350 and greasing an iron skillet, then set aside. First, stir together flour, baking powder, baking soda and cornstarch in a small bowl and set aside.
Next, use a mixer to combine butter and sugar together until light and fluffy, takes about 2 minutes. Now, add the egg, egg yolk and vanilla to the sugar-butter mixture and combine.
Once fully mixed together add in the dry ingredients and mix until thoroughly combined.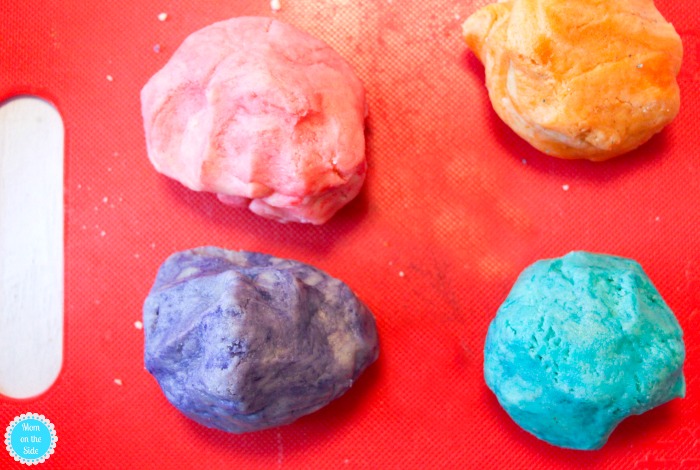 Divide the dough into 4 equal balls and dye each with food dye. One pink, one purple, one blue and one orange.
When placing the sugar cookie dough in the pan you can either randomly add bits of dough all over the skillet or press down in layers. When you are done, press down the top of the cookie dough to ensure an even layer. Finally, bake for 25-30 minutes until lightly golden on top.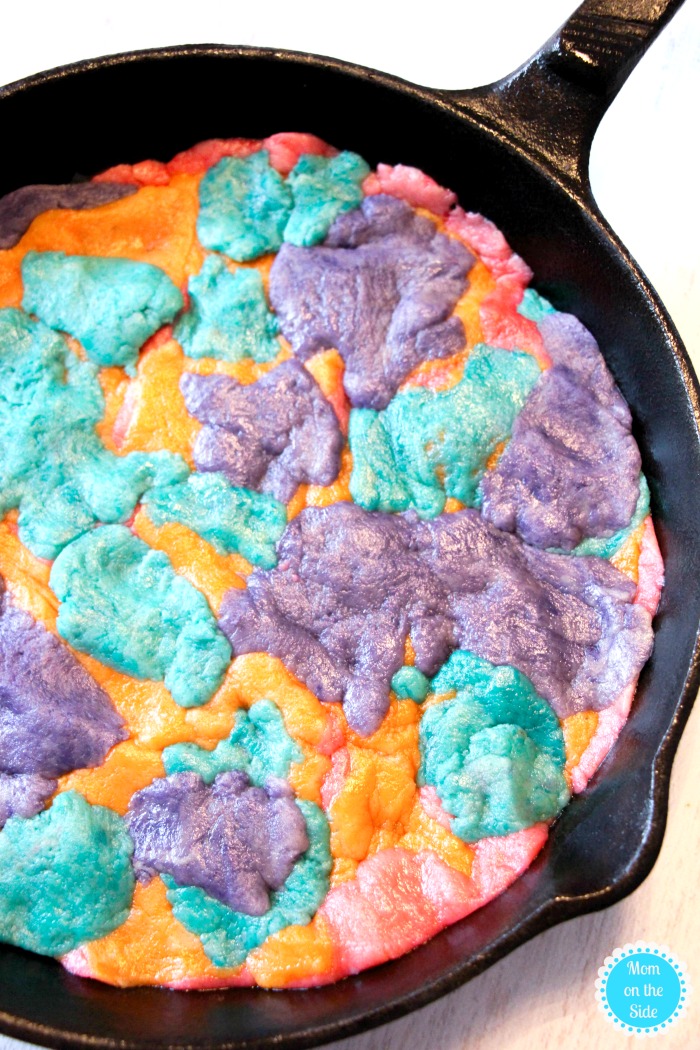 When the Spring Sugar Skillet Cookie is done remove it from the oven and let it cool. While it is cooling prepare the glaze and frosting. For the glaze, combine all the ingredients and pour it over the cookie and generously add sprinkles.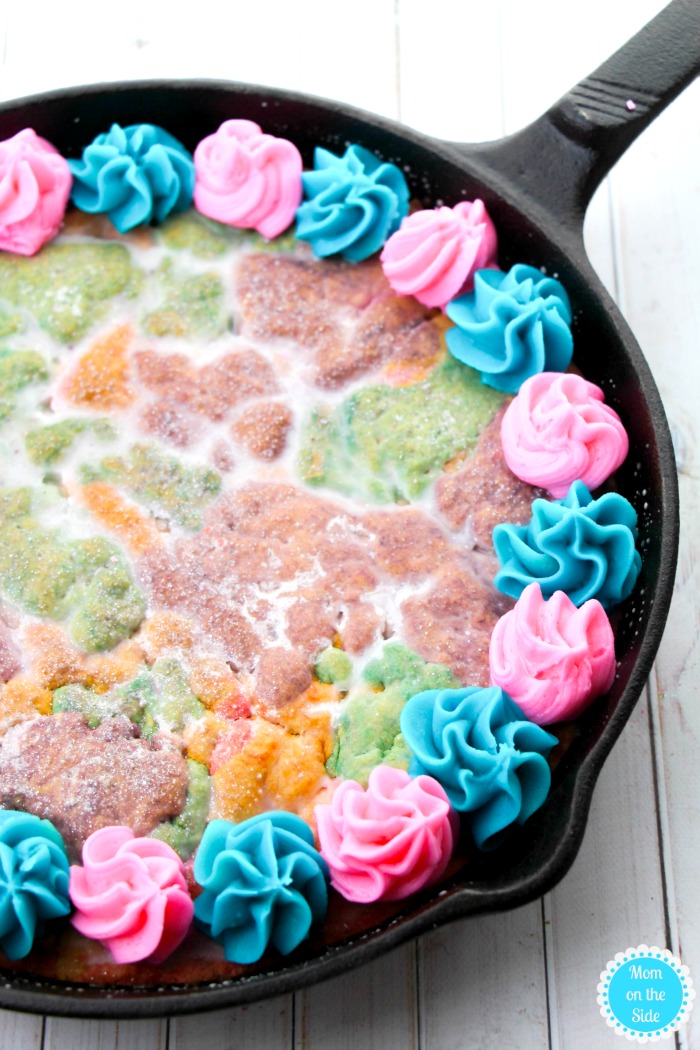 For the frosting, combine butter, icing sugar, and vanilla in a medium-sized bowl and mix together for 1 minute until smooth.
Then add 1 Tablespoon milk and mix for 30 seconds. Adjust the texture as needed with additional sugar or milk. Once mixed, divide into two bowls and dye one bowl pink and the second blue.
Now scoop each frosting into a piping bag fit with a star tip. Make dollops of frosting along the edge of the cookie, making short 2″ swirls and pulling the piping bag back firmly. Using two piping bags makes this easier.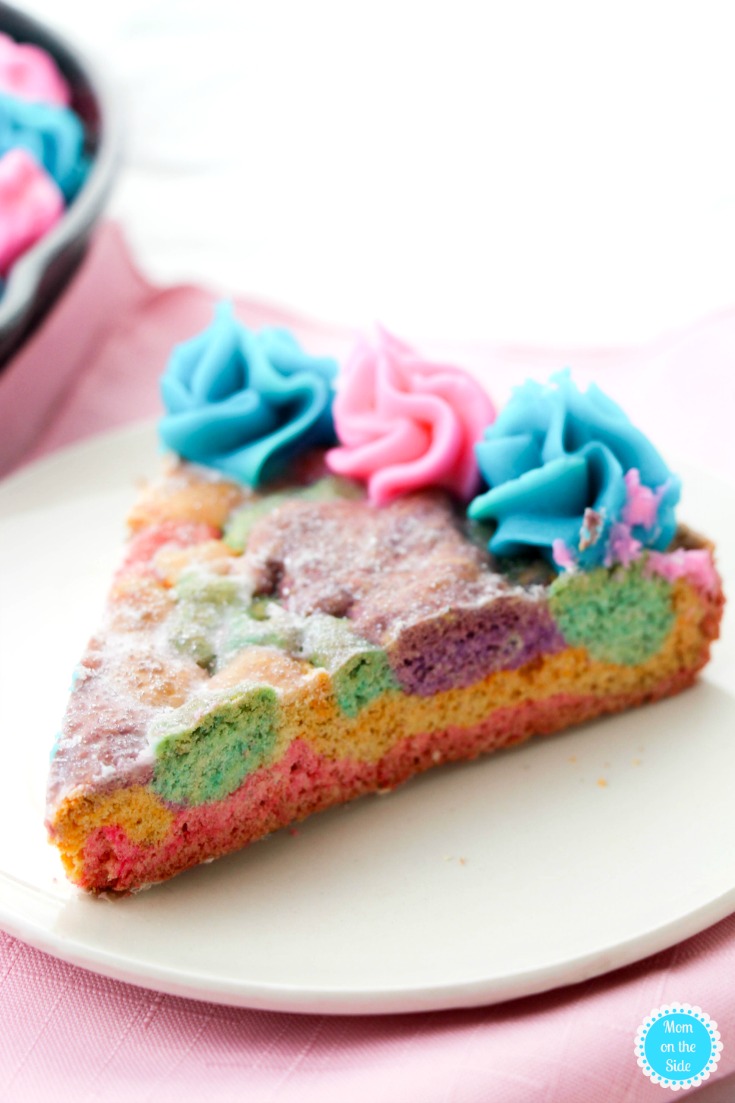 When you are done it's time to EAT! Cut out pie slices of the sugar skillet cookie and watch those smiles and hear those yums! Wouldn't this look so pretty sitting on the Easter dessert table?!