I've got another fun movie bingo printable for you! With Disney's Beauty and the Beast out on Blu-ray, Beauty and the Beast Movie Bingo makes a great addition to movie night!
Plus, a new Enchanting Melodies Belle Doll is available for playtime. It's all sorts of magical fun with Beauty and the Beast right now!
(I was provided with these products. Any opinions are 100% my own.)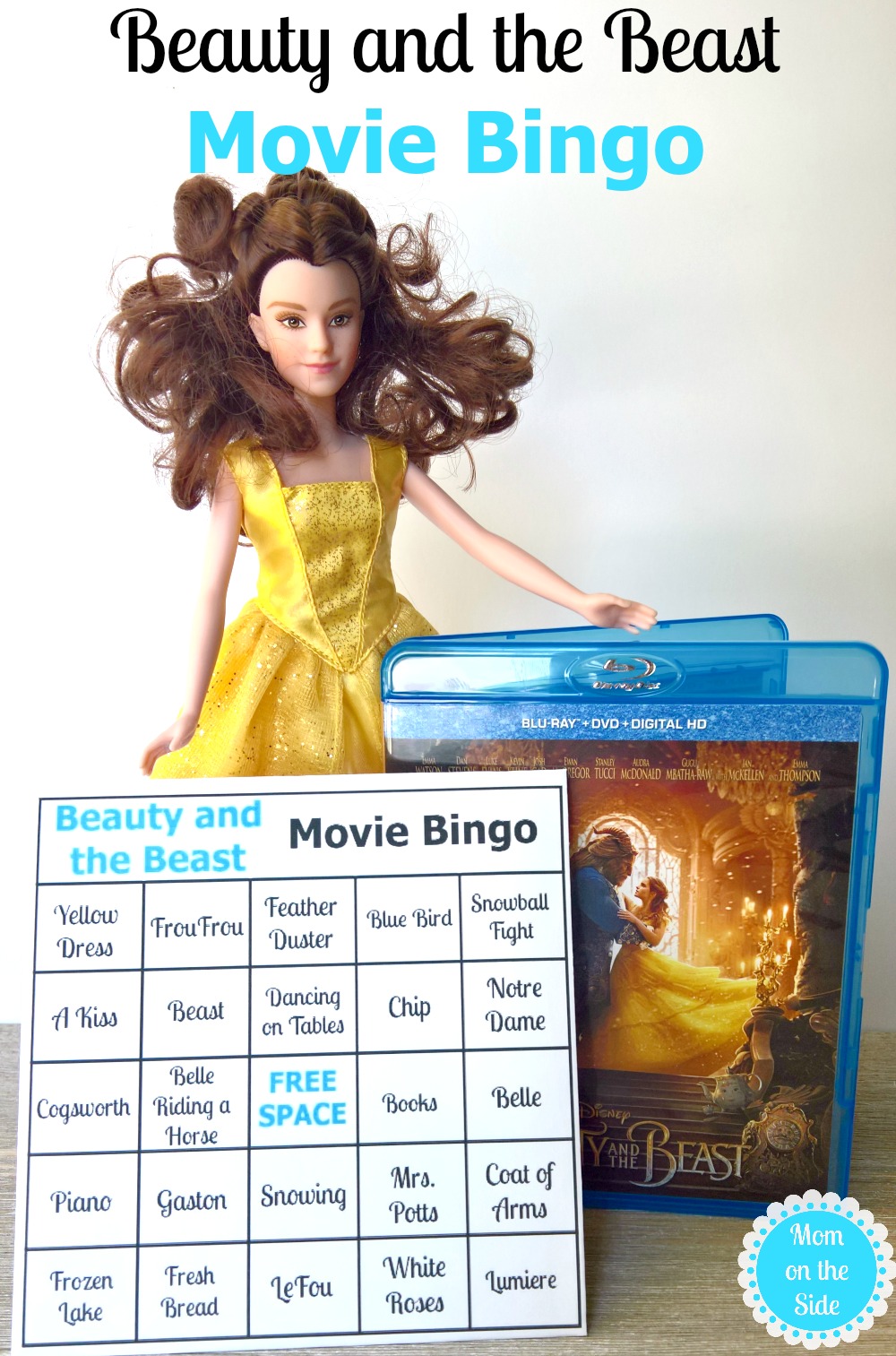 Enchanting Melodies Belle Doll
With the new Beauty and the Beast Enchanting Melodies Belle Doll you can enjoy those favorite movie moments with Belle whenever you want! Wanna know the best part?
She sings "Something There" from Disney's live-action movie! It's the song when Belle realizes there may be more to Beast than she first thought. Simply press her stomach and the Enchanting Melodies Belle doll beings to sing.
Enchanting Melodies Belle doll comes dressed in her movie-inspired golden gown with a removable necklace and a pair of shoes.
Beauty and the Beast on Blu-ray
There are lots of great bonus features on the Beauty and the Beast Blu-ray.
Enchanted Table Read: Join the cast for the movie's elaborately staged table read, complete with singing and dancing to live music, set pieces and more.
A Beauty of a Tale: Explore the process of transforming a beloved animated film into a new live-action classic.
The Women Behind "Beauty and the Beast": Emma Watson introduces several of the talented women in all aspects of production who helped bring this enchanted tale to life.
Making a Moment with Celine Dion: Celine Dion shares what it's like to sing "How Does a Moment Last Forever" – and be a part of the legacy of "Beauty and the Beast."
From Song to Screen: Making the Musical Sequences: See what goes into making some of the best-known moments from "Beauty and the Beast."
"Belle": Filmmakers and cast reveal how it felt to shoot this memorable scene.
"Be Our Guest": Discover all that went into creating this epic, primarily virtual performance.
"Gaston": Join the cast for rehearsals and filming of this rousing, high-energy number.
"Beauty and the Beast": You're invited on set for the filming of this beloved, classic scene.
Deleted Scenes: Including Introduction by Director Bill Condon, Gaston Courts Belle, Bread and Jam for Agathe, Storming the Ice Gates, Lumière Torches LeFou, Monsieur Toilette, Cogsworth Rescues Lumière, Treacle the Lasses,  and LeFou and Monsieur Toilette Reunite.
Extended Song: "Days in the Sun": Learn more about Beast's childhood in an alternate version of this beautiful song, introduced by director Bill Condon.
"Beauty and the Beast" Music Video: Award-winning artists Ariana Grande and John Legend perform a moving version of this iconic song.
Making the Music Video: Go on set to capture the magic as it happens in Ariana Grande and John Legend's "Beauty and the Beast" music video.
Disney Song Selection: Jump directly to all your favorite songs and sing along with the movie.
Disney's Beauty and the Beast Movie Bingo
When you are done watching those bonus features, hit play on the movie and play Beauty and the Beast Movie Bingo! There are 6 different Beauty and the Beast Movie Bingo Cards.
Each space is filled with people and things to find throughout the movie. Some are as easy as Belle and Chip, and others are a bit trickier, like a coat of arms. Grab your bingo cards below and pick up Enchanting Melodies Belle Doll for some family movie night fun.