Ever since that Baileys Strawberries and Cream Mousse I've been on a Baileys kick. Not only that but I'm wondering what the next limited edition Baileys flavor is going to be.
Until then, I'll snack on Baileys Coffee Cookies made with Baileys Irish Cream and dream about spring and maybe an orange creamsicle flavor. That would make for some delicious boozy adult desserts, wouldn't it?!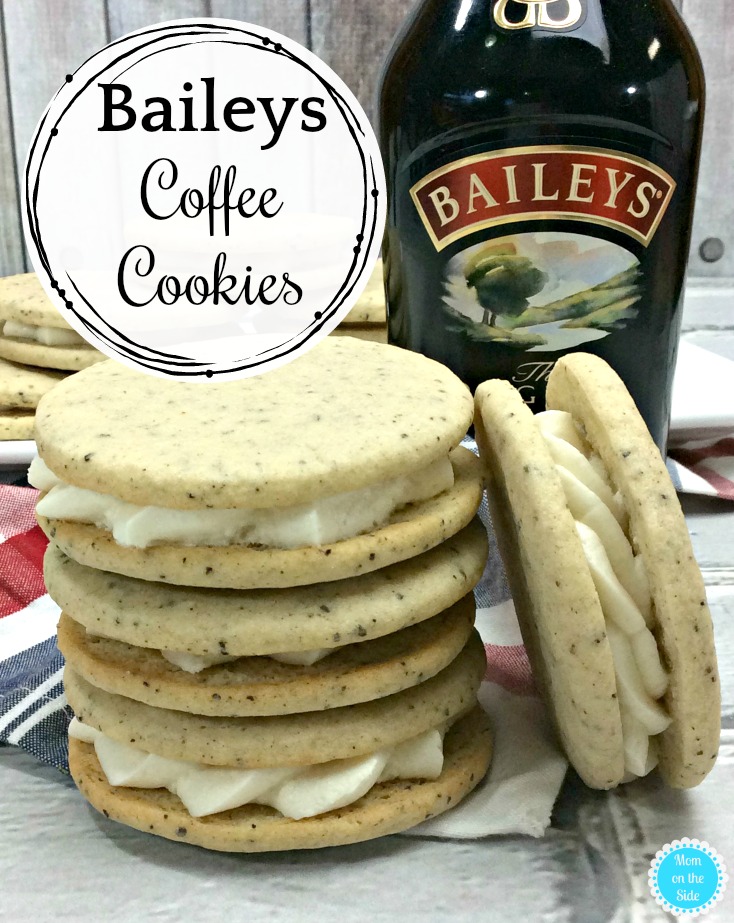 Baileys Coffee Cookies
Ingredients for Baileys Coffee Cookie
1 Cup unsalted sweet cream butter, softened
1 1/4 Cups sugar
2 Large Eggs
2 TBSP of Irish Cream ground coffee
1 1/4 tsp vanilla
1 tsp Baileys Irish Cream Liquor
2 1/4 Cups flour
1/2 tsp baking powder
1/2 tsp cinnamon
1/4 tsp salt
1 circle cookie cutter
How to Make Baileys Coffee Cookies
Start by preheating the oven to 350 degrees. Cream together butter and sugar in a stand mixer, until light and fluffy.
Next, combine eggs, vanilla, Baileys Irish Cream Liquor, and coffee grounds in a small bowl. Whisk together well until completely combined.
Gradually add Baileys coffee mixture to the butter and the sugar mixture and mix until fully combined.
Next, combine 2 Cups of flour, baking powder, cinnamon, and salt in a medium mixing bowl until combined. Gradually mix into the wet mixture until well combined.
The dough will still be really wet and soft so mix in the remaining 1/4 Cup of flour at this point.
Now, lightly flour your counter or cutting board and scoop the dough onto the board. Sprinkle some more flour onto the dough and begin kneading until flour is combined.
You want the dough to be like sugar cookie cutout dough because you'll be using a cookie cutter. Lightly flour the cutting board again and roll your dough out to about 1-inch thickness.
Using the cookie cutter, begin to cut circles out. You'll want to cut out 36 circles to get 18 cookies.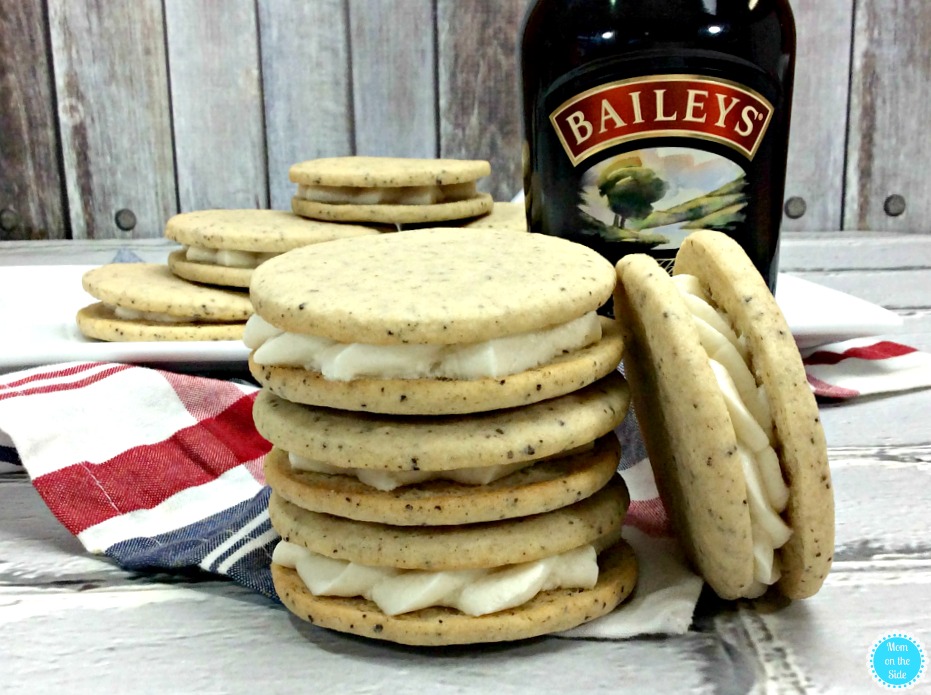 Bake Baileys Coffee Cookies for 8-10 minutes, or until edges are slightly golden. Let the cookies cool completely before frosting and creating sandwiches. The recipe for our Baileys frosting is below:
1/2 Cups unsalted sweet cream butter, softened
1 1/2 Cups powder sugar
1 tsp of vanilla
1 tsp of Bailey's Irish Coffee Cream
2-4 TBSP heavy whipping cream
1 disposable piping bag fitted with a star tip
To make Baileys frosting start by combining all the ingredients in a stand mixer and mixing at medium speed. When fluffy stiff peaks form it is ready. If it looks like powder rocks add in 1-3 more TBSP of heavy whipping cream.
Scoop the frosting into a piping bag and pipe a small dollop of frosting into the center of a cookie. Place another cookie on top to form a delicious sandwich.
These Baileys Coffee Cookies pair perfectly with a glass of Baileys Irish Cream Coffee!