Delicious and decadent Baileys Strawberries and Cream Mousse is the perfect grown-ups dessert!
I recently shared Baileys Strawberries and Cream Cupcakes over on the Mom on the Side Facebook and you guys are loving them! I'm pretty smitten with them myself.
Limited Edition Baileys Strawberries and Cream has been in stores for a few weeks now. I kept eyeing it but never placed it in the cart, until today. Shortly after, Baileys Strawberries and Cream Mousse was born and you guys it is SO good.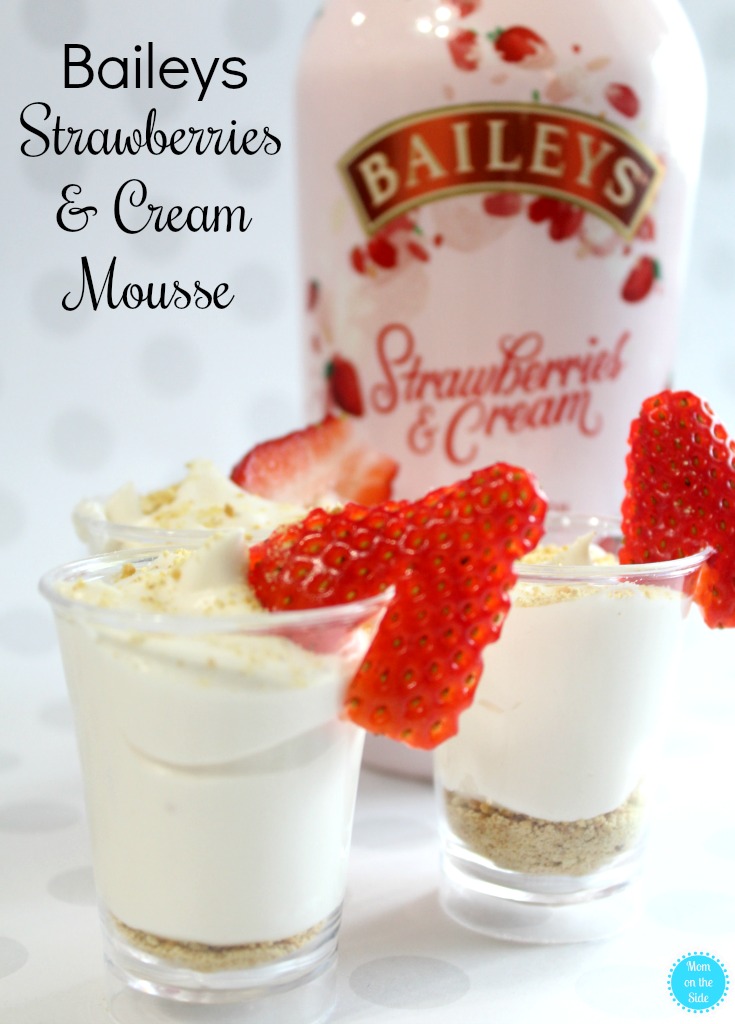 Baileys Strawberries and Cream Mousse
Not only does it taste amazing, but this Baileys mousse is super easy to make. From start to finish it took about 15 minutes.
Here are the four ingredients needed for Baileys Strawberries and Cream Mousse along with two optional ones.
1/2 Cup Sugar
2 Tablespoons Strawberries and Cream flavored gelatin
1/2 Cup Baileys Strawberries and Cream (Limited Edition)
1 1/2 Cups Heavy Whipping Cream
Optional: Graham Cracker Crumbs and Slices of Strawberries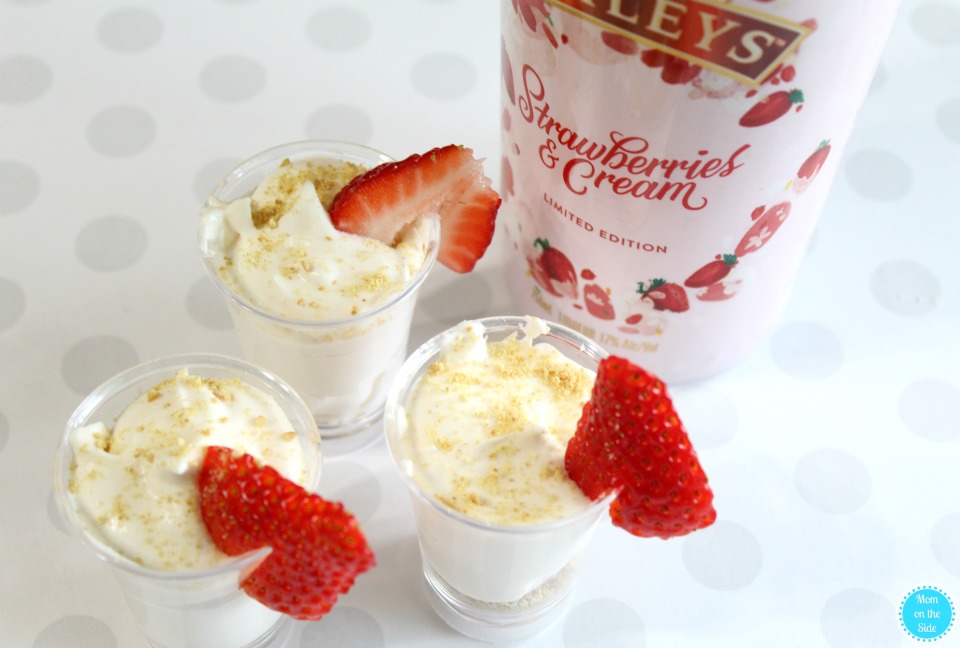 How to Make Mousse with Baileys Strawberries & Cream
In a large mixing bowl combine sugar and gelatin. Pour in heavy whipping cream and beat until peaks begin forming. Slowly mix in Baileys Strawberries and Cream and continue mixing until blended.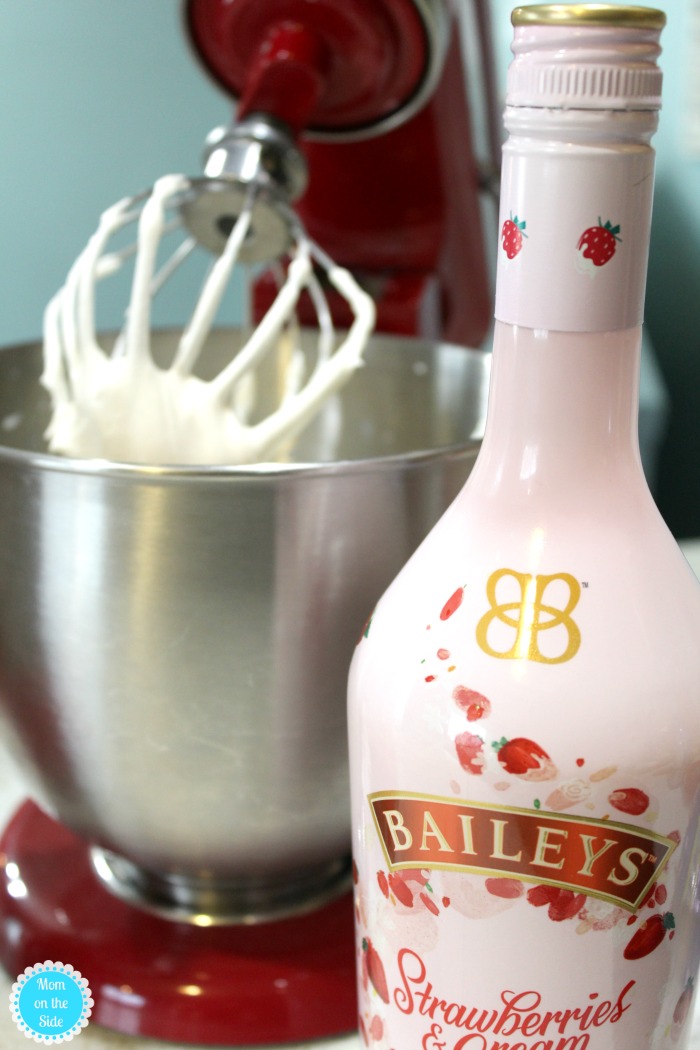 Serve Baileys mousse in small cups or you can do what I did and put a bit of crushed graham crackers in the bottom of a shooter glass and spoon the mousse on top.
It is SO good that I've already gobbled down three of them. My husband says it tastes like strawberry cheesecake so I call that a win!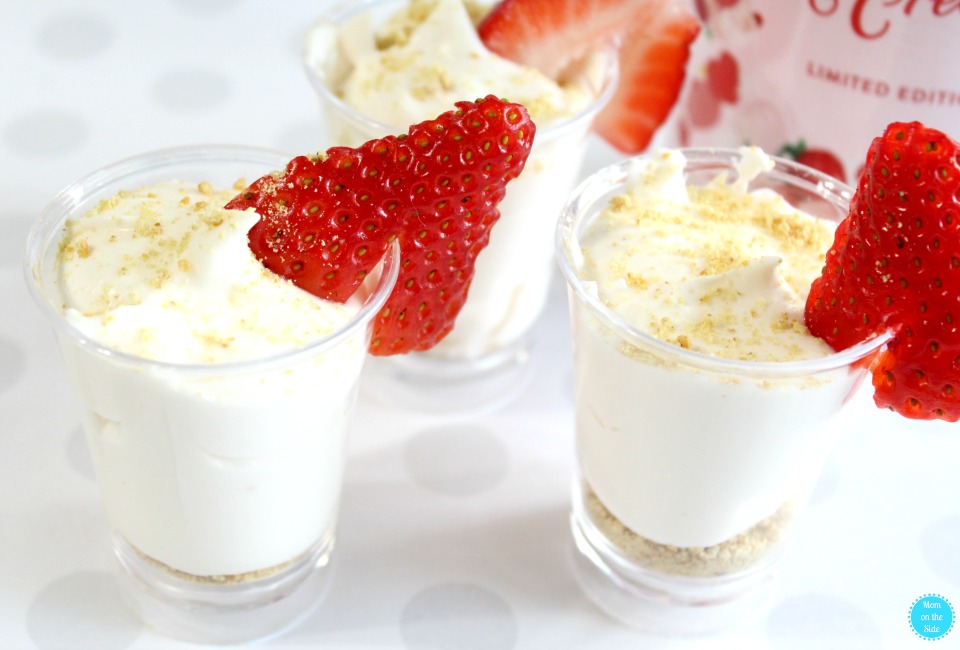 You can find limited edition Baileys Strawberries and Cream at retailers and liquor stores nationwide. Grab it while you can because our stores are already running low.
PS: There is chocolate strawberry fudge made with Baileys in the freezer right now and Chocolate Strawberry Freezer Pie with Baileys next on the agenda. Stay tuned for both of those adult desserts coming in the next couple of days!