This shop has been compensated by Collective Bias, Inc. and its advertiser. All opinions are mine alone. #GoldfishGameTime #CollectiveBias
One weekend back in 1991, I put together a backyard carnival and charged the neighborhood kids 25¢ to play games. Thinking about that recently had me running to Walmart for bulk boxes of Goldfish® crackers to put together a Backyard Family Carnival!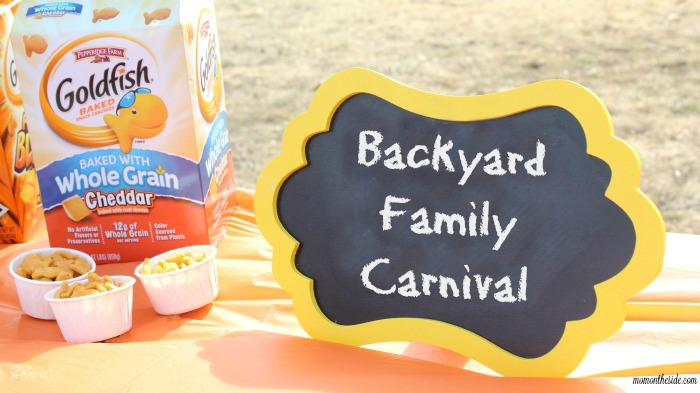 A backyard carnival is a great way to take advantage of the warm weather many of us have right now. Everything can be thrown together in less than 30 minutes, making it great for some extra snack time fun.
The Family Carnival was themed around Goldfish® crackers because my kids are big fans! The perfect solution for my kids snacking and mealtime recipes, and great for making carnival games!
Every great carnival has a ticket booth, and this backyard family carnival was no different. One difference, I didn't have the kids dipping into their piggy banks like I did back in 91′.
Nope, these printable carnival tickets were free, and just required a smiling kid ready to have fun! A small table with a bright tablecloth, ice water, and little cups of Goldfish crackers make a great ticket booth.
PS: You can grab the printable carnival tickets at the end of this post for your carnival.
Once tickets were acquired, it was time to play some carnival games! First up, spoon relay races across the yard.
Spoons piled high with Goldfish crackers, in the hands of smiling kids, squealing with joy as they race across the grass in hopes of keeping every cracker in its place. We played two rounds of this, a second round only so I could sit out and watch all their happy faces running at me.
Those little moments are what I cherish, and they are a win-win for parents and kids when everyone is smiling.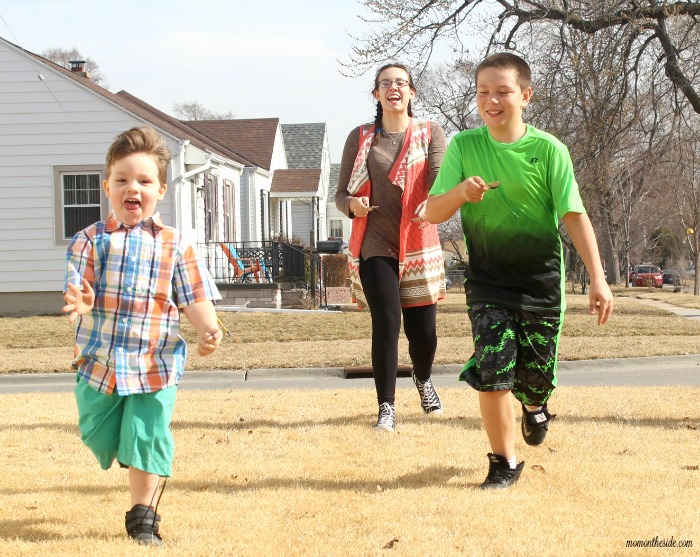 After racing, it's off to the balloon pop! A cork-board covered in small balloons, some filled with Goldfish crackers. Be the lucky one to pop a balloon with crackers and you win!
Now, my kids are all four and older so I didn't mind letting them toss a dart while supervised. However, I did let the twins walk up and pop the balloon of their choosing instead of tossing the dart, to make it a bit easier for them.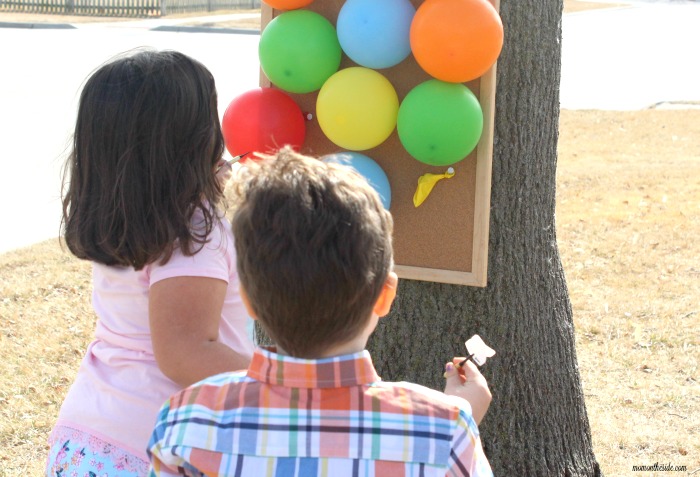 When the last balloon is popped, it's time to head to the cup challenge. This is a game I love to play whenever, and it's based on one of my favorite games from a certain clown show on TV growing up.
Five cups lined up in a row, a handful of Goldfish crackers, and good aim are what you need. The goal is to try and toss a cracker into each cup, and whoever makes it into all of them wins!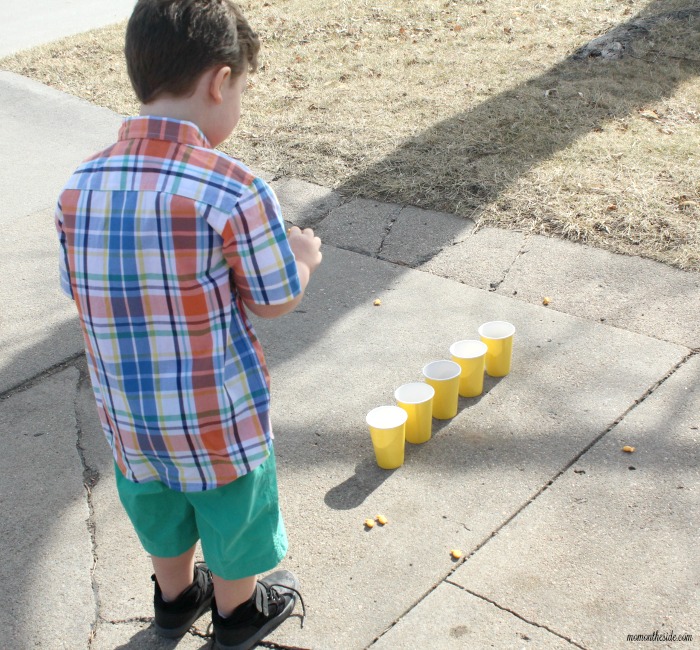 A good old fashioned game time rivalry between parent and kids was a great way to finish up the Backyard Family Carnival.
Driveway checkers made with a chalk checkerboard and Goldfish crackers as checkers. Snack cups of Goldfish crackers came in handy here, so the kids don't snack on their game pieces.
The Snack That Smiles Back®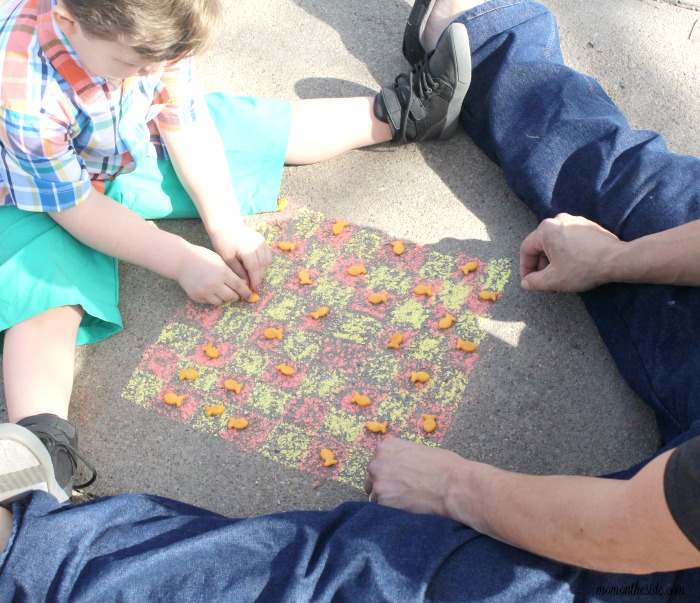 Is the weather warming up in your area? If you're looking for something different to do outside, this backyard carnival will spark joy, one smile at a time for the whole family.
Grab these carnival tickets for your own backyard carnival!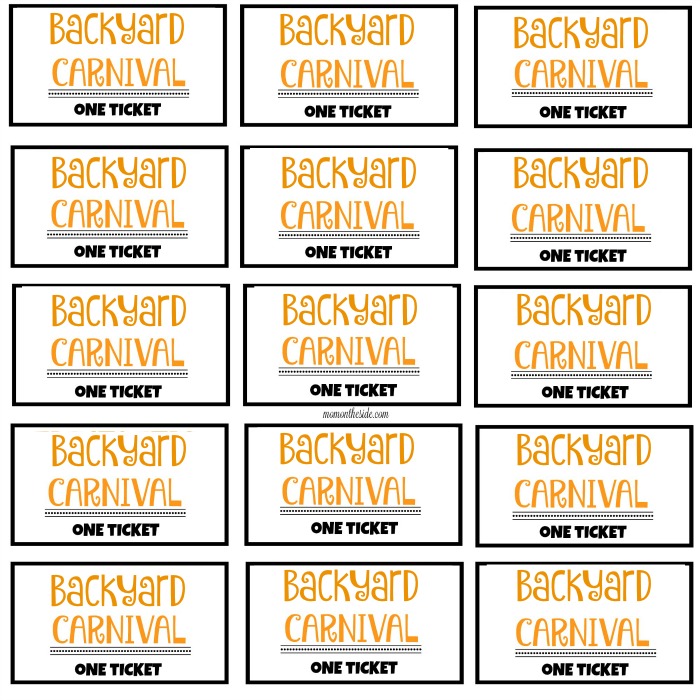 Pin this Backyard Family Carnival for family fun later!