I love summer. So many things going on and lots of great ways to spend date night in the summer.
I've already shared 33 Awesome Fall Date Ideas but realized I hadn't shared any awesome summer date ideas yet. That changes now!
There are plenty of days left of summer, and lots of great date night ideas to fill them with. Pick out some fun things to do with your spouse and share your favorite summer date ideas in the comments.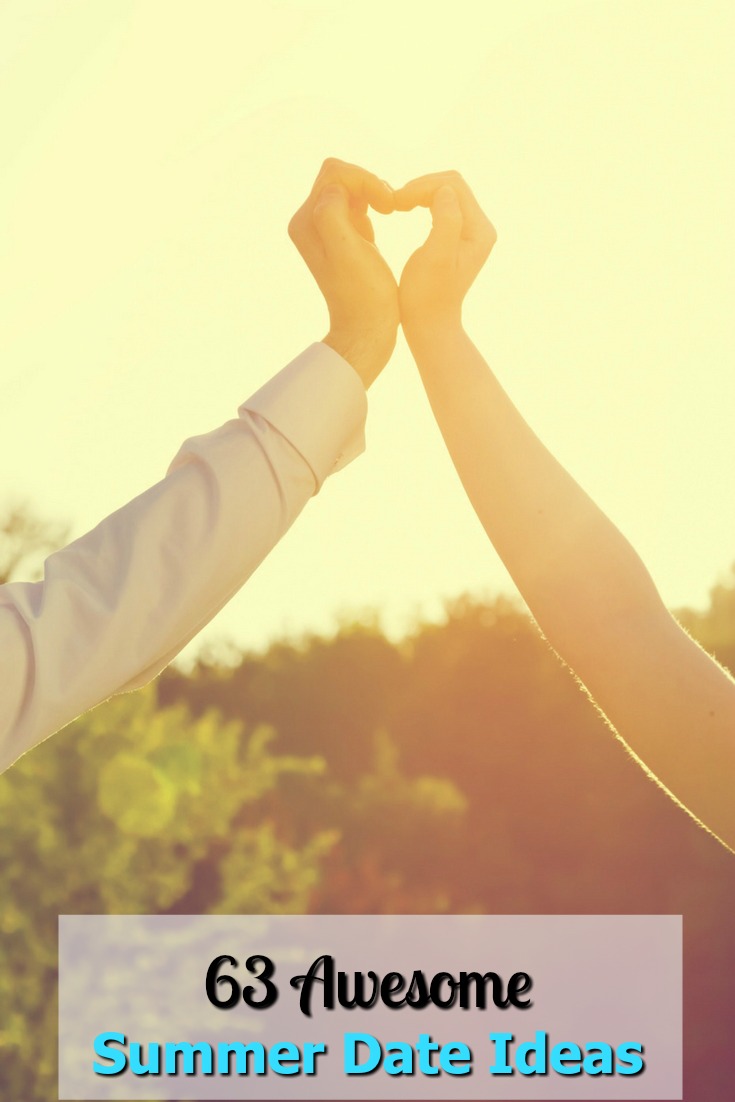 63 Awesome Summer Date Ideas
Take a hike.
Tubing down the river.
Spend the day at an amusement park.
Picnic lunch in the park.
Tour a winery.
Bike ride and a stop for ice cream.
Grab some bait and go fishing.
Backyard cookout on the grill or over the fire.
Backyard movie night.
Outdoor game night.
Go shopping at the Farmers Market.
Get tickets to an outdoor sporting event.
Rock out at an outdoor concert.
Lace up the sneakers for a fun run.
Test your navigation with some geocaching.
Check out home decor ideas by visiting open houses in the area.
Get up early and watch the sunset, then go for donuts and coffee.
Play some miniature golf.
Test your luck at the local arcade.
Road trip to a neighboring city for the day.
Catch a movie at the local drive-in.
Spend Saturday morning at garage sales.
Have a water balloon fight followed by cocktail pops.
Walk around the zoo if you have one nearby.
Light a fire and make s'mores.
Lay out under the stars and chat.
Hit the park and play a sport like tennis or basketball.
Go to an outdoor yoga class together.
Pick up a few inexpensive wines, cheese, crackers and meats for your own wine tasting in the backyard.
Enjoy late night appetizers and drinks.
Let out your inner child with a play date at the park.
Go night swimming.
Volunteer at a summer event together.
Lounge at the pool for the day.
Spend the day at a carnival or fair.
Stroll through local gardens.
Go camping for a night.
Make homemade ice cream and binge watch Netflix.
Plan a photo shoot date and take fun photos of each other around town.
Put the pedal to the metal racing go-carts.
Head to the beach or lake.
Visit a local museum.
Have dinner outdoors at a food truck.
Be tourists in your own city.
Test your skills in an escape room.
See who has skill in a Nerf Gun battle.
Find a local walking tour to attend.
Go boating or kayaking.
Tandem bike ride.
Go skydiving.
Ride in a hot air balloon.
Host a party for your couple friends.
Go ziplining.
Sing karaoke at a local bar.
Go fly kites on a windy day.
Grab old bread and sit at the lake feeding birds.
Take a brewery tour.
Get dressed up and go somewhere fancy for dessert.
Put on your thinking caps for a local trivia night.
Scare yourselves with a ghost tour.
Saddle up for some horseback riding.
Take a painting class together.
Play Frisbee golf.
This list of date ideas for summer included everything from free dates, to cheap dates, to splurges. You may have checked some of these off your list already, but hopefully you find something fun and new to do together.
I know my husband has skydiving on the top of his list and I'm sure you guessed that a winery tour is on the top of mine!
What are your favorite things to do on summer date nights?