Sworn to secrecy from July – October, the newest Disney Princess had to stay hush hush. The word is out and soon, everyone will know Auli'i Cravalho when Moana hits theaters on November 23rd! While I was in LA for the #PetesDragonEvent last month, we got surprised with an exclusive Auli'i Cravalho Interview, and her MOM joined us! Seriously. There were tears and so many lessons taken away about rock climbing and life.
To have such a beautiful young teen who shows that it's okay to go on a journey to find yourself, it's wonderful, because that message is universal to everyone. – Auli'i Cravalho
(Thanks to Disney for this all-expenses paid opportunity.)
First let's go back to the night before the interview, at the Pete's Dragon Red Carpet Premiere. Just as I was about to enter El Capitan theater, I turned around and there in front of us was Auli'i Cravalho. Two thoughts went through my head 1) holy crap I'm going to be interviewing her tomorrow and 2) holy crap is she ever the perfect person for the role of Moana. Okay, three thoughts went through my head because the final thought was 3) wake up woman and get a picture with her already!

Pete's Dragon was the first red carpet experience for Cravalho, and it gave her some experience for what's coming in November. Knowing Disney and the way they do red carpets, the premiere of Moana is going to transport attendees to the islands in so many ways. Cravalho said she "heard it's going to be with music and dancers" and for some reason I heard ukuleles playing in my head when she said that. I blame Lava in a good way for that.
It was really interesting to see how it all worked and how people know my name, and they were saying it correctly too, because it's interesting, Auli'i, it's you know, they had a hard time, but they were all saying it in synch to get me to turn to them. It was good. – Auli'i Cravalho
Two days before our exclusive interview with Auli'i Cravalho, she met her co-star Dwayne "The Rock" Johnson for the first time. Two weeks before that she met Rachel House who plays Gramma Tala and Temuera Morrison who plays her father. That's the thing with animation films, the voice actors often work alone, in a booth.
I've gotten so used to voices, but to see their faces with it, and to kind of match the personality…. For instance, the person who plays Gramma Tala, Rachel House, that isn't her actual voice. She totally commits to the character, but otherwise she's just a really sweet kind woman who doesn't sound like Gramma Tala, but still embodies the character which was interesting. – Auli'i Cravalho
Now, let me tell you……Auli'i Cravalho's mother is by far the most awesome human being I have ever met in my life. I've met Chris Pratt, and while he is hard to top, she did it. Not only did she do that, but she rock climbed for everybody!
I did some Rock climbing for all of us. I'm just saying you know, I took one for the team, sweat and everything. Puanani Cravalho
Auli'i did a little blushing at her mother's comments, and told us how "very nice and very professional" Dwayne was when she met him.
He is very focused, which is interesting because he has so many different jobs throughout the day, that while we were on the content shoot, he was of course talking to other people, and trying to work out flights and all that stuff. So what kind of brought to mind, I suppose, was just how dedicated he can be to one thing, and then convert his attention to another. And he loves the character Maui so much because he's Polynesian, just like I am. To see that he's so committed to the character just made it almost overwhelming. The amount of emotion that I know I put into – I know that he puts the same amount. – Auli'i Cravalho
How is it that this girl who "would put on fashion shows in the middle of the hallway" at home is now walking real life red carpets? Well, she didn't initially audition for it, Aulhi'i said that "my friends and I actually put together an audition to be the entertainment for a nonprofit event on the island" and the casting director for Disney saw that audition tape. A really fun experience of friends beat boxing to Capella songs turned into the surprise of a lifetime.
Through an intricate web it just kind of arose, and when she emailed my mom and I to ask if I wanted to audition, it was like, fantastic. Yes please, and the rest is kind of history. – Aulil'i Cravalho
Cravalho can't just bring animation to life, she can also sing. Something Auli'i credits to her mother, who didn't believe in binkies.
I figured, let her cry it out, let her cry it out, you know. You're going to cry it out. -Puanani Cravalho
Because of that Auli'i believes she "developed wonderful lungs" and while she loves it so much, she knew  "it's just a hard industry to get into". So, that same time as being an amazing Moana, she is also "looking into either a law career or, I'm really into science, cellular molecular biology."
I'm super glad that I kind of thought of the future and what might or may not happen. – Auli'i Cravalho
Being born and raised on the island of Hawaii, the Big Island. Auli'i speaks the language and attends an all Hawaiian school where you have to be Hawaiian to be admitted. She loves her culture and loves that is being portrayed through a Disney character and film.
Moana is definitely a Disney character which is something that I totally love, because she's totally bad butt. She's really awesome. Also because way finding isn't just something they made up for animation purposes. It was truly almost lost in the Polynesian culture, which is something that not a lot of people know. So the fact that it's being shined in such a positive light, and the fact that there is now a resurgence of navigation and way finding in real day-to-day life, it's, it's so important. – Auli'i Cravalho
Before reading the script, Auli'i didn't really understand that Moana was a Polynesian film. After reading it, she remembered thinking "whoever gets this is going to do it such great justice. They haven no choice because it's an awesome script." She was amazed that Disney did their research, and how much they did at that, and little did she know that she would be playing the role.
When I read it, I was like okay, that's not a Hawaiian word. I know that's not a Hawaiian word. That sounds Samoan. And I did research on it and sure enough, because Hawaii is one of the more newer island chains, they pulled from more of an ancient background, which is great! Because if they're making the story line like thousands of years earlier, Hawaii would not have been created. – Auli'i Cravalho
Even though this is her culture, Auli'i Cravalho was reminded how important family is, during filming Moana. Actually even before filming…
Family, definitely. When I first got the role, there was no one that I could tell. We would literally have those conversations at night and there was no one else that I kind of felt like I had to tell, because it was fine. It's just been my mom and I for three years or so. I love being able to not have to feel like I have to share the whole everything with the whole world, which is why I'm not very good at SnapChat, and I need help with my social media. Because I kind of just like having just us, you know. – Auli'i Cravalho
Auli'i taught us a couple of life lessons during our interview as well. One was a reminder that Doctor Strange will also give us, and I think our country really needs it right now.
I love my family and the fact that Moana kind of shares tha,t, because she loves her people and I think a lot of people say when you go to Hawaii, you'll notice the ambiance, and you'll notice everyone is friendly, because we all kind of think for each other. That's something that I had to kind of get used to here, because it's not like that. I don't mean that in a negative way, but I'm not sure it can be taken any other way. It's, it's interesting. Everyone is for themselves here, which is great, you know. If you succeed, good for you. But for everyone that I've ever met in Hawaii, it's like you made it and you made it for us. And I feel so proud of that. – Auli'i Cravalho
Another lesson is about the earth around it and how the Polynesians view things.
As a Polynesian, we believe that everything is connected. So, from Malta to Makai, from the ocean to the sea, we respect that. Because, we use everything. Everything. So if we take care of the land or we take care of the ocean, then it'll take care of us. – Auli'i Cravalho
She also go to meet the animators of Moana, which "was something that not many voice actresses or actors get to do" said Cravalho. Usually they just "hear the voice and then work" but she got to animate some of it, like the 'Walk Like an Egyptian" pose that Moana does.
Totally wrong proportions. Her neck was like four heads tall, but it was so much fun because they put in so much work. They work overtime and they have overtime dinners practically every night of the week. They work on weekends. The fact that they have families and they spend so much time on such an important film to me, it was just – like we bonded in a way that I don't think either one of us really expected. – Auli'i Cravalho
Aside from rock climbing, Aluli'i Cravalho's mom was fairly quiet throughout the interview, letting her daughter take the lead. That is, until we mentioned that video that was released when the casting of Moana was announced. I remember the chills and wet eyes I had while watching it, and those returned as share her thoughts with us, on her daughter playing the role of Moana.
Auli'i is really great and she's focused on academics and that's really very-very important.  That's something that she's really very good about. They say this is performing arts. Singing and acting, whether or not it's in church or the backyard or part of school, was something that she did for fun. To kind of take a break off of the honors and the AP classes and some of those things. This is what she did for her that fed the soul.

So the fact that this came along, and I didn't raise her in this way, you know, I didn't take her to the auditions, we didn't do all of these kind of things, where some are groomed from a young age. This was just something that she did for fun and if we could fit it into the schedule, and if we could go ahead and assure all the important academic classes are taken care of, then absolutely, fit in some of that fun stuff. I think that's very important. So when this came along, and she had this opportunity, a part of me was, was just afraid, because we're going into an area that I don't know. We're going into an area that I just don't know.

I don't know this part. And this opportunity was just so amazing and it truly is. But I, I just, now we are outside of what my knowledge and understanding is. So I'm thrilled and I'm honored and I'm happy for her and what makes me happy is that I'm watching her, and I know my child, I know every movement, the hair, the twist, the this – you know, and the brow and everything and what it says to me is that she truly is enjoying this. And that makes it okay. To be in the hands of Disney, it's just – we're in good hands. I'm doing my mommy part and I'm staying close with her, because I need to be on this journey with her, and she's happy and she's thriving, and we're in good hands. So this canoe is sailing and we're sailing well and we're moving forward, we really are. -Puanani Cravalho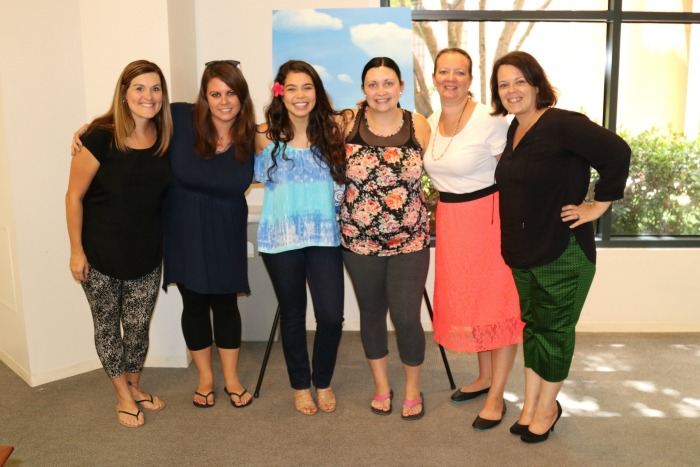 We couldn't interview the newest Disney princess without finding out her favorite Disney movie was!
Mulan is my favorite. I said that on a panel and the filmmakers right next to me were like 'you couldn't have said something we created?!' She's awesome and I think what really resonated was, she always wants to honor her family and she totally broke the gender norm of going to war and doing what she felt was necessary. That totally resonated with me. – Auli'i Cravalho
Catch Moana in theaters on November 23rd!
Get tickets to Moana from Fandango
Moana Facebook Page | @DisneyMoana on Twitter
@DisneyAnimation on Instagram | @DisneyAnimation on Tumblr