Harvest Apple Pecan Pie is part of a shop compensated by Collective Bias, Inc. and its advertiser. All opinions are mine alone. #BakeInTheFun #CollectiveBias
Heading to the apple orchard for apple picking has become a favorite Family Fall Tradition for us. The kids love running around claiming their apples from the dwarf trees.
I love having a kitchen bowl full of delicious apples of all sorts of varieties. This past weekend we hit the local apple orchard because I had to make an easy Harvest Apple Pecan Pie for my belly.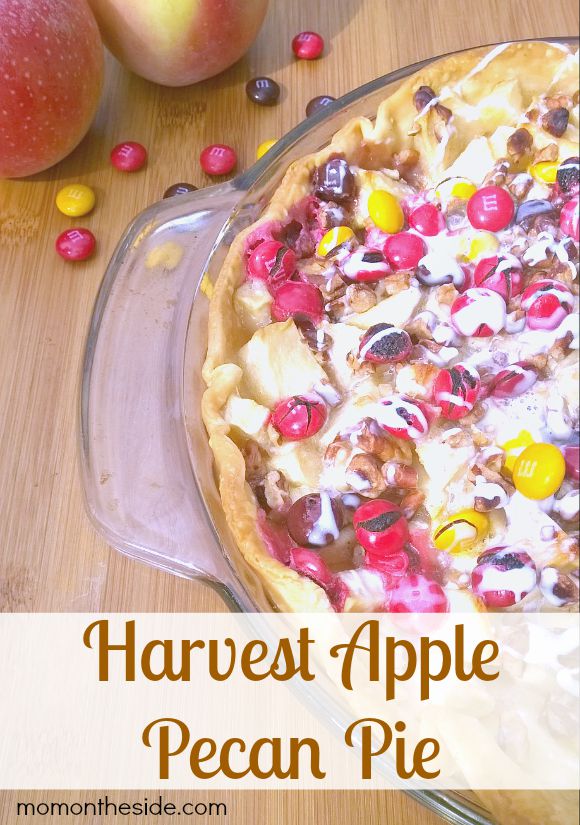 Harvest Apple Pecan Pie
Apples, apple pie, apple cider, caramel apples, and apple doughnuts. Honeycrisps, Fuji, Golden Delicious, Gala, and Jonathan. So many apples and so many things to make with apples.
Knowing how to find and pick apples is the first step. Check out my Apple Picking Tips to grab your own bushel and whip up a Harvest Apple Pecan Pie.
Apple Picking Tips
TIP #1 Choose the right apple orchard for your apple needs. Not all apple orchards offer the same types of apples. If you specifically want to bake, you may want to call ahead to see if the right apples are ready for picking.
TIP #2 Double check with the apple orchard before biting into or even licking apples when you pick them. Some orchards spray for bugs, and others do not.
TIP #3 Bring a reusable bag or basket to tote your apples in. Some orchards do offer bags to carry apples in, but not all of them. You can call ahead and ask, or you can bring along your own.
This year I brought along my own basket, and a thirst quencher for all that picking I was doing. Snapple® Apple seemed like the perfect choice!
TIP #4 When you find a great apple tree, pick from the outside first. Apples ripen from the outside of the tree towards the center, so you will get the best pick that way.
TIP #5 When picking apples off the tree, don't tug, pull, or shake tree branches. This can prevent future crops from growing. Instead, roll the apple upwards off the branch, then give it a little twist.
TIP #6 After you get the apples home, store them in a cooler, dry spot so they will keep longer.
TIP #7 Don't wash the apples as soon as you get home. Wait to wash apples until you are ready to eat them to prevent spoilage.
Now that you have these apple picking tips in your apron pocket, you can whip up Harvest Apple Pecan Pie! It's way easier to make than you think and will surprise even your tastebuds!
All you need are your apples, pre-made pie crust, M&M's® Milk Chocolate Harvest or M&M's® Pecan Pie, Pecans, Pillsbury™ Creamy Supreme® that we're adding a hint of apple to, and a few buddies from the pantry.
Wait…did I just say M&M's® Pecan Pie? That I did and they are inspiring lots of deliciousness this Fall! You can find M&M's® Pecan Pie at your local Walmart, along with ingredients you need for my Harvest Apple Pecan Pie! I'll wait right here… Okay now that you are back and hopefully still have half a bag left, we can get bake to baking.
For the apples, you're going to peel, slice, dice, and toss them in a bowl with flour, sugar, salt, and a splash of Mott's® Apple Juice. Then toss them in the pie crust.
Now the best part – toss a layer of M&M's® Pecan Pie or M&M's® Milk Chocolate Harvest and chopped pecans on top. Toss it in the oven and enjoy the smells of baking
(Full Recipe Below)
Now we're ready to bring to finish things off! We're going for a drizzle here and a shot of Mott's® Apple Juice added to Pillsbury™ Creamy Supreme® Cream Cheese Frosting will do it! I scooped out 1 cup of frosting and added 1 shot of Mott's® Apple Juice to get the consistency I was looking for.
Once that Harvest Apple Pecan Pie comes out of the oven, add the drizzle all over the top. I'm telling ya, resisting to lick the spoon is hard…!
Are you ready to hit the apple orchard and serve up this Harvest Apple Pecan Pie? Grab the recipe below and let me know what you think.
What are some of your best apple picking tips?
Harvest Apple Pecan Pie Recipe
Ingredients
ie Filing
5-6 Cups of Peeled and Diced Apples
1 Cup Sugar
1/2 Cup Flour
1/2 Teaspoon of Salt
1 Tablespoon Apple Juice
Pre-made Pie Crust
Topping
1 Cup M&M's®
1/2 Cup Crushed Pecans
Drizzle
1 Cup Pillsbury™ Creamy Supreme® Cream Cheese Frosting
1 Shot of Apple Juice
Instructions
Pre-heat over to 425
Place pie crust in pie pan.
Toss pie filling ingredients in a bowl and dump in the pie crust.
Cover with topping and bake for 1 hour.
Mix together drizzle ingredients and drizzle over the top of the pie.
This was a sponsored post. Any opinions are creations are 100% my own.