This post is written by me on behalf of Tyson Foods, Inc. All opinions are entirely my own. This shop has been compensated by Collective Bias, Inc. and its advertiser. All opinions are mine alone. #ClubBash #CollectiveBias
♪♪ Fall is here. Fall is here. It's my favorite time of year! ♪♪
Halloween decorations are up, and the first haunted houses of the season have been visited. Heck, I'm even ahead of schedule and have two of the four Halloween costumes purchased for my kids!
Since I'm ahead of the game and in the seasonal mood, we're going to talk about setting up an Adult Halloween Party Tablescape under $40!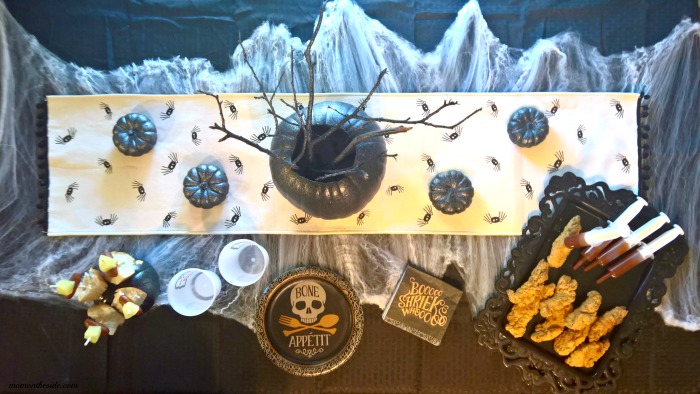 One big part of an Adult Halloween Party Tablescape is the food! While I'm not giving you any recipe ideas to cook up for your party, I do have two quick and easy foods to have on hand for a party (that are also easy to make spooky)!
Tyson® Chicken Strips and Hillshire Farm® Lit'l Smokies® smoked sausages! I will show you what I did with them later in the post, but having them on hand means you can serve things like "Witches Chicken Fingers" or "Mummy Wrapped Smokies" for your party!
Okay, let's get down to this fun and easy Adult Halloween Party Tablescape Under $40! At the end of the post, I broke down the money I spent, but for now, lets see how it all came together!
Starting with gathering spooky sticks from your yard, and picking up pumpkins for the Halloween centerpiece!
Halloween Centerpiece
4 Small Pumpkins

1 Large Pumpkin – I went with a fake carveable pumpkin so I could use it again and again!

5-6 Spooky looking sticks from the yard

Black Spray Paint

Silver Glitter Spray Paint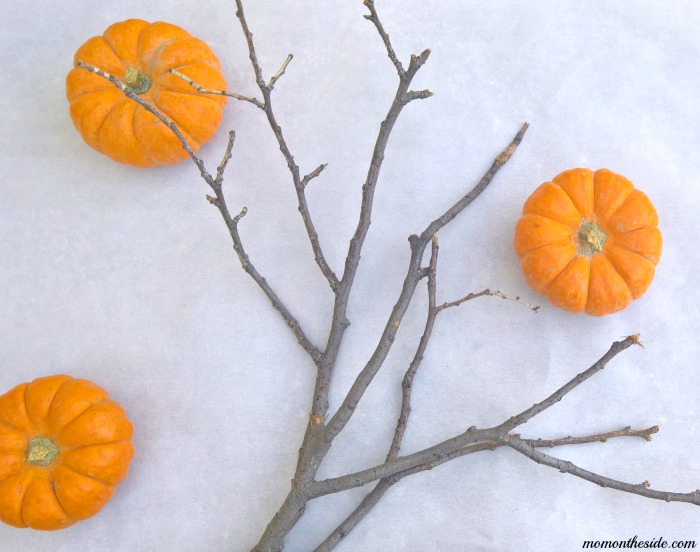 First, spray paint sticks and pumpkins black. Use parchment paper or something to protect the surface you are painting on.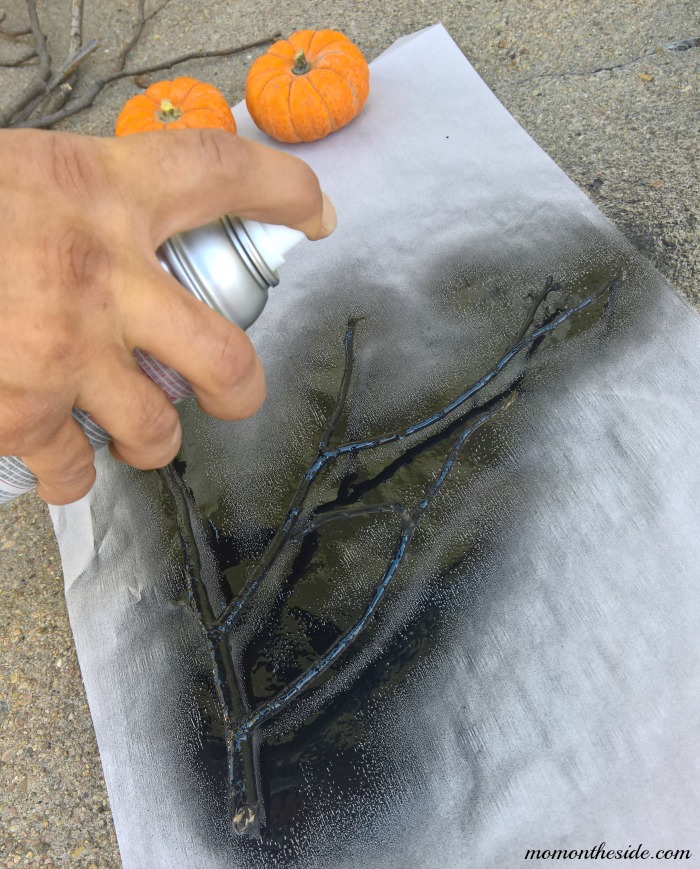 Once they are dry, transfer the painted sticks and pumpkins to a new sheet of parchment paper to apply silver glitter spray paint. See the inside of the hollow pumpkin? Make sure you spray paint the rim as well.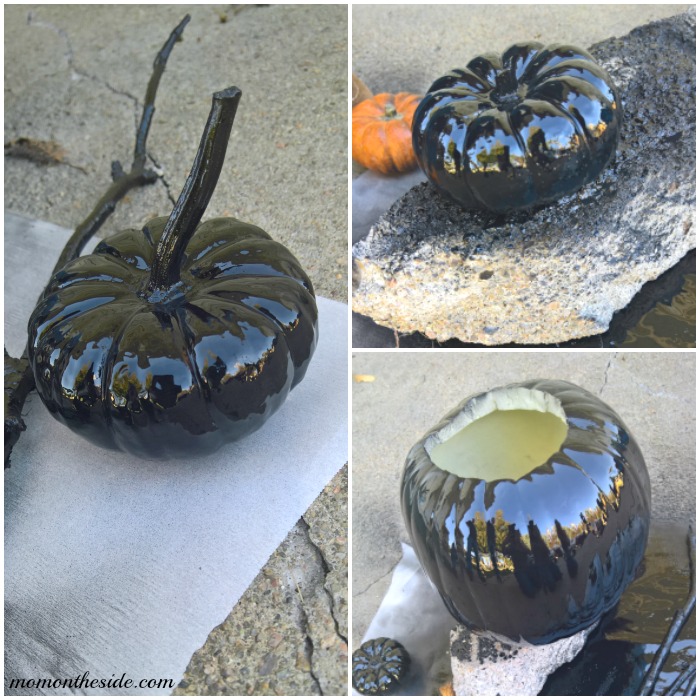 When applying the silver glitter spray paint, don't get too close or stay in one place too long. You want this to be a dusting of silver glitter, with black still showing through.
My husband was quite impressed with how the double layer turned out. You'd think he'd know not to doubt me by now.
When the sticks and pumpkins are completely dry, you can begin assembling your Adult Halloween Party Tablescape. Start by placing a black tablecloth over your table.
Then, stretch out the spider web down the center of the table. For the final layer, place a Halloween runner down the center of the spider web.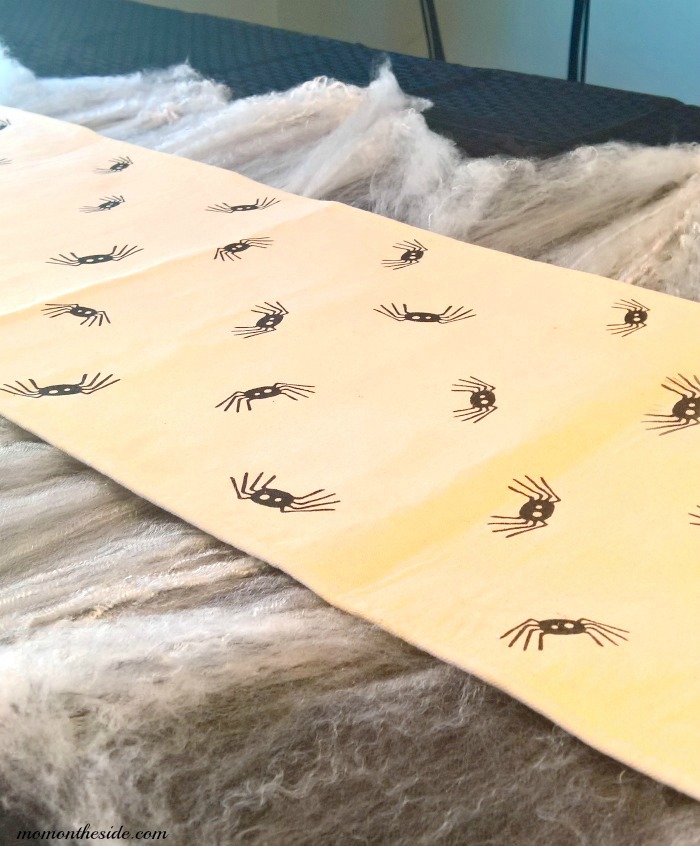 Now grab the big hollow pumpkin and fill it with the spooky sticks. Set the large pumpkin in the middle of the runner. If you really love spider webs, you could stretch some more over the sticks for a spookier effect!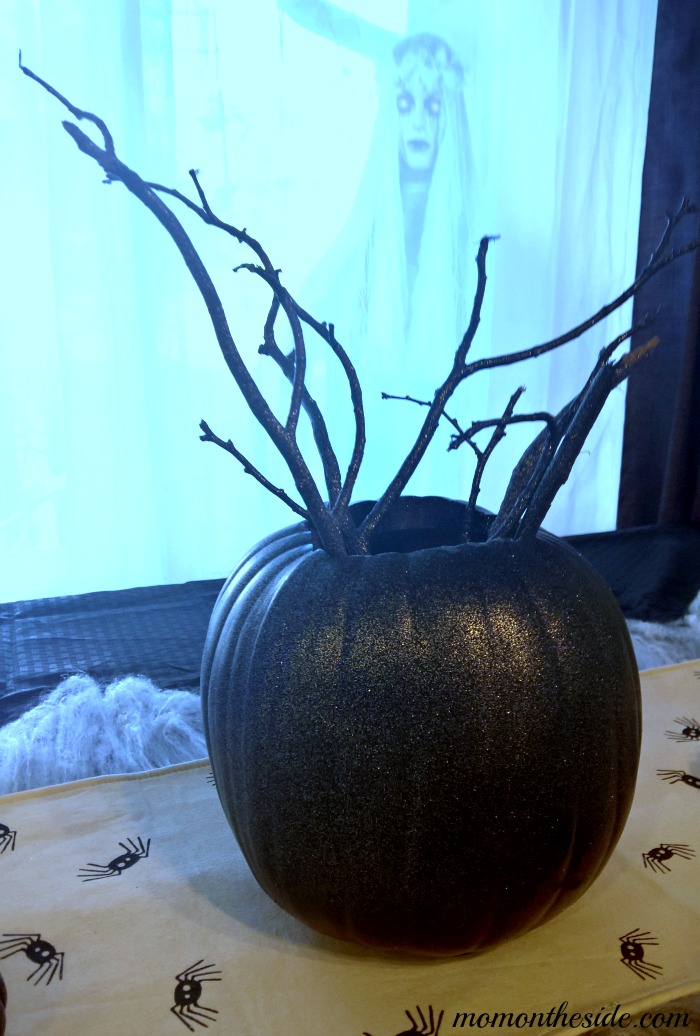 Next, grab the small pumpkins and set them down the sides of the large pumpkin. I love the different stem sizes to them as it gives it a creepy look. Set your plates, napkins, and cups on the table as well.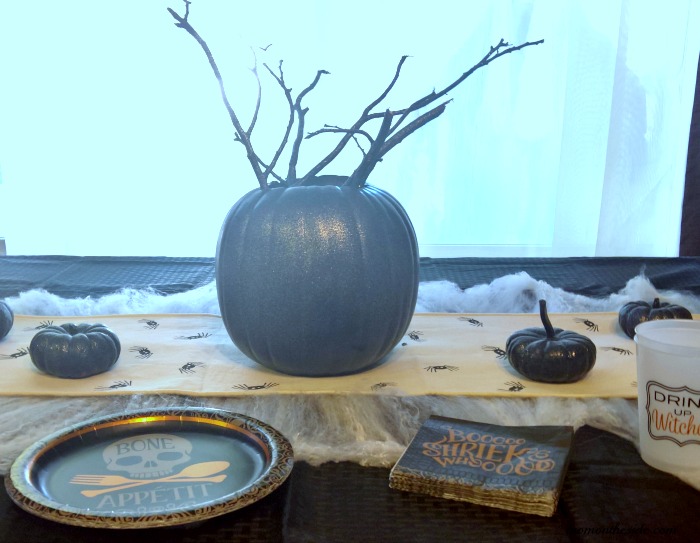 Now it's time to add the food to the Halloween Party Tablescape. Something fun for an adult party is using syringes for food! Pairing Tyson® Chicken Strips with BBQ Shots is yummy and fun!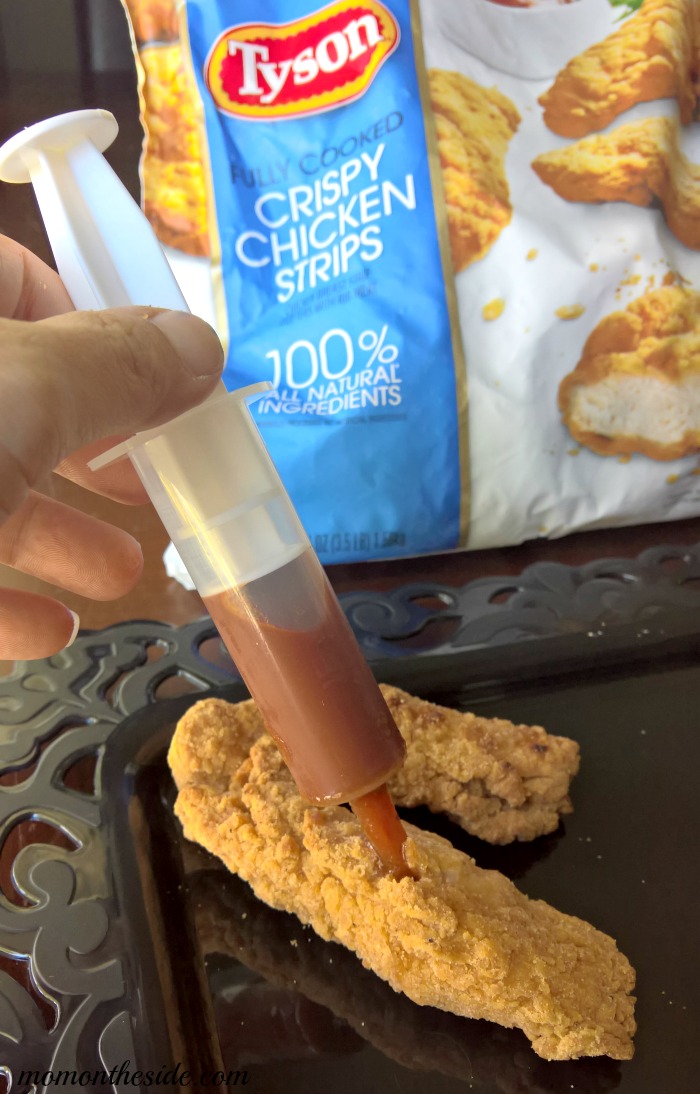 Guests can use the BBQ shot to inject a bit of sauce into their chicken strip, or squirt it onto their plate for dipping. Even better, it's a finger food so no silverware needed!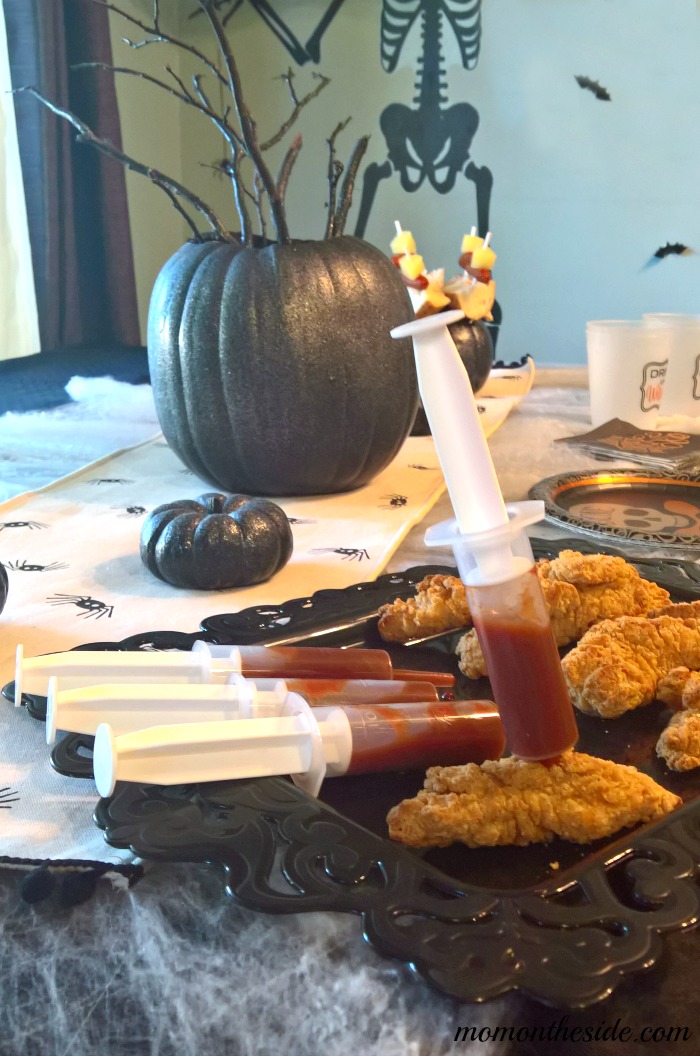 Another great Halloween party food that doesn't require silverware is Hillshire Farm® Lit'l Smokies® smoked sausage Skewers!
Layered with Italian bread, Hillshire Farm® Lit'l Smokies® smoked sausages, and pineapple chunks, then stuck inside of a pumpkin that has small holes drilled or hammered into it. Super fun, and if you use a fake carve-able pumpkin you can reuse it another time!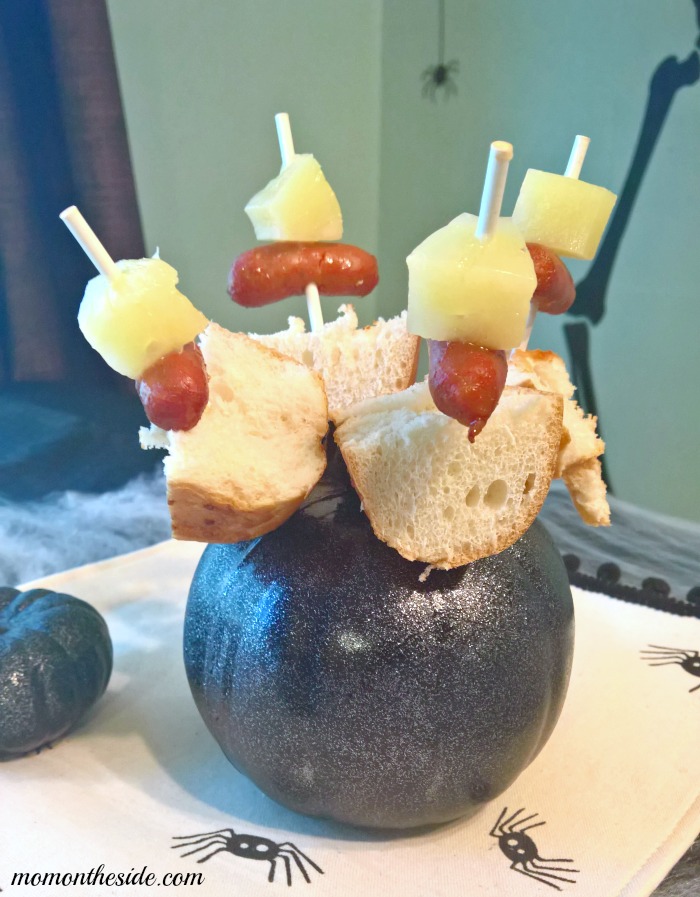 That completes this Adult Halloween Party Tablescape Under $40! Here is the breakdown on what I spent, and it could be less for you depending on what you have already. You could make this even cheaper by shopping garage sales and dollar areas too!
Adult Halloween Party Tablescape Under $40
Black Tablecloth $1

Spider Web $1

Table Runner $3

Serving Plate $2.50

Syringes $3

Plates $2

Napkins $2

Cups $1

Spray Paint $8

Small Pumpkins $3.00 for set

Medium Pumpkin $3.00

Big Pumpkin $10
The only other cost I had was stopping by Sam's Club to pick up the Tyson Chicken Strips for $13.78 and the Hillshire Farm®  Lit'l Smokies® smoked sausages for $7.98, and beverages.
Sometimes we do BYOB and other times I make mixed drink or punch. Other than that, this is everything you need to enjoy a ghoulish good time in costumes with your favorite adults!
Click here for more Halloween party inspiration!