I remember how much fun workbooks were growing up. Before I was reading on my own, I would ask mom for a workbook every time we went shopping.
Learning math, practicing letters, and sometimes they even had stickers so I could reward myself for good work. Now I'm on the other side of things, and I'm the one buying the workbooks for my kids and I love it!
Here are 50 Preschool and Pre-K Workbooks to help little ones learn at home!
(This post contains affiliate links.)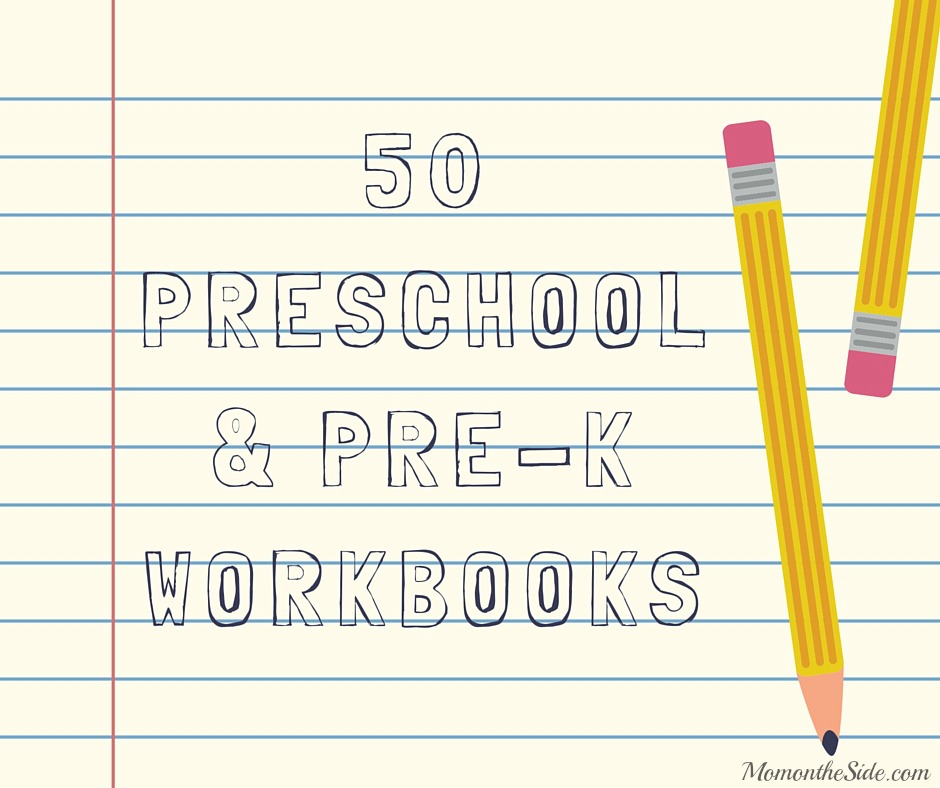 1. Cut & Paste the Alphabet Workbook, Grades Preschool – K – $3.99
2. Everyday Success – $11.91
3. Colors, Grades PK – $4.04
4. Same and Different, Grades PK – $4.49
5. Alphabet Animals, Grades PK – $4.49
6. Shapes, Grades PK – $4.48
7. Numbers 0-10, Grades PK – $4.49
8. Alphabet, Grades PK – $3.99
9. Cut & Paste 123s Workbook, Grades Preschool – K – $3.99
10. Summer Bridge Activities®, Grades PK – $11.27
11. Wipe Clean Workbooks: Pre-K – $9.99
12. Letter Dot-to-Dot: Grade Pre-K – $3.99
13. The Ultimate Preschool Curriculum Kit – Workbooks and Lesson Plans – $24.95
14. DK Workbooks: Language Arts, Pre-K – $6.99
15. Comprehensive Curriculum of Basic Skills, Grade P – $16.41
16. Creativity, Grade Pre-K – $7.95
17. Hooked on Phonics Pre-K Letter Sounds Workbook – $4.99
18. Pre-K Letters, Numbers & Shapes Super Workbook – $13.49
19. Trace Letters Workbook, Grades Preschool – K – $3.99
20. DK Workbooks: Spelling, Pre-K – $6.99
21. Letters & Sounds Workbook, Grades Preschool – K – $3.99
22. Trace Numbers and Trace Letters Workbook For Preschool – $9.24
23. Hooked on Phonics Pre-K ABCs Workbook – $4.99
24. Logic, Grade Pre-K – $7.95
25. Scholastic Pre-K Reading & Math Jumbo Workbook – $10.64
26. DK Workbooks: Math, Pre-K – $6.99
27. Trace Numbers Workbook, Grades Preschool – K – $3.42
28. Brain Quest Workbook: Pre-K – $9.41
29. Big Preschool Workbook – $8.40
30. LeapFrog Colors, Shapes and Numbers Dry Erase Practice Workbook for Pre-K – $6.10
31. Jumpstart Pre-K: Jumbo Workbook– $3.99
32. Differentiation, Grade Pre-K – $7.95
33. Hooked on Math Pre-K Numbers Workbook – $4.99
34. Trace Shapes Workbook, Grades Preschool – K – $3.99
35. DK Workbooks: Science, Pre-K – $6.99
36. DK Workbooks: Geography, Pre-K – $6.99
37. Spatial Reasoning, Grade Pre-K – $7.95
38. Preschool Scholar: Ages 3-5 – $3.37
39. Preschool Practice Scissor Skills (Ages 3-5)– $2.58
40. Trace Numbers Workbook, Grades Preschool – K (Big Skills for Little Hands®) – $3.30
41. Wipe Clean: Early Learning Activity Book – $10.49
42. Preschool Scholar – $2.99
43. Preschool Workbooks 32 Pages-Thinking Skills – $3.99
44. Wipe Clean: My Big Activity Workbook (My Big Step by Step) – $9.23
45. Comprehensive Curriculum of Basic Skills, Grade PK – $13.89
46. Let's Cut Paper! – $5.95
47. Preschool Stickers Workbook – $7.99
48. Trace Numbers and Trace Letters Workbook For Preschool – $7.75
49. ABC Dot-to-Dots: A Get Ready Book – $3.99
50. Beginning Math Workbook – $4.49
Pin 50 Preschool and Pre-K Workbooks