Check out these 10 Creative Valentine's Day Box Ideas and I would love for your to share any creative ideas you have as well! I remember being excited as a child to dig out the doilies and red construction paper to create our Valentine's Day Boxes. It makes me sad that I don't get to do that with my own kiddos for their school parties (they do them in class with their teachers now) so I decided to look up some Creative Valentine's Day Box Ideas and live vicariously through others!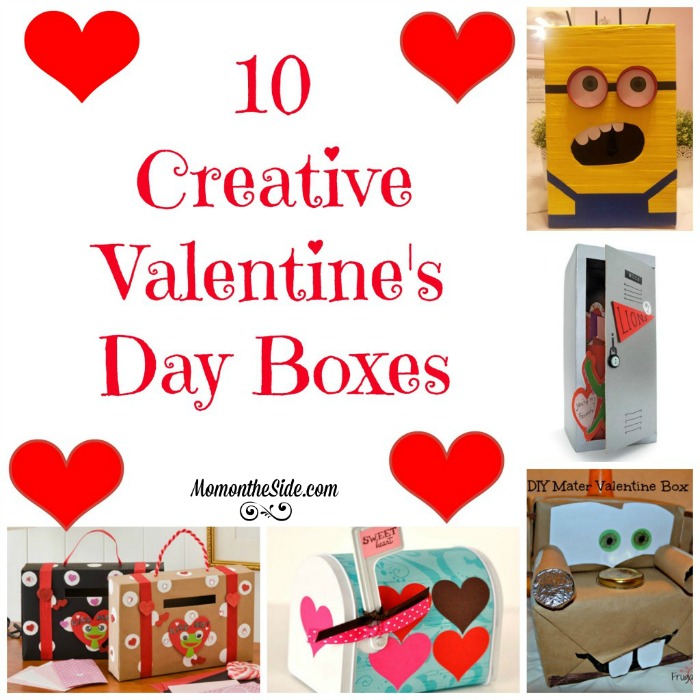 Creative Valentine's Day Box Ideas
If you have any saltine crackers boxes lying around, you can make this Valentine's Day Locker Box from Spoonful!
Dance the day away with an IPOD Valentine's Day Box like the one that Mommy Lessons 101 made!
This Valentine's Day Bird House Box from Make-It-Do is fun and you could decorate and personalize it in tons of different ways!
The Luv Bug Valnetine's Day Card Holder from Apples4TheTeacher only needs a paper bag to get started! His arms are my favorite!
Disney's Cars Fans will love this Tow Mater Valentine's Day Box that Frugal4Four put together!
We all have cereal in the stock pile and these Cereal Box Valentine's Day Boxes from Plaid Online would turn them into adorable creations!
This Valentine's Day Mailbox from Fiskars is too stinkin' cute and looks super easy to decorate! Think off all the fun you could have with Sharpies!
LEGO Builders will like this LEGO Valentine's Day Box that The Pretty Poppy made! Tons of space for cards too!
Turn your empty Clorox Bottle into a Pretty Piggy Valentine's Day Box from Giggles Galore!
This Despicable Me Minion Valnetine's Day Mailbox from Instructables is awesome!
For even more Valentine's Day fun, check out 14 Kid-Friendly Valentine's Day Breakfasts!
What are your favorite Creative Valentine's Day Box Ideas?
PIN IT
MORE VALENTINE'S DAY IDEAS